Audio Has A Prominent Role At The Association Of National Advertisers Masters Of Marketing Conference Where CMOs Demonstrated That Diverse And Emotional Creative Generate Powerful Sales Effect
Over 2,000 attendees were present last week in Orlando for the Masters of Marketing conference held by the Association of National Advertisers where they gathered to hear from the Chief Marketing Officers of some of the world's most respected and innovative brands. This was the first time since 2019 that crowd sizes resembled historical attendance for what is called the "Super Bowl of marketing."
Sponsorships from companies such as Audacy, iHeartMedia, and the Radio Advertising Bureau ensured audio was front and center for the thousands of marketers.
The RAB podcast studio located right at the door to the ANA conference ballroom lured many a CMO to step up to the microphone and don headphones
Just footsteps from the entrance to the Masters of Marketing conference stood the Radio Advertising Bureau booth, conceived as a podcast studio. Starstruck, many marketers stopped and chatted with the RAB team.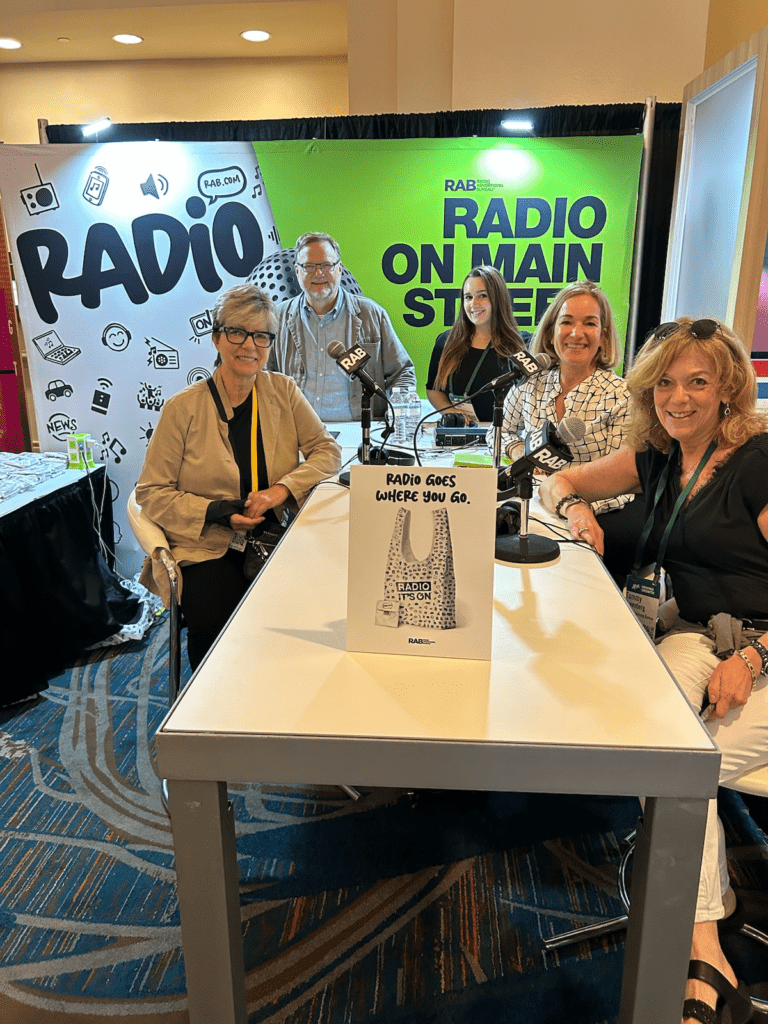 Left to right: The RAB team at the ANA Masters of Marketing conference; RAB President and CEO Erica Farber, Senior Vice President Digital Services Dave Casper, Events and Communications Coordinator Madison Wright, Senior Vice President, Marketing & Communications Leah Kamon, and Senior Vice President, Business Development Tammy Greenberg; Photo by the RAB
If they had a few minutes, CMOs were invited to hop into the studio, wear headphones, and record an interview for the RAB podcast. Dozens of CMOs excitedly agreed to be interviewed.
Many commented it was the first time they had been interviewed for a podcast and it was a new experience to hear their voice through the headphones. Show business at its best having marketers experience being on air! It was a brilliant activation!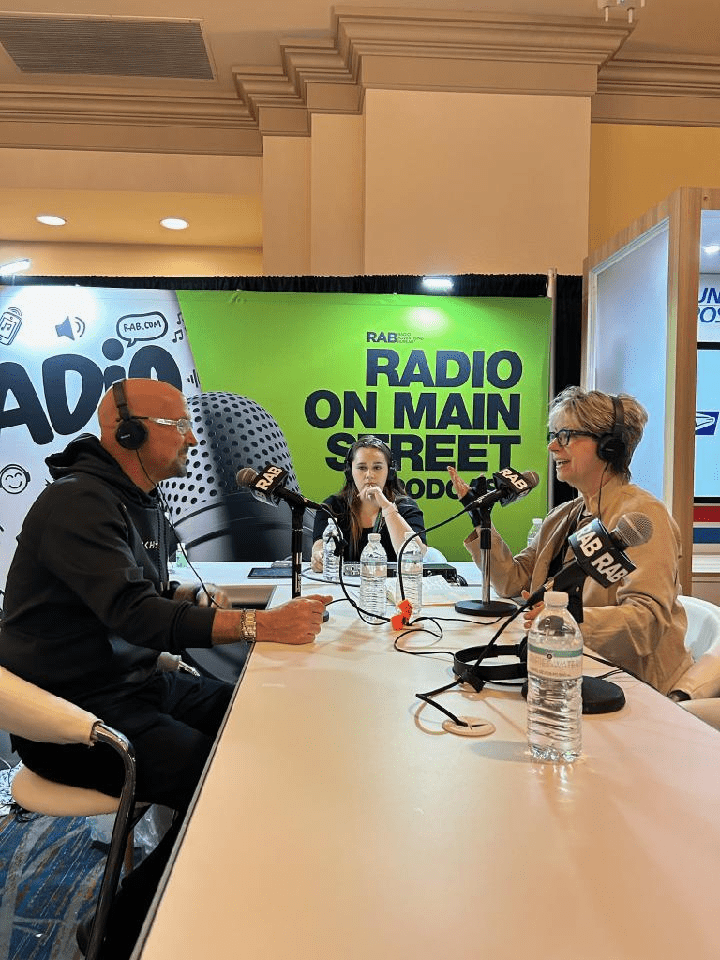 RAB President and CEO Erica Farber interviews Jeff Charney, former CMO of Progressive Insurance, who now heads a leading agency called MKHSTRY (Make History); Photo by the RAB
iHeartMedia wows the crowd with a tour de force concert from Michael Bublé
After the conference kickoff dinner, iHeartMedia presented Michel Bublé for a spectacular performance. Hundreds of marketers surged to the front of the stage where Bublé put on an amazing show.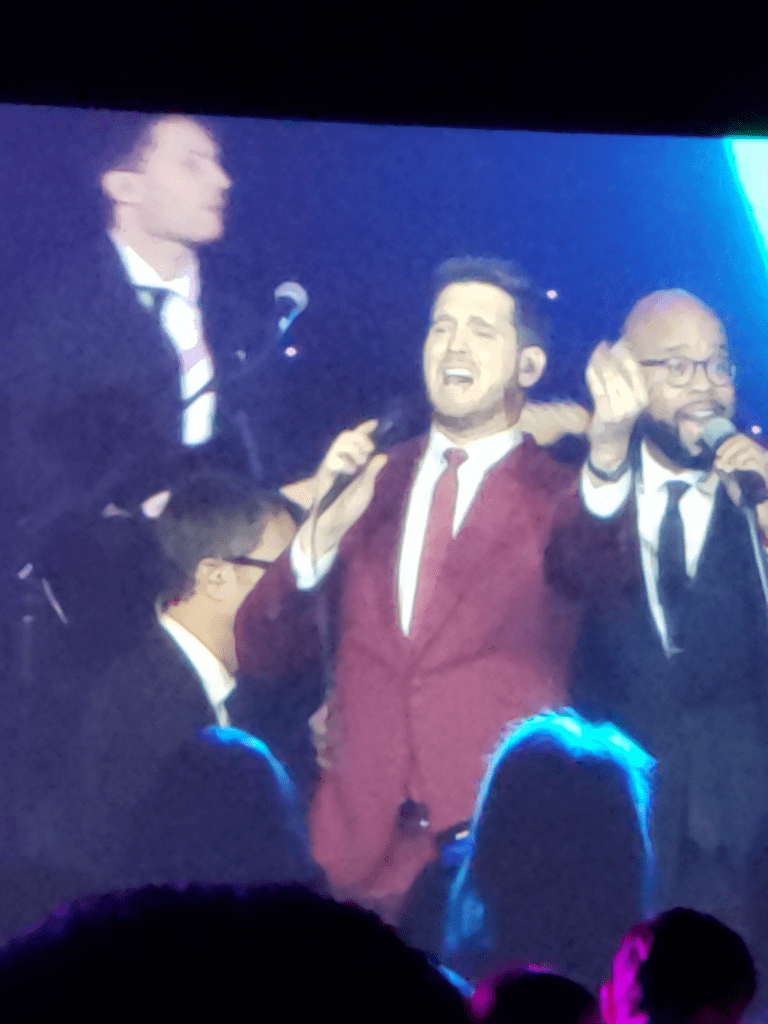 Photo by Pierre Bouvard
Bublé signed dozens of autographs and brought attendees on stage to dance with him. He even took the phone of a marketer who was FaceTiming with her friend and performed an intimate song to the person on the phone. The crowd buzzed with excitement that only a live music performance can generate.
Audacy sponsored the dinner on the second night and featured entertainer and magician Jon Dorenbos
Audacy had a major booth where they had professional massages administered to the marketers and held meetings with major brands.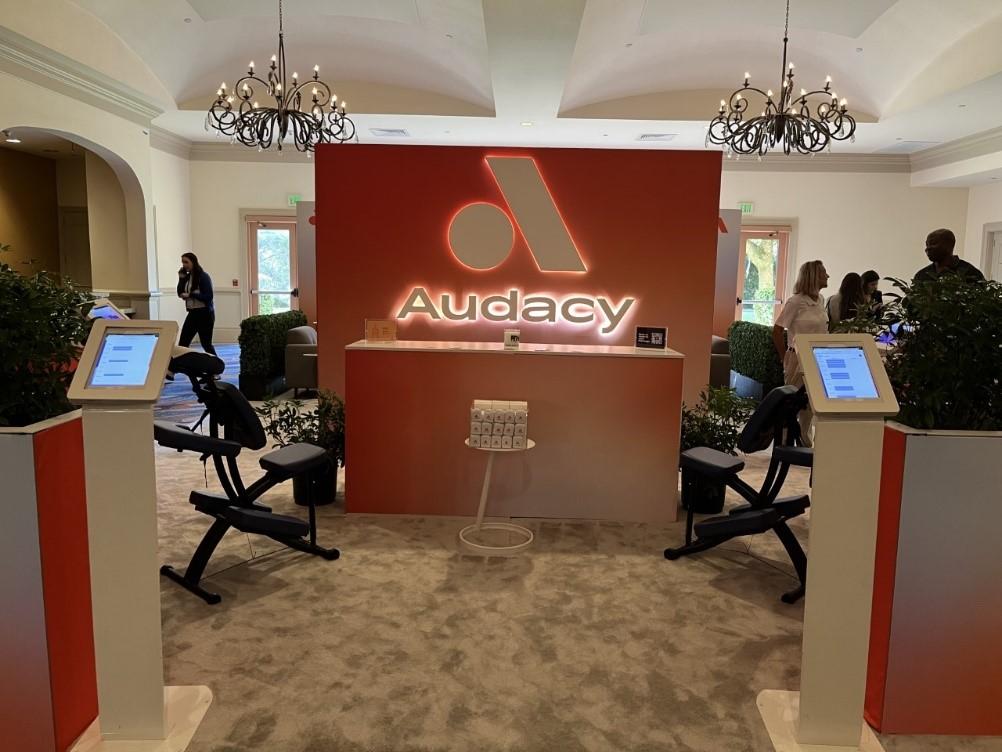 Photo by Audacy
The second night of the conference, Audacy sponsored a dinner with Jon Dorenbos, entertainer, magician, and motivational speaker, who blew the crowd away.
A former NFL star, Dorenbos dazzled the room with magic, stories from his childhood, and motivational insights that had the crowd in tears one minute and laughter the next.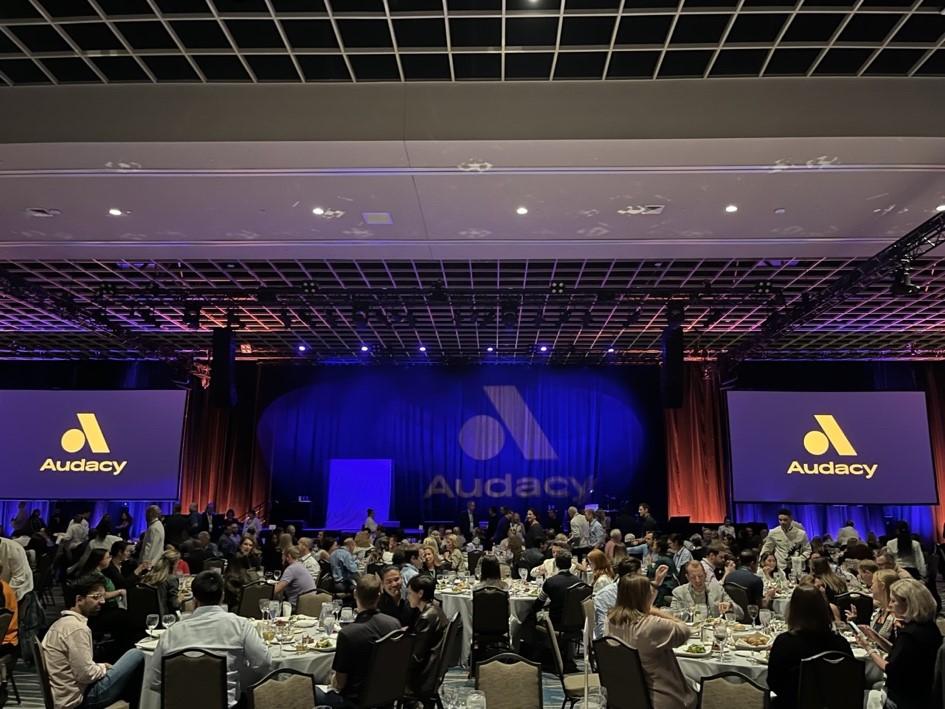 Photo by Audacy
Here are more key takeaways from the conference:
Caesars Sportsbook: Great stories create memorable bonds and emotional connections
Sharon Otterman, Chief Marketing Officer of Caesars Digital, outlined the Caesars playbook for storytelling that drove unprecedented growth in a new industry. While all the other sports betting brands were touting specials, promotions, and deals, Caesars broke through with their funny and entertaining Caesar character who caused their brand equity to soar.
A Cumulus Media | Westwood One Audio Active Group® study of online sports betting brands found Caesars Sportsbook had the largest brand equity growth in the gaming category with a 16-point increase in unaided awareness from April 2021 to February 2022.
Otterman concluded that creating positive emotion is the driving force behind profitable advertising. Advertising helps people feel good about a brand. If a brand feels good, it's a good choice.
In Paul Feldwick's book Why Does The Pedlar Sing? What Creativity Really Means In Advertising, he says, "Advertising is at least as much showmanship as it is salesmanship [and it] builds brands best when it is entertaining, popular and memorable, when it is not just a pitch, but a performance."
eos Products: Unlimited creativity can triumph over limited budgets and win the fight for attention by being authentic and funny
Soyoung Kang, CMO for beauty and skincare company eos, explained the company's journey to reboot their brand strategy and recapture cultural relevance. Kang explains marketing "can add value and be entertaining at the same time."
Kang urged marketers to "find the edges of comfort and respectfully push on those edges." Being brave to push creative boundaries paid off for eos as they saw significant sales growth.
eos's marketing used real customer reactions to their products from social media as part of their campaign. The results were hilarious, authentic, and viral. Kang found "it's possible to get outsized impact with small budgets."
Kadenwood: "Radio has proven itself to be the most effective media platform"
Erick Dickens, Co-founder and CEO of Kadenwood, a plant-based wellness firm, explained that AM/FM radio was the most effective in generating awareness and sales. Kadenwood's cream for aches and pains uses CBD and has had strong results with podcasts, AM/FM radio, and TV where he was permitted to run ads.
Shell: The most successful B2B brands focus on the human aspect of communication
Dean Aragón, CEO & Vice-Chairman of Shell Brands International AG, explained, "If you want to win at business, you must first win over the humans in your business. Call it B2H or B4H." While most B2B creative is dry, rational, and full of forgettable facts and figures, Aragón believes that more successful creative focuses on the human.
Aragón urges marketers to tell the human story. "I believe that the modern marketer needs to be a data alchemist, not a mere data scientist. A data alchemist is one that really tries to find the human beings hidden beneath the data." Aragón challenged B2B brands to ask how they amplify B2C practices for B2B.
Validating Aragón's conclusions, the B2B Marketing Institute finds that "because B2B sellers are intent on proving the ROI of their usually complex product, they prioritize communicating functional benefits rather than the power of emotion in their marketing. This leads to a shortage of impactful B2B creative that underestimates the amount of emotion tied up in our decision-making, whether about a product we use in the office or in the kitchen."
P&G: Multicultural marketing is mainstream marketing
Procter & Gamble's Chief Brand Officer surprised the crowd with a last-minute change in topic. Instead of presenting a talk on creative, Marc Pritchard switched to a speech he had given the week before at the National Association of Black Owned Broadcasters. Conversations with CMOs the prior day convinced Pritchard that "general market" marketers need to hear more about multicultural marketing.
Pritchard told the assembled marketers, "It's high time we retire the archaic term 'general market.' The new habit to adopt is to build multicultural marketing into the fabric of everyday marketing."
Pritchard offered "Seven Habits for Market Growth" as a business case for spending more to reach diverse audiences. P&G has set a target of reaching 80% to 90% of African American and other multicultural consumers 52 weeks a year in its media buys. Prichard also advised brands to ensure market research is inclusive as most "gen pop" samples actually skew white.
When it comes to creative, Pritchard said it is important not only to have voices and actors that are representative of the true composition of the U.S., but they must portray relevant situations. Characters in ads must be authentic. Prichard concluded "representation with relevance matters."
CarMax: "Addressing all the car buying tension points made our consumers ecstatic, turning previous negatives into positives"
Jim Lyski, Chief Marketing Officer at CarMax, the largest retailer of used cars, quantified all the poor experiences and negative emotions consumers have about the auto path to purchase. CarMax sought to bring integrity, honesty, and transparency to an industry consumers view as untrustworthy.
With the help of the Martin Agency, Lyski acknowledged these negative issues and explained how CarMax changed auto buying for the better.
United Airlines: Their long-term brand level goal is to change the way people feel about United by establishing the airline as a force for good
Maggie Schmerin, Head of Global Advertising and Social Media at United Airlines, spoke about the brand refusing to emerge from the pandemic using the same plan, challenging her team to change every element of United's advertising, and their latest platform, "Good Leads the Way."
Schmerin confessed customer research revealed that United had bland and unremarkable perceptions. One focus group respondent described United as, "Like your uncle who had never tried sushi."
Schermin refreshed United's marketing by focusing on its workers and the emotional impact that air travel has on people's friends and family. United used emotion-based storytelling, which is the most powerful selling tool marketers have.
Les Binet, the global head of effectiveness at adam&eveDDB London, has found emotion-based creative is the most powerful platform to build brands and generate long term sales effect:
"In order to really build strong brands, you've got to start preparing consumers long before they even start thinking about the product or the purchase. That means engaging them when they're not interested in what you have to say, when they are not thinking about the product, when they have no need to be satisfied.
So you can only do that by engaging them with things that are intrinsically interesting at a human level and that will be remembered for a very long time.
So emotion is the most powerful selling tool we have. And therefore, emotional media are much more powerful for building brands and generating profit."
Schmerin revealed their long-term brand objective was to change the way people feel about United. To accomplish that, her campaign goal was to establish United as a force for good via memorable and loved campaigns that generated positive consumer reactions. This in turn would create purchase intent and action.
Like many of the presenters at the Masters of Marketing, Schmerin found creating positive emotion is the driving force behind profitable advertising.
ANA CEO Bob Liodice: Most successful businesses have the strongest brands
Showing the ultimate proof that marketing is an investment not a cost center, ANA CEO Bob Liodice revealed that highly branded firms far outperform the S&P 500.
Key takeaways:
Audio was front and center at the ANA Masters of Marketing conference thanks to the marketing efforts of the RAB, iHeartMedia, and Audacy.
Emotion-based storytelling is the most powerful form of creative, according to United and Shell. Emotion is the most powerful selling tool we have.
Advertising builds brands best when it is entertaining, popular, and memorable, when it is not just a pitch, but a performance. This was a major theme from Caesars, eos, and a number of other brands.
Multicultural marketing is mainstream marketing. This was a key focus of many of the speakers including P&G and Verizon.
The most successful B2B brands focus on the human aspect of communication. While most B2B creative is dry, rational, and full of forgettable facts and figures, more successful creative focuses on the human.
Marketers say AM/FM radio is one of most effective media.
The stronger the brand, the stronger the business outcomes. Highly branded firms far outperform the S&P 500.
Pierre Bouvard is the Chief Insights Officer of the Cumulus Media | Westwood One Audio Active Group®.
Contact the Insights team at CorpMarketing@westwoodone.com.