Key Takeaways From Last Week's Association of National Advertisers Media Conference
Last week, 300 media executives from America's largest and most respected advertisers attended the 2022 Association of National Advertisers (ANA) Media Conference. Another 700 attendees participated virtually.
Here are some of the key takeaways:
"Humanity needs to be at the center of everything we do [in media and marketing]," Bob Liodice, CEO, the Association of National Advertisers
Humanity and emotion improve marketing effectiveness. Studies show ads that make you feel something generate stronger sales and profit than rational ads. People-centered media such as AM/FM radio generate double the attentiveness of music platforms without humans (Pandora/Spotify).
"50% of marketing return is driven by media investments," Tony Wells, SVP and Chief Media Officer, Verizon
Verizon's Tony Wells noted the significant impact of media on marketing sales effect and explained why the role of Chief Media Officer is so important.
Marc Pritchard's 5 objectives for media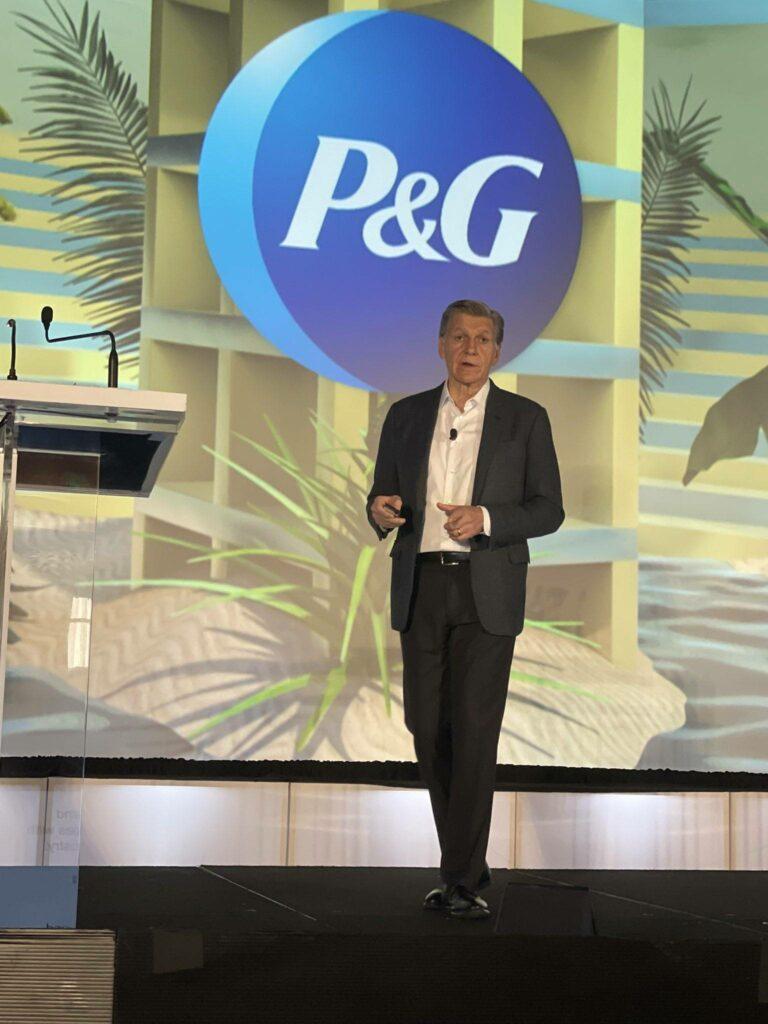 Marc Pritchard, Global CMO, Procter & Gamble; Photo by Lou Paskalis
Marc Pritchard, Global CMO, Procter & Gamble offered five objectives for media:
Respect consumer data as their data
Innovate in media buying and placement
Connect media to commerce
Innovate to engage consumers
Accelerate growth with multicultural media
Pritchard: TV upfront is "incredibility inefficient" due to "inefficient [audience] guarantees and liability transactions"
TV networks make audience forecasts that become the basis of upfront negotiations. If the audience forecasts are not met, the networks owe the advertisers makegoods, or "Audience Deficiency Units" (ADUs). Pritchard says, "The one thing we know for sure is that the audience forecast is (always) wrong." Pritchard calls for tests of new approaches to better match demand for TV audiences with supply.
Plunging TV ratings cause makegoods to soar: An enormous backlog of Audience Deficiency Units is "a huge issue"
Manuel Reyes, CEO of Cortex Media, an advisory firm that works with marketers on their media investments, indicated the mounting pile of Audience Deficiency Units is a "huge issue" for brands. Reyes noted that 25% of ADUs are carryovers from prior years.
One marketer client of Cortex Media had $100 million dollars of unused TV audience guarantees sitting on their books. Reyes reports the rush to unload ADUs has eaten into current inventory, contributing to media inflation and higher TV ad prices.
The 2022 network TV CPM projections shared by Reyes were eye popping. Prime time CPMs are forecast to grow +20%, Sports +15%, and other dayparts +10%.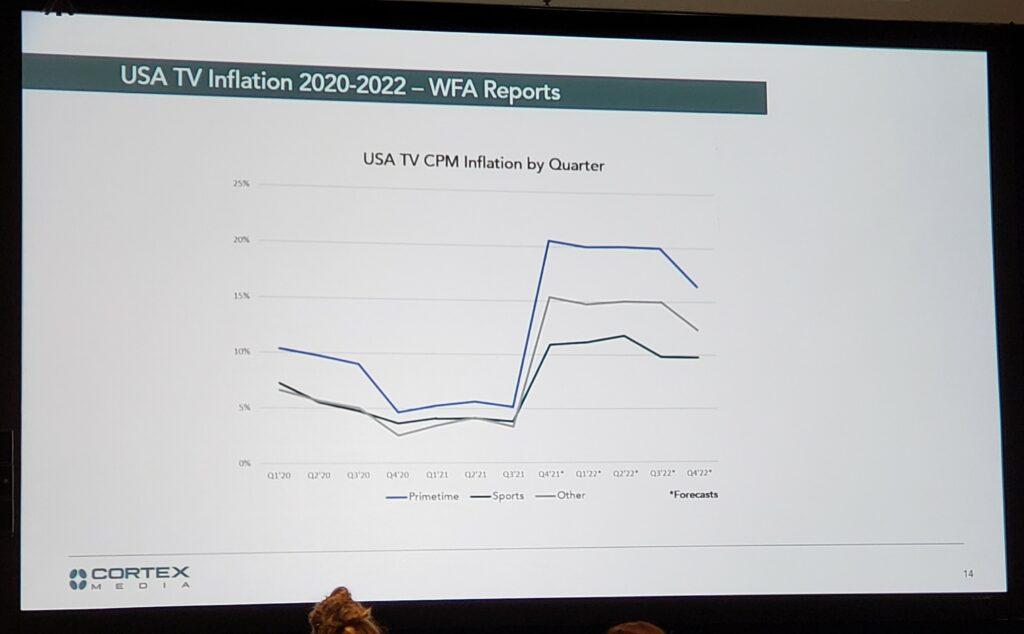 One strategy TV networks are using to burn off the mountain of audience guarantee obligations are "fluidity deals" where network TV makegoods are run in connected TV offerings. Reyes notes that this brings up other issues as the same ad in the same show goes from a $13 CPM in linear TV to a $45 CPM in connected TV.
"You'd be better off to burn your money than invest in advertising dollars in an Open Exchange in CTV," DJ Perea, Director, Media Center of Excellence at Boehringer Ingelheim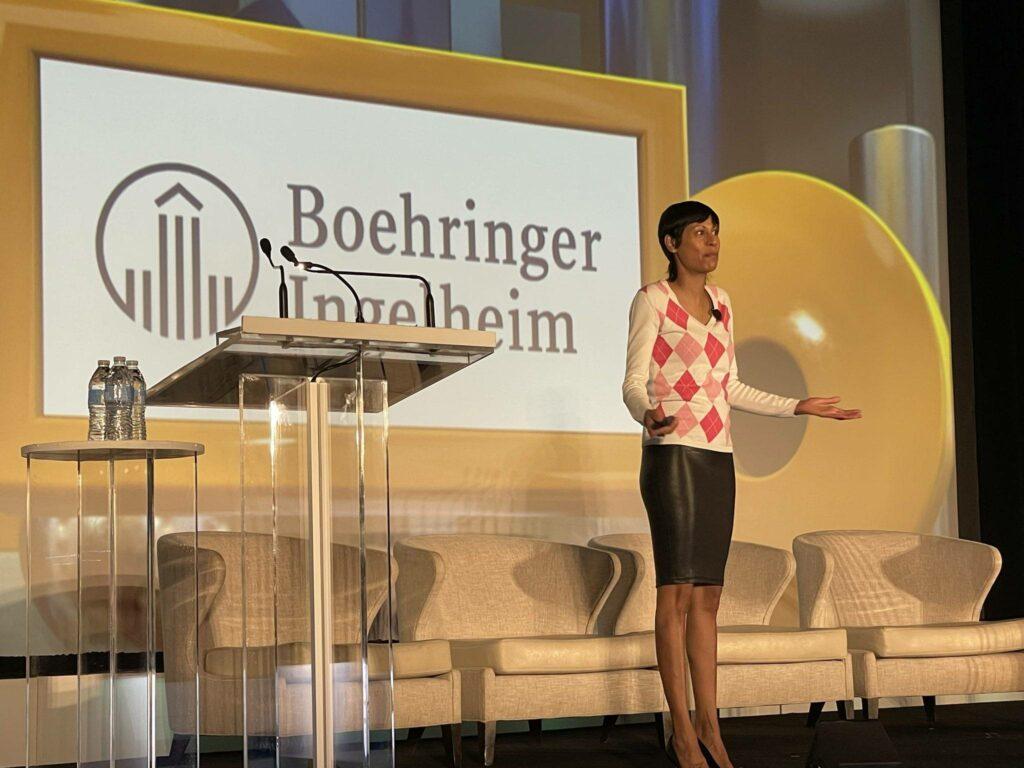 DJ Perea, Director, Media Center of Excellence at Boehringer Ingelheim; Photo by Lou Paskalis
Ad fraud risk and lack of verification and transparency are major issues for programmatic CTV open exchanges, Perea explained.
"Only 26 cents on the dollar of programmatic results in viewable impressions," Mark Stewart, SVP of Media, the ANA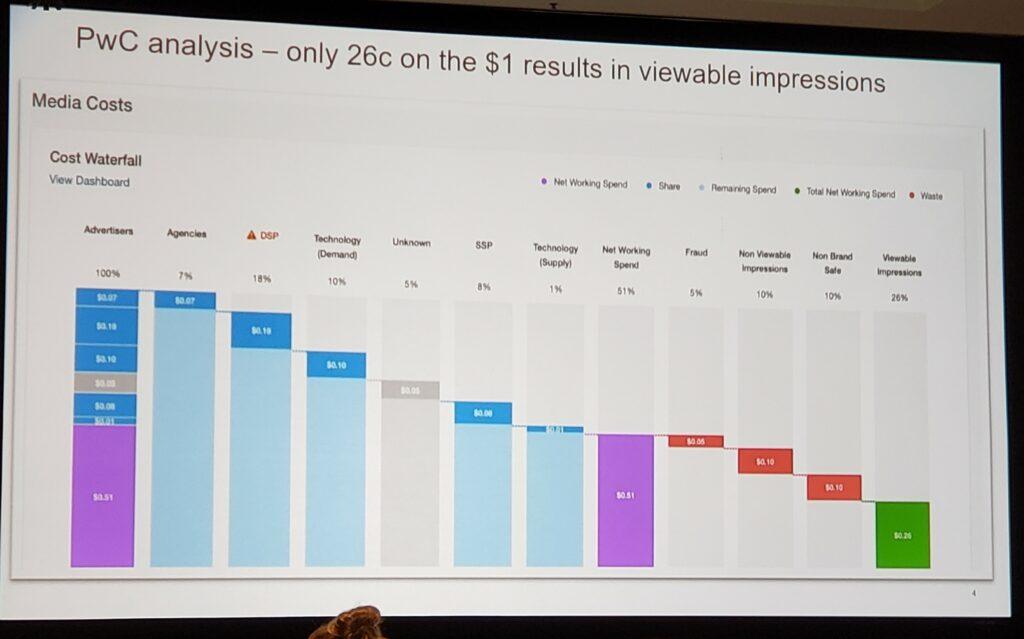 Mark Stewart, SVP of Media of the ANA, reported on their PwC study that found "only 50¢ of every dollar marketers invest in programmatic media reaches publishers and only half of that results in a viewable impression."
The PwC study identified four key issues of the programmatic ecosystem:
Poor media value
Wasteful and unproductive media buying decisions
Unable to fully optimize investment and drive business growth
Misaligned incentives
Programmatic ecosystem stakeholders desire different things
Lack of an aligned or shared agenda
Information asymmetry
Lack of data transparency (costs, fees, contracts, ownership)
Limited transparency of the value of investment across the supply chain
Varying degrees of education and guidance for optimization
Lack of standardization
"Mind numbing complexity"
Buying process and bidding mechanic methodologies, procedures, oversight, and governance
Fractured accountability
"We haven't printed a retail circular since May 2020 and we haven't gone out of business," Luke Kigel, VP, Walgreens Media & Head of Walgreens Advertising Group
A sacred cow for many retailers is the printed circular. Walgreens' Kigel found no impact from the elimination of their circular. This is a powerful lesson for any retailer who thinks their business would plunge without the circular.
"Marketers should increase their investments in news," Lou Paskalis, President and COO, MMA Global
While advertiser support for news publishers is declining, there is a rising demand for news. Lou Paskalis, long-time client-side marketer and former Senior Vice President of Bank of America Merrill Lynch, explained that the news audience is exceptionally valuable, attentive, and deserving of greater investments from brands.
Citing research commissioned by the Interpublic Group of Companies, Paskalis says 90% of consumers have no trouble with ads appearing alongside bad news. He also noted CivicScience survey research showing news consumers to be more upscale, four times more likely to attend sporting events, and +55% more likely to follow technology trends.
"Effective reach requires context and different measures of engagement," Kirk McDonald, CEO, GroupM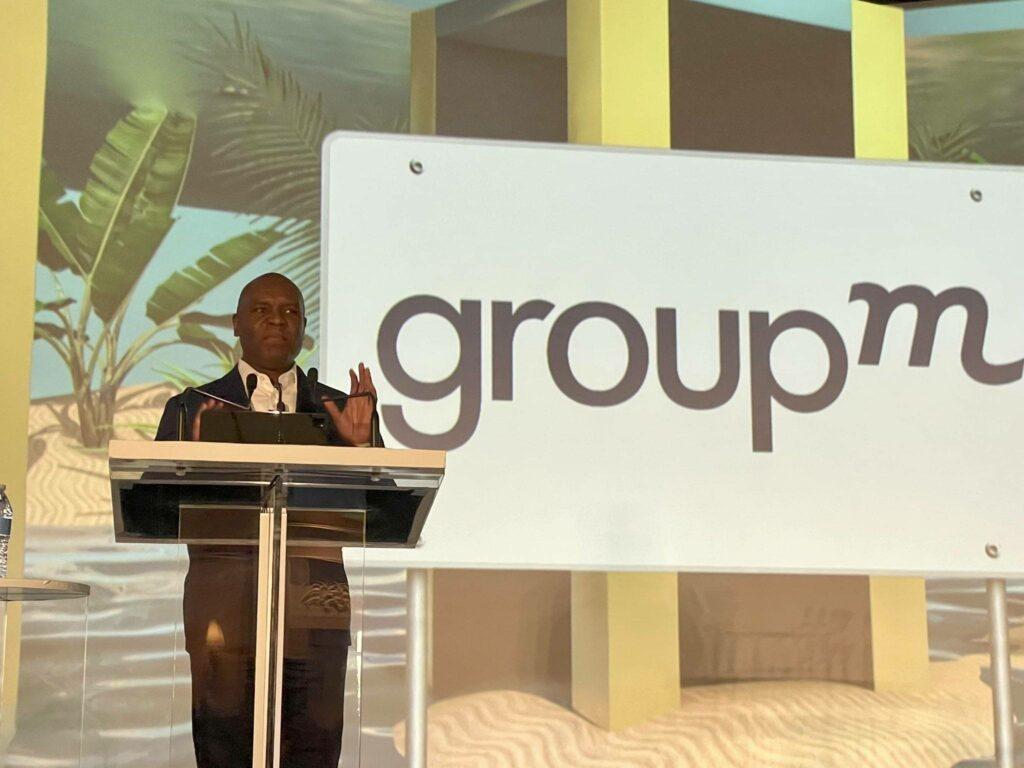 Kirk McDonald, CEO, GroupM; Photo by Lou Paskalis
Making advertising less interruptive and a valued part of the media experience is a key focus for GroupM CEO Kirk McDonald. Ads that are a key aspect of content have low levels of ad skipping.
A new study from MARU/Matchbox released last week reveals consumers skip social and digital ads the most and skip traditional media ads the least. AM/FM radio, print, and podcast ads lead in attentiveness. Of all media, AM/FM radio ads are number one for being noticed and holding attention. AM/FM radio ads are stickier than ads on free online streaming services like Pandora and Spotify.
"We can finally answer John Wannamaker's century old observation: 'I know half of my marketing observation isn't working, I just don't know which half,'" Mary Ann Reilly, SVP North American Marketing, Visa
Speaking of consumer attentiveness, Visa's Mary Ann Reilly revealed the "hidden metrics" of media, those who have actually been exposed to the ad with sufficient attention time. Reilly believes advertising attentiveness fills the gap between performance media, which only focuses on action cost, and brand buying, which stops at impression cost and how much is viewable.
Audio was absent
While there were many great topics covered, one that received very little focus and discussion was any form of audio.
For more coverage of the 2022 ANA Media Conference, read Jack Neff's takeaways in Ad Age.
Pierre Bouvard is Chief Insights Officer at Cumulus Media | Westwood One and President of the Cumulus Media | Westwood One Audio Active Group®.
Contact the Insights team at CorpMarketing@westwoodone.com.