Signal Hill Insights: Podcast Advertising Drives Brand Equity For Marketers
Brand marketers are pouring into podcast advertising. According to the just-released IAB/PwC Podcast Revenue Report, brand spend tripled from $112M in 2017 to $319M in 2019. Brand investment now represents 45% of total podcast 2019 revenues, up from only 27% in 2016. Direct response advertising represents the other 54%.
IAB/PwC predict a robust +15% growth in 2020 podcast ad spend. By 2021, IAB/PwC forecast a $1.1 billion dollar podcast advertising marketplace. Yet some marketers and agencies are still standing on the podcast sidelines under the mistaken impression that the impact of their podcast investment cannot be measured.
Podcasting can no longer be dismissed for lack of measurement
There are now a number of podcast attribution firms that can measure the site and search traffic generated by podcast advertising. LeadsRx, Chartable, Podsights, and Barometric from Claritas are just a few of the companies in the podcast attribution space.
Marketers can measure the brand equity impact of their podcast advertising
If a marketer's strategic focus is brand building rather than sales activation, there are a number of very experienced firms that are measuring podcast advertising impact on brand equity measures such as awareness, consideration, brand favorability, and purchase intent.
Nielsen has conducted dozens of studies. Signal Hill Insights, a firm based out of Toronto, has as well. Led by Jeff Vidler, one of the leading experts on audio content measurement and listening trends, Signal Hill Insights has built a strong reputation for podcast advertising brand equity measurement.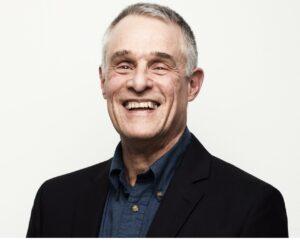 Jeff Vidler, President/Founder, Signal Hill Insights
Awareness is important because it generates sales
A Nielsen path-to-purchase study examined unaided awareness at two of the most important stages in the auto-buying journey: consideration and purchase intent.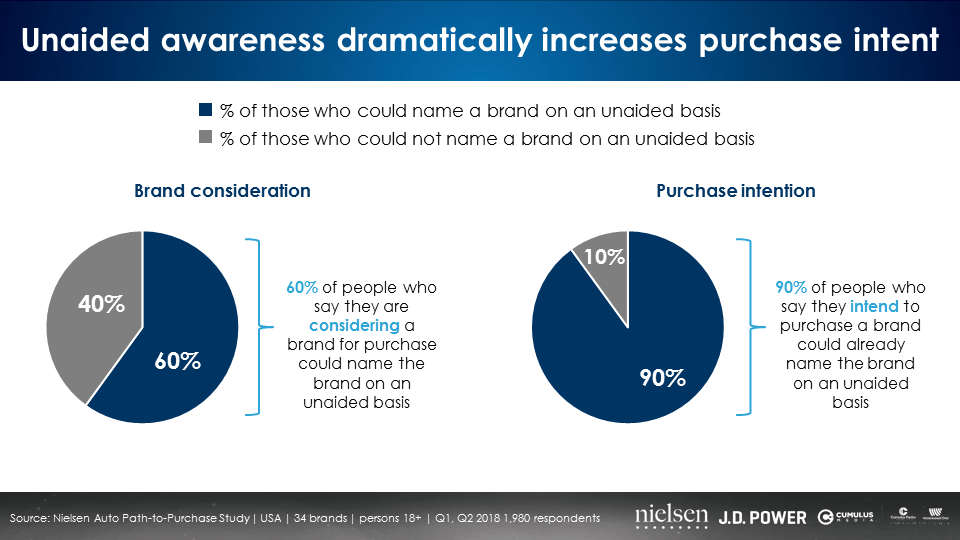 Brand consideration: Unaided awareness is responsible for a majority of all brand consideration. 60% of people who were considering an auto brand for purchase could name the brand on an unaided basis.
Purchase intention: Even more impressive, virtually all people who were intending to purchase an auto brand could name the brand on an unaided basis. Unaided awareness is responsible for 90% of all auto purchase intentions.
What is unaided awareness? Unaided awareness is when a customer can name the brand or store without any help. No doubt, it is hard to get consumers to be able to remember your brand or store on an unaided basis. It's worth the effort.

Unaided awareness is the most important metric to insure long-term sales and profit are protected and grown. Noted advertising expert Spike Santee says, "The goal of successful advertising is to be known before you are needed. The biggest mistake in advertising is waiting to be found."
How podcast brand effect studies are conducted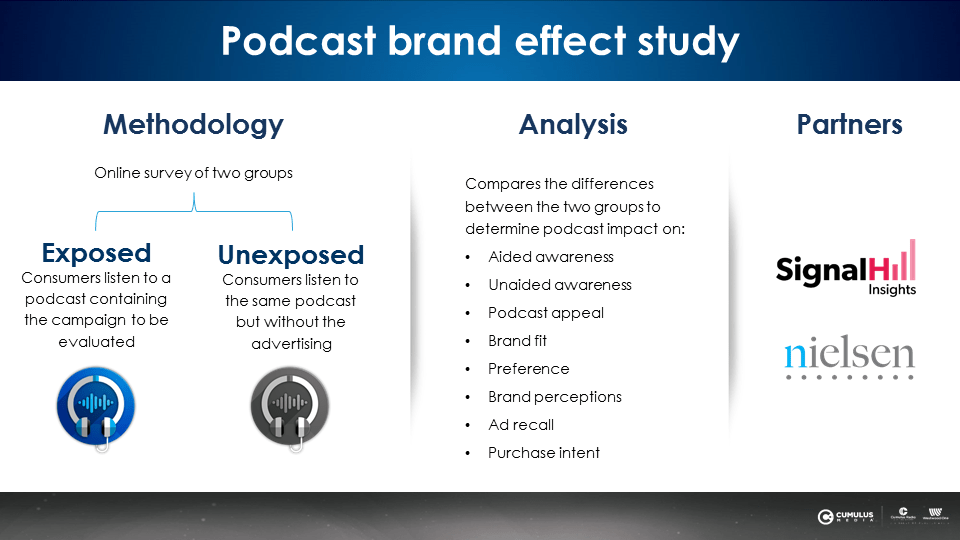 Two groups of consumers are measured. One group is exposed to a portion of a podcast that contains the brand ad. Another group, the unexposed segment, hears the podcast clip without the ad.
A series of questions are asked of each of the two groups. The difference in response among those exposed to the brand ad is the "lift" achieved by the podcast ad.
Brand lift can also be measured through pre- and post- studies among listeners to the podcast (or podcasts) being purchased for the campaign. A call-to-action is placed on the podcast(s) prior to the beginning and at the end of the campaign inviting listeners to go to a vanity URL to complete a survey.
Unaided or "top of mind" awareness
Here's an example of unaided awareness. One group of podcast listeners was exposed to a podcast segment that contained an ad for a direct-to-consumer female personal care brand. Another group heard the podcast segment without the ad.
When asked to name all the companies in the category, 26% of those exposed to the ad named the brand. Among the podcast listeners who were not exposed to the ad, 12% could name the brand on an unaided basis. The "lift" is the difference between the 26% unaided awareness among those exposed and the 12% unaided awareness among those not exposed.
Aided awareness
In addition to unaided awareness, consumers are asked if they aware of brands in the category from a list. This measure is called aided awareness since consumers are "helped" with a listing of companies in the space.
Brand favorability
Brand favorability is determined by the number of consumers who say they "love" or "like" a brand given the choices of "never heard of," "dislike," "neutral," "like," or "love."
Taking action
Taking action is represented by the number of listeners who say they would do one or more of the following: look up information about the company, recommend product/service to a friend, use or buy the products.
Here are four recent examples of brand effect studies conducted by Signal Hill Insights among female podcast listeners aged 18-49 for four brand advertisers across the Westwood One Podcast Network.
A direct-to-consumer female personal care brand: Personal grooming products for women
A common brand lift pattern reveals greater lift in top of funnel metrics such as awareness versus lower funnel metrics such as brand favorability and taking action.
Compared to those who did not hear the personal care brand's ads, those exposed to the podcast ads had +117% greater unaided awareness, +42% greater aided awareness, +21% greater "love/like" brand favorability, and were +21% more likely to take an action.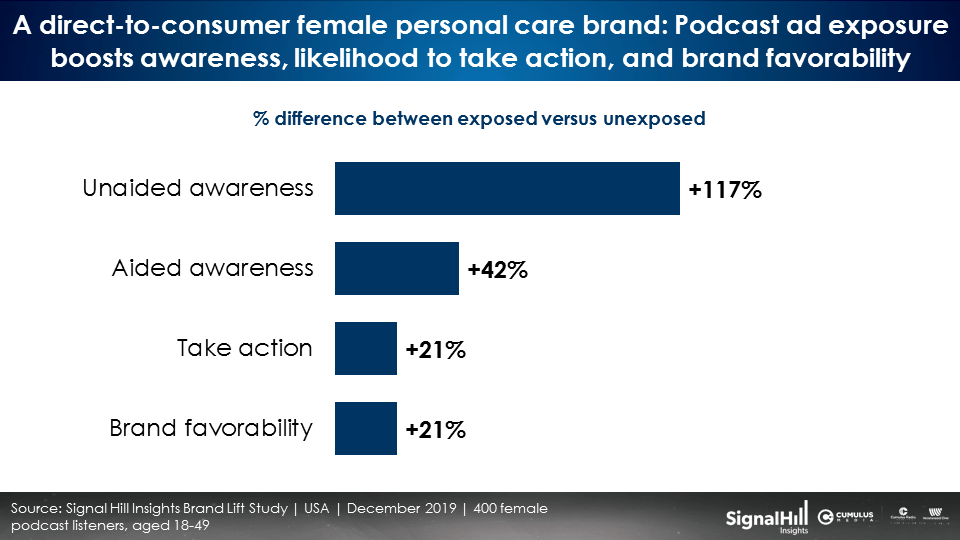 HelloFresh: Recipe box service
Those exposed to the podcast ads represented a +164% increase in unaided awareness and a +44% growth in aided awareness. Among those exposed, brand favorability grew +51%. There was a +16% lift in those that said they would take an action.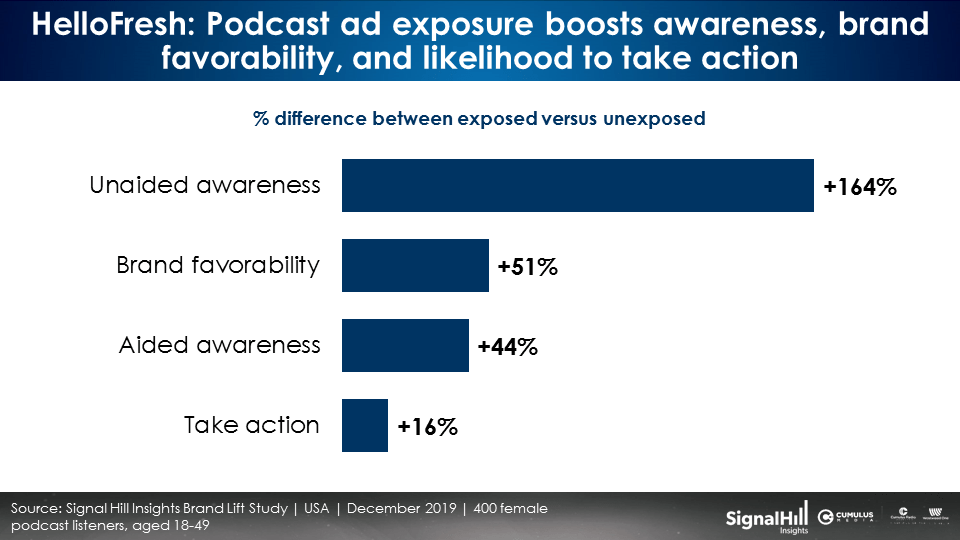 Chanel: Famous fashion brand
Comparing those unexposed and exposed to the Chanel ad saw an outsized lift in unaided awareness (+206%) and virtually no growth in aided awareness.
Why no growth in aided awareness? When you're one of the most famous global fashion brands, it's hard to improve on an aided awareness that is nearly 100%. The aided awareness of Chanel among those unexposed and exposed to the podcasts was the same – 98%!
Chanel has extraordinary like/love brand favorability levels near 50%. Still, those exposed to the podcast ads had +7% greater brand favorability. Among those exposed there was a +13% lift in taking action.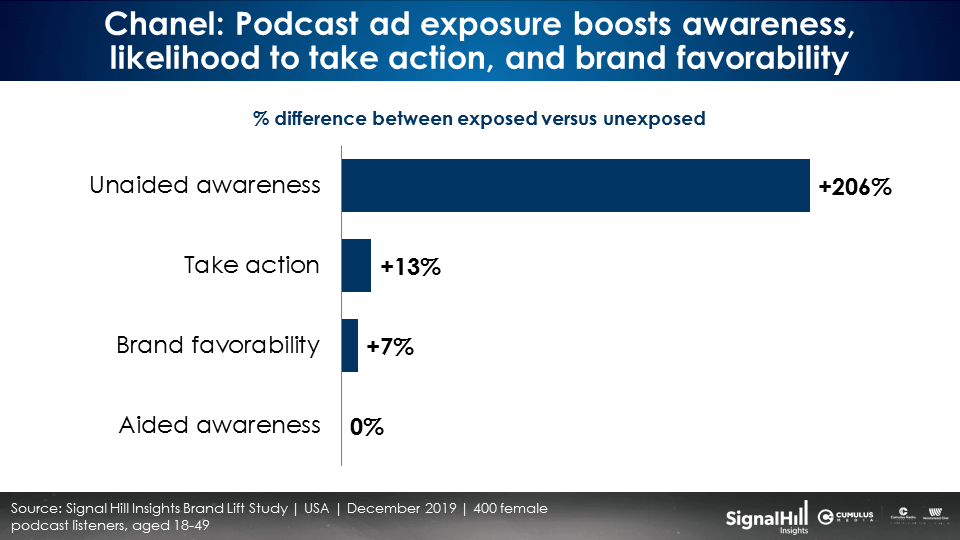 Talkspace: Online mobile therapy service
Podcast advertising grew unaided awareness by +150% and aided awareness by +14%. Brand favorability increased +14% and those that would take action was up +10%.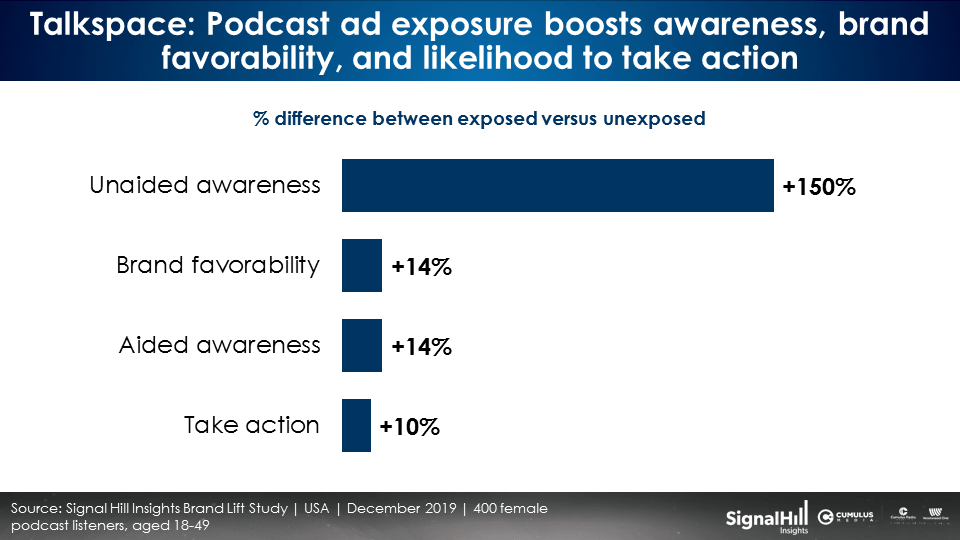 Key takeaways:
No longer can marketers assert podcast advertising cannot be measured as there is a robust and experienced set of firms that are measuring search and site traffic as well as podcast brand effect.

Awareness is important because it drives sales. A brand must be known before they are needed. According to Nielsen, unaided awareness is responsible for 60% of all brand considerations and 90% of all auto purchase intentions.

Podcast brand lift studies prove that podcast advertising can be a brand builder, delivering growth in awareness, favorability, consideration, and likelihood to take action.
Pierre Bouvard is Chief Insights Officer at CUMULUS MEDIA | Westwood One.
Contact the Insights team at CorpMarketing@westwoodone.com.