What Does The Pandemic Mean For Ad Creative And Marketing Plans? Several New Studies Offer Strategies
Can I continue to use my existing campaign? How much should I reference the pandemic in my ad copy? Should I focus on brand building or sales activation? These are all excellent questions being asked in light of the Coronavirus outbreak.
To understand current consumer reactions to advertising creative, we consulted some of the experts in marketing effectiveness and leading creative evaluation firms for insights and recommended strategies for local retailers and national brands.
Interactive Advertising Bureau (IAB): 73% plan to create new assets or modify creative in Q2
A just-released study from the IAB found that most agencies and brands expect to alter creative in the coming months.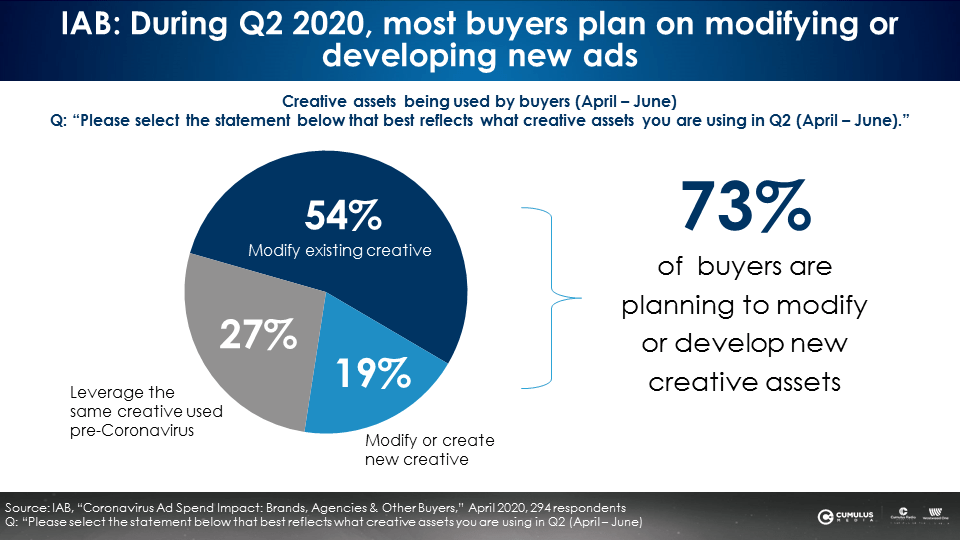 System1: There has been no reduction in advertising's ability to connect with people and existing campaigns can continue
Orlando Wood, the Chief Innovation Officer for System1, the ad testing and tracking firm, revealed the results of a recent study where 100 ads were retested and compared to previous pre-virus scores. Wood concludes, "Brands can most likely continue with their pre-COVD advertising."
VERITONIC: AM/FM radio ads with Coronavirus themes perform at 97% the creative impact of TV ads at one-fourth the CPM
CUMULUS MEDIA | Westwood One partnered with creative evaluation firm VERITONIC and tested 26 TV and AM/FM radio ads. Half of the ads were previous campaigns and half consisted of new Coronavirus-themed executions. AM/FM radio and TV ads with a COVID-19 theme performed similarly with the same impact at one-fourth the CPM, an insight that would warm the heart of any advertiser CFO.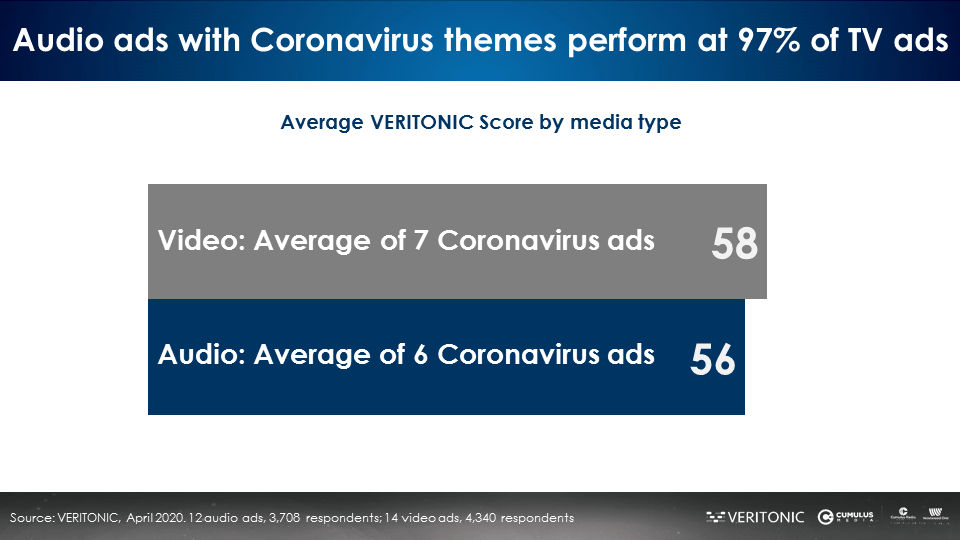 ABX: COVID-19 AM/FM radio advertising effectiveness is running high
Leading creative evaluation firm ABX tested 360 Coronavirus-themed ads across all media including 63 AM/FM radio ads. ABX found, "Radio has been at the forefront of generating COVID-related messaging and currently 65% of radio creative features COVID-specific messaging. This messaging has generated some of the highest scores among the radio ads measured by ABX these past weeks. Radio spots featuring thanks to first-responders, helpful advice regarding resisting the virus, and conveying a serious tone in their offers all did well."
ABX's creative study had three main findings:
Overall, consumer response to ads during the month of March improved +5%, even with no change in creative.
Ads with COVID-related content performed better than non-COVID-related ads by a full +175%.

All but five AM/FM radio ads with COVID-specific messages were above ABX norms and well above long-term AM/FM radio averages.
Access ABX's study here to see how each of the 63 AM/FM radio ads performed.
Access ABX's full study of 360 COVID-themed ads across all media here.

A word of caution: Coronavirus ads are less likely to be perceived as unique
Compared to prior campaigns, VERITONIC found significantly reduced unique scores for COVID-themed audio and video creative. This creative sameness provokes the ire of the great Mark Ritson.
Mark Ritson: All of the generic Coronavirus ads are a waste of time and budget
The legendary marketing guru and lauded professor says most COVID-themed ads are "cliché … and an enormous and embarrassing waste of money on the part of some of the world's biggest brands. Just because we are in a strange and 'unprecedented' time does not mean that the usual rules of branding are deferred. You still need to be distinctive. You still need to have an actual message."
Ritson observes, "It's a new manifestation of an age-old problem in marketing. Even during more regular times, most brand managers lose interest in their advertising and want to change it long before the campaign has even bedded in, let alone achieved an enduring impact on the target audience."
System1: What's working
Continuously testing new national ads, System1's Wood finds the following five elements are currently working better: Ads with established brand characters, ads that make use of familiar scenarios or taglines, ads set in a specific time and place in the past, ads that highlight the human connection in the current state of "betweenness," and ads with a strong connection to local community and togetherness.
System1: What isn't working
In contrast, according to Wood, in the current environment, these five approaches are not performing as well: Ads that stress price and offers, focusing on things instead of people, ads that appeal to vanity, ads that rely too heavily on soundtracks, and aggressively competitive ads.
For further detail from System1, click here.
Gordon Borrell: Local ads should be useful
Gordon Borrell, the leading local retail advertising expert, recently shared the results of a Morning Consult consumer study of what people want to hear in ads. Consumers want pragmatic and helpful information from local retailers: Store hours, what the retailer is doing to help, how the store is cleaned and social distanced, and how the store is protecting employees. At the moment, very few consumers currently want to hear about deals.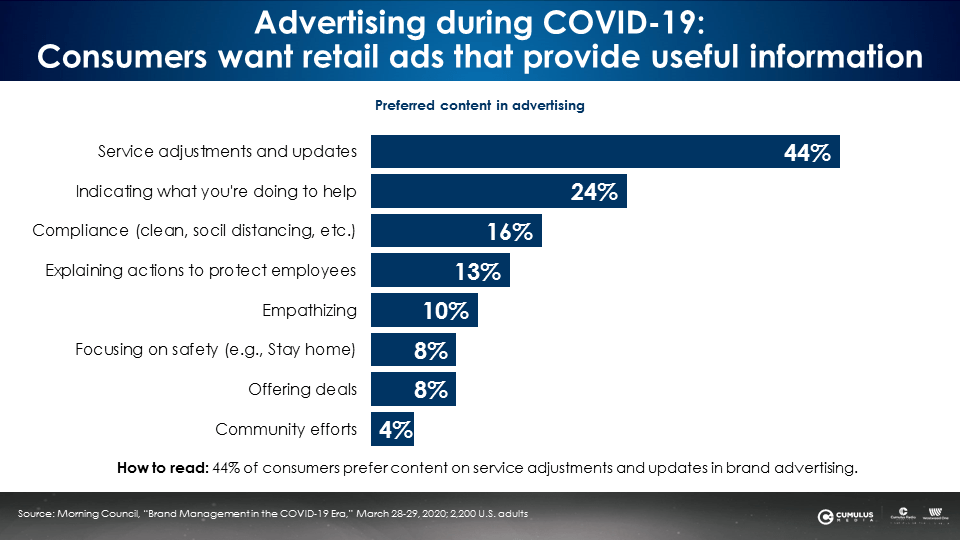 Gordon Borrell: Three phases of local retail post-COVID reopening
Borrell observes that this is an ideal time for local businesses to advertise given a huge growth in media use and massive reduction in ad clutter. For businesses that can advertise, their ability to stand out is far greater than at any point in the past decade. Borrell identifies three phases of local retail reopening:
Phase I: "We're open for business!" Advertising copy for the first few months needs to get the word out that the store is open.
Phase II: "We're COVID-19 compliant!" Explain all the new processes and procedures to ensure the safety of employees and customers.
Phase III: "Have we got a deal for you!" In this phase, promotions take a growing role in marketing communications.
NuVoodoo: 35% already sick of "We're all in this together" ads
Audio content research firm NuVoodoo surveyed consumers last week to evaluate six types of ads currently running. Ads thanking frontline workers generated the most positive brand favorability followed by COVID discount offers and creative highlighting brand donations and fundraisers.
A full 35% indicate they are sick of "We're all in this together" ad copy. Normal creative that does not acknowledge the crisis fared worst.
NuVoodoo evaluation of current ads: 4/29/20-5/4/20
Positive brand opinion
More likely to use the product/service
Sick of the ad

Ads thanking frontline workers

75%

42%

17%

Ads offering COVID-19 discounts


71%

59%

22%

Ads/sponsorships highlighting COVID-19 donations or fundraisers

65%

38%

20%

Ads highlighting COVID-19 policies (touchless delivery, etc.)

59%

46%

20%

Ads acknowledging the crisis ("We're all in this together," etc.)

57%

31%

35%

The same ads as usual (not acknowledging COVID-19)

28%

21%

18%
Peter Field: Seven guidelines for this recession
Peter Field is known as one of the godfathers of marketing effectiveness. Here are his seven strategies for national marketers to weather this current economic storm:
"Do not hit the panic button and withdraw brand advertising, unless short-term survival depends on it.

Resist the pressure to switch advertising spend from brand solely to activation – it makes very little sense to do so, even in the short term. Customers, in many cases are not reluctant to buy, they are unable to buy.

If the resources can be found, aim to maintain your share of voice, ideally at least at the level of your market share, where SOV (share of voice) equals SOM (share of market). You may even be able to reduce your budget if others are cutting theirs but be ready to adapt quickly to developments. You will need to monitor competitive activity regularly.

If the resources can be found, consider the opportunity to invest in lower-cost long-term growth by increasing share of voice during the recession.

Do not abandon your existing brand campaign unless it is clearly unsympathetic to the mood of customers. There may be more value and reassurance in continuity than in change.

Do not be frightened to use emotional brand advertising during recession – but ensure it is appropriate to the mood of customers. System1's live research findings are right now supporting the use of advertising that demonstrates humanity through warmth, generosity and humor.

Look for tactical opportunities to create goodwill through acts of humanity and generosity, especially if you were proclaiming these virtues before the emergency."
Field asks that we heed the lessons of prior economic downturn: "Brands that held their nerve – and share of voice – that bounced back strongly when recovery came."
To recap:
There has been no reduction in advertising's ability to connect with people and existing campaigns can continue

AM/FM radio ads perform similarly to TV ads at one-fourth the CPM

COVID-19 ads where the brand is not the hero of the storyline are less likely to be perceived as unique

What's working: Thanking frontline workers, characters, familiar brand scenarios, connection to local place and community, celebrating 'betweenness,' and ads set in or referencing the past

What's not working: "We're all in this together," direct 'hard sell' ads, price or promotion focus, focusing on things over people, pandering to vanity or self-image, ads reliant on words and rhythm, aggressively competitive or performance-focused ads

Local retail ads should be useful and the three phases of post COVID-19 according to Borrell are: We're open; We're COVID-19 compliant; Have we got a deal for you

For national brands, focus on emotion-driven brand advertising

Invest in lower-cost, long-term growth by increasing share of voice during the recession
Pierre Bouvard is Chief Insights Officer at CUMULUS MEDIA | Westwood One.
Contact the Insights team at CorpMarketing@westwoodone.com.