Agencies And Marketers Discussing And Using Podcast Advertising More Than Ever In Latest 2019 Advertiser Perceptions Report
This Wednesday, media firms, advertising agencies, and podcast stars will congregate in New York City for the IAB Podcast Upfront 2019, an event described by the IAB as a "special one-day marketplace designed for advertisers and media buyers to preview the latest in innovative podcast programming from some of the biggest names in the digital audio arena." If you're into podcasting advertising, it's the place to be.
The day of the event, Westwood One will release our Westwood One Podcast Download – Fall 2019 Report. Now in its third year, the report examines the podcast listener profile, content preferences, platform usage, and listening trends. It also covers what listeners think of podcast ads.
But there's another important stakeholder to also consider – advertisers and agencies.
Advertiser Perceptions: Discussion and usage of podcast advertising increasing steadily over the past 5 years
In September 2015, when the first IAB Podcast Upfront was held, Westwood One commissioned Advertiser Perceptions to survey agencies and marketers about podcast advertising. Each year since then, Westwood One has continued to track brand and agency podcast sentiment with Advertiser Perceptions. In May of 2019, the latest survey of 302 agencies and marketers was conducted.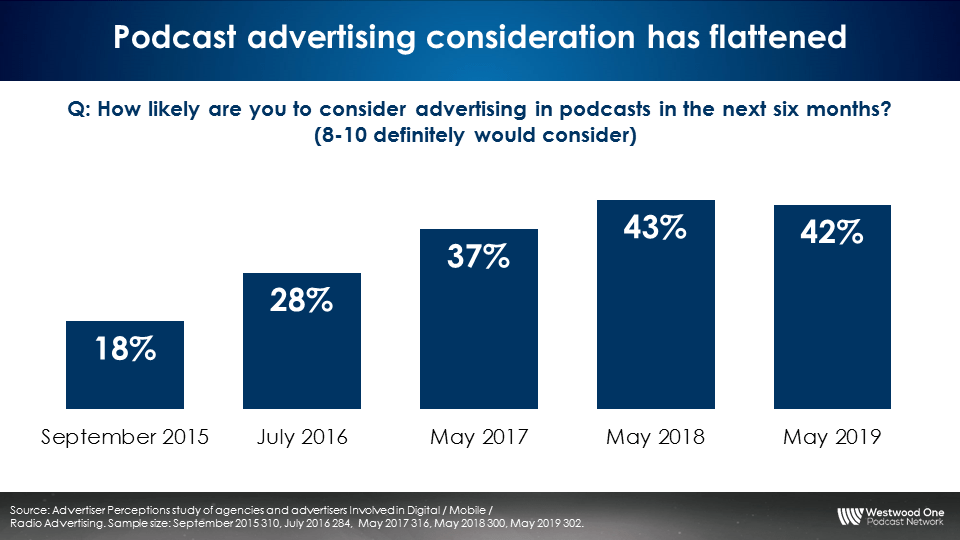 While the number of advertisers considering podcast advertising is holding steady, discussion about podcast advertising and actual usage has increased significantly.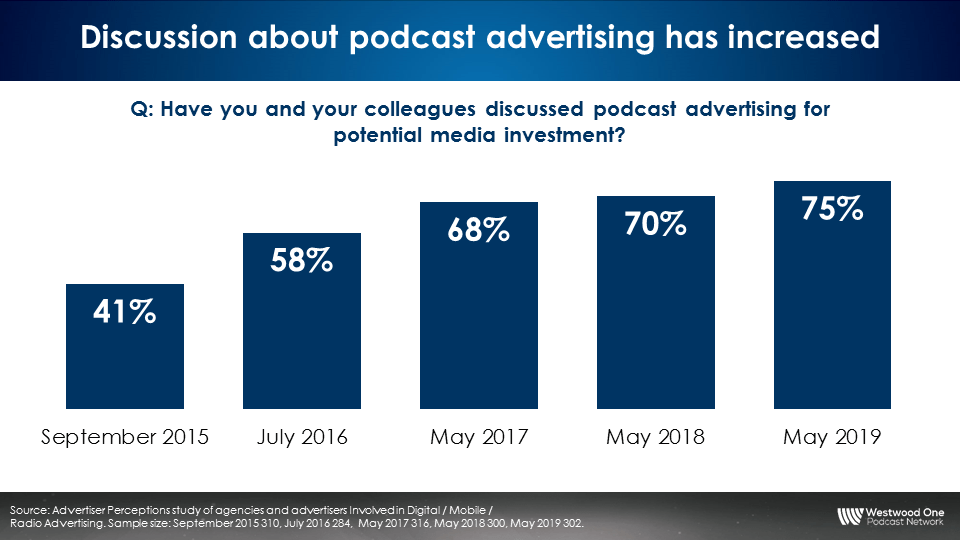 Discussion: The latest survey shows that 75% of advertisers and marketers are discussing the potential of podcast advertising, up from 70% in May of 2018 and, more significantly, up from 41% when the survey was first administered in September 2015.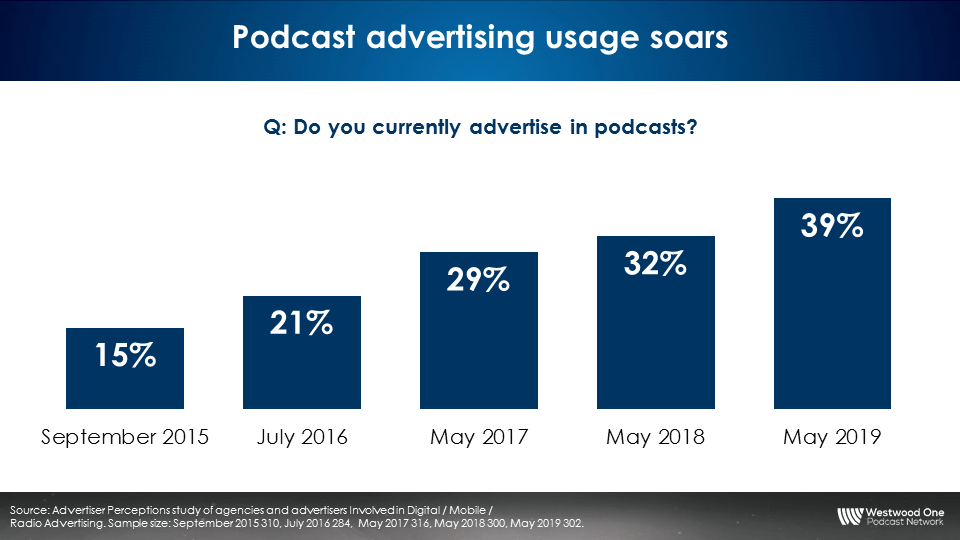 Usage: 39% of agencies and marketers are currently advertising in podcasts, up from 32% in May 2018. Podcast advertising today is over 2.5X greater than it was in September 2015.
This is exciting news for audio. Frank Papsadore, EVP of Marketing of Advertiser Perceptions agrees, saying, "The audio industry continues to innovate in response to consumer needs, habits and preferences. Podcast growth is a clear-cut example. Add to their wide range of topics, new media superstars, and provocative, unedited content – the unprecedented growth of new listening platforms like smart speakers – and it's clear that an entertainment revolution is well underway."
Suzanne Grimes, EVP Marketing, CUMULUS MEDIA and President, Westwood One, says, "Podcast advertising is clearly accelerating as a significant audio channel. Last year, the growth of brand spend was 5X that of direct response. This year, brand investment in podcasting will surpass direct response. Versus prior years, the Advertiser Perceptions data shows that brand conversations about podcasting are more likely to result in actual investment."
As we head into one of the biggest podcast events of the year, taking the temperature of podcast advertiser sentiment is a good way of looking at where we've been, understanding the current positive state of podcast advertising usage, and looking ahead to even more industry willingness to advertise in the podcast environment.
Don't forget to check back on Wednesday, October 16th to download the Westwood One Podcast Download – Fall 2019 Report with exclusive insights on the podcast listener profile, audience interest in podcast events, platform usage, and content and ad trends.
Pierre Bouvard is Chief Insights Officer at CUMULUS MEDIA | Westwood One.
Contact the Insights team at CorpMarketing@westwoodone.com.