Are Americans Getting Into The Habit Of Listening To Podcasts?
Edison Research recently released the 2019 findings of their long running Infinite Dial study which tracks consumer adoption of new media platforms. Many of the headline-grabbing statistics centered on podcasting.
The weekly podcast audience is soaring
Edison reports that while 51% of Americans have ever listened to a podcast, an impressive 22%, or one out of five Americans, now listen to a podcast in a week. That number is triple what it was in 2013, a much lower 7% of Americans.
Is this growth due to a huge influx of new listeners? Or are consumers getting into the habit of listening to podcasts? It is worth examining the historical growth of podcasting and audio streaming to understand how new forms of audio grow.
Habituation ratio = weekly audience divided by monthly audience
A simple way to determine if media habits are forming is to examine the ratio between monthly and weekly audiences. A simple "habituation ratio" can be derived by dividing weekly audience by monthly audience.
Audio streaming took decades to build weekly habits
Back in the early 2000s, Edison found that only half of monthly audio streaming listeners listened weekly. From 2006-2010, the average audio streaming habituation ratio rose to 61%.
In the first half of this decade, 2011-2015, 74% of the monthly audio streaming audience listened weekly. From 2016 to 2019, the average monthly/weekly audio streaming habituation ratio grew to 89%.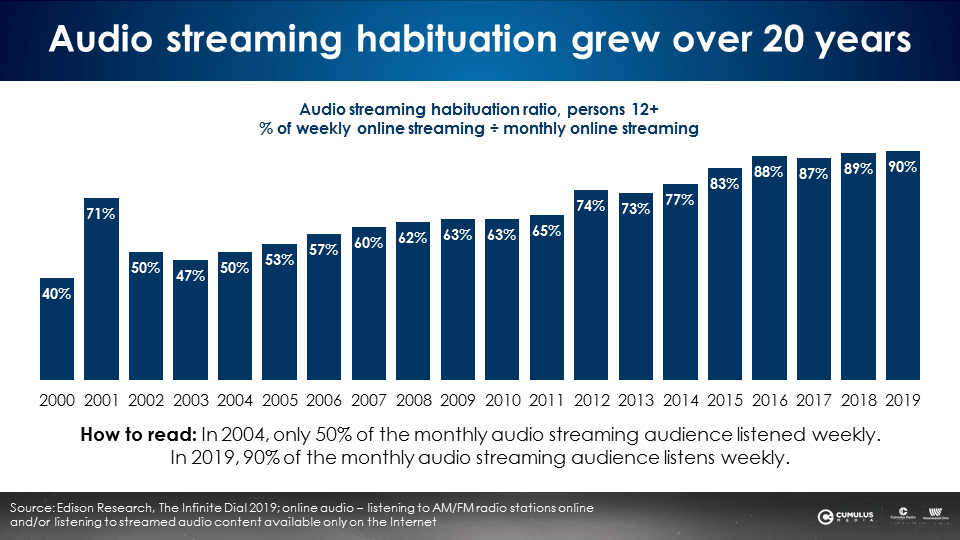 It has taken nearly 20 years for audio streaming weekly audiences to represent 90% of monthly listening. That's nearly two decades before Americans truly got into the habit of audio streaming.
Podcast audiences are getting into the listening habit
In 2013, Edison began asking if consumers listened to podcasts on a weekly basis.
The habituation ratio of monthly to weekly listening has been growing steadily, even as the monthly podcast audience has nearly tripled. Podcast habituation has grown from the mid 50s in 2013/2014 to 69% in 2019.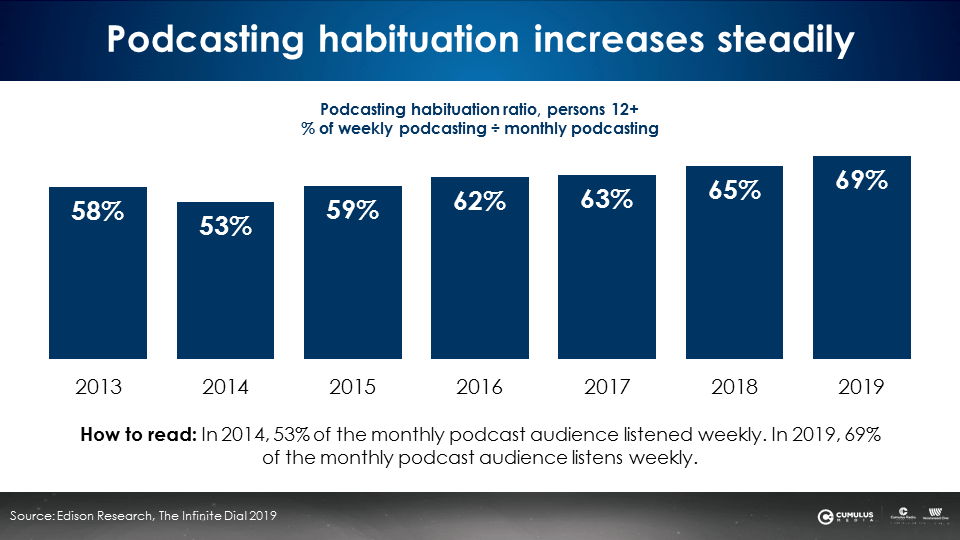 Podcasting's 2019 69% monthly to weekly habituation is where audio streaming was in 2012. It took streaming and podcasting seven years to grow from a habitation ratio of 58% to 69%.
For audio streaming, it was another seven years before achieving a 90% habituation ratio. Will it take another seven years for podcasting to see habituation grow from 69% to 90% too?
Podcasting is firing on all cylinders: reach is up and so is habituation
Glen Enoch, former ESPN and Nielsen research czar, famously boiled down media audience measurement to three questions:
How many?
How long?
How often?
The "how many" metric has been growing for podcasting. Edison reports that podcasting monthly audiences grew this year at the fastest pace ever.
The "how often" podcasting metric of habituation keeps inching up. Even if the monthly podcast audience held at 32%, achieving a 90% habituation ratio would cause weekly podcast audiences to soar from the current 22% to 29%. That's a +32% increase.
It is likely that while podcast monthly audiences will continue to grow, so will habituation. A combination of growth in both "how many" and "how often" means the weekly podcasting audience will grow significantly over the next five years.
Westwood One Podcast Network offers growing audiences diverse programming options
Following in the footsteps of streaming audio, podcasting is poised to continue to grow as a major part of the American audio experience. There are more heavy podcast listeners than ever, the appetite for podcasts is growing, and advertisers are discussing podcasting at a growing rate. With our own Westwood One Podcast Network offering a portfolio of diverse content, Westwood One is ready to feed those expanding audiences and answer advertiser needs.
Key takeaways:
Audio streaming took two decades to build weekly habits
Podcasting is firing on all cylinders as reach and habituation are both up
A simple ratio of weekly to monthly audiences quantifies content habituation
Podcasting and audio streaming both took seven years for habituation to grow from 58% to 69%
It took audio streaming another seven years to convert 90% of the monthly audience to weekly listeners
It remains to be seen if podcasting will take another seven years to achieve a 90% habituation of monthly to weekly listeners
Westwood One Podcast Network offers growing audiences diverse programming options
Pierre Bouvard is Chief Insights Officer at CUMULUS MEDIA | Westwood One.
Contact the Insights team at CorpMarketing@westwoodone.com.