AM/FM Radio Powers Amazon Prime Day 2018
This week, Amazon held their fourth annual Prime Day sale. True to form, it was a blockbuster event launched with mass reach television and AM/FM radio advertising. Overall, 18% of Americans reported making a purchase.
Westwood One commissioned IPSOS to examine purchasing during the 36-hour event, which began at 3PM on Monday, July 16th and continued to Tuesday, July 17th. IPSOS surveyed 2,010 Americans 18 and over with an online survey during and after the event.
Here are key findings from the IPSOS study:
1. Compared to Americans 18+, awareness of Prime Day skewed older while purchases leaned younger. 79% of Americans were aware of the event. More 55+ consumers (82%) were aware than 18-34s (74%). However when it came to purchases, one out of four 18-34 Americans made a purchase versus only 10% of persons 55+. Full time employed Americans were more likely to purchase (26%) as well as households with children (27%).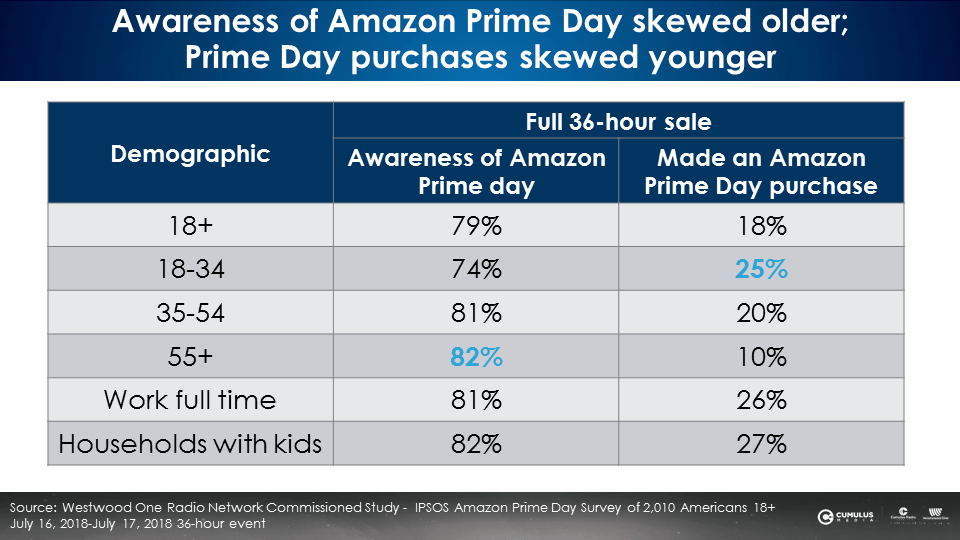 2. Compared the 2015, Prime Day shoppers in 2018 were older and more female. In 2015, IPSOS found the profile of Prime Day purchasers skewed decidedly male and Millennial. While this year men still outpaced women for purchases, the percentage of women who purchased increased. A greater proportion of adults 35-54 and adults 55+ made purchases in 2018.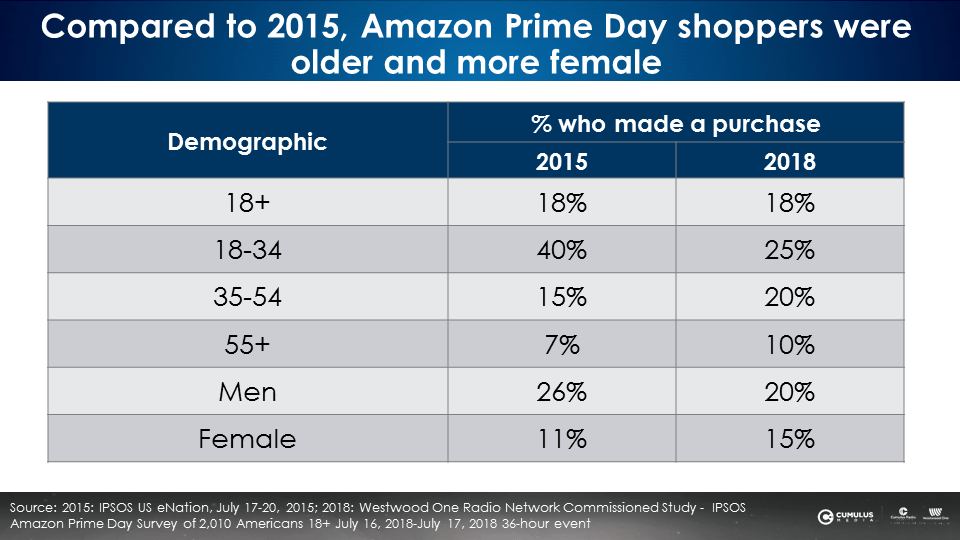 3. The Amazon Prime Day TV campaign over delivered older consumers who did not purchase. Online and AM/FM delivered a more even audience distribution. Those who recalled having seen online and AM/FM radio advertising for the Prime Day were equally distributed among 18-34 Millennials, 35-54 Gen X, and 55+ Boomers. Those that recalled having seen the Prime Day television campaign skewed decidedly older. Almost half were over the age of 55.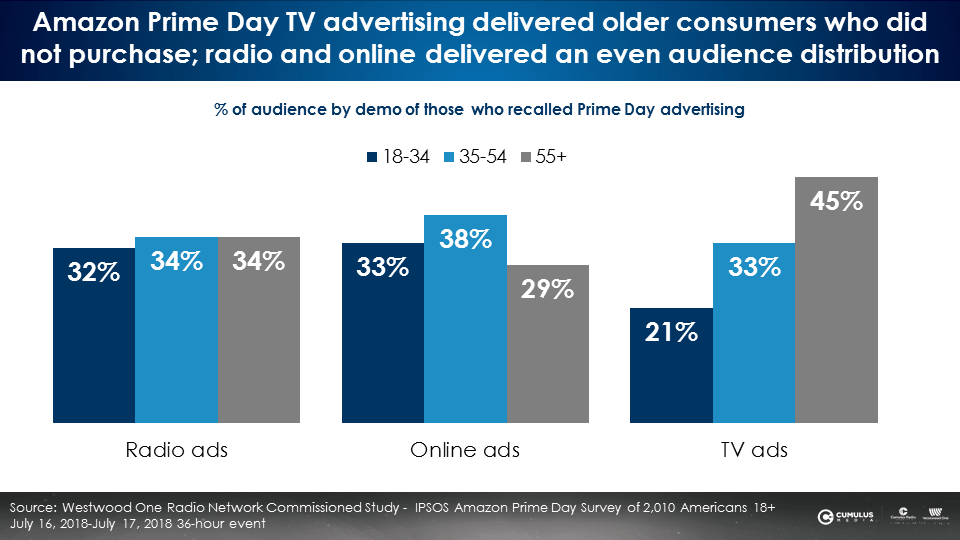 4. The profile of the Amazon Prime Day TV advertising recall does not match Prime Day purchasers. 81% of consumers that made a purchase on Amazon Prime Day were 18-54 year olds. The majority of those that recall Amazon's Prime Day TV ads were 55+. E-commerce marketers would be wise to use a greater allocation of AM/FM radio at the expense of television, which over delivers older, non-purchasers.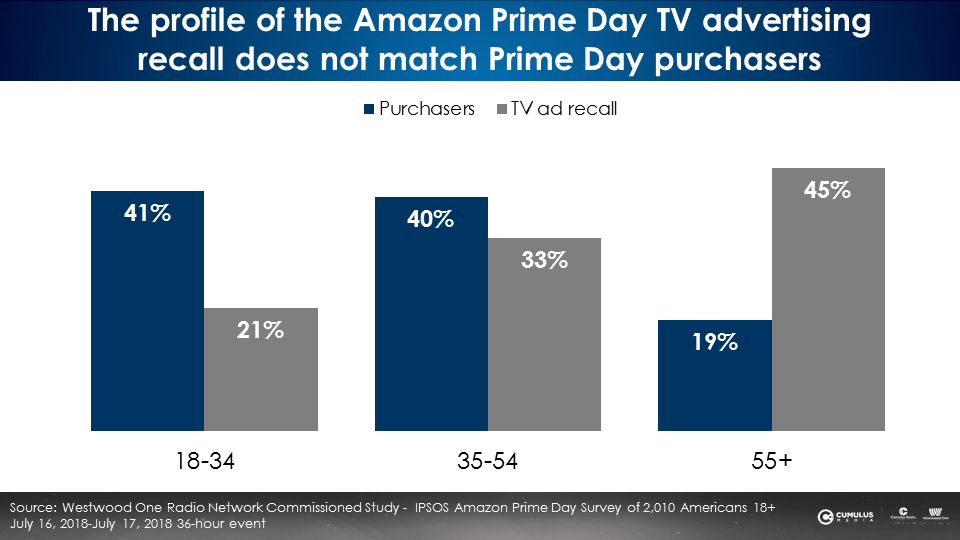 5. AM/FM radio and online did the best job of converting awareness into purchases. Among those that recalled online ads for Amazon Prime Day, 26% made a purchase. 25% of those that recalled AM/FM radio Prime Day advertising made purchases. A smaller number of those who were aware of Prime Day TV ads (22%) made a purchase. Among 18-49 year olds, AM/FM radio had the highest conversion of awareness to purchase.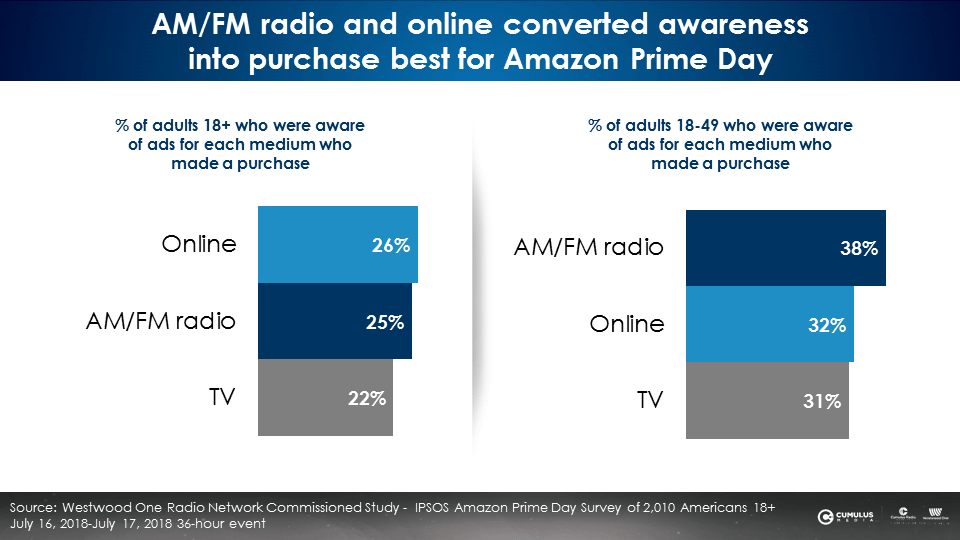 6. Frequent listeners to AM/FM radio programming formats were 61% more likely to make an Amazon Prime Day purchase. While 18% of 18+ Americans made an Amazon Prime Day 2018 purchase, 29% of radio listeners who are frequent listeners to key radio programming formats made a purchase.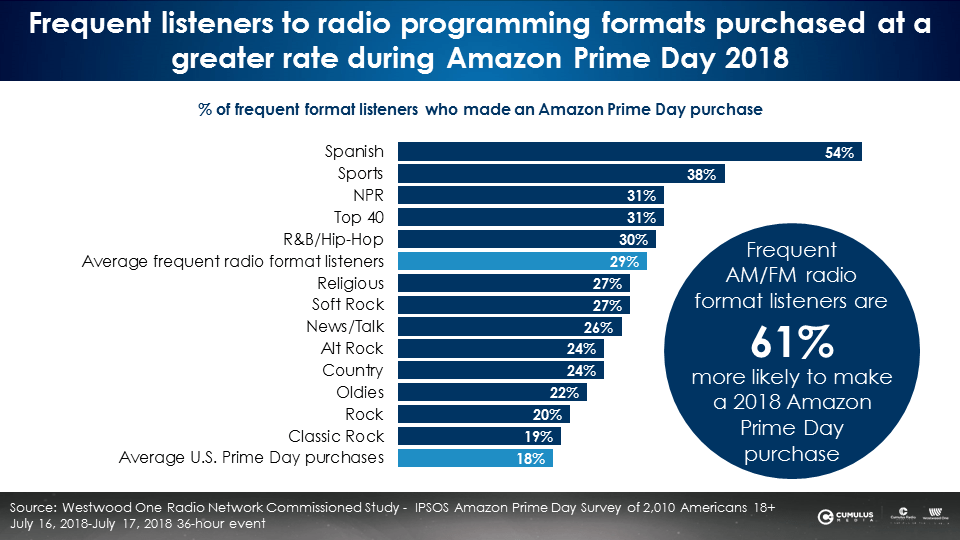 7. Heavy AM/FM radio listeners represent half of all Amazon Prime Day purchasers. AM/FM radio was the engine of Amazon Prime Day 2018. Far more heavy AM/FM radio listeners comprise purchasers (47%) compared to heavy online users (35%) and heavy TV viewers (31%). Heavy AM/FM radio listeners were 51% more likely to be Amazon Prime Day purchasers compared to the heavy TV viewers. AM/FM radio should be in the media plan of every e-commerce brand.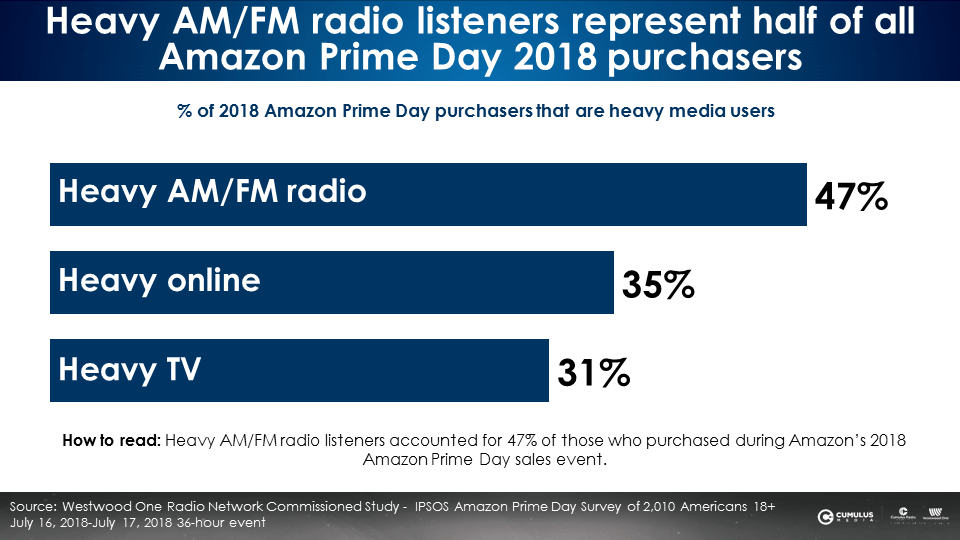 Full time employment and having kids in the home makes AM/FM radio the engine of e-commerce. According to Nielsen, the vast majority of AM/FM radio listening comes from Americans with a full time job. AM/FM radio is the soundtrack of the American worker. Most AM/FM radio programming formats over index with homes with children.
This Amazon Prime Day 2018 is the latest example revealing AM/FM radio listeners are much more likely to use e-commerce. In the 2015 study, IPSOS revealed that AM/FM radio had one of the highest conversions of awareness to purchase. Another IPSOS study conducted for e-commerce site Jet.com found AM/FM radio listeners purchased at a higher rate.
Those who are full time employed and from homes with kids were far more likely to purchase on Amazon Prime Day 2018. Versus the average, full time employed consumers were 44% more likely to purchase. Households with kids were 50% more likely to purchase.
In short, online shopping is highly appealing to busy consumers who have kids and full time jobs. AM/FM radio excels at delivering heavy e-commerce shoppers.
To recap:
Amazon Prime Day 2018 generated purchases mostly from 18-54s. Older 55+ shoppers stayed on the sidelines. Homes with kids and those full time employed were far more likely to shop.
AM/FM radio and online did the best job of converting advertising recall into purchases. Television delivered awareness with 55+ consumers who were far less likely to make Prime Day purchases.
AM/FM radio's strong performance is due to heavy audiences among full time employed Americans and homes with kids. E-commerce brands would be wise to heed these findings and increase allocations to AM/FM radio at the expense of television.
Compared to 2015, Amazon Prime Day 2018 purchasers were somewhat older and more female than the heavy male and Millennial purchase skew of 2015.
Pierre Bouvard is Chief Insights Officer at Cumulus | Westwood One.
Contact the Insights team at CorpMarketing@westwoodone.com.