How Much Of SiriusXM's Audience Can Advertisers Buy?
Today, American media planners have more audio channels to consider than ever. With so many options available, it can be tough to get a full picture of actual listenership and understand how effective advertising is on each platform.
Take satellite radio. SiriusXM has 33 million subscribers. That sounds like a huge number to advertisers. But how much of the SiriusXM audience is listening to ad-supported channels? How does AM/FM radio's audience compare?
Using Edison Research's Share of Ear data, we dug deeper into SiriusXM's reach and share to see how the platform stacks up against AM/FM radio.
SiriusXM listening is mostly an ad-free experience
When comparing AM/FM radio and SiriusXM, an important factor to consider are the ads themselves. AM/FM radio is a commercial-driven medium. In fact, on average, 84% of the AM/FM radio audience hears the ads when they listen to AM/FM radio at home, at work, or traveling in the car.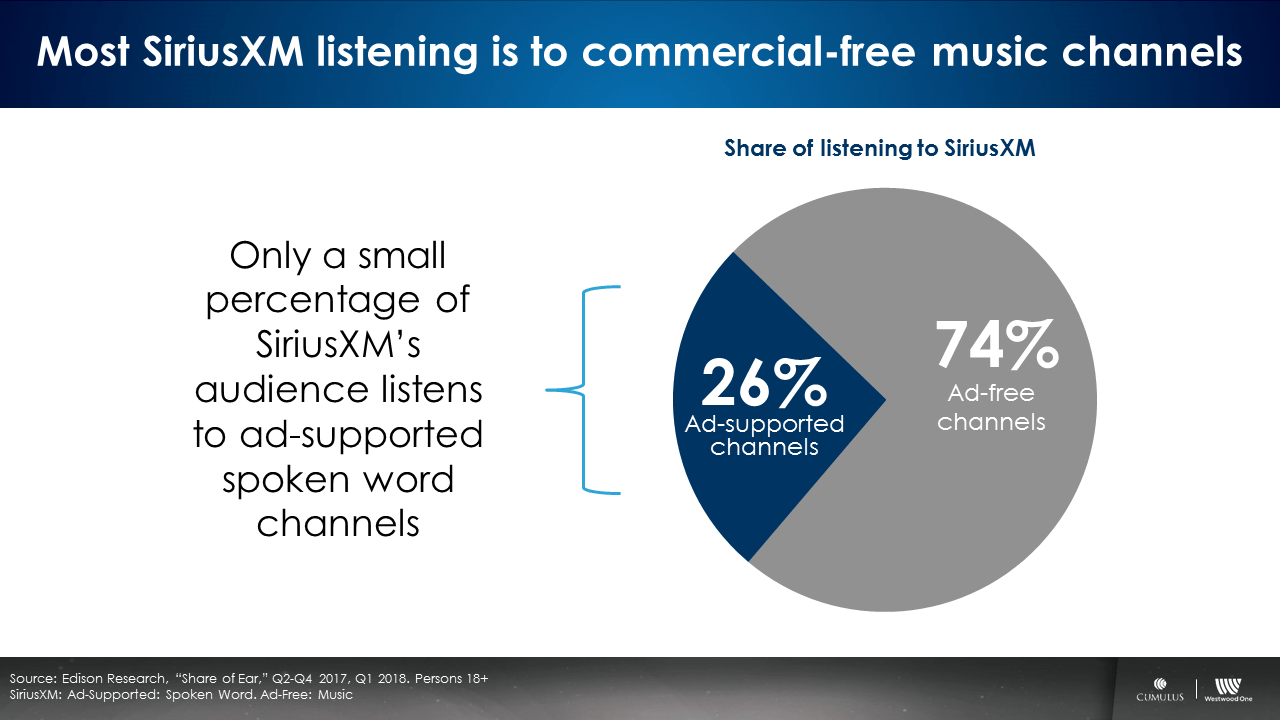 In contrast, only 26% of SiriusXM time spent listening is to ad-supported spoken word channels. 74% of SiriusXM time spent is to the music-based ad-free channels.
Ad-supported SiriusXM: low reach, tiny audience share

So let's narrow in on an apples to apples comparison and look at just the ad-supported SiriusXM channels compared to AM/FM radio.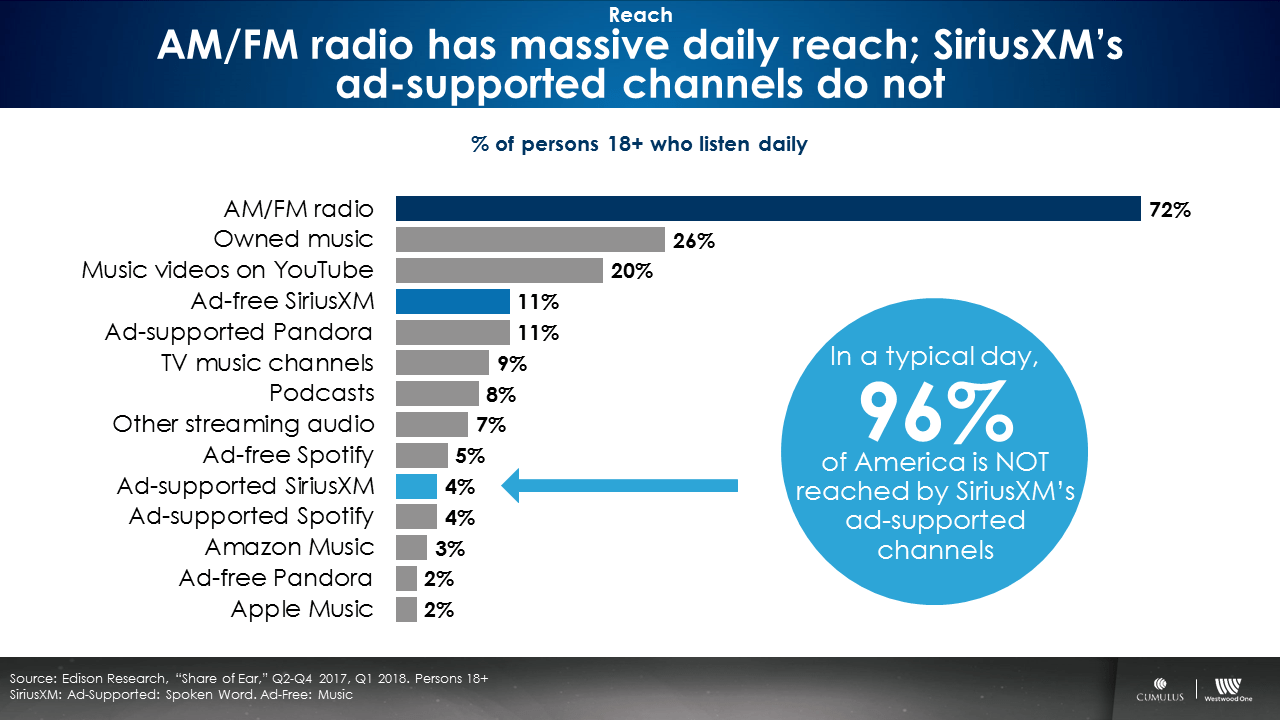 Edison reports that AM/FM radio's daily reach is 72%. Ad-supported SiriusXM is only 4%. Ads on SiriusXM hit only 4% of America, leaving a huge 96% of the country not reached by the medium.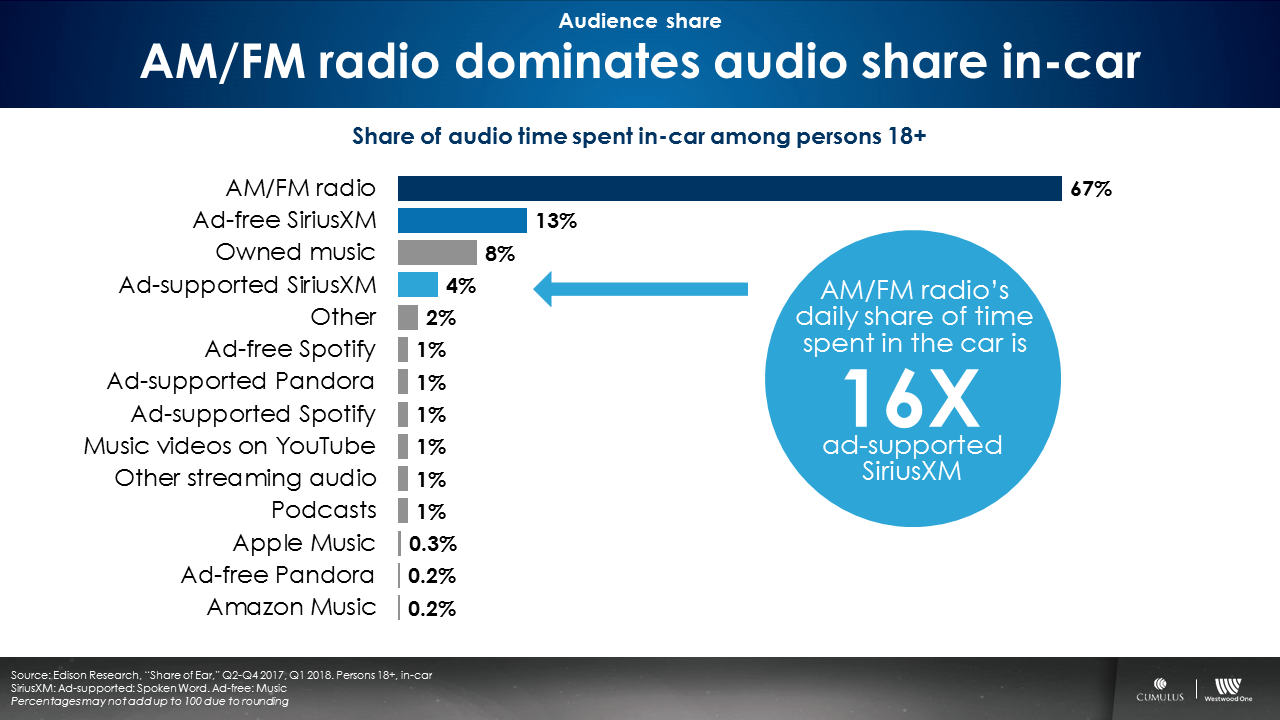 Looking at share, we see a similar story. In the car, ad-supported SiriusXM channels only have a 4% share of audio time spent. AM/FM radio? Sixteen times greater at a 67% share. 67% of American audio time spent in the car is with AM/FM radio.
The reality: Despite perceptions, the audience to SiriusXM's ad-supported service is actually quite small. Most listening to SiriusXM is to their music-based commercial-free channels. AM/FM radio, on the other hand, dominates the audio landscape with huge daily reach and massive in-car share of audio time spent.
Lauren Vetrano is Director of Content Marketing at Cumulus | Westwood One.
Contact the Insights team at CorpMarketing@westwoodone.com.