Westwood One Sports Sound Awards: How Creative Drives Purchase Intent
At Westwood One we believe in the power of sound and its ability to drive consumers to action. Last week, we introduced the Westwood One Sports Sound Awards: Basketball Finals edition to celebrate creative excellence and highlight the power of sonic branding. We honored the best ads running in our college basketball broadcasts ranked by happiness and excitement.
VERITONIC, an audio effectiveness platform, tested 109 radio ads airing during our broadcast of the tournament to see which commercials are trusted and what emotions they generate. Data was collected from over 3,000 panelists.
In addition to emotional responses, VERITONIC also measures changes in purchase intent before and after hearing the commercials. This allows marketers to evaluate the call to action impact of a particular creative approach on ROI.
Here are purchase intent highlights:
Purchase intent: top performing ads incorporate sound effects, music, and storytelling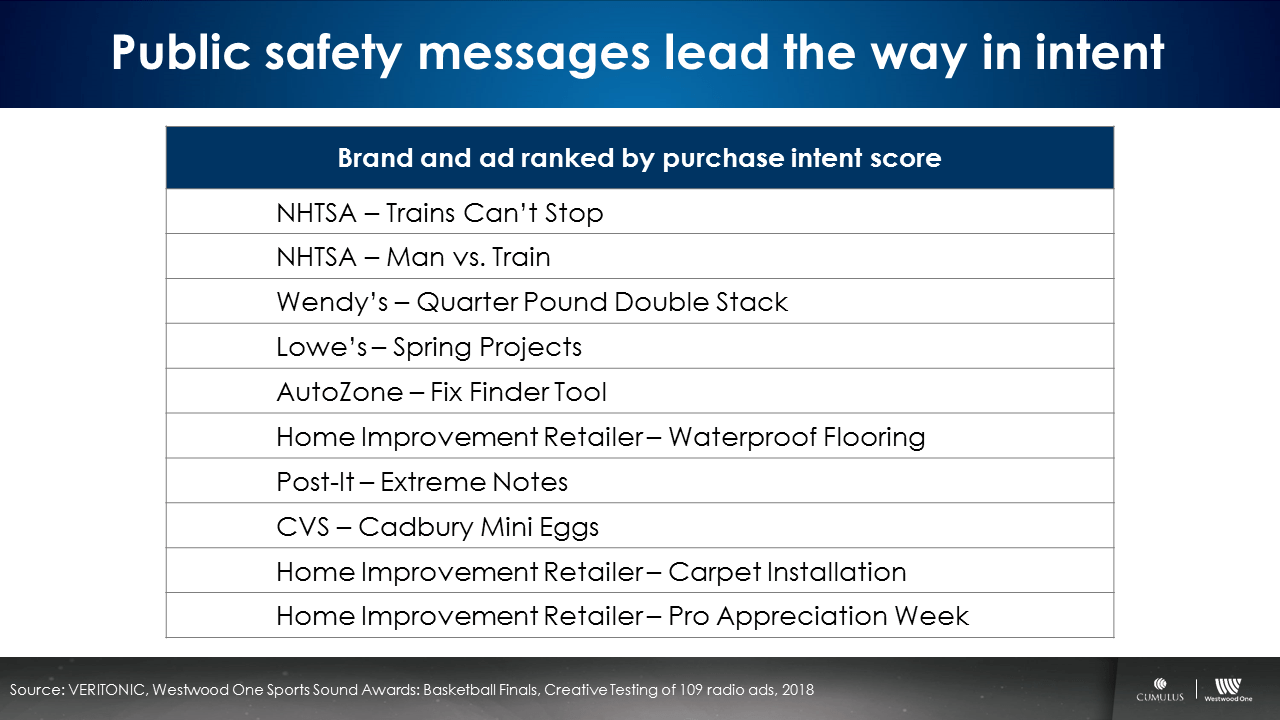 The home improvement, quick service restaurant, retail, and auto aftermarket categories were represented among the strongest performers for purchase intent.
However, purchase intent is not limited to financial transactions. The National Highway Traffic Safety Administration, NHTSA, was a top scorer for this measure. Rather than a monetary purchase, these ads were created with dramatic sound effects to illustrate negative consequences of careless driving around train tracks.

Sound can also be used to create an identity for a brand. Consider the AutoZone commercial. It opens with their sonic logo, a whistling sound that mirrors its slogan. Utilizing music throughout, the ad ends with its signature "Get in the zone…AutoZone!" jingle. Liberal use of musical elements resulted in strong purchase intent for the brand.

Post-It's ad communicates the brand benefit by telling a story. In this commercial, a welding worker in Alaska describes how he uses Post-It "Extreme Notes" to deliver messages to his team that stick even in harsh conditions.

Lift in purchase intent: sound effects, storytelling, and music also result in strong performance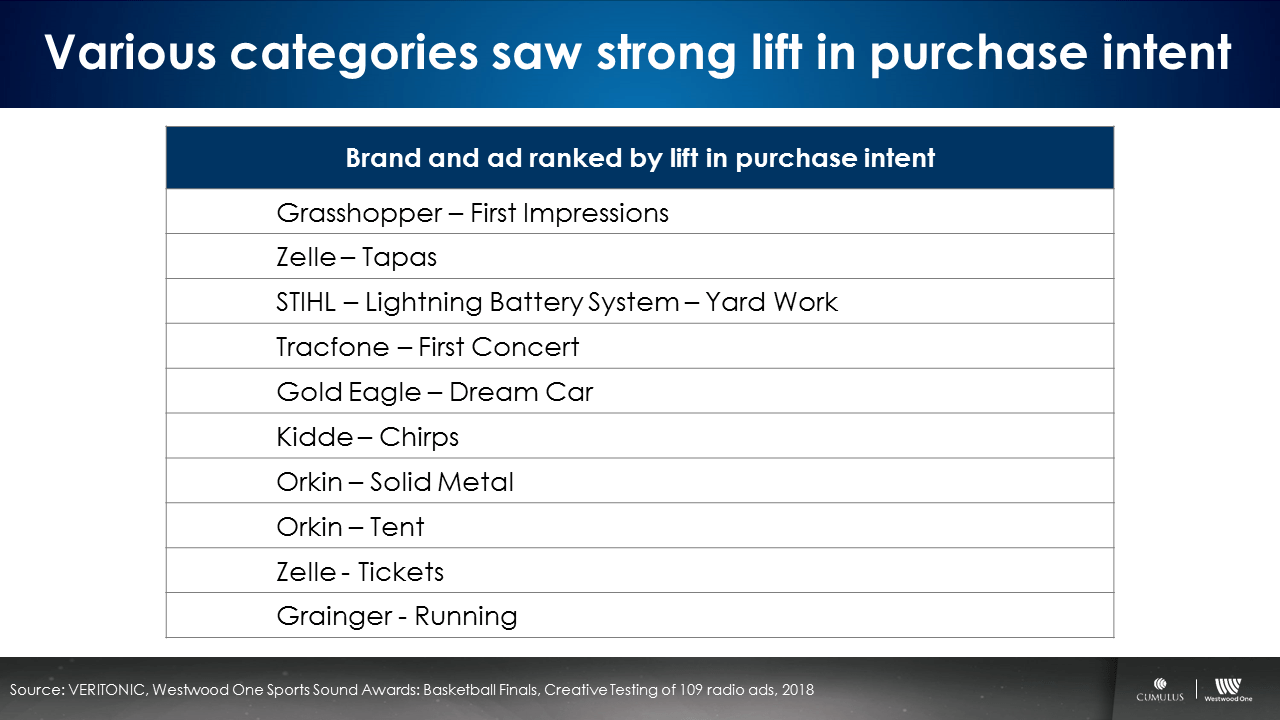 Here VERITONIC compares the purchase intent score before respondents were exposed to the spot compared to the purchase intent after exposure.
The ads that showed the greatest purchase intent lift came from the business to business technology, financial services, home improvement, and pest control categories.
Many of the best performing ads used the power of storytelling to connect their products to real life situations and experiences. The following commercial for Zelle illustrates how the product, an app used to transfer money, can be used to pay back someone who will buy symphony tickets, watch your pet, or those friends with whom you'd like to stay…well…friends.

Note that the Zelle ad utilizes attention-grabbing sound effects including a flamenco guitar, a symphony, and a growling cat to call attention to how the product fits real life situations.
Music can also be a powerful tool in driving purchase intent. The following commercial for STIHL, a line of battery-operated power tools, illustrates how music is used to drive purchase intent and build a brand's image.

By using a fast paced rock music bed, STIHL conveys an image of power while communicating the product benefit of finishing a home improvement project on a single battery charge.
Why obsess over creative? It's the #1 driver of sales growth!

Nielsen conducted a ROI study of 500 advertising campaigns to look at which elements contribute to sales on all major media platforms. What they found was that creative accounted for 50% of all sales growth, a far larger sales driver than any other element of an audio campaign.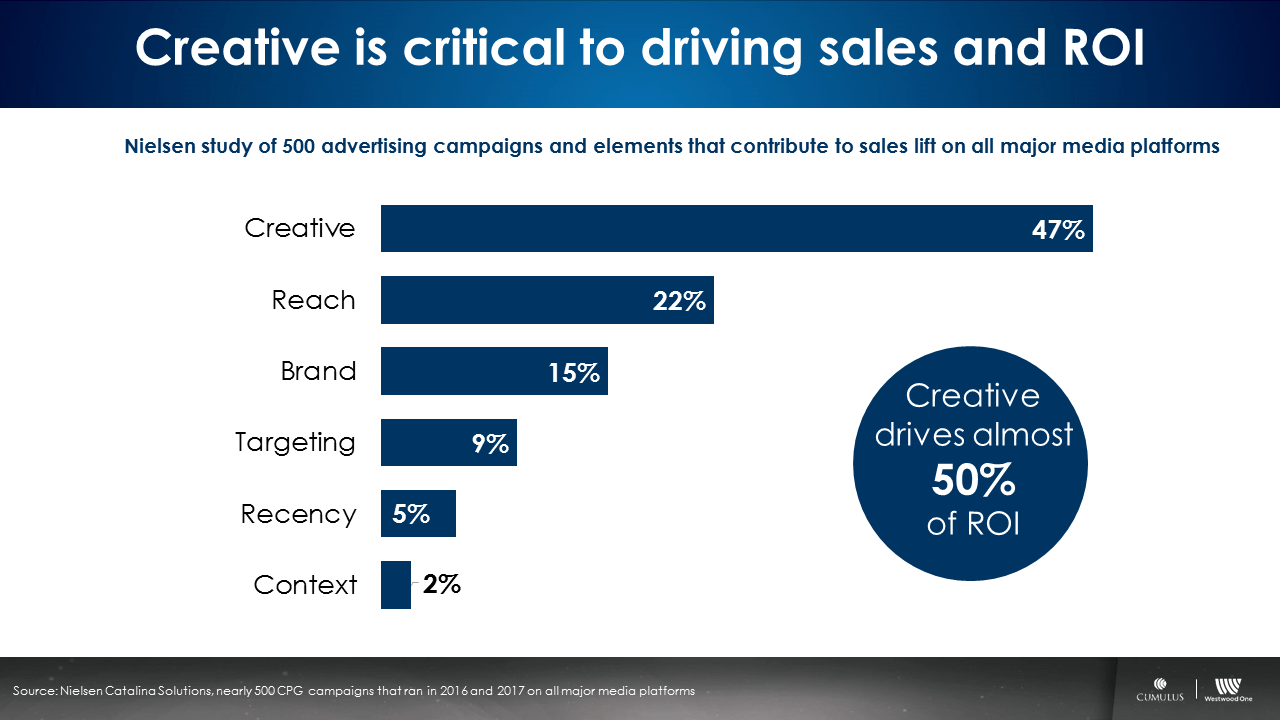 Westwood One is the authority on effective creative
Through extensive audio creative testing, we know what works and how to get everyone listening. Happiness and excitement, along with likeability, trustworthiness, and purchase intent, are all important metrics when it comes to great audio creative.
Great audio creative goes hand in hand with reach. Westwood One not only champions excellence in audio creative, it guarantees performance with the audio industry's first ROI guarantee. Click here to find out more about the Westwood One ROI Guarantee.
Key takeaways:
Purchase intent: top performing ads incorporate sound effects, music, and storytelling
Lift in purchase intent: sound effects, storytelling, and music also result in strong performance
Creative drives 50% of sales lift
Westwood One is the authority on effective creative
How VERITONIC creative testing works
VERITONIC uses their patent-pending technology to track second-by-second responses for key emotional measures. For example, Wendy's uses a voiceover call-to-action and sound effects to drive home the key message in their "Quarter Pound Double Stack" spot. Every time they remind listeners of the limited-time offer and use a cash register sound effect, excitement in the spot jumps.

Doug Hyde is Senior Director, National & Local Insights at Cumulus | Westwood One.
Contact the Insights team at CorpMarketing@westwoodone.com.