Creative Is Critical To Driving ROI: Get It Right With These Best Practices
Creative counts. According to a Nielsen study of 500 advertising campaigns, advertising creative drives 50% of sales lift.
The best creative hits the connection point between the message, the media, and the tools. When these three components work together, creative is most effective.
Here are best practices for achieving creative success and moving the sales needle through sound. We reviewed creative insights from the Radio Advertising Bureau, audio ad testing specialist VERITONIC, MARU/Vision Critical, and Nielsen to inform these tips.
The Message
The Radio Ad Effectiveness Lab tells us what we all know to be true: "Radio listening is a one-on-one and emotions-driven experience." Listening is done in the car or through headphones, making it an intimate media interaction. Because of this, attention doesn't have to be fought for. Messages can be communicated thoughtfully and strategically.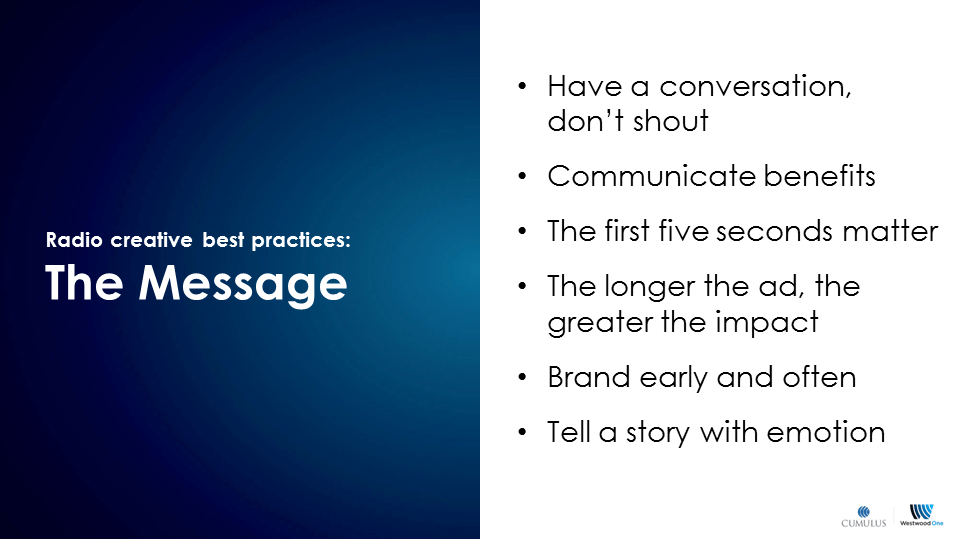 Have a conversation, don't shout: Use this intimate experience as a way to have a conversation with consumers. Don't yell, shout, or sound too scripted. AM/FM radio is personal so treat it as such.
Communicate benefits: Real, tangible benefits are important to convey. Communicate brand and product benefits early and often in creative to persuade listeners.
The first five seconds matter: According to Nielsen, "Consumer engagement drops off after the first 5 seconds." So clearly communicate a brand's name and key message upfront. Be entertaining but don't waste time.
The longer the ad, the greater the impact: A recent MARU/Vision Critical survey found that on average, listeners find longer ads to be more likeable.
Brand early and often: Sean Bryan, Co-Chief Creative Officer at McCann New York states, "We feel a brand and understand a brand with our ears first." Use branding audio to raise the profile of the advertiser and influence consumer consideration. Compared to offer ads, brand campaigns build share more strongly over both the short and long term.
Tell a story with emotion: Sound is emotional so be relatable. Make radio creative relevant by putting listeners first and engaging with them through a personal, human experience. Emotion-based ads drive higher sales and profit.
The Media
How can the context of when and where ads run enhance impact? Every radio format has loyalists who listen to that programming the most. Incorporating elements of the format into creative boosts sales effect. Aligning copy to the time of day and consumer state of mind also enhances advertising effectiveness.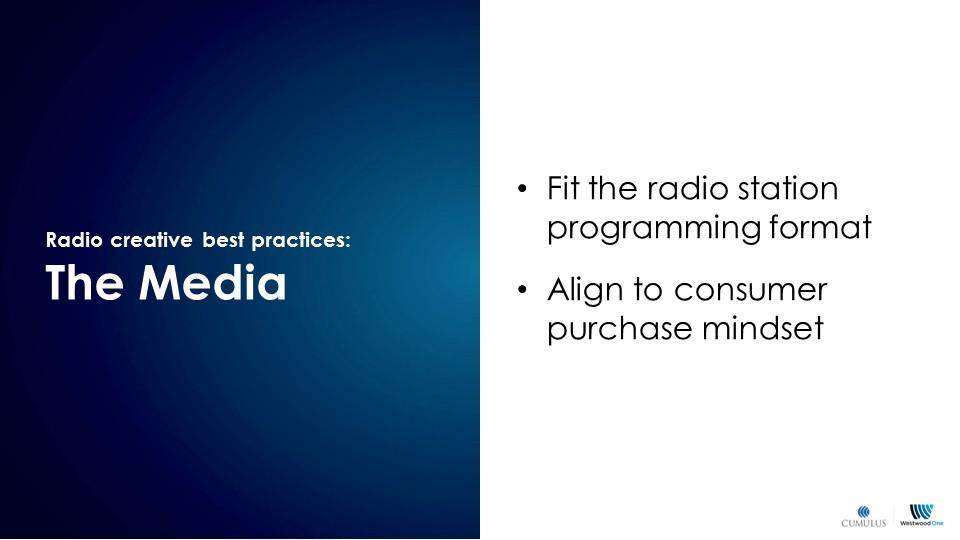 Fit the radio station programming format: Country listeners are different than rock listeners. Create different versions of ads based on programming format. Target creative to your listeners so ads sound native to their chosen listening environment.
Align to consumer purchase mindset: One of AM/FM radio's superpowers is its ability to influence purchase decisions during key buying windows. That includes when consumers are in their car traveling to and from stores, during lunchtime, or seasonal moments like the back-to-school months. Apply an appropriate call to action to reach consumers when it is most relevant.
The Tools
Audio creative components work together to form a cohesive and creative radio spot. Don't overlook any detail. Pay attention to music, sound effects, personalities, and the audience itself.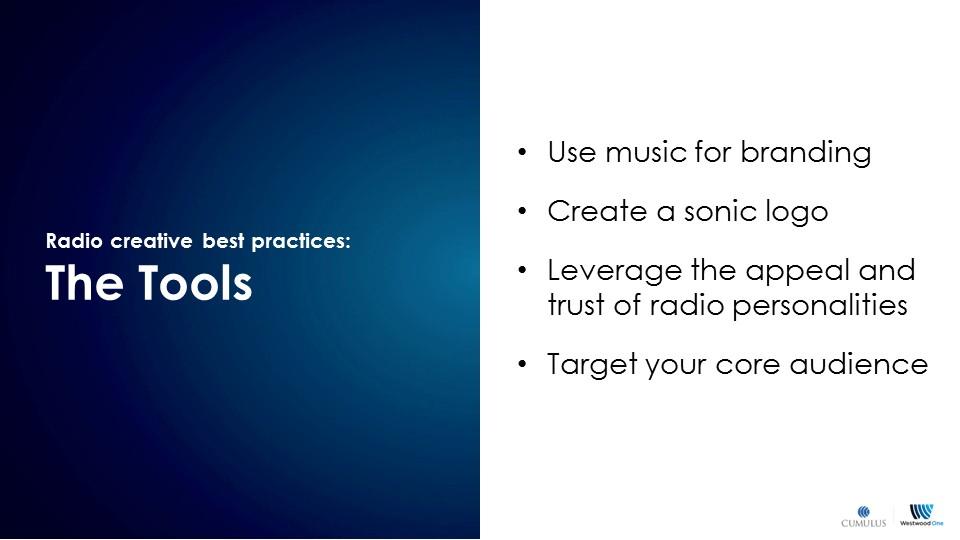 Use music for branding: Music and sound are powerful, triggering an emotional response through audible familiarity. According to sonic branding experts Man Made Music, "If music creates emotion, what we see is brand favorability increases, brand consideration increases, metrics that really apply directly to ROI." Utilize a consistent theme to develop a brand anthem that will be tied to the brand values you want to convey.
Create a sonic logo: VERITONIC, audio creative testing specialist, tells us that sonic logos with a melody and words are very compelling. Use jingles or distinct sonic cues to create memorable creative.
Leverage the appeal and trust of radio personalities: AM/FM radio personalities matter to listeners. 52% say that the main reasons they choose to listen to their favorite station are their favorite DJs, personalities, and shows, according to a MARU/Vision Critical study. Trusted voices in creative provide immediate credibility, endorsement, and relevance to listeners.
Target your core audience: Familiar voices resonate. For example, Nielsen finds that women prefer female voiceovers in AM/FM radio ads. Make sure you make an impact with your desired demographic by using them as a starting point. Listener preference should inform voice talent and copy.
You already have their attention. Hold onto it. Find the connection point between the message, the media, and the tools to develop creative that is more effective and drives sales. After all, creative represents 50% of sales growth.
Pierre Bouvard is Chief Insights Officer at Cumulus | Westwood One.
Contact the Insights team at CorpMarketing@westwoodone.com.