Use AM/FM Radio To Own The Holidays And Drive Sales
As we get ready to celebrate Labor Day, we look ahead to some of the biggest retail holidays on the calendar. October through December is a busy season for shoppers and advertisers can use AM/FM radio to reach the masses and generate dollars.
Trick or treat, retailers! In 2016, Halloween generated $8.4 billion in sales. Carts were filled with candy as a massive 94% of consumers planned to buy sweets. 67% of shoppers planned to buy costumes for their kids and furry friends.
Pass the gravy! Thanksgiving weekend is when holiday shopping really kicks into gear and deal hunters will spend an average of $289 each to take advantage. 50% of consumers who head to the stores feel that deals are "too good to pass up." Retailers have a huge opportunity with Millennials, who are extremely engaged during this shopping window with eight in 10 looking to spend money.
December is a time for gift shopping but not everyone gets to the store in a timely manner. 12% of consumers will wait until December 23rd to get their hands on gifts. Over half of last-minute shoppers will buy online and 42% will head to the department store. A major shopping trend has been experiential gifts. In 2016, 23% of consumers were going to purchase sporting event tickets, memberships to monthly clubs, or outings for their loved ones.
Stat sources: National Retail Federation
To fill shopping carts, fill the radio airwaves
AM/FM radio is an important part of the holiday celebration for Americans. Nielsen reports over 93% of consumers are reached by AM/FM radio during holiday weeks.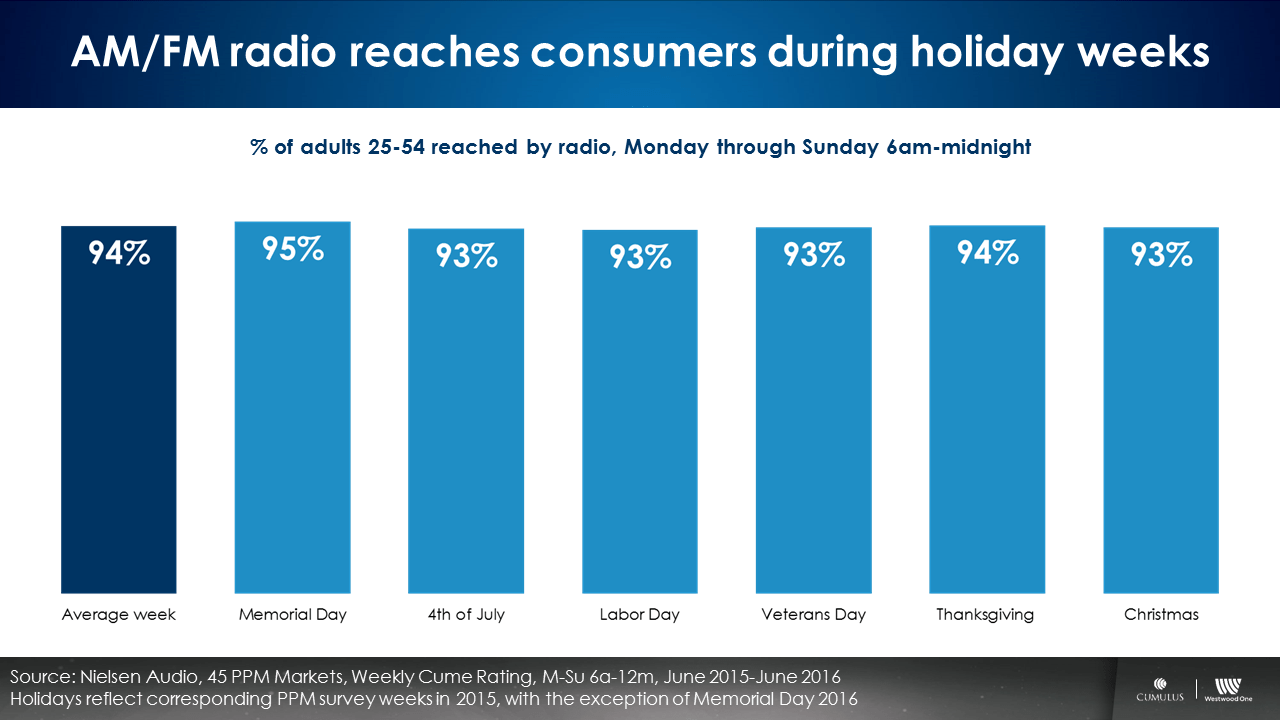 Americans travel to and from stores and are in their cars to visit loved ones during the holidays. This is good news for advertisers. A study from RealityMine's USA TouchPoints shows on a weekly basis, 53% of Americans 18-64 have been in a store and in their car in the same half-hour.
When consumers are in their cars during these peak travel periods, 89% of ad-supported audio time spent goes to AM/FM radio, according to Edison Research. Virtually all consumers are hearing AM/FM radio commercials that influence stores they visit and brands they buy.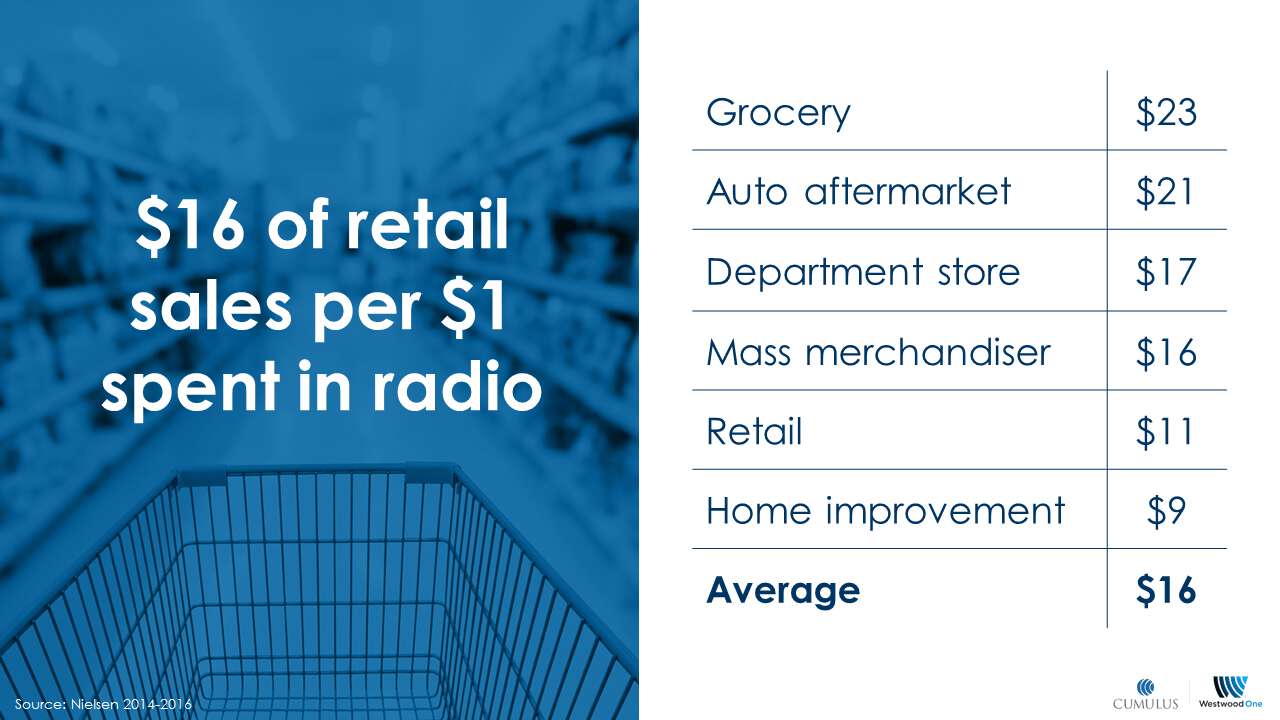 AM/FM radio has a proven sales lift track record for retail. According to multiple Nielsen return on advertising investment studies, AM/FM radio generates $16 of retail sales for every $1 of radio advertising.
Lauren Vetrano is Content Marketing Manager at Cumulus | Westwood One.
Westwood One has upcoming holiday sponsorship packages. Contact CorpMarketing@westwoodone.com or your Westwood One representative for details.