Holidays Drive Spending: 4 Upcoming Retail Opportunities
Springtime is here, which means summer holidays are right around the corner. Consumers celebrate with barbecues, traveling, and spending time with their families. But mostly? They shop. Holidays drive spending. In the next few months retailers will have major opportunities to reach consumers heading to the store with AM/FM radio. To better understand the spending power of listeners during this time, here are some spring and summer holiday stats.
In a few weeks Americans will celebrate Mother's Day and spend a massive $23.6 billion on mom. Consumers will spend an average of $186 on gifts, ranging from jewelry ($5 billion) to brunch or a special outing ($4.2 billion). Other notable gifts will include housewares, electronics, and gift cards.
Memorial Day weekend is the kick off of summer for many Americans. It is also a massive shopping holiday. Americans love seasonal sales and shoppers can find major deals with retail discounts (20% to 90% off) on home goods and spring clothing. Consumers also hit the road. Many will travel, with a majority of holiday travelers opting to drive to their celebration destinations (89%).
Father's Day, next up in June, sees an estimated $14.3 billion in spending. Americans will spend an average of $126 on dad at a variety of locations: department stores (38%), online (32%), discount stores (27%), specialty stores (24%), and local small businesses (17%).
Fourth of July is the day Americans break out the grills and celebrate independence. Over 214 million people plan to observe the holiday, spending upwards of $6.8 billion on everything they need for barbecues and picnics. That includes 25% of Americans purchasing patriotic apparel and decorations to demonstrate their pride. Traveling is also huge. 31 million people celebrate out of town.
Stat sources: National Retail Federation; WalletHub
To fill shopping carts, fill the radio airwaves
AM/FM radio is there when Americans are celebrating. Nielsen reports over 93% of consumers are reached by AM/FM radio during holiday weeks.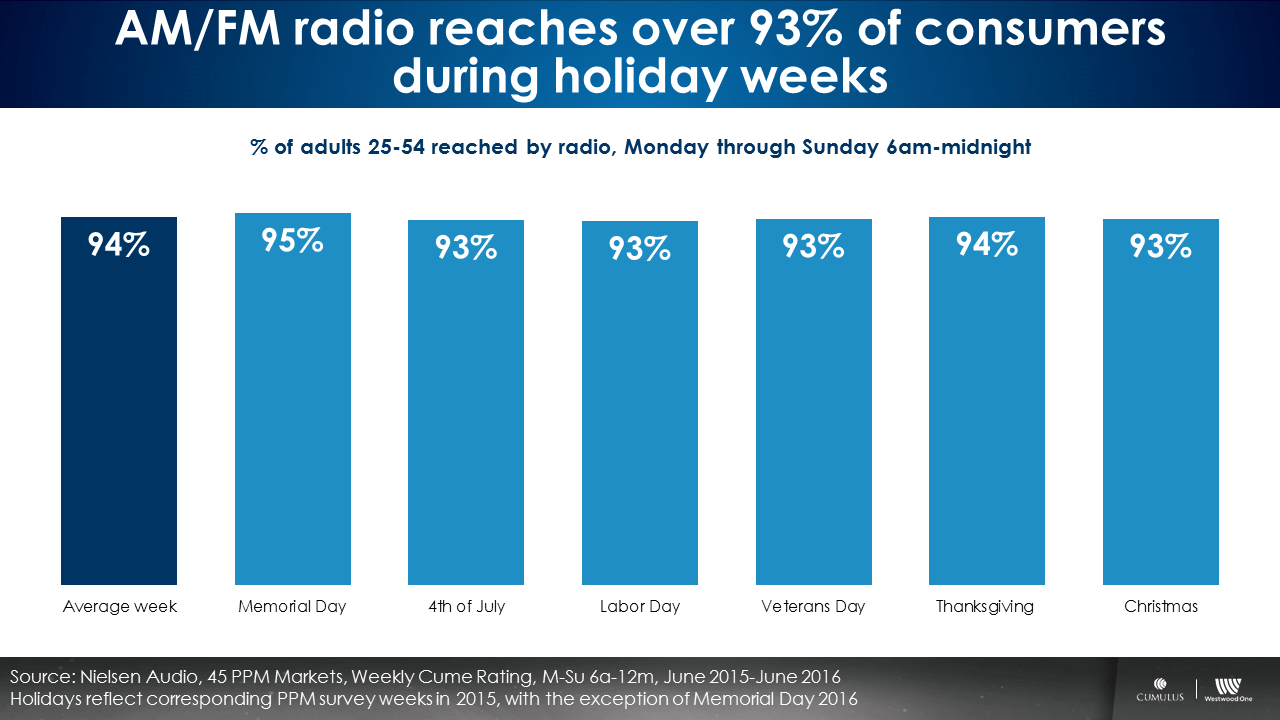 Americans spend their holidays traveling. This is good news for advertisers. A new study from RealityMine's USA TouchPoints shows on a weekly basis, 53% of Americans 18-64 have been in a store and in their car in the same half-hour.
When consumers are in their cars during these peak travel periods, 71% of audio time spent goes to AM/FM radio, according to Edison Research. That means they're tuned in and hearing commercials that influence stores they visit and brands they buy.
AM/FM radio has a proven sales lift track record for retail. According to multiple Nielsen return on advertising investment studies, AM/FM radio generates $16 of retail sales for every $1 of radio advertising.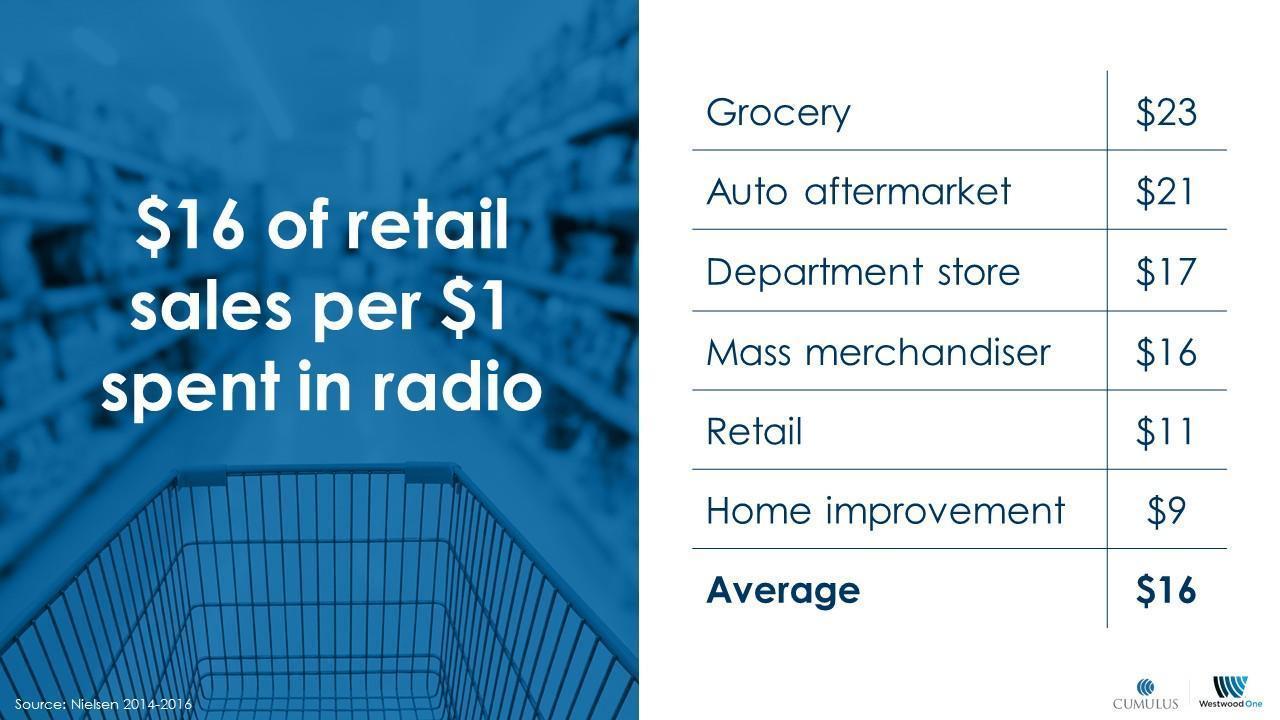 Lauren Vetrano is Content Marketing Manager at Cumulus | Westwood One.
Westwood One has upcoming holiday sponsorship packages for all these retail events. Contact CorpMarketing@westwoodone.com or your Westwood One representative for details.