A Day In The Life Of An NCAA Basketball Fan: How Social, Video, Audio, And Digital Platforms Feed The Madness
As one of America's most popular sporting events, nothing evokes passion like NCAA March Madness. Eight out of 10 fans say they follow the tournament right to the final. One-third admit when it comes to NCAA March Madness, they "love it" and are "completely passionate about the tournament."
While March Madness sparks fans' emotions, it is the NCAA audio audience that is truly impassioned, literally glued to our radio and streaming broadcasts. The chart below shows that when it comes to engagement, virtually every single measure is much stronger among the NCAA audio fans compared with the overall tournament audience.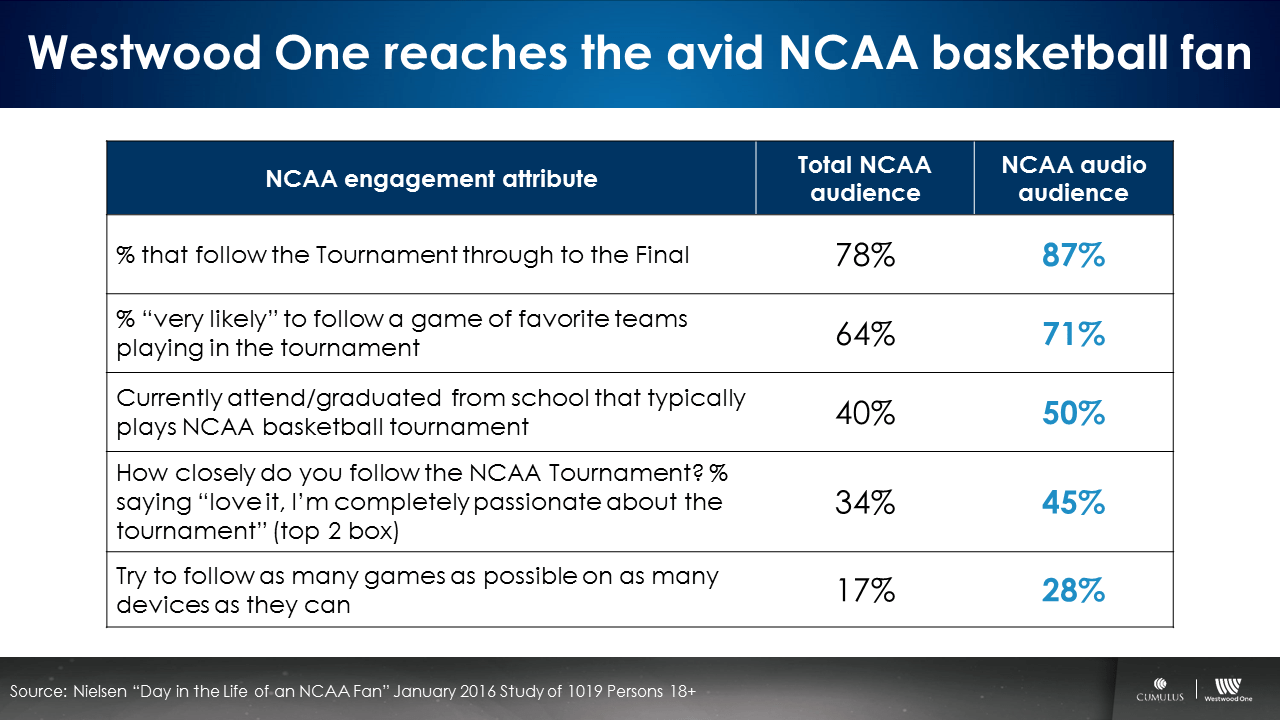 Westwood One commissioned Nielsen to conduct a study called "A Day in the Life of an NCAA Fan." The goal: learn all the locations and platforms fans use to access the tournament. The chart below illustrates key findings, showing the platforms fans use by location to access the games. Video includes linear TV, streaming, mobile, etc.

Not surprisingly, the majority of commuters (76%) use Westwood One's audio to follow the tournament. Listening in the car is especially important in Mountain and Pacific time zones, as all games start during the day on the West Coast. Once commuters are at work, 38% use audio. Even 20% of those at home use audio to listen to NCAA basketball.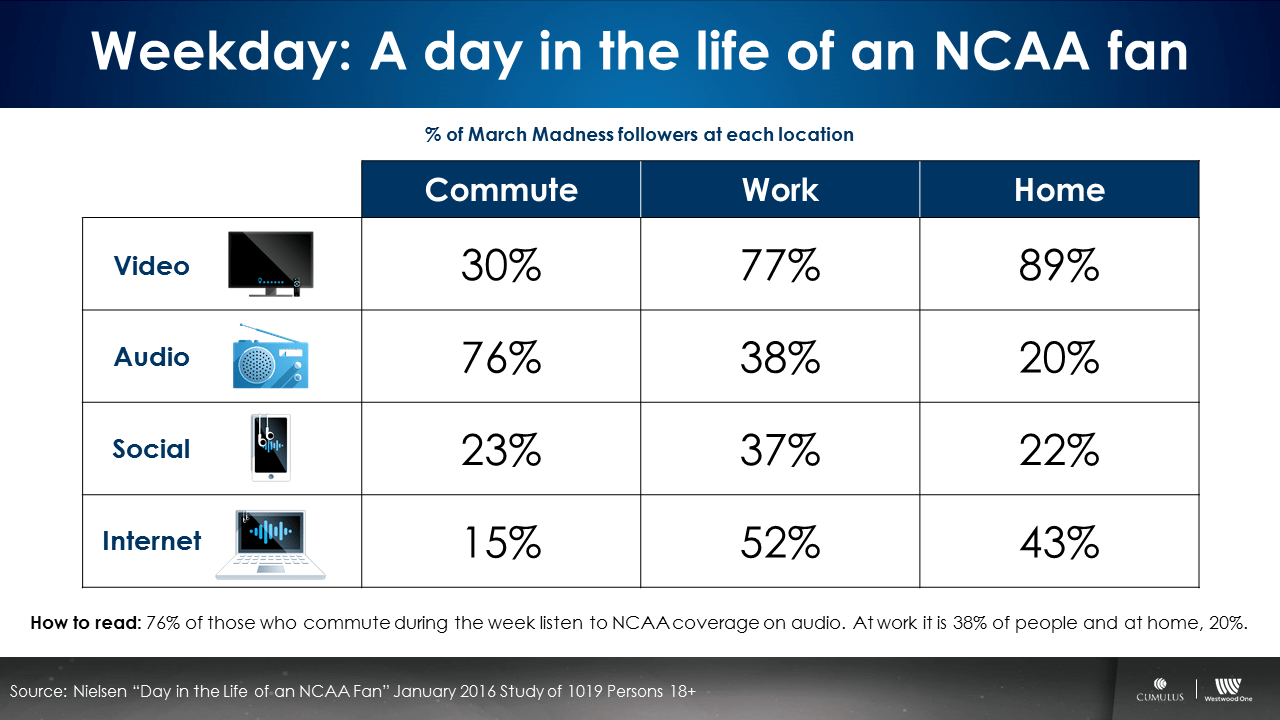 Audio is used in the car, at work, and at home to listen to NCAA March Madness. Wrap your brand around one of America's largest cultural events and consider Westwood One's NCAA audio platform, delivering:
A massive, passionate audience
Desirable "on-the-go" consumers
Incremental reach
Frequency amplification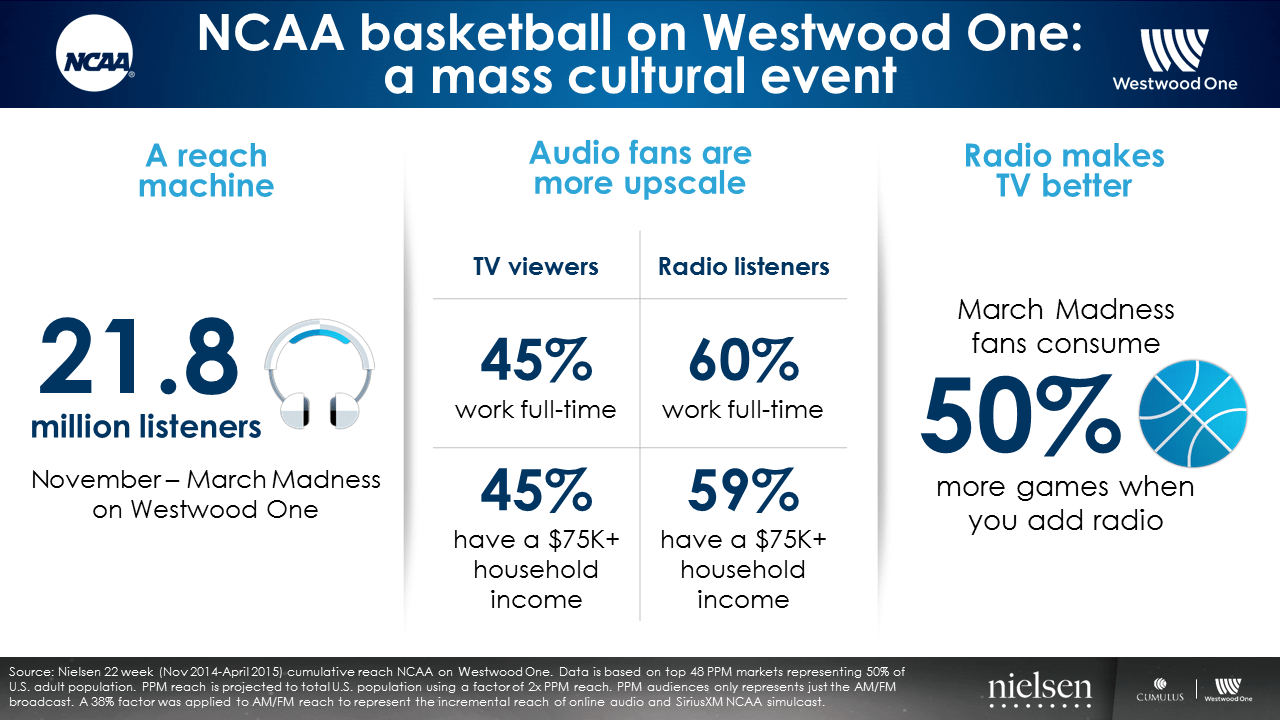 Pierre Bouvard is Chief Insights Officer at Cumulus | Westwood One
As the exclusive audio partner of the NCAA, Westwood One's broadcasts are carried on 500+ AM/FM radio stations, WestwoodOneSports.com, SiriusXM, NCAA March Madness Live desktop and mobile apps, and TuneIn. Contact CorpMarketing@westwoodone.com or your Westwood One representative for sponsorship details.