7 Things Brands Have Completely Wrong About Radio
We've heard that "Millennials don't listen to radio" and "most people stream music online." Not true. It's time to check the facts.
Cumulus Media and Westwood One examined frequently heard beliefs about consumer media habits. We turned to research leaders in the field — Nielsen, Edison Research, and The Advertising Research Foundation — to find out the truth. Here are seven myths debunked:
Myth #1: "AM/FM radio has very low reach." Advertiser Perceptions reports marketers and agencies think the weekly reach of AM/FM radio is only 64%. In fact, 93% of Americans are reached by radio each week.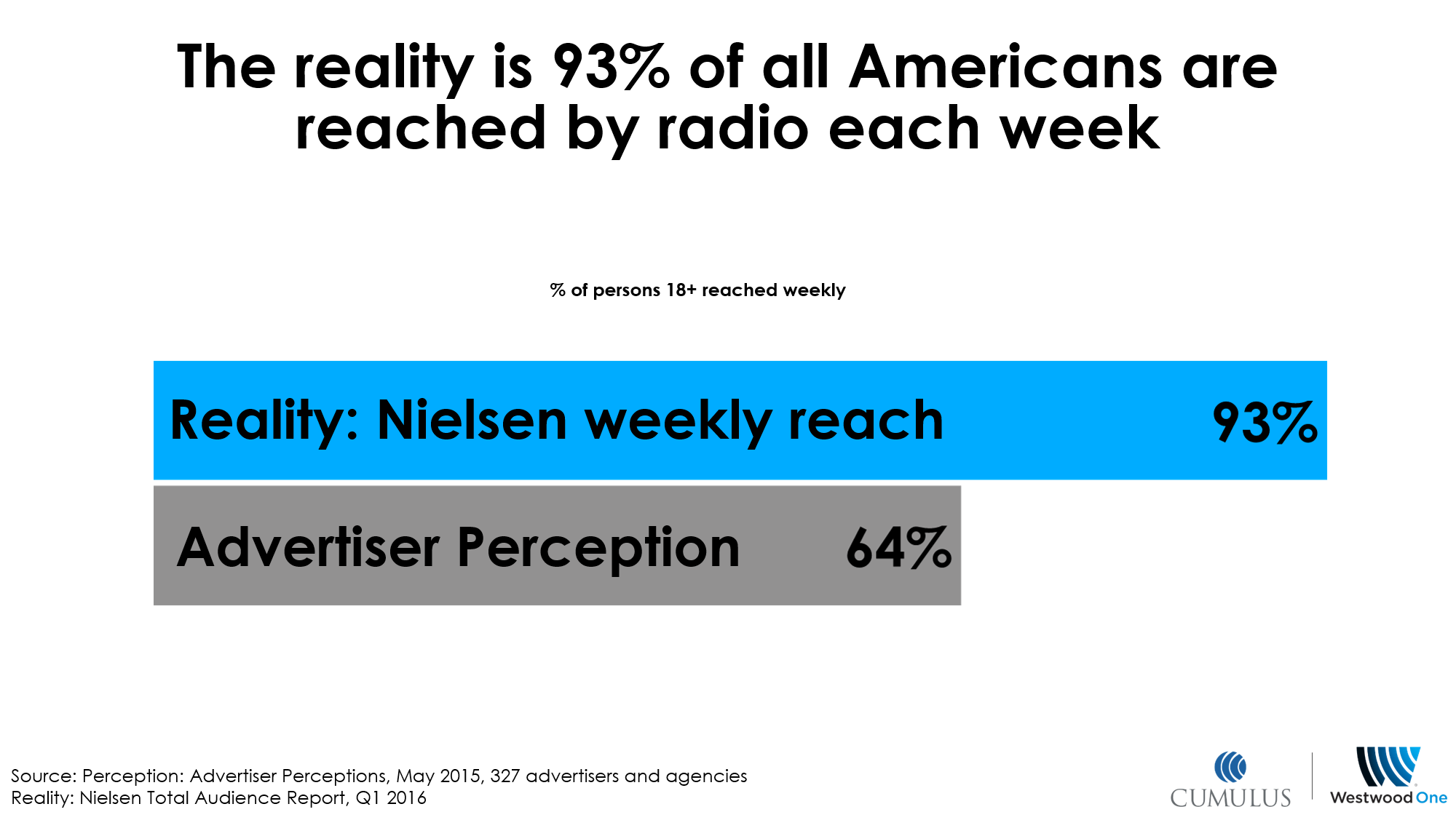 Myth #2: "If you want mass reach with Millennials, go with television." Actually, one out of four Millennials are not reached by ad-supported TV.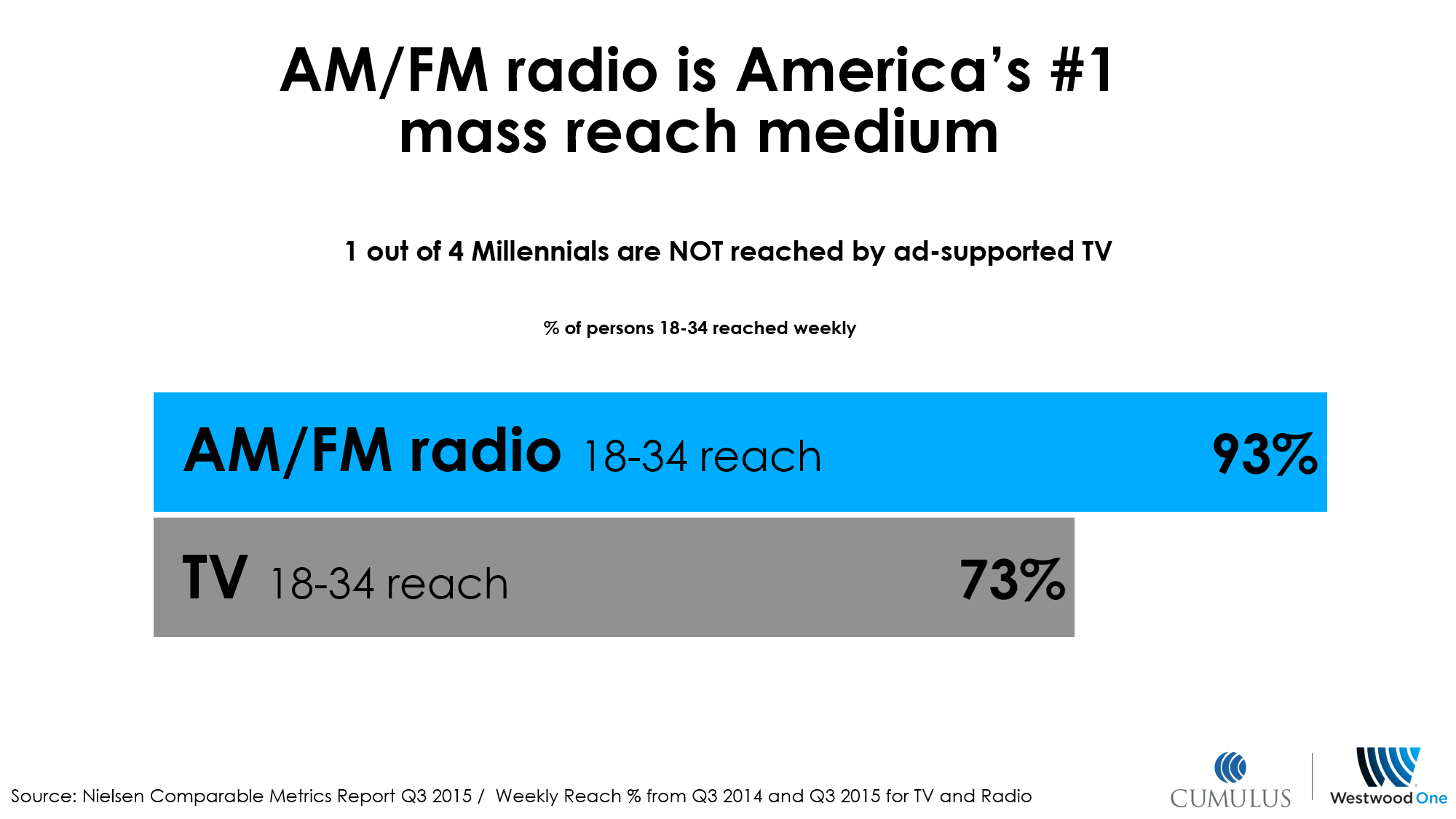 Myth #3: "Time spent listening to Pandora/Spotify is nearly equal to AM/FM radio." AM/FM radio and streaming are nearly equal in the eyes of brands and agencies according to Advertiser Perceptions. The reality is people spend exponentially more time with AM/FM radio than they do with Pandora or Spotify.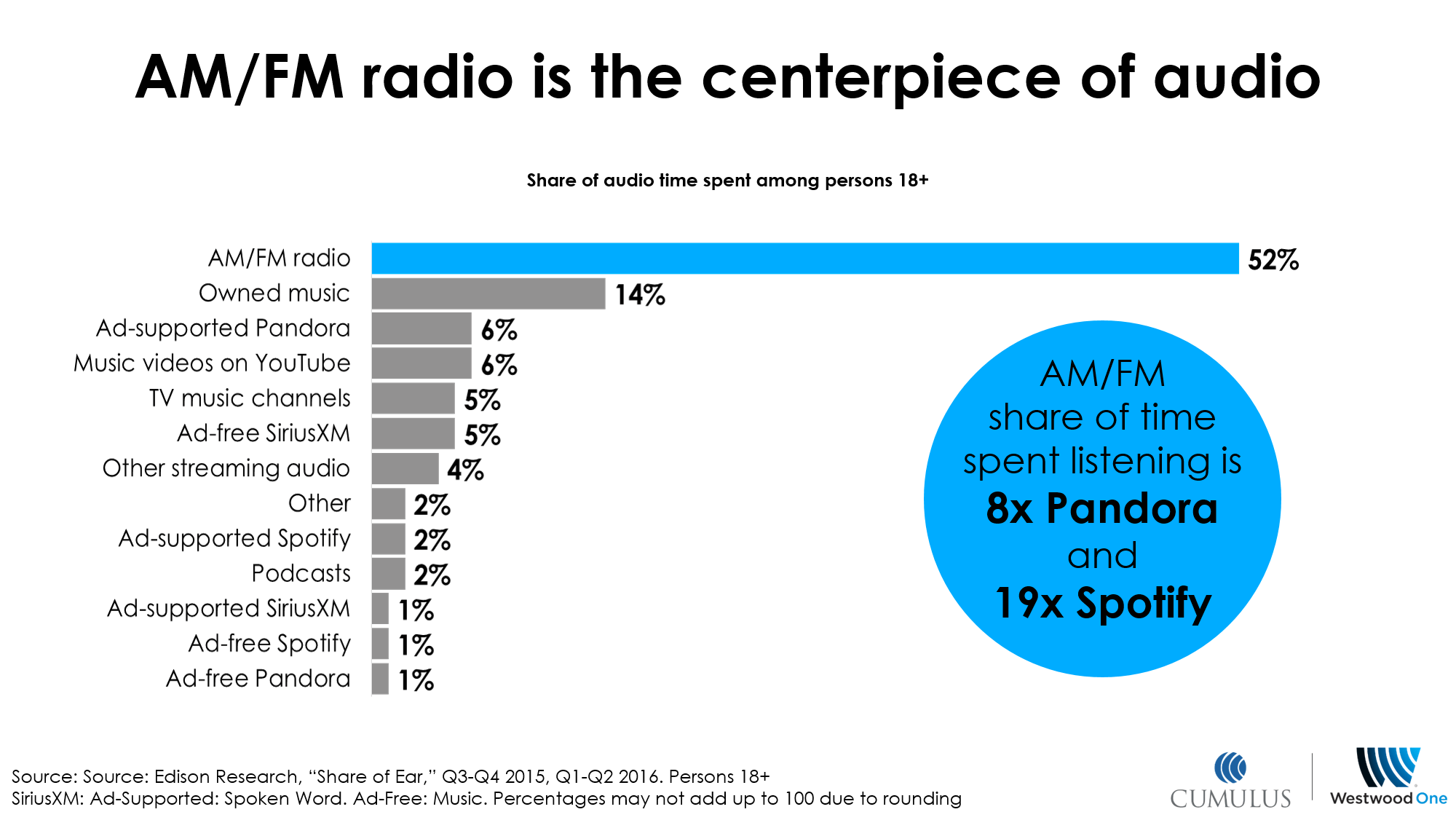 Even among Millennials, AM/FM radio comes out on top with a 34% share of audio time spent among all persons 18-34.
Myth #4: "In the world of the connected car, the number one thing people do is stream online radio on their smartphones." The truth is, the majority of listening in the car comes from AM/FM radio; only a sliver goes to online radio.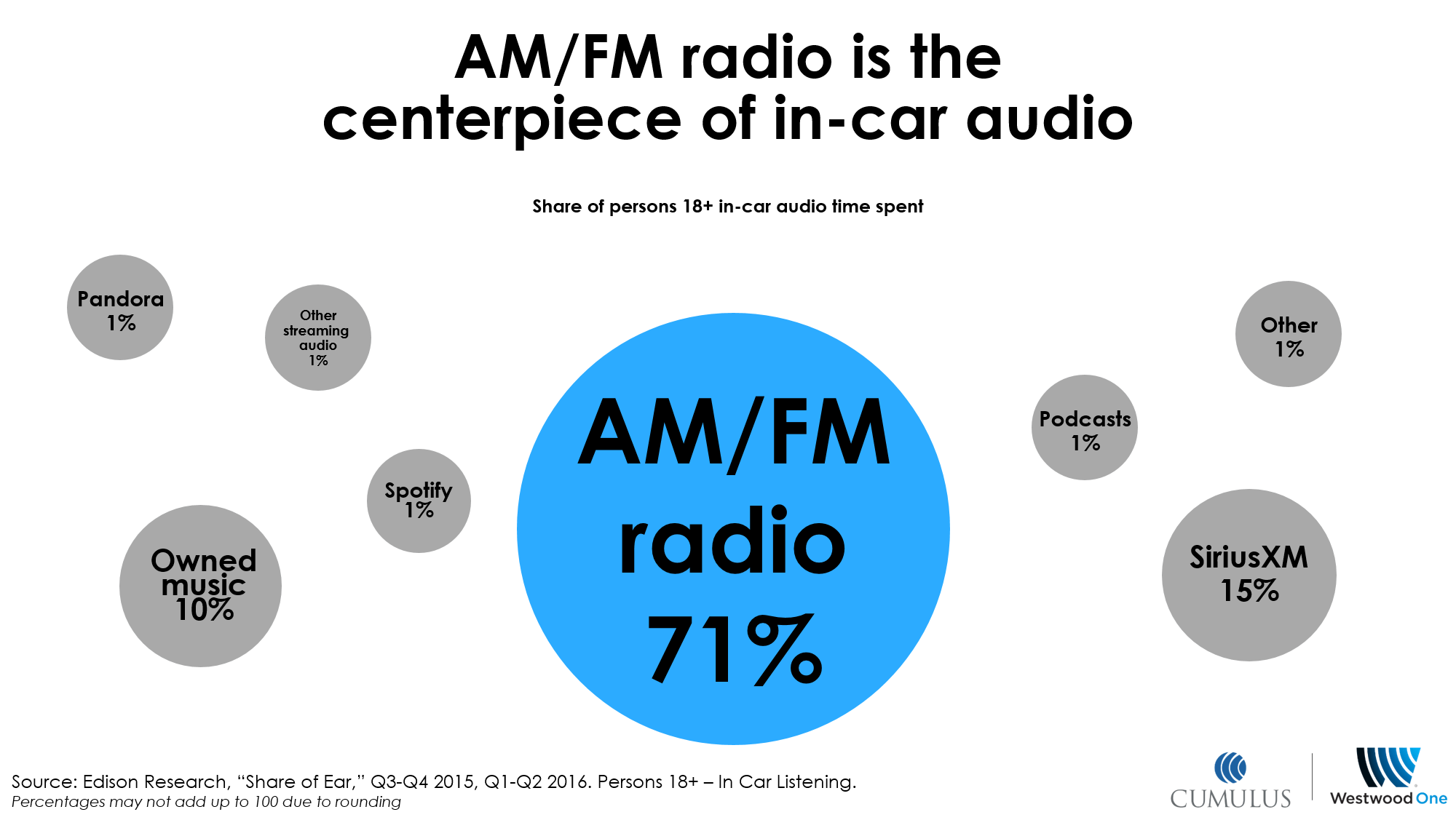 Myth #5: "No one under 35 listens to AM/FM radio anymore." Actually 67 million 18- to 34-year-olds are reached weekly by AM/FM radio – more than any other generation.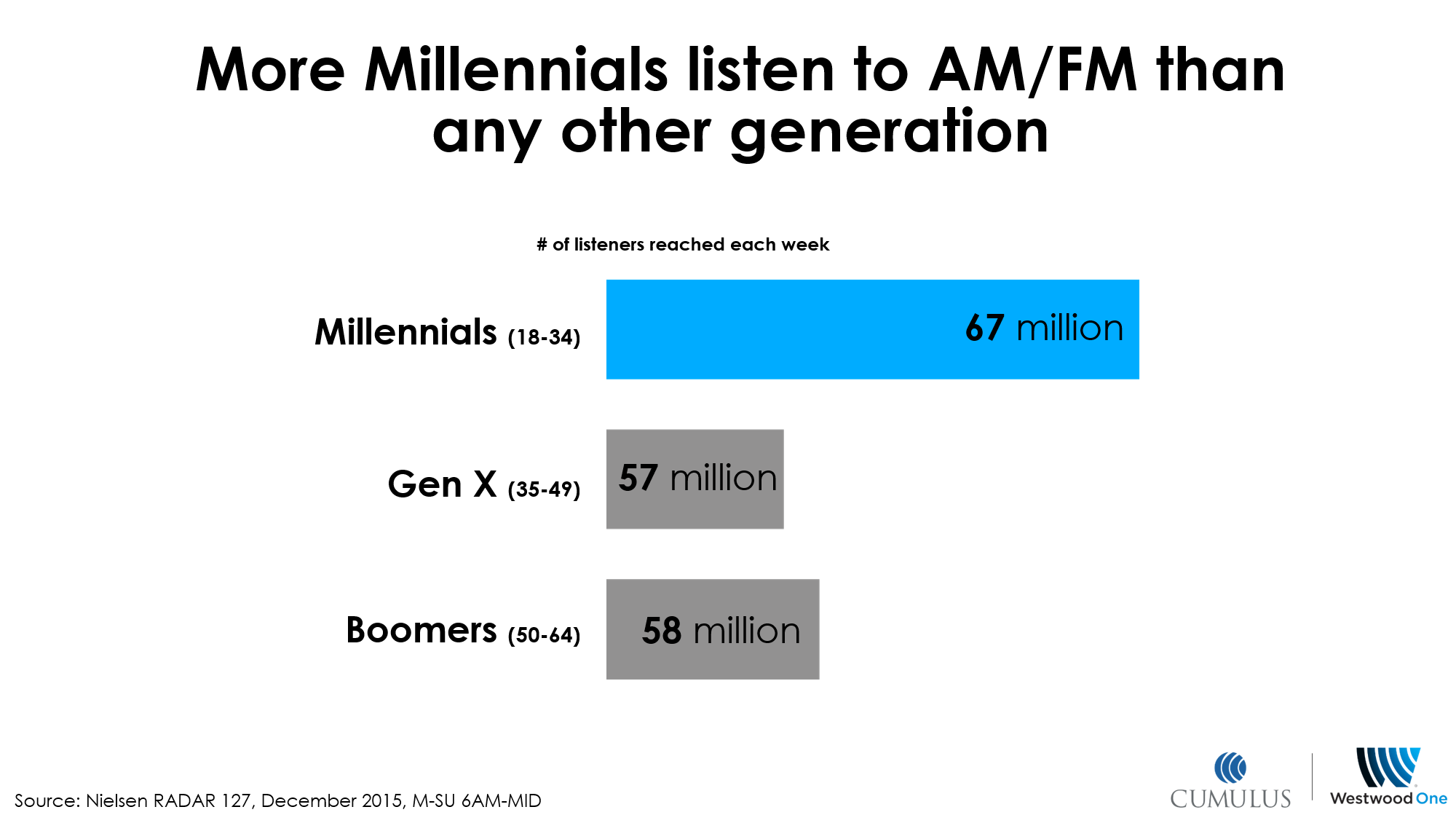 Myth #6: "Six out of 10 agencies/marketers believe radio listening is dropping." In reality, while many other traditional media are seeing erosion, AM/FM radio listening is on the rise.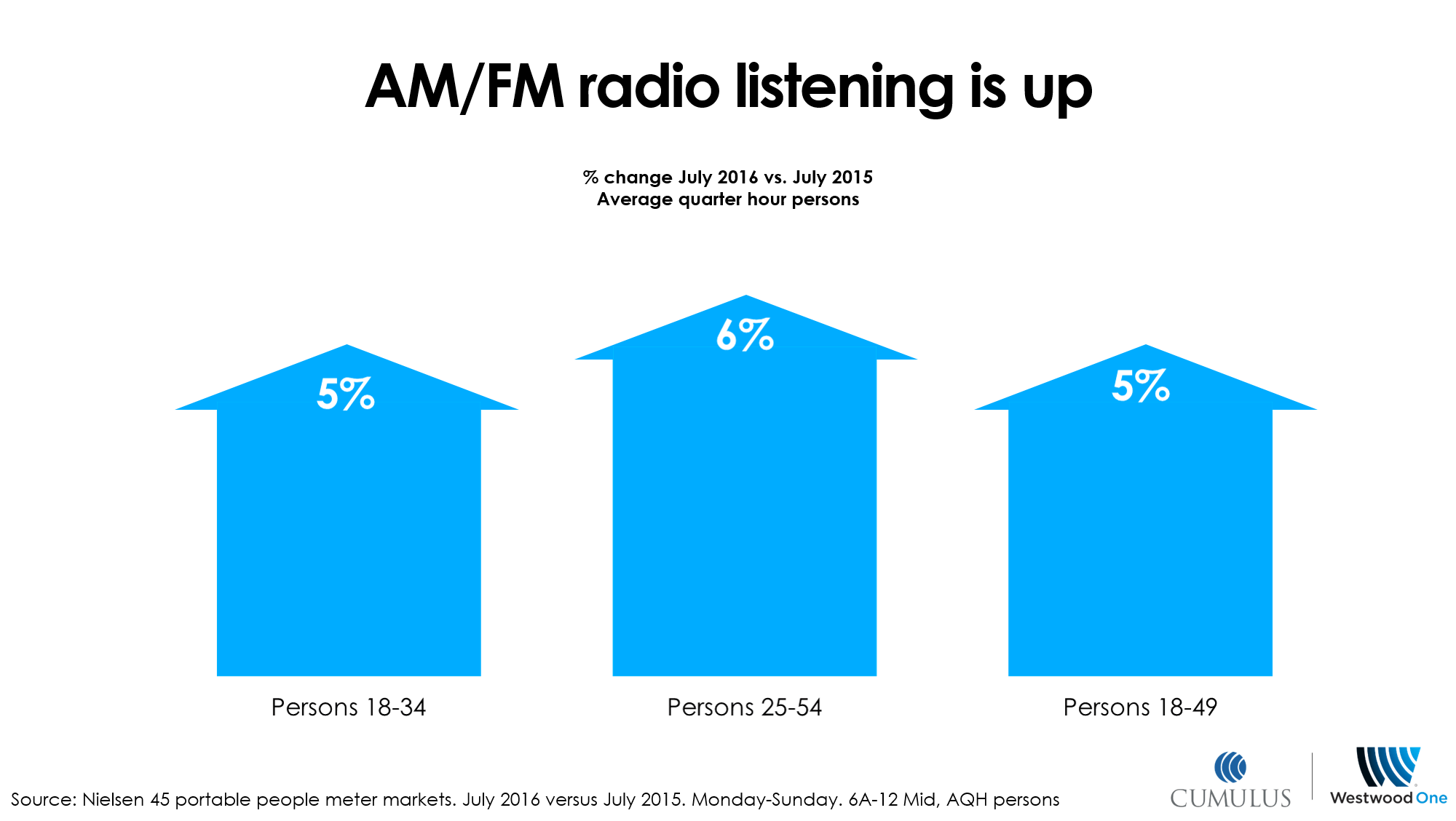 Myth #7: "Today's optimal media plan: put all your money into mobile and social."
Not so fast. The Advertising Research Foundation suggests a mix of mostly traditional media.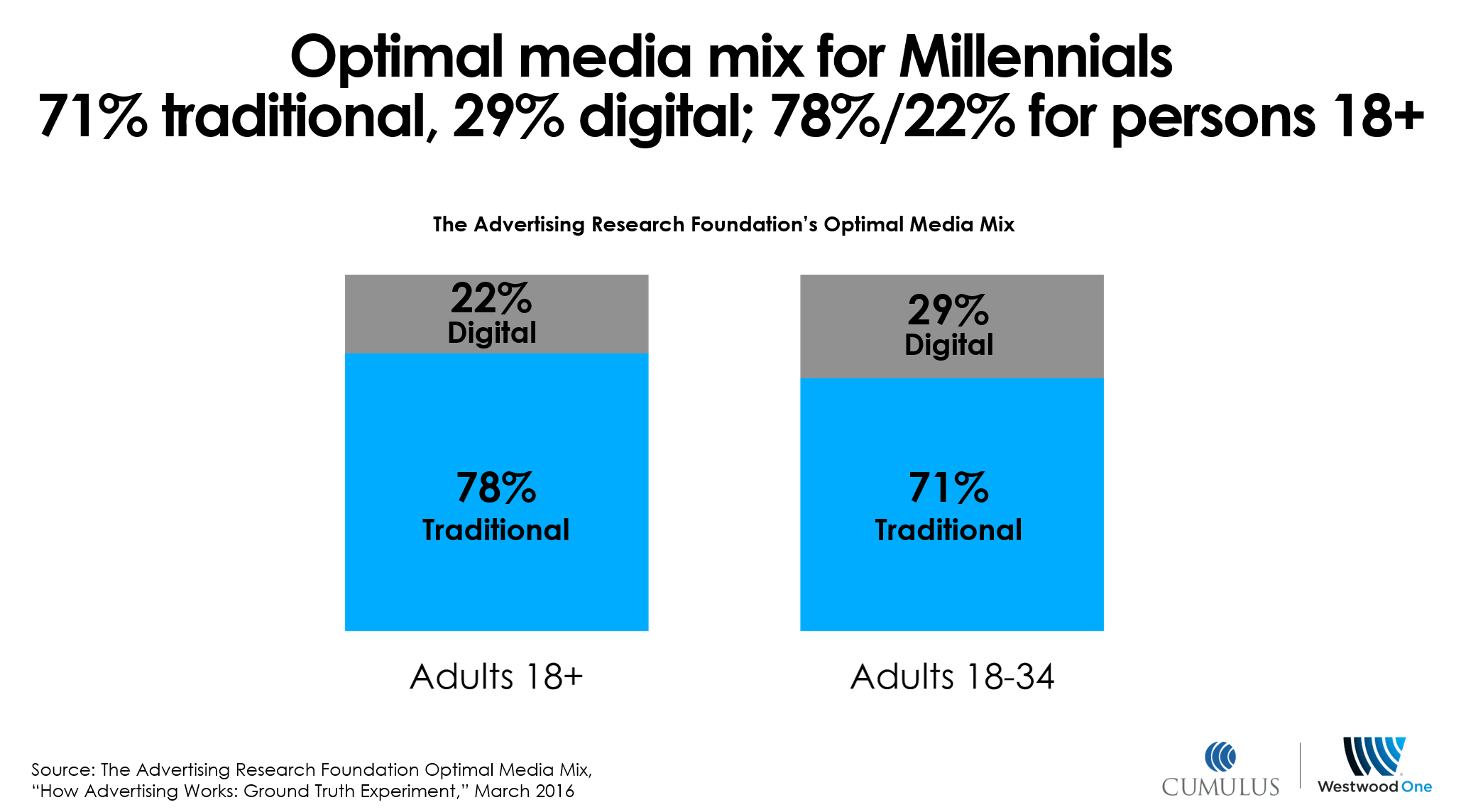 Let's set the record straight about AM/FM radio:
• At a 93% weekly reach, AM/FM radio is America's number one mass reach medium.
• Even among 18-34 Millennials, AM/FM radio is the number one mass reach medium, reaching 93% weekly.
• Share of time spent listening to AM/FM radio is eight times bigger than Pandora and 19 times bigger than Spotify.
• With a 71% share of in-car audio listening, AM/FM is the centerpiece of in-car audio.
• More Millennials listen to AM/FM radio weekly than any other generation.
• AM/FM radio listening is up among key selling demos.
• The optimal media mix is 71% traditional and 29% digital for Millennials; 78% and 22% for Adults 18+.
Pierre Bouvard is Chief Insights Officer of Cumulus | Westwood One. Follow him on LinkedIn and Twitter.
Lauren Vetrano is Content Marketing Manager at Cumulus | Westwood One. Follow her on LinkedIn.