The TV Upfront: History, 2016 Issues, And What It Means For Radio
Erwin Ephron, the father of modern media planning, recounts the history of the TV upfront:
"In the early days of television, everything was sold upfront. Sponsorship discussions started the week after Washington's Birthday and by the end of February, advertisers had committed to programs and time periods for the following season … Negotiations were low-key and discreet, more like private banking than a sheriff's auction."
ABC, a fiesty No. 3 network in the 1960s, invented many of the elements of the modern TV upfront:
Premiere week. In 1962, ABC debuted all its shows in the week after Labor Day to woo carmakers launching new models. Soon CBS and NBC followed suit, and by the mid '60s, premiere week became a major national event. Ephron says, "The Fall debut of new season programs helped to create the upfront by requiring advertiser commitments by the Spring."
Audience guarantee. In 1967, ABC negotiated the first guaranteed CPM deal with American Home Products.
"The other networks soon learned buyers would pay a premium for a guaranteed buy and wouldn't be as picky about the programs," Ephron explains. "The TV networks were no longer selling shows; they were selling CPM's. To get the hits at a reasonable price, you had to take the rest and you had to buy it all upfront. If you did that, the networks would guarantee audience delivery. "
The CPM and audience guarantees revolutionized the TV business by removing all advertiser risk.
Flash forward to the just-completed 2016 presentations where some of major themes were: reach, ad loads, and TV ROI vs. digital.
1. Reach is still the new black. Networks touted the mass reach power of television to build brands and get the word out. Bernstein's Todd Juenger observed "every network group made some claim about regularly reaching high-80's/low-90's percent of households." Indeed, both television and AM/FM radio have the largest weekly ad reach of any media.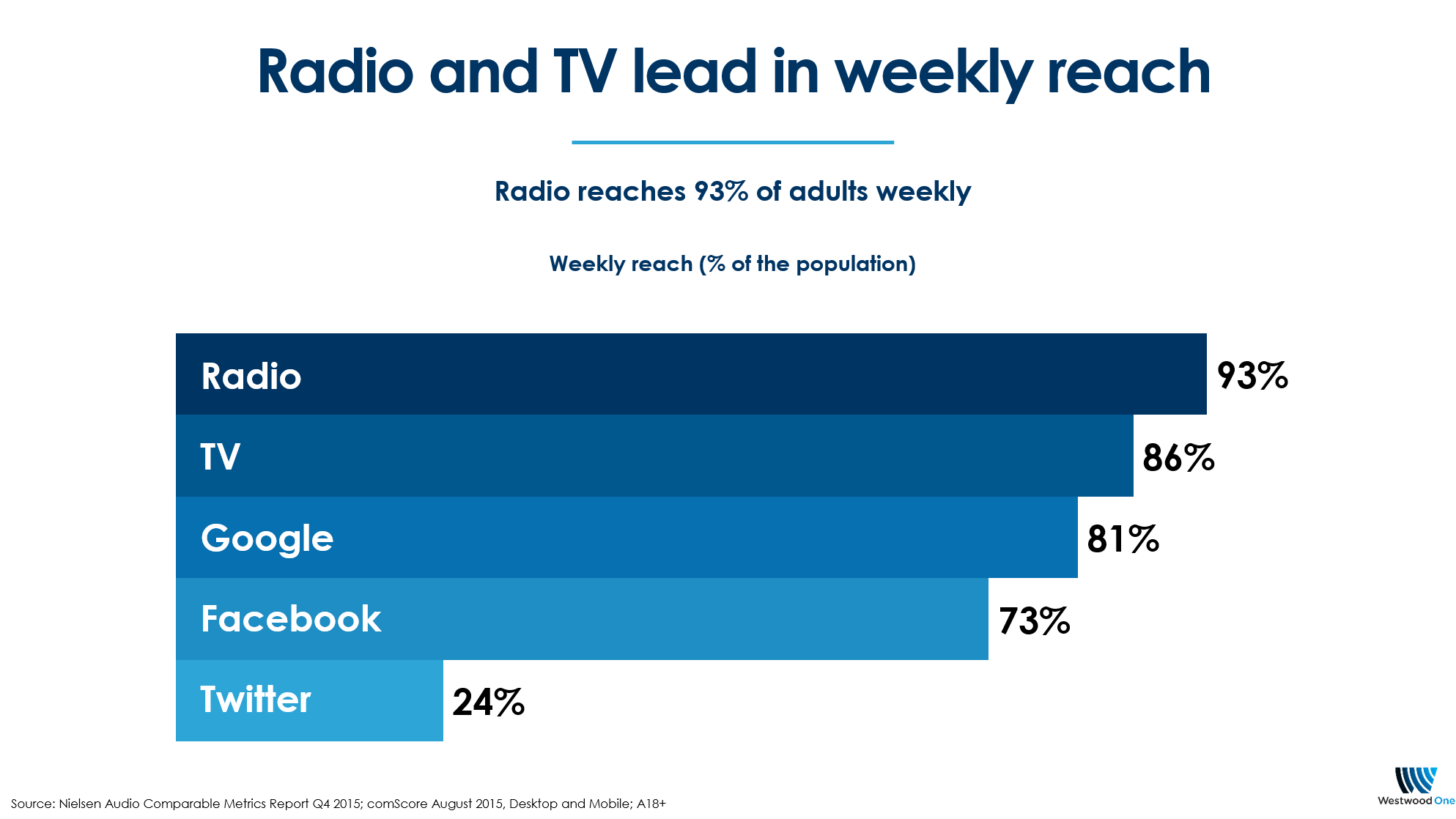 2. TV ad loads are going on diet. With one eye on Netflix and the other on Nielsen C3 ratings, a number of networks (Turner, NBC's Saturday Night Live, Viacom, A&E, and National Geographic) announced ad load reductions. These reductions will halt recent and persistent ad load increases. This chart of data from Pivotal Research's Brian Wieser depicts average minutes per hour of total day national ad inventory: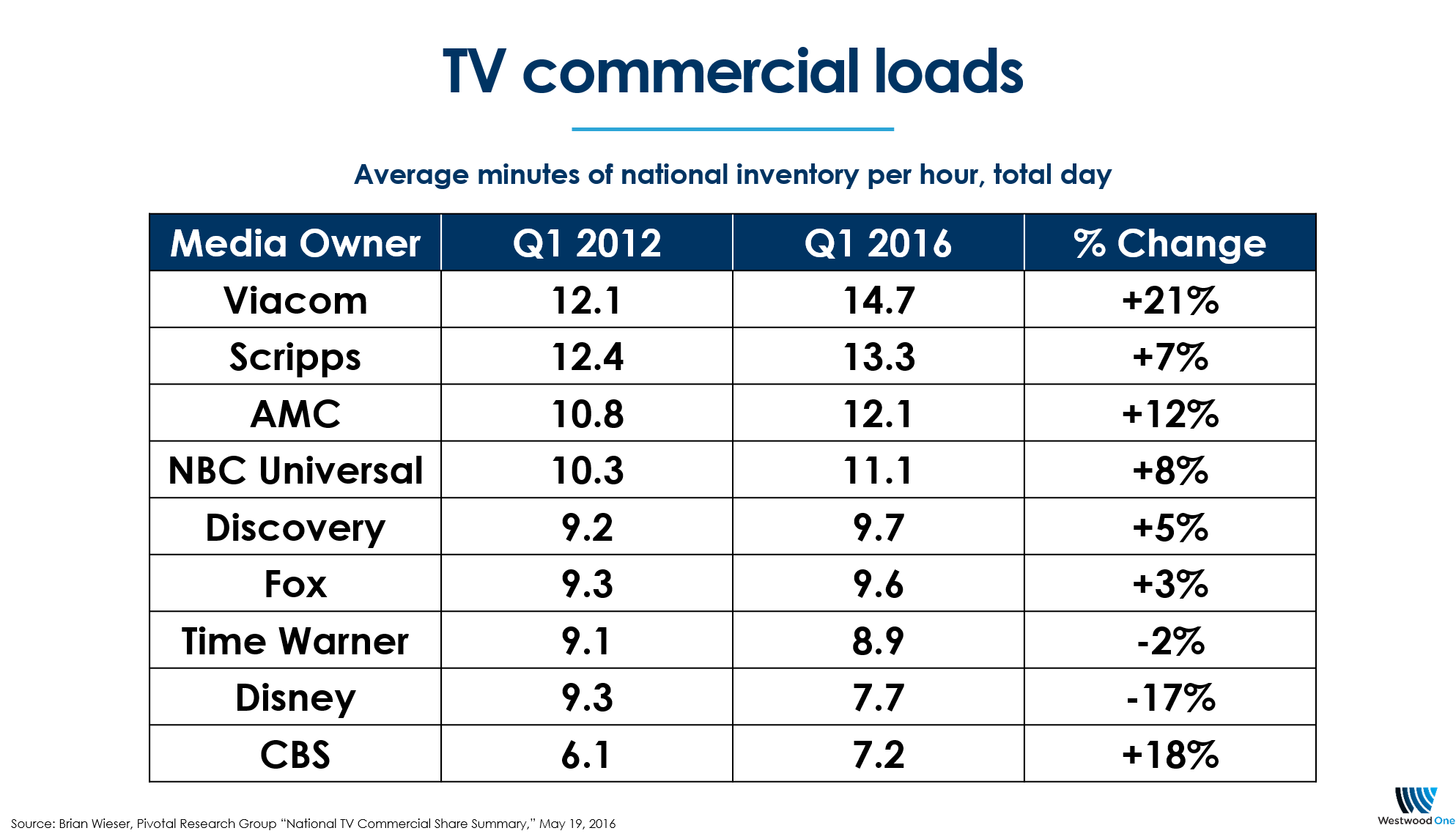 Simon Applebaum, writing in MediaVillage, said the most meaningful comments of upfront week came from Turner Ad Sales President Donna Speciale who "called for both the TV and advertising industries to put their full muscle behind these [ad reduction] actions and join in supporting many more via higher per-spot rates." Speciale said: "The experience is everything… Let's work together to give consumers more of the shows they love, to give the creative community a better environment to tell their stories, and to help your brands win, too."
Interestingly, AM/FM commercial loads are lighter than television.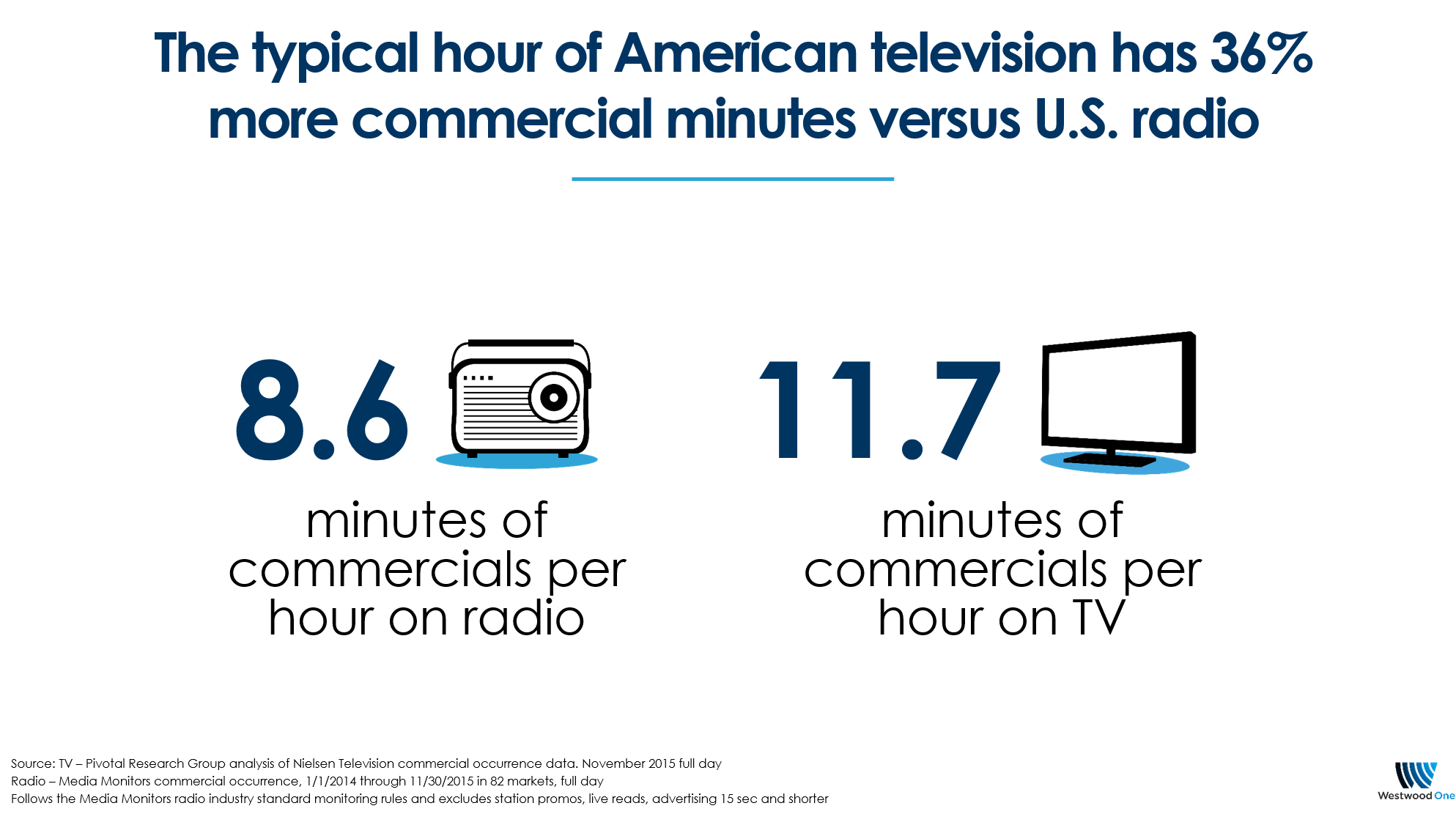 3. To generate ROI, you need mass reach traditional media. Advertisers are realizing the limitations of the reach of digital media. American Express tells Advertising Age the effect of one day of broadcast advertising is equal to that of two weeks of digital.
Supporting network assertions of the power of mass reach comes the landmark "How Advertising Works" study from the Advertising Research Foundation. The ARF recommends marketers allocate 71% to 78% of budgets to traditional media: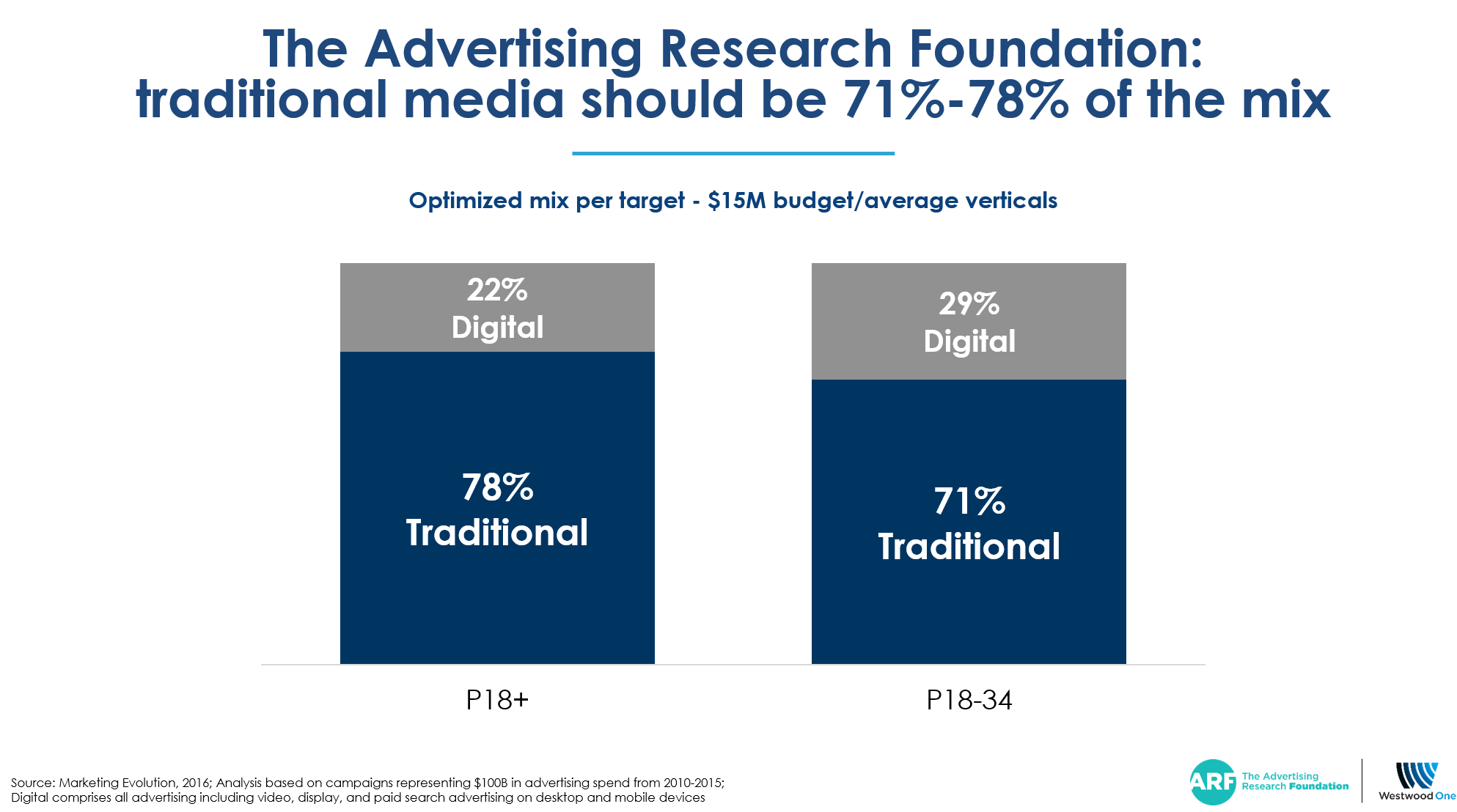 (Read more in our previous blog post: "5 Strategies for a Healthy Media Plan.")
4. TV has a halo effect on the ROI of short-form video, search, and display. An ABC study from Accenture found without the halo of television, various forms of digital experience double digit erosion in ROI.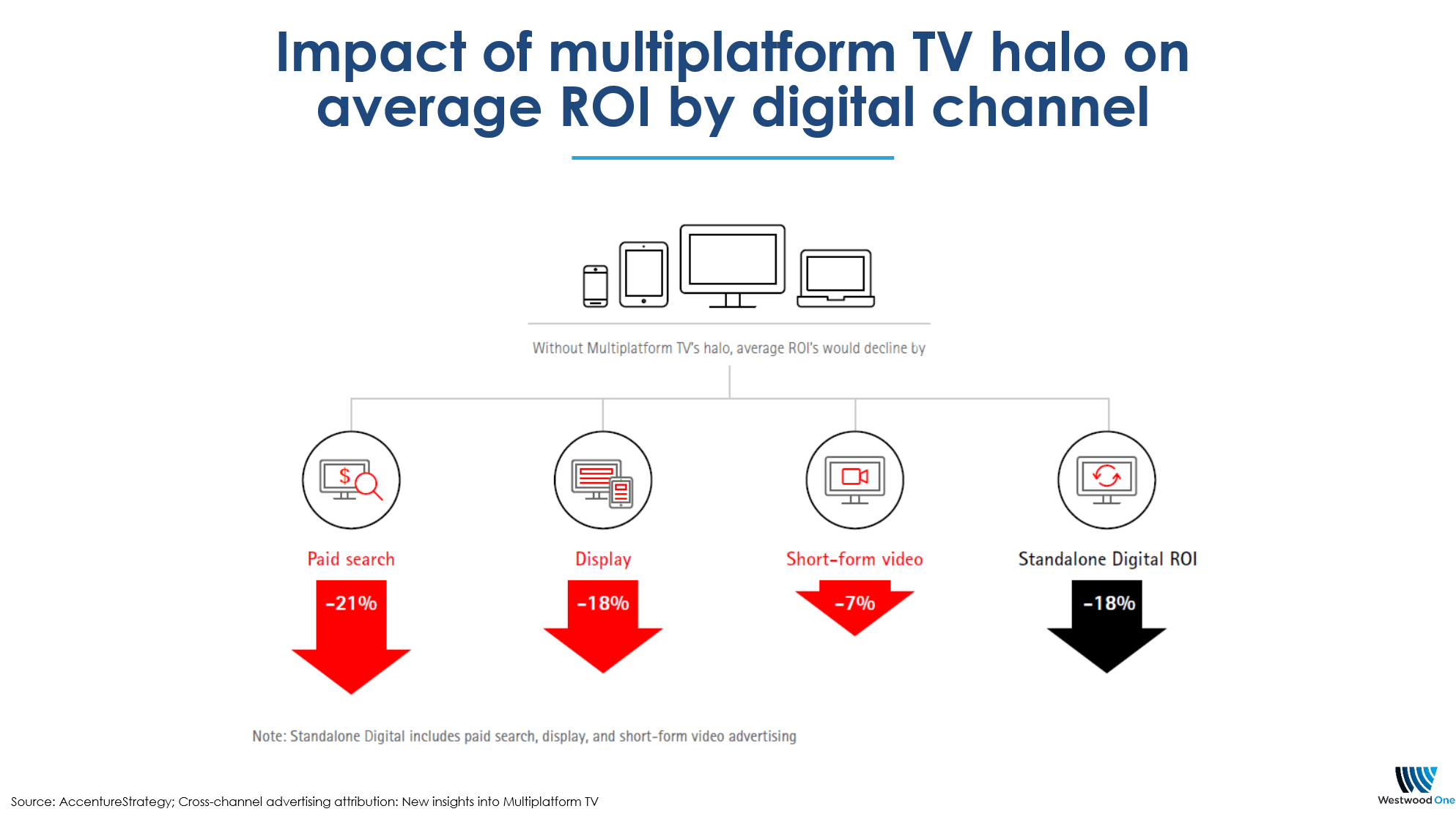 AM/FM radio has a similar halo effect on media plans. Among those aware of a radio brand campaign, recall of all other elements of the media plan are elevated.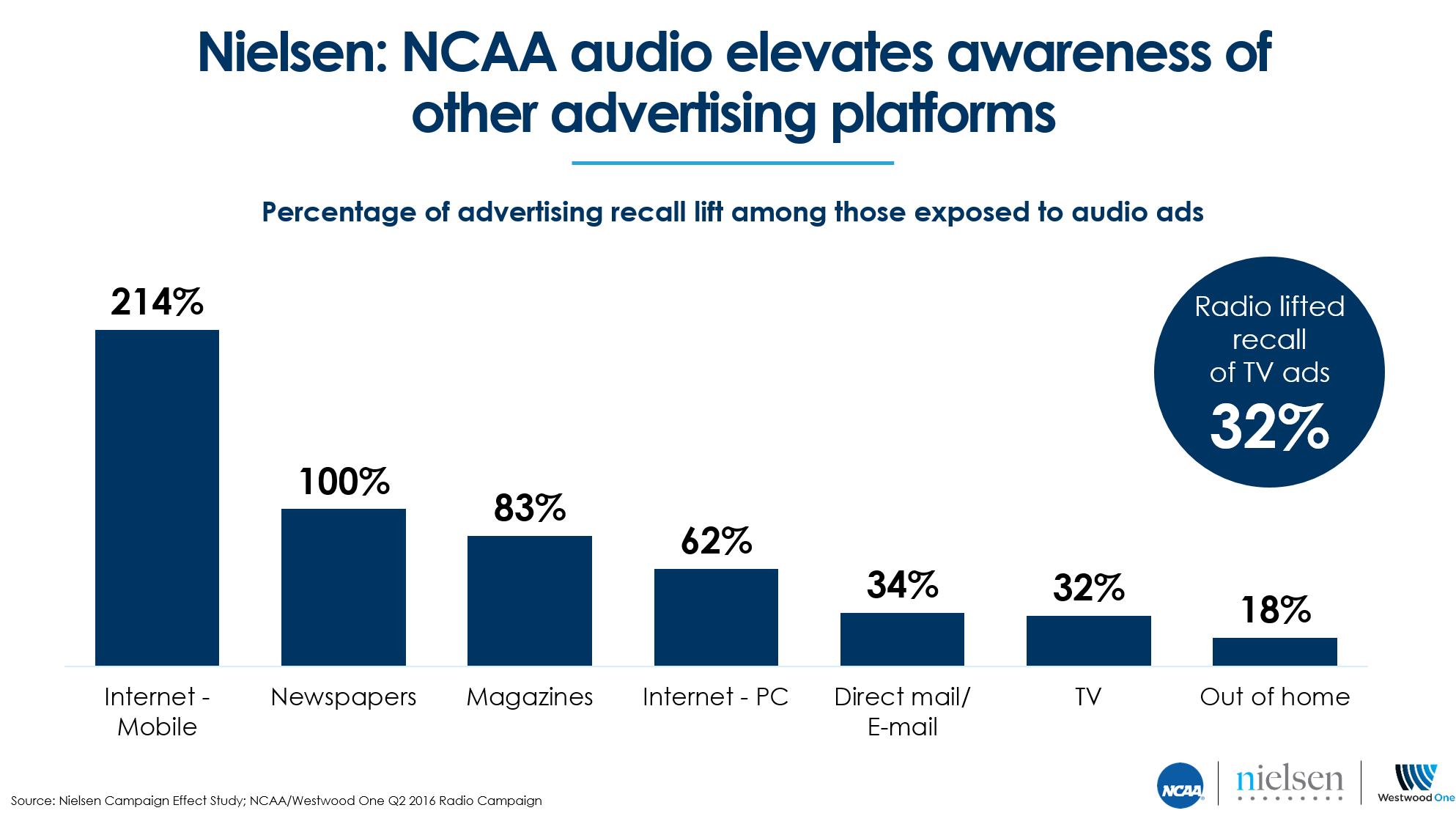 5. Mass reach media actually deliver their ads. Just as upfront week was ending, the Association of National Advertisers released a study indicating more than half of U.S. advertisers are unaware they're buying "sourced" digital traffic that is "riddled with bots and fraud." There is comfort knowing that television and radio ads actually air and real humans are exposed to the messages.
What radio can learn from this year's TV upfront:
1. Reach is still the new black. The bigger the reach, the greater your target. As America's number one mass reach medium, AM/FM radio can reach more of the advertiser's right audience.
2. While TV wants to reduce ad loads, radio commercial time is significantly lower. TV runs 36% more commercial minutes than radio. AM/FM radio holds 93% of its lead-in audience through its commercials.
3. AM/FM radio should be part of the 71% to 78% optimal allocation to traditional media. The Advertising Research Foundation's new "How Advertising Works" study advises that most of the media plan be allocated to traditional media, even for campaigns targeting 18-34 Millennials.
4. Both TV and radio have a halo effect on digital impact. Recent Nielsen studies for multiple advertisers reveal that those exposed to the radio campaign have a higher recall of all other elements of the media plan.
5. TV and radio run their ads, and real people hear the ads. No fraud and bots here. Broadcast ads actually air. Real consumers are exposed.
Tale as old as time
Chris Geraci, president of national broadcast for Omnicom Media Group, told AdExchanger the upfront is about managing scarcity in primetime programming. "While the process is decades old, it's more relevant than ever, since media fragmentation has only increased the scarcity of prime spots," Geraci says.
Erwin Ephron wryly concludes, "A Spring upfront for the following year's budget is a preemptive selling strategy that all media envy."
Pierre Bouvard is the Chief Insights Officer of Westwood One | Cumulus. Follow him on LinkedIn or Twitter.