New Research: How Radio Advertising Reaches Online Ad-Blockers
Online ad-blocking was a big media and marketing story in 2015 and continues to make headlines this year. A new study sheds light on online ad-blocking and how radio advertising can help reach those who block online ads.
Westwood One commissioned Harris Poll to conduct an online survey of 2,044 Americans in September 2015 in order to better understand online ad-blocking and what it means for marketers. Here are four key findings:
1. Almost one in four (24%) Americans use ad-blocking software. Three prior studies show wide variation on the percentage of online Americans who ad-block (comScore/Sourcepoint: 9%; Adobe/PageFair: 16%; IAB: 34%). (Read more in our previous blog post about ad-blocking.) While the numbers are different, all surveys show that ad-blocking is a substantial group.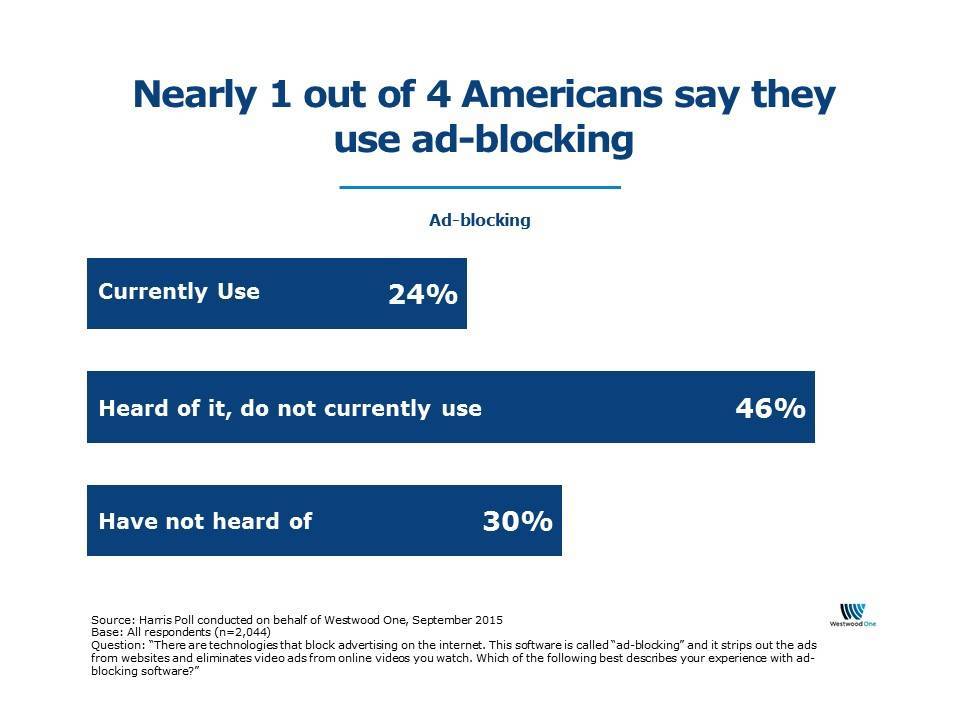 2. Most ad-blocking occurs on a computer rather than a mobile device. Twenty-two percent of those online use ad-blocking software on a computer – compared to only 7% who use it on a smartphone and 6% who use it on a tablet. Despite the massive media hysteria over the inclusion of ad-blocking capabilities in Apple's iOS9 this past fall, 92% do not currently use mobile ad-blocking.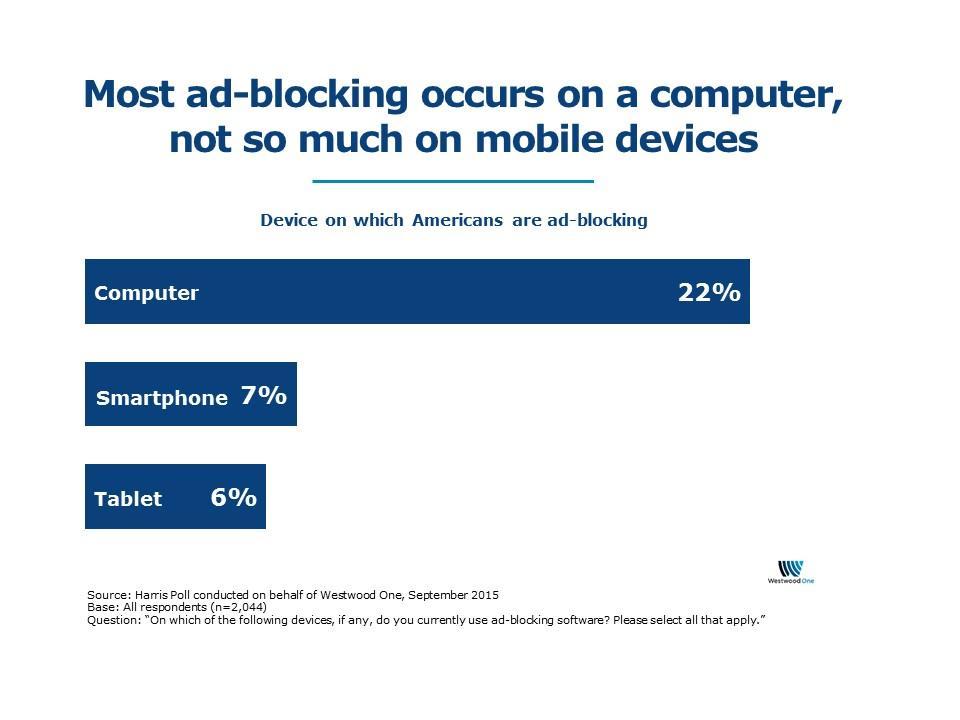 Why do people use ad blockers? Justin Hach, digital integrated sales manager for Cumulus San Francisco, says:
"The biggest reason is ease of use – desktop websites open themselves up to all kinds of intrusive, code-heavy, sometimes buggy ads. This affects the user experience in a negative way. The lack of intrusive formats on mobile (so far) also helps explain the lesser need to block on that smartphone platform."
3. Ad-blockers tend to be male and Millennial. More than half (57%) of those who block ads are men and 44% are 18- to 34-year-olds.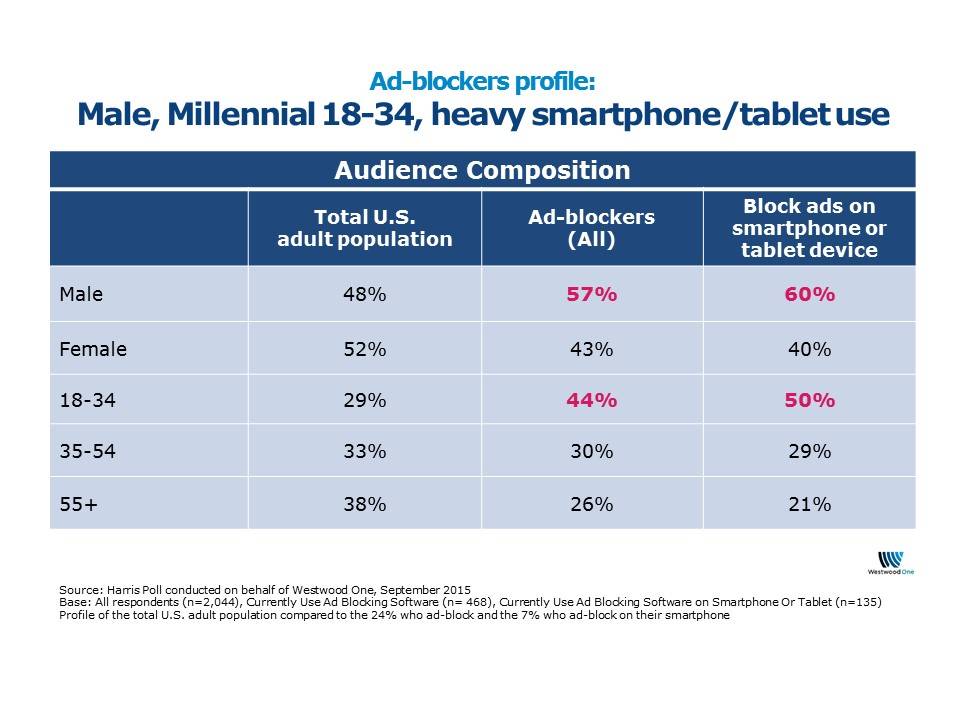 4. AM/FM radio and its integrated digital solutions offers advertisers a way to reach ad-blockers. Thirty-two percent of heavy radio listeners and 30% of heavy online users are ad-blockers. ("Heavy" user is defined as spending 3 or more hours of use in the past day.) AM/FM radio can be a rich source of online ad avoiders, offering a way for advertisers to reach consumers who are blocking ads online.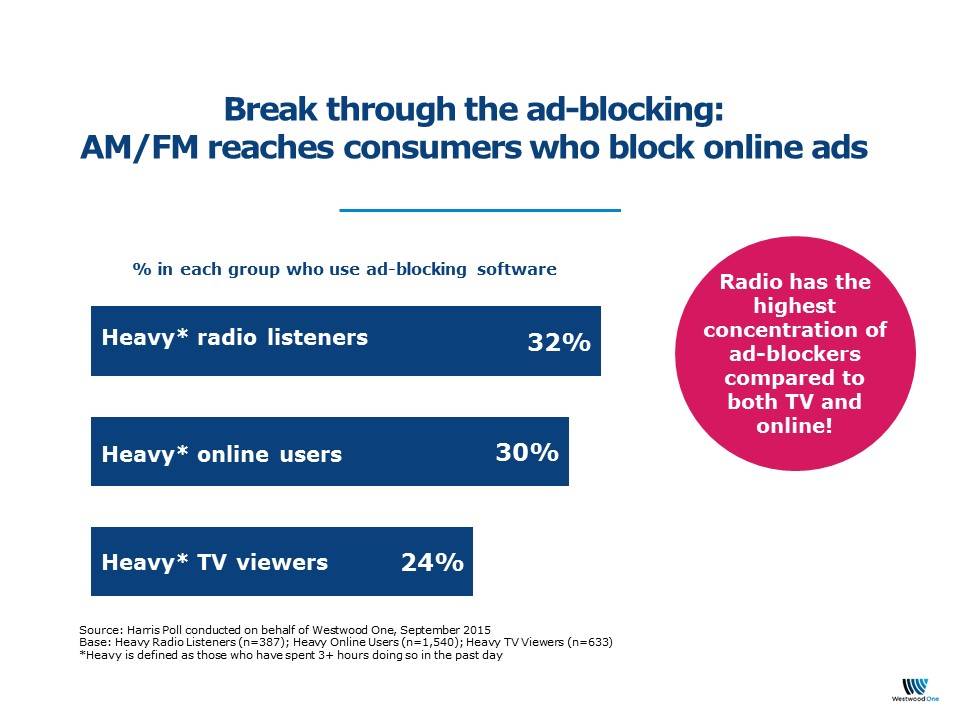 Radio brands are trusted and thus online content from radio will have a greater impact.
Justin Hach notes, "Consumers say their issue isn't with advertising; they'd be willing to whitelist non-obtrusive publishers. That suggests users will respond better to ads coming from a trusted source. What publishers/brands have audiences who trust them? Radio brands."
Americans spend the majority of their radio listening time with the one radio station they listen to the most. As such, Justin Hach says, "Radio brands can use the trusted relationship we enjoy with our audience and introduce non-standard messaging opportunities – native, social, endorsement, video – for our clients."
Hach advises advertisers to "activate radio's biggest competitive advantage: a unique format lifestyle combined with a sharply concentrated geographic audience. Rather than spending money in separate media pools, advertisers should invest in as many ways as possible to get the most out of an audience profile they value."
Media planning solution for online ad-blocking? AM/FM advertising combined with radio's digital platforms!
Pierre Bouvard is CMO of Cumulus Media | Westwood One Follow him on Twitter and LinkedIn.