What Do Marketers & Consumers Think About Podcast Advertising?
Watch a webinar on the State of American Podcasting below:

Listen to the webinar on audioBoom.
To answer that question, Westwood One commissioned original research for the upcoming "State of American Podcasting" report, featuring custom studies by Ipsos, Advertiser Perceptions, and our own focus group of radio buyers and planners.
Here are six preview findings:
1. Consumers are engaged with podcast advertising: 65% of podcast listeners recalled an ad after listening to a show one day earlier, according to a 2015 poll by Ipsos. Forty-seven percent of podcast listeners recalled an ad after listening to a show in the past week, and 21% of podcast listeners recalled an ad after listening to a show in the past month.
Some of the most recalled podcast advertisers include Dollar Shave Club, SquareSpace, Nature Box, Amazon, and AT&T.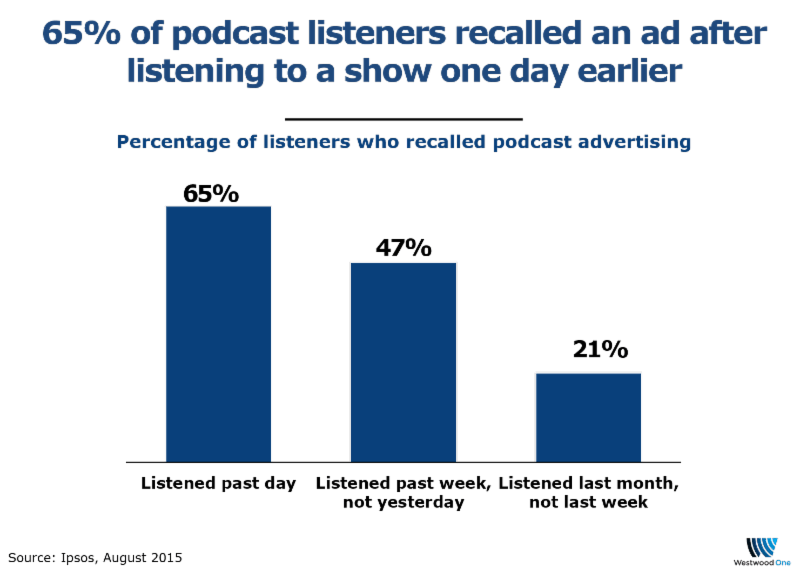 2. Forty-one percent of agencies and marketers and clients have discussed podcasting; 15% are currently advertising. We turned to Advertiser Perceptions, the gold standard of advertiser/agency sentiment and ad spend forecasts, to probe buy-side impressions of podcasting. Advertiser Perceptions interviewed 164 agencies and 120 advertisers.
Many advertisers are interested in podcasting and discussing advertising with clients; 15% have taken the plunge.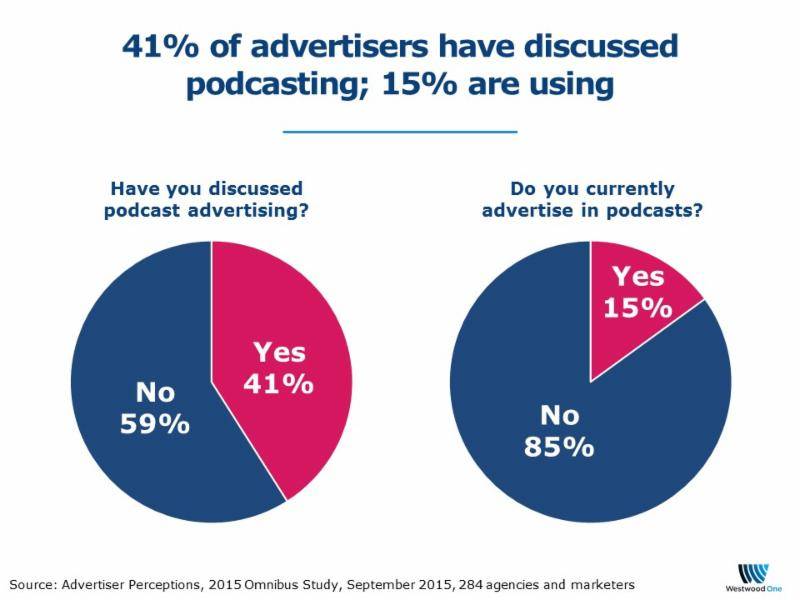 3. Almost 20% of marketers and agencies say they "definitely would consider" advertising in podcasting. And more than half of both marketers and agencies "might consider" advertising in podcasts, according to Advertiser Perceptions.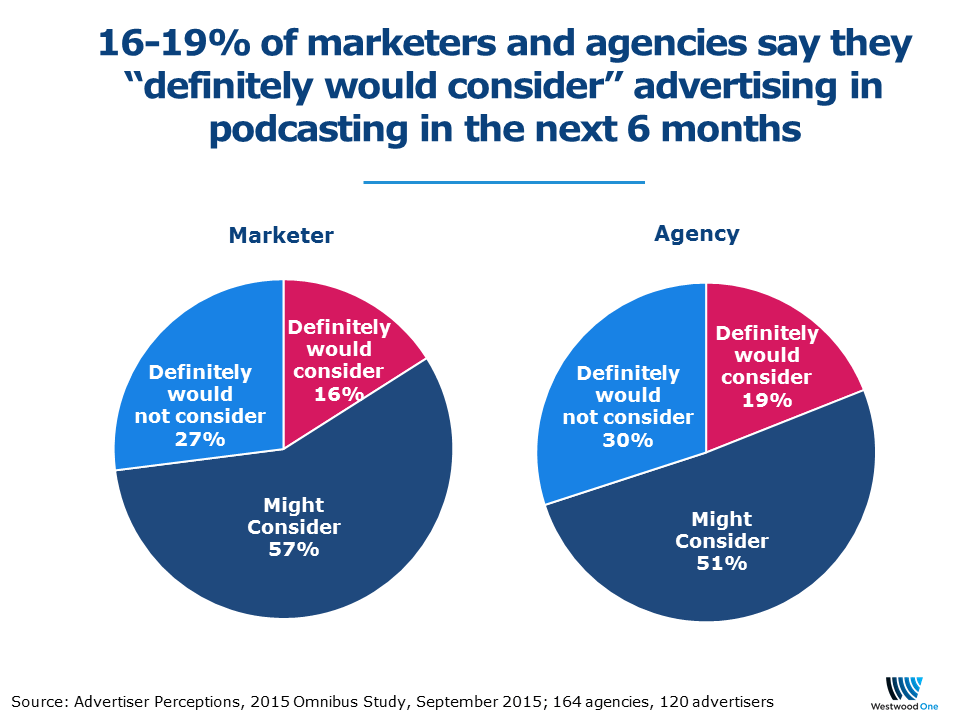 4. Up to 11% of marketers and agencies say they "definitely would advertise" in podcasting in the next six months. Half of both marketers and agencies say they "might advertise" in the next six months.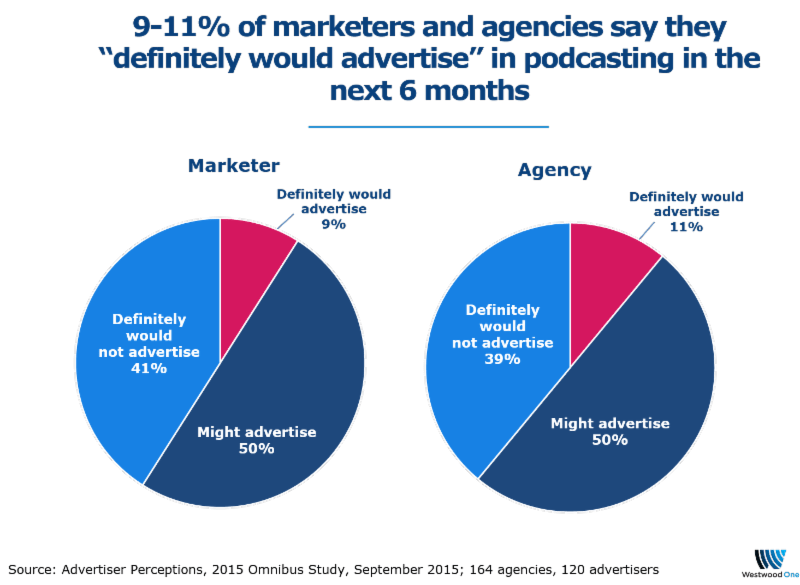 5. Almost half of radio buyers and planners in our focus group say podcasting is "worth studying;" 38% say they would "experiment" with podcasting. It is clear podcasting is now getting serious consideration from radio buyers and planners. Nearly nine out of 10 say podcasting is in the "study/experiment" phase.
None of the radio buyers and planners in the Westwood One focus groups indicated it was time to go "all in," nor did many say it was "too early" or "not interesting."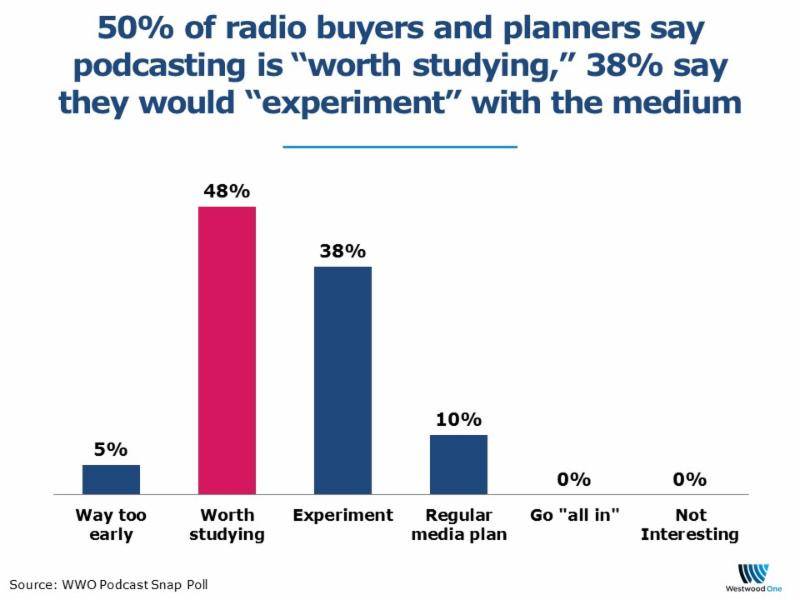 Andy Sippel, SVP, Media Consulting, at Advertisers Perceptions, says that buyers want podcasting to work, for two reasons: the ability to use data to target audiences and goodwill. "The industry wants radio and audio to succeed." Podcasters can ride this wave of momentum and capitalize on the curiosity of buyers and planners to get in the door.
6. Advertisers are waiting at podcasters' doors; data is what will get them to come in. When asked to what podcasters need to do, our focus group responses were clear:
"The industry needs to do a better job defining its user base so that advertisers can better target which podcasts to work with." – Marketer COO
"Provide more insight on the audience segment and good use case of podcast advertising." – Marketer VP
"Better audience measurement data/statistics on actual listening/time of listening rather than just downloads or subscribers." – Agency President
"Track it, measure it and prove the value. The industry would jump all over that." – Agency Director
Measurement is the key to broad advertiser and agency adoption.

Podcasting: data talks, money won't walk
"Podcasting has been lurking in the shadows for years," says Sippel. Now, after 10 years of gradual consumer adoption, marketers and their agencies are giving podcasting serious consideration. "Get the product offering right," he advises podcasters. "Make sure that you are identified as the leader because right now, no one is identified as such."
Data is the key. With data-driven targeting and measurement taking the media world by storm, podcasting will need to measure audiences and ROI.
The big story? It is podcasting's moment to step into the light and shine. Nearly one in five agencies and marketers "definitely would consider" podcast advertising, and one out of 10 agencies and marketers say they "definitely would advertise" in podcasting in the next six months.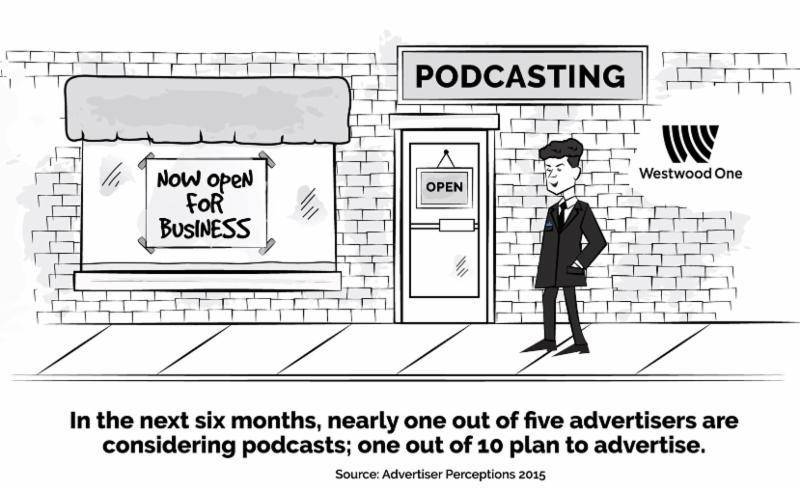 We Want to Hear from You
Westwood One is a big believer in podcasting, which is why we've recently launched our Cumulus and Westwood One Podcast and On-Demand platform, including digital audio content from high profile network talent such Boomer Esiason, NBC Sports Radio, NASH, Zach Sang, Charles Osgood, as well as additional 60+ channels of local radio content. Here's a sampling of our on-demand content:
You can also visit www.audioBoom.com/channel/westwood-one to hear Westwood One Sports, Talk, Entertainment, and Special Event audio on demand.
This exclusive research on the podcast space is one example of how we help inform our content producers, affiliates, and national and local advertisers on the growing space of on-demand listening.
Read previous insights on podcasting: "5 Things You Didn't Know About Podcast Listening"
Pierre Bouvard is CMO of Cumulus Media | Westwood One
Follow him on Twitter and LinkedIn.