As Holiday Shopping Heats Up, Radio Drives Sales For Retailers
With 36 days left until Christmas, the holiday shopping season is in high gear at America's retailers. Here are some trends we're seeing:
Fast start to holiday shopping. A November survey by the National Retail Federation finds 57% of Americans have already started holiday shopping. This is up from 54% at this time last year and the highest level since 2008.
Younger demos start shopping earlier. Sixty-five percent of 25- to 34-year-olds have already started shopping, followed by 35- to 44-year-olds (62%), according to the survey. Slightly more women (58%) have started checking off Christmas lists compared to men (55%).
Sales projected to grow 3.5-4%. Deloitte's annual holiday forecast suggests holiday sales will increase 3.5-4%. Digitally influenced sales affect 64% of in-store retail sales. The National Retail Federation predicts similar 3.7% growth.
Holiday sales grow despite flat wages. Deloitte economists attribute the uptick in sales to an improving labor market, increasing home values, and lower gas prices – even as most personal income growth remains flat.
Consumer spending intentions strongest in 15 years. Deloitte finds 75% of consumers say they'll spend more or the same, the highest response since 2000. Twenty-five percent say they'll spend less, continuing a steady reduction in "spend less" responses since the recession. Since 2009, the percentage of Americans who say they will "spend more" has doubled (8% to 19%).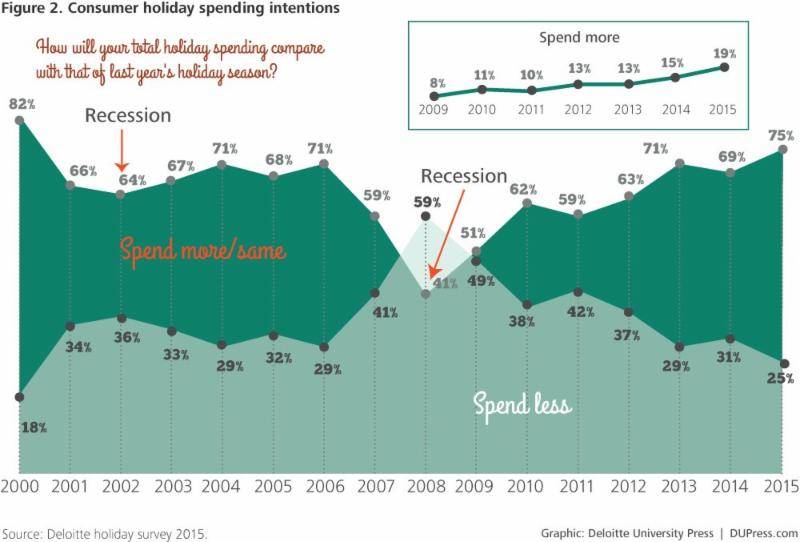 via Deloitte
Brick and mortar rule, but digital channels grow. Retail analyst NPD says brick and mortar will be the channel most used by consumers for shopping this holiday season, but online will continue to steal share."Consumers don't have a need to seek the deals out on Black Friday the way they did during past holiday seasons. Now the deals come to them, early and often," says Marshal Cohen, chief industry analyst, The NPD Group, Inc. "With consumers shopping earlier and more going online it will be critical for brick retailers to take action in order to compete with the click players."
Fashion and entertainment are top planned super categories, followed by toys. NPD says clothing continues to be the leading product category for holiday purchases. Food/beverages, books, movies/DVDs, video gaming systems/video games, small personal accessories, and smartphones also have the attention of more consumers this holiday season.

5 key reasons radio can fuel sales for retailers
1. 180 million Americans are reached by AM/FM radio on Black Friday, according to Nielsen. Nielsen shows that 90 million are reached in the Portable People Markets, representing half of the total U.S. population. So double that and 180 million Americans are reached by radio on Black Friday.
What if you could cross off two-thirds of your holiday shopping list on the day after Thanksgiving? That's what advertisers get when they use radio on Black Friday. Nielsen's analysis of Black Friday 2014 found 63% of all 25- to 54-year-olds are reached by radio on the busy shopping day. Reach a majority of holiday shoppers when they are out and about on the biggest retail day of the year.
2. Radio rules the day when stores are open. Radio leads in all media time spent from 6 a.m. to 7 p.m. when stores are open. Two-thirds of all AM/FM time spent occurs away from home in vehicles and at work, when consumers are shopping and thinking about errands and to do lists.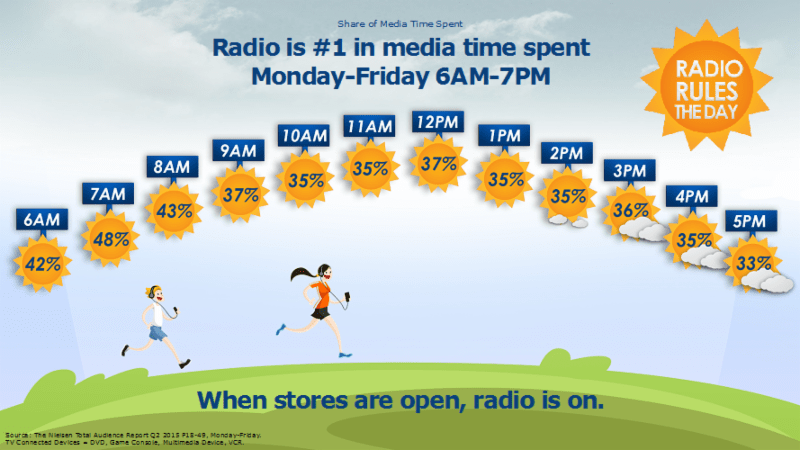 3. Radio listeners are the engine of ecommerce. Per NPD, two-thirds of consumers plan to do some of their holiday shopping online this year, a 12% increase over 2014. The vast majority of radio listening comes from those that work full- or part-time. Since radio is the soundtrack of the American worker, it is natural that radio listeners are more prone to research and purchase online.
An Ipsos study of Amazon's summer Prime Day sales event revealed radio had the highest conversion of advertising awareness to purchase. Radio had a higher sales conversion than TV and online. Another Ipsos study of ecommerce site Jet.com found radio listeners were more likely to use the new shopping site compared to TV and online users.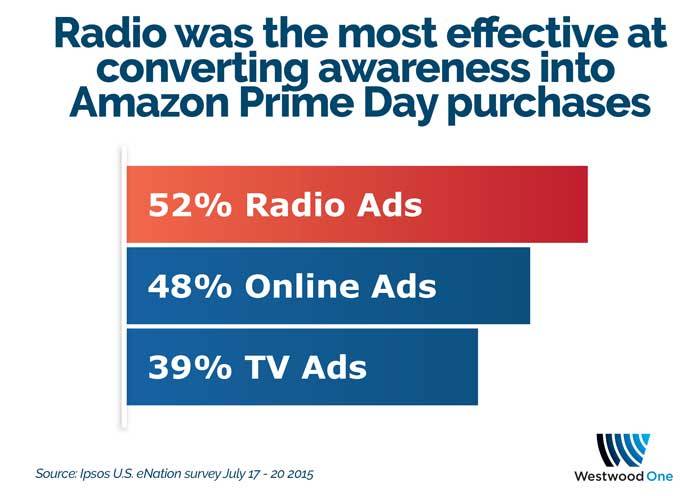 4. Nielsen found radio delivered $17 of department store sales for every dollar of advertising, an astounding return on investment. In a recent Nielsen analysis, four department store brands that implemented radio campaigns experienced a 10% increase in sales. In addition, the campaigns led to a 3% increase in total number of buyers and a 6% increase in dollars spent per customer. Radio drove a stunning $357 million of incremental sales.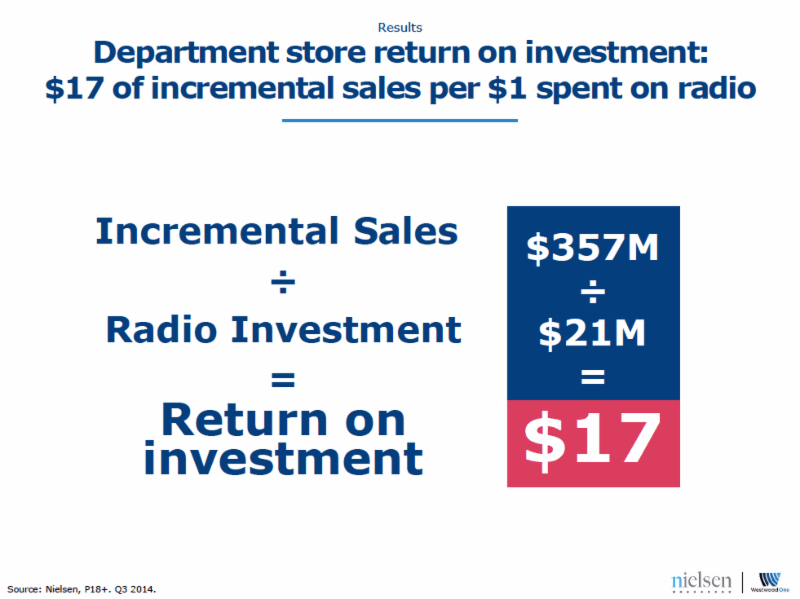 5. Nielsen found radio delivered $16 of mass merchandiser sales for every dollar of advertising, an equally impressive return on investment. Nielsen analyzed two mass merchandiser retailers that executed radio campaigns experienced a 2% increase in total number of shoppers and 2% in dollar spent per transactions. The outcome? $228 million of incremental sales.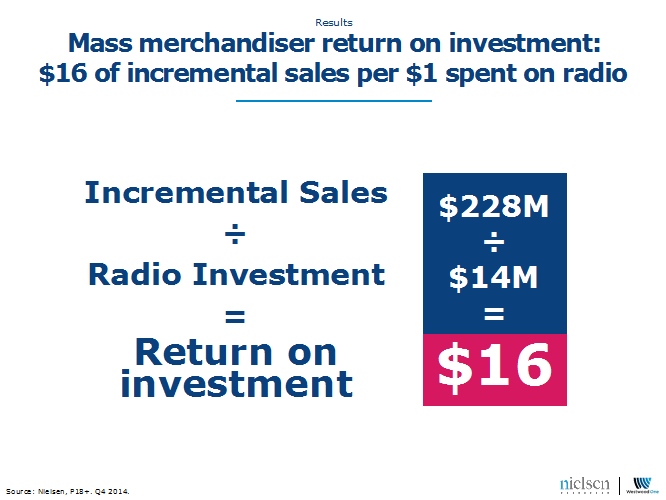 Radio drives retail ROI
Radio's stellar ability to increase retails sales is due to the mobile nature of the radio audience. Most listeners work and spend majority of the radio time listening out of home during shopping hours when stores are open. Radio reaches 90 million consumers on Black Friday. Nearly two thirds of all 25-54 year-olds are reached by AM/FM on Black Friday.
The Amazon and Jet.com studies prove that radio listeners are the engine of e-commerce driving web purchases. These just-released ROI studies from Nielsen confirm what many radio advertisers already know: radio excels at driving store traffic and sales.
Pierre Bouvard is CMO of Cumulus Media | Westwood One