Upwave Brand Effect Study For E-Commerce Retailer Reveals Podcast And AM/FM Radio Streaming Campaign Increased Familiarity, Brand Perceptions, Consideration, And Purchase Intent
Click here to view a 10-minute video of the key findings.
Click here to download a PDF of the slides.
An e-commerce retailer promoted its brand using AM/FM radio streaming and a sponsorship of the Katy Perry narrated Elizabeth the First, the podcast about the outsized life and career of movie star Elizabeth Taylor. The six-month campaign ran from October 2022 to April 2023. The Cumulus Media | Westwood One Audio Active Group® retained Upwave, a leader in online brand effect measurement, to study the campaign.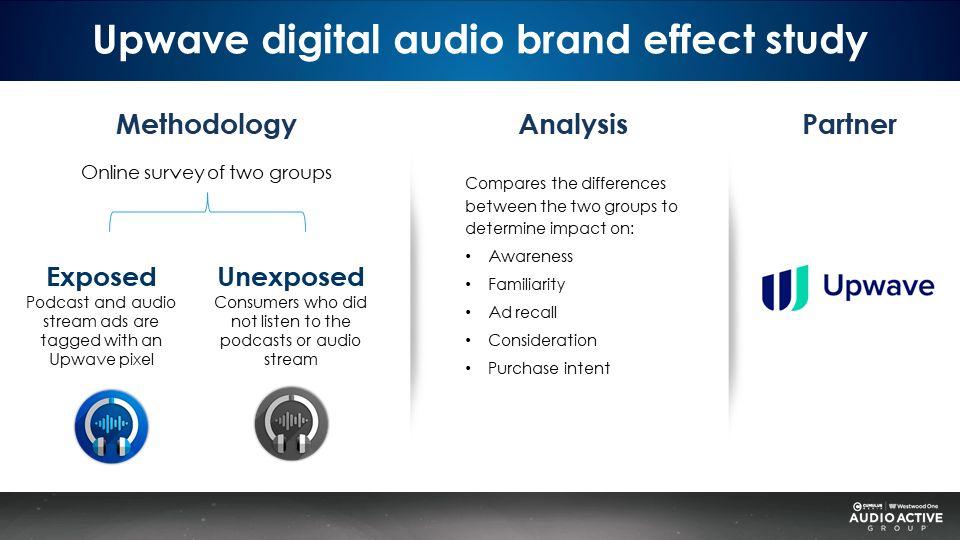 Upwave surveyed 1,004 consumers who were exposed to the campaign and 1,105 consumers who were not exposed to the campaign. Upwave placed a pixel in the digital audio ad server to identify those exposed and not exposed to the campaign.
The analysis focused on women, the primary target of the campaign. The Upwave study consisted of 302 women who were exposed and 698 women who were unexposed.
The Upwave study focused on five key measures of brand equity: familiarly, brand images, consideration, purchase intent, and customer growth forecast.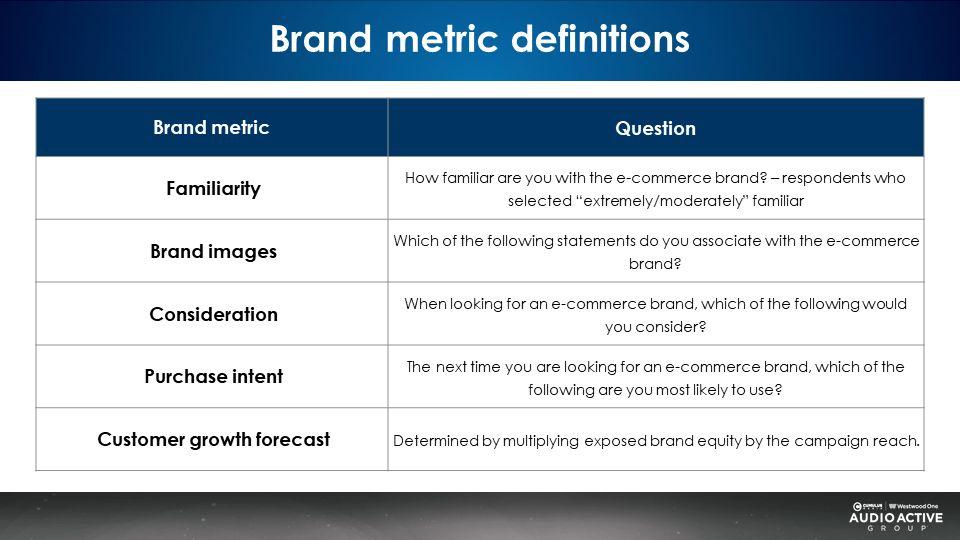 The podcast and AM/FM radio streaming campaign significantly lifted key brand perceptions
Those exposed to the digital audio campaign were:
+33% more likely to say the brand "partners with all my favorite stores"
+81% more likely to indicate the e-commerce retailer "is a brand I trust"
+140% more likely to associate the brand with offering "the best sales and coupons"
+28% more likely to perceive the brand as being "easy to use"
+4% more likely to say the retailer "lets me earn cash back"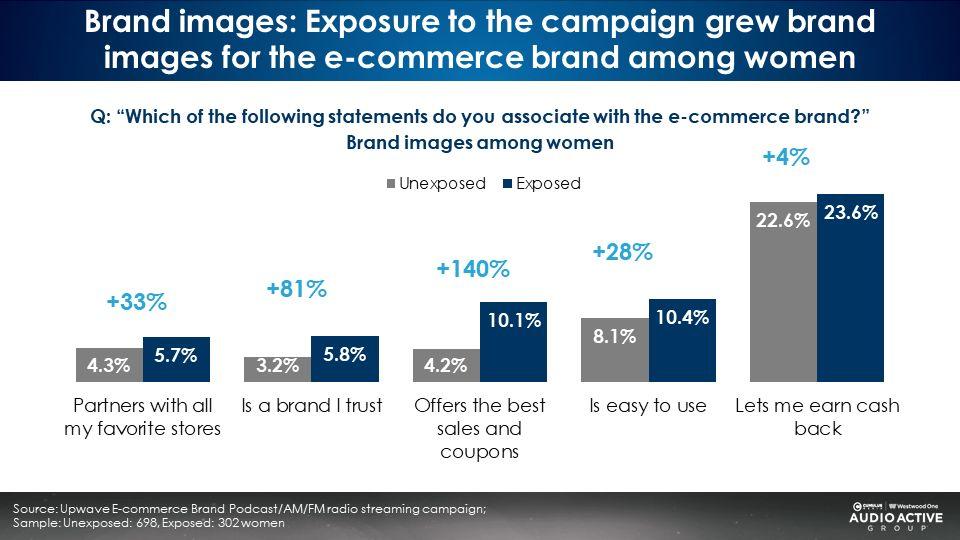 Podcast and AM/FM radio worked: Brand equity measures surge among those exposed
Versus those not exposed, each measure of brand effect saw strong increases among those who were exposed to the campaign:
+54% growth in familiarity
+31% lift in average brand images
+37% greater consideration
+102% increase in purchase intent
+55% growth in customer forecast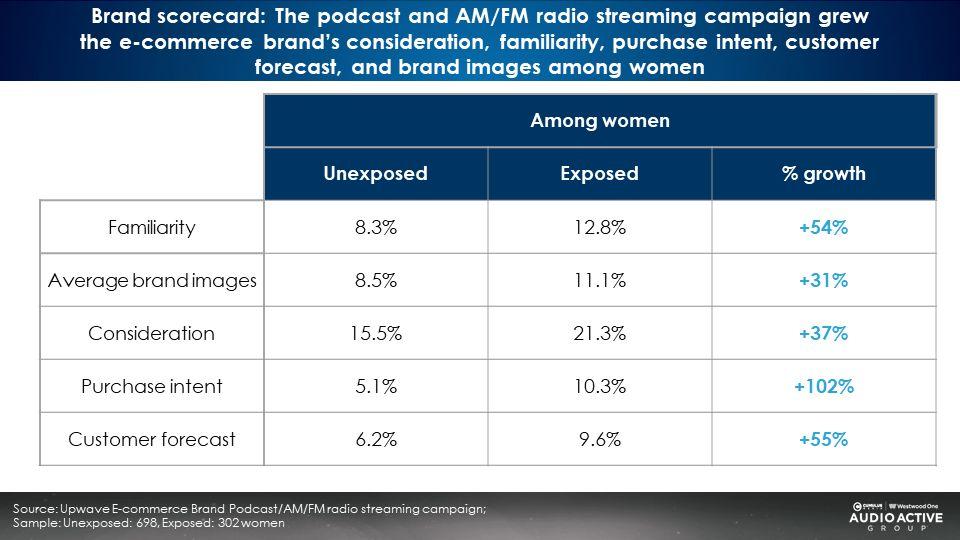 Best practices to power direct-to-consumer marketing effectiveness
Some of the world's leading experts on marketing effectiveness and measurement offer these strategies to boost sales and profit for direct-to-consumer marketers:
1. Allocate 74% of marketing budgets to creating future demand (brand building) and 26% to converting existing demand (sales activation)
Creating future demand (brand building) ads creates memories that influence future behavior. Sales activation ads produce an immediate behavioral response.
In their book Effectiveness in Context: A Manual for Brand Building, the godfathers of marketing effectiveness, Les Binet and Peter Field, recommend the majority of budgets for firms who sell online be devoted to converting future demand/brand building. Binet and Field's massive studies reveal, "Brand building is such a dominant force in effectiveness; it is not only essential for long-term effects, but also boosts short term effects."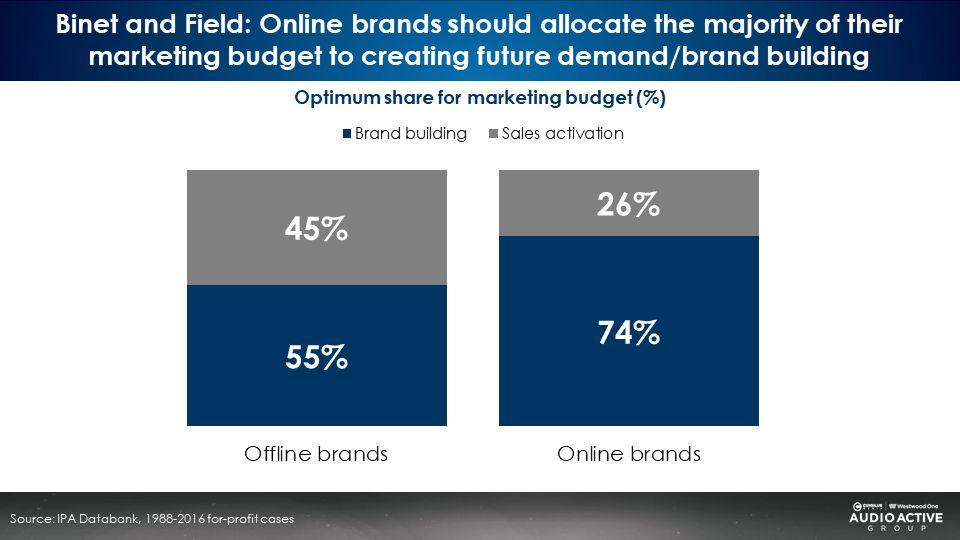 2. Target broadly to expand the customer base
According to Binet and Field, "Compared to offline brands, growth for online brands is even more dependent on broad targeting beyond existing customers … in the crowded online world, reaching out to new customers is vital."
In their marketing account strategy book How Not To Plan: 66 Ways to Screw It Up, Les Binet and Sarah Carter offer these recommendations to grow sales:
"Always aim to get more customers from all segments of the market. It's the main way brands grow.
Talk to everyone who buys your category. Talk to them regularly. Advertising memories fade.
Go for reach, rather than frequency. Reach as many category buyers as possible.
Don't target too narrowly. It may be efficient, but it's rarely effective. Tight targeting means low sales and profits."
3. Employ emotional advertising to build direct-to-consumer brands and drive sales and profit
Binet and Field's analysis reveals, "The more crowded the category is with choice, the more vital it is that we harness the priming effects of emotional advertising. Rational advertising in online categories appears to be so inefficient that we cannot reliably measure it."
4. Be known before you are needed: Brand marketing generates better lower funnel performance
Aidan Mark, Media Science & Strategy Director at Bicycle London, writes that for e-commerce advertisers, "Many of the benefits of brand building are seen within digital performance activities."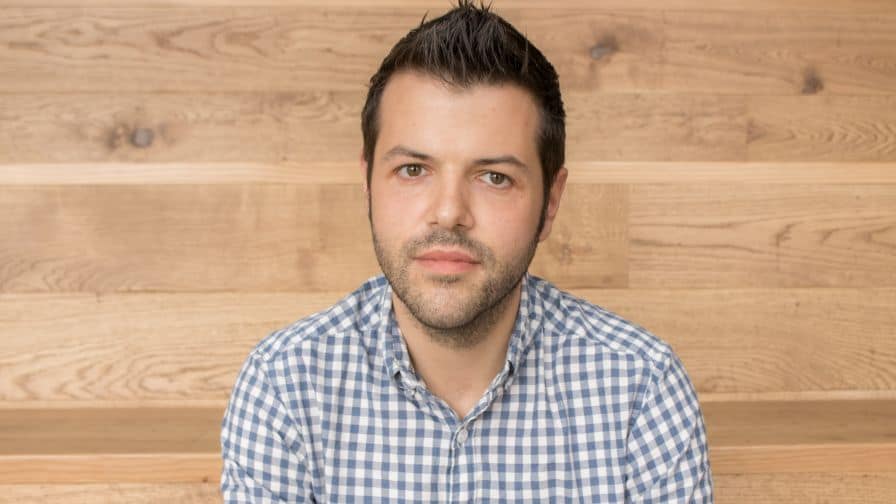 Aidan Mark, Media Science & Strategy Director at Bicycle London
Mark reveals there are 10 performance measures that are positively impacted by brand building. These include brand/product search uplift, direct site traffic, attention and advertising recall, click-through rate uplift, quality score improvements, SEO visibility, loyalty and repeat customers, conversion rate to sales, word of mouth effects, and price sensitivity.
Mark concludes, "When brands are successfully developed, the brand creates a virtuous cycle of performance enhancements that are seen across lots of different metrics."
5. Media best practices: As campaign weight is important, buy lots of ads in all days and dayparts
Weight matters. There is direct relationship between media weight and business outcomes.
A LeadsRx attribution study commissioned by Westwood One on behalf of a nutrition retailer found that markets with light GRP exposure saw a +7% lift in site traffic. Markets with the heaviest GRP weight from the AM/FM radio campaign saw a massive +16% increase in visitation to the retailer's web site.
The largest AM/FM radio attribution study ever conducted was this study of auto dealer website traffic by iHeartMedia and LeadsRx. LeadsRx studied 310 dealers who ran 1.8M AM/FM radio ads in 100 markets over 17 months. The major findings:
Run every day: There is very little difference in web traffic by day.
Run full week campaigns: Lift doubles when the number of days in a schedule grows from 3-4 days a week to 7 days a week.
Run lots of ads each day: The more ads run per day, the greater the site traffic. 10 ads per day has twice the site traffic of 1-9 ads per day. 40+ ads per day has 5X the lift of 10 ads per day.
Key findings:
The brand effect of podcasts and audio streaming can be measured. Via its pixel, Upwave measures campaign effect on brand equity metrics among those exposed and unexposed.
The e-commerce retailer campaign grew top of funnel metrics among women. The e-commerce brand's familiarity and consideration among women increased post-exposure to the podcast and AM/FM radio streaming campaign.
Important brand images increased among women. Exposure to the podcast and AM/FM radio campaign grew key brand images for the e-commerce brand including being seen as a company consumers can trust, having the best deals, and offering coupons and sales.
Purchase intent doubled among women. Women were twice as likely to use the e-commerce brand when looking for an e-commerce brand after being exposed to the podcast and AM/FM radio campaign.
Best practice: Allocate 74% of marketing budgets to creating future demand (brand building). Target broadly with emotional advertising that runs in all days and dayparts.
Click here to view a 10-minute video of the key findings.
Pierre Bouvard is Chief Insights Officer of the Cumulus Media | Westwood One Audio Active Group®.
Contact the Insights team at CorpMarketing@westwoodone.com.