Nielsen Audio Today 2023: AM/FM Radio Is America's #1 Mass Reach Media With 65% Of Listening Taking Place Out Of The Home
Click here to view a 9-minute video of the key findings.
Nielsen recently released their Audio Today 2023 report looking at how Americans listen to AM/FM radio, podcasts, streaming, and satellite radio.
According to Nielsen, the report also outlines AM/FM radio streaming's growth "as a portion of the overall radio audience, plus listening location, time of day, timely new podcast insights (courtesy of Nielsen Scarborough) and a deep dive into the listening habits and format preferences of nearly 20 unique audience segments."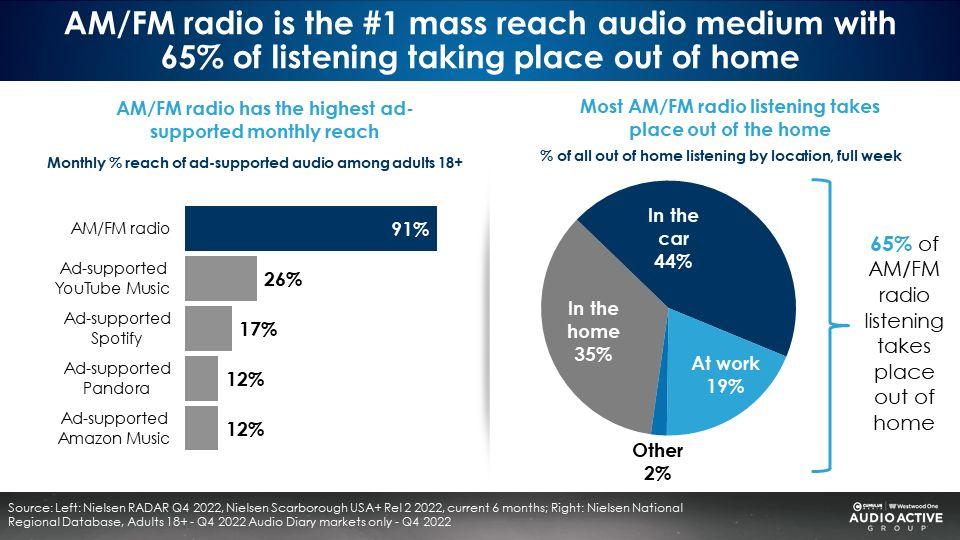 AM/FM radio delivers mass reach for advertisers
The report reveals AM/FM radio reaches 91% of all 18+ Americans monthly, more than TV, smartphones, TV connected devices, PCs, and tablets. According to Nielsen Scarborough, AM/FM radio outreaches all audio platforms, both ad-free and ad-supported.
AM/FM radio's stunning reach has not gone unnoticed. P&G, one of the world's most sophisticated and successful marketers, is now the largest advertiser on American AM/FM radio, according to Ad Age.
Marc Pritchard, P&G's Chief Brand Officer, extolled the power of AM/FM radio at the recent Radio Mercury Awards, saying, "Radio … is a powerful medium to reach and engage the consumers we serve. Nearly all people are potential consumers of our brands. We want to reach 100% of these potential consumers. Radio is a powerful way to reach those consumers with its tremendous breadth and availability. When done right, radio works because of its reach, effectiveness and efficiency. Exactly what P&G brands are looking for."
Use AM/FM radio create future demand
Every advertiser has two jobs: convert existing demand and create future demand. AM/FM radio is perfect for creating future demand as advertisers can target very broad audiences of all category buyers.
Author of the book Future Demand, James Hurman explains, "Creating future demand is advertising to that much larger group of consumers who are not in the market, who are not ready to buy now, but will be in the future, and making them feel familiar with and positively towards us, so that they gravitate to use when they enter the category. "
AM/FM radio is the #1 mass reach ad-supported audio medium
For advertisers, ad-supported platforms matter most as that's where ads can be placed. Among ad-supported audio, AM/FM radio dominates:
91% of Americans are reached by AM/FM radio monthly
The next highest ad-supported audio platform is YouTube Music, reaching only 26% of adults 18+ monthly
AM/FM radio's ad-supported reach is five times bigger than ad-supported Spotify (17%)
AM/FM radio's ad-supported reach is eight times larger than ad-supported Pandora and ad-supported Amazon Music (12%)
World Advertising Research Center: Reach is the foundation of media effectiveness
WARC is the global leader in marketing effectiveness measurement. They proclaim reach is the foundation of media effectiveness: "The work of Professor Byron Sharp and the Ehrenberg-Bass Institute put the focus of media strategy squarely on reach. Les Binet and Peter Field, in their analysis of the IPA database, have also argued for the benefits of media that can reach as many people in a brand's category as possible as often. This, in turn, suggests that scale is likely to be an important influence on media effectiveness. They found that campaigns that used TV, outdoor, radio and press were far more likely to report very large business effects than those which did not. The results showed a strong correlation with reach."
Binet and Carter: Reach trumps frequency
The most useful marketing strategy book ever written, How Not To Plan: 66 Ways to Screw It Up from Les Binet and Sarah Carter, offers these recommendations:
"Always aim to get more customers from all segments of the market. It's the main way brands grow.
Talk to everyone who buys your category. Talk to them regularly. Advertising memories fade.
Go for reach, rather than frequency. Reach as many category buyers as possible.
Don't target too narrowly. It may be efficient, but it's rarely effective. Tight targeting means low sales and profits."
The majority of AM/FM radio listening takes place out of home while consumers are on the path to purchase
Not only does AM/FM radio have massive reach, it is also the medium consumers are listening to in the car when they are closer to the point of purchase. In an average week, 65% of all AM/FM radio listening takes place away from the home.
44% of all AM/FM radio listening occurs in the car. 19% occurs at work and 2% occurs in some other place.
Nielsen's data is corroborated by Edison Research's "Share of Ear" report. The gold standard audio time use study, "Share of Ear" reveals AM/FM radio is the "queen of the road" with a nearly 90% dominant share of in-car ad-supported audio.
Key takeaways:
AM/FM radio is the #1 mass reach audio medium with a monthly reach of 91%, more than any other ad-supported audio platform
65% of all time spent listening to AM/FM radio takes place away from home on the path to purchase
Click here to view a 9-minute video of the key findings.
Click here to view or download Nielsen's Audio Today 2023 report.
Pierre Bouvard is Chief Insights Officer of the Cumulus Media | Westwood One Audio Active Group®.
Contact the Insights team at CorpMarketing@westwoodone.com.