Big Audio Datamine: World's Largest AM/FM Radio Ad Effectiveness Study Reveals AM/FM Radio Advertising Helps Brands Create And Convert Demand; Best Performing Campaigns Emphasize Creative Consistency And Higher Reach
Click here to view a 12-minute video of the key takeaways.
Click here to view or download the Big Audio Datamine report.
Independent data analysis agency Colourtext and Radiocentre, the UK commercial AM/FM radio industry group, recently released the biggest and most comprehensive AM/FM radio ad effectiveness report in the world. Big Audio Datamine encompasses 1,002 campaigns for 463 brands covering 14 sectors.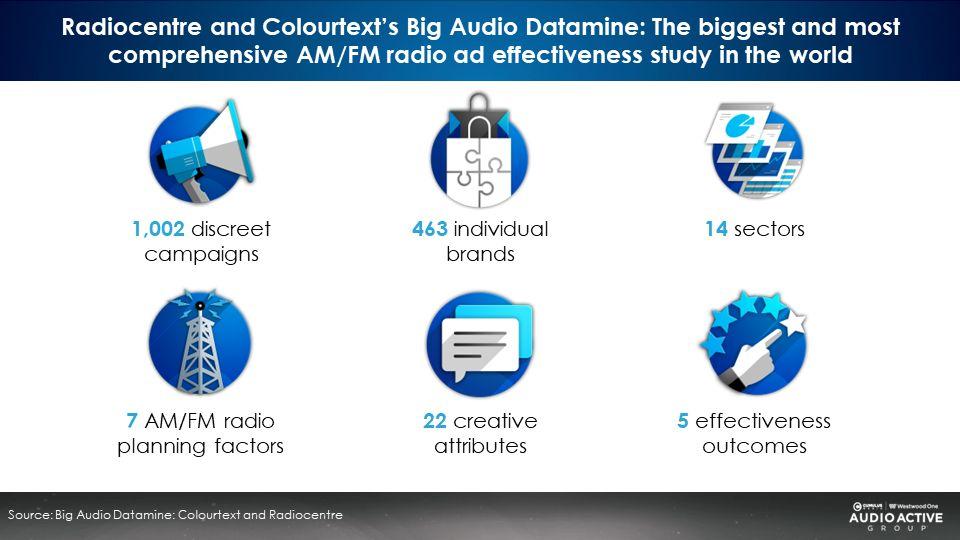 Key findings from the report:
"Radio helps create future demand, increasing awareness by an average of around 50%, and building positive brand sentiment by an average of up to 32% (depending on the specific measure).
Radio helps convert existing demand, increasing purchase consideration by 18% and stimulating online search among 21% of those who recall hearing the radio ad.
Radio helps increase efficiency of media plans. The additional impact that radio delivers for advertisers far exceeds its average share of total media spend, enhancing efficiency of media plans, reinforcing its claim to the title of The Multiplier Medium.
The best-performing campaigns place an emphasis on creative consistency. Campaigns that feature distinctive audio elements strongly associated with the brand – such as music, voices, straplines [slogans], brand characters, or a sonic brand device – and use them consistently within different radio executions and across media (where relevant) achieve greater effects.
Campaigns that focus on building higher weekly reach deliver stronger effects. The most influential planning variable is weekly reach. The average uplift rate in effectiveness outcomes is significantly greater for higher-reach campaigns than for lower-reach campaigns."
AM/FM radio can strongly impact the two jobs of marketing: Converting existing demand and creating future demand
Across the 1,002 studies, Big Audio Datamine concludes that AM/FM radio "consistently delivers significant uplifts for advertisers across a wide range of long- and short-term effectiveness outcomes."
Rethinking Brand for the Rise of Digital Commerce, a major new marketing effectiveness study from James Hurman, Founding Partner of Previously Unavailable, and WARC, the World Advertising Research Center, reveals marketers need to convert existing demand and create future demand. James Hurman also just published a wonderful new book on how to create future demand entitled Future Demand: Why Building Your Brand Among Tomorrow's Customers Is The Key To Start-Up Success.
Hurman explains the difference between the two as:
"Convert existing demand – making sure we're advertising to that relatively small group of consumers who are ready to buy, and capturing as large a share as possible of them for our product.
Creating future demand – advertising to that much larger group of consumers who are not ready to buy now, but will be in [the] future, and making them feel familiar with and positively toward us, so that they gravitate to us when they enter the category."
According to Hurman, the way to convert existing demand is by tightly targeting with rational messaging (ie. product information or price) and a limited-time offer that can persuade consumers to choose one product over another.
The best way to create future demand is through targeting broad audiences with emotional messaging. This type of creative is meant to stand out and "create positive memories of [a] brand that will influence future purchase decisions."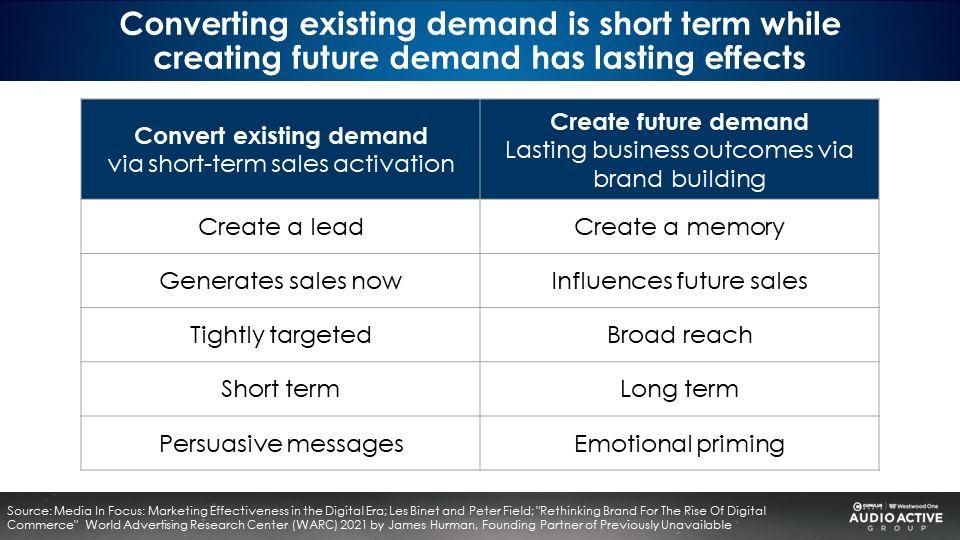 Here is greater insight on the five key findings from Big Audio Datamine:
1. AM/FM radio creates future demand by increasing awareness and building positive brand sentiment
The chart below shows the difference in campaign effect between those exposed and not exposed to the AM/FM radio campaigns. The 1,002 studies reveal AM/FM radio campaigns generate significant lift in crucial top funnel metrics such as ad recall, brand relevance, and brand trust.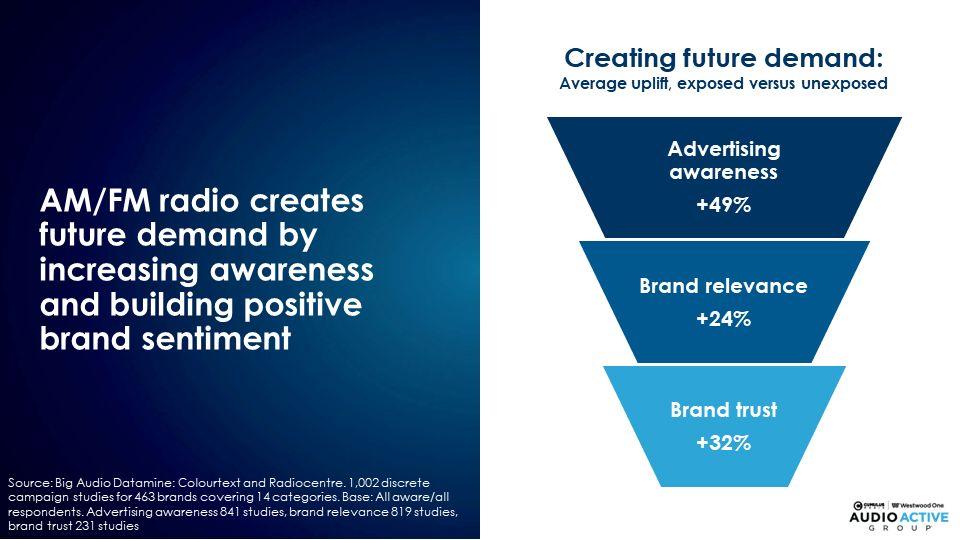 2. AM/FM radio converts existing demand by increasing purchase consideration and stimulating online response
Among those in the market to buy now, the 1,002 studies reveal AM/FM radio advertising drives significant lower funnel impact.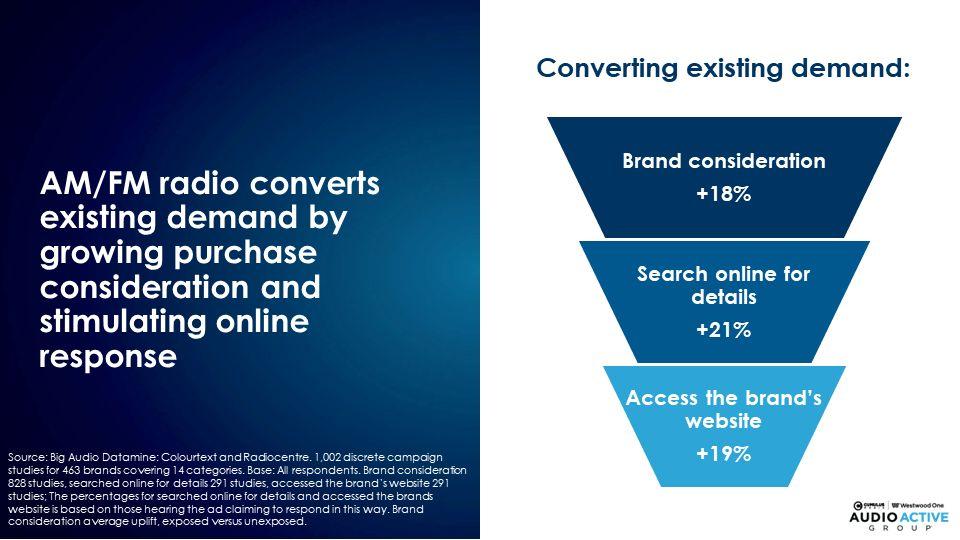 Auto, B2B, travel, CPG, and telecom have the greatest increase in advertising recall
While the average brand experienced a 49% increase in awareness due to AM/FM radio advertising, the chart below details the lift by sector.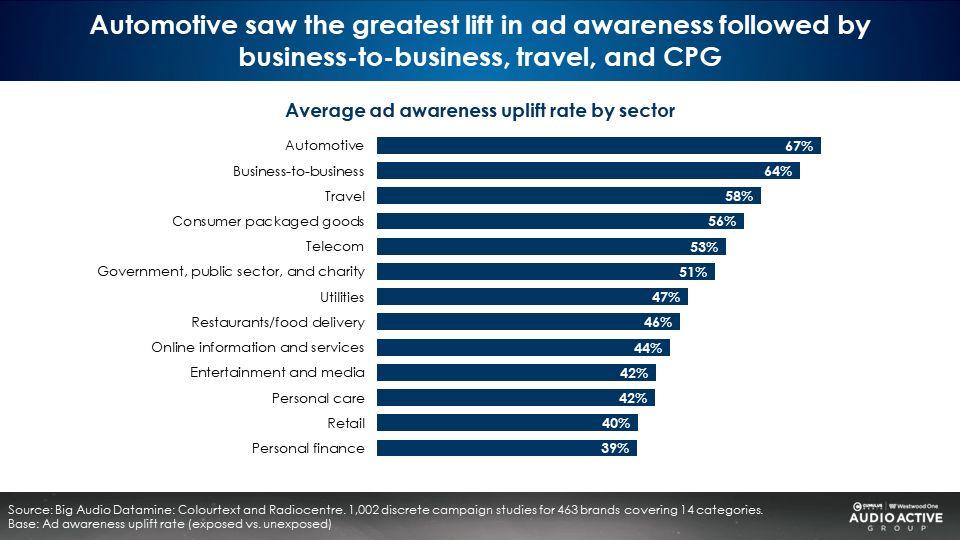 3. AM/FM radio increases the efficiency of media plans
Colourtext and Radiocentre compared AM/FM radio's average share of total media spend (8%) to the increase in advertising awareness, brand relevance, and brand trust generated by AM/FM radio campaigns. In each case, the brand lift is three to five times greater than AM/FM radio's share of media spend.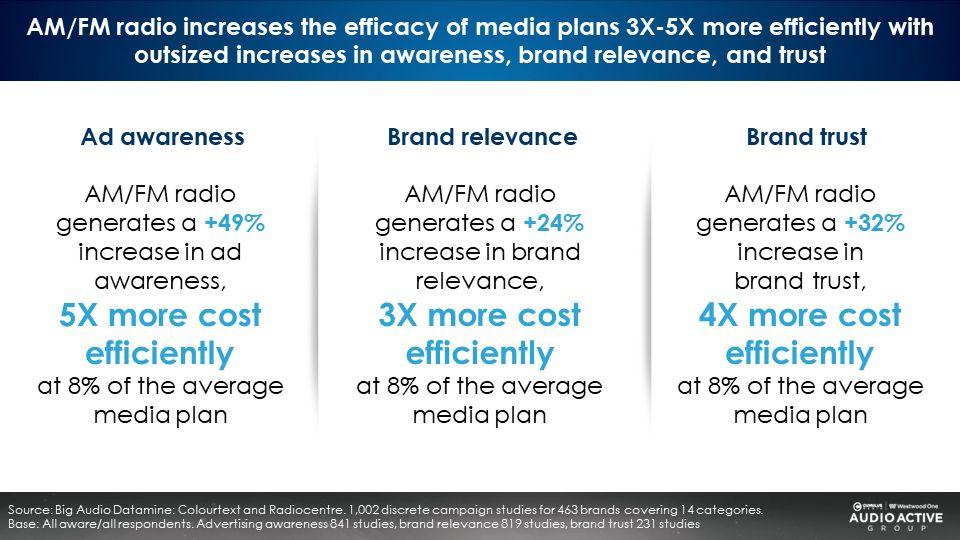 AM/FM radio elevates the media plan
Adding AM/FM radio to the plan improves the efficiency of the media campaign. No wonder AM/FM radio is often referred to as the "multiplier medium." Consider a Nielsen Media Impact analysis of a typical media plan of linear TV, digital, and connected TV that reaches 57% of the market.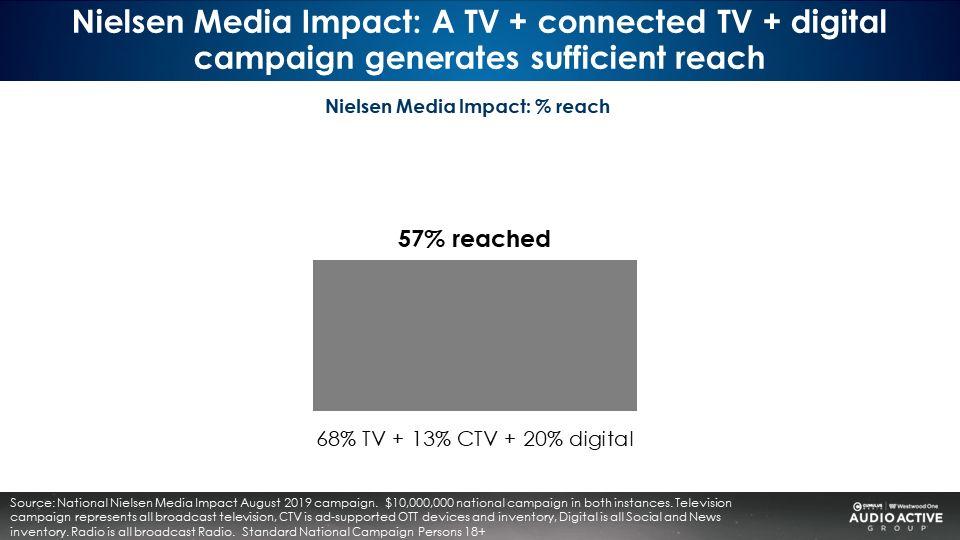 Now watch what happens when AM/FM radio is introduced into the media plan at a modest 10% allocation keeping the budget flat. Campaign reach soars from 57% to an astonishing 80%. Shifting 10% of the media plan to AM/FM radio generates a +41% increase in reach for the same spend!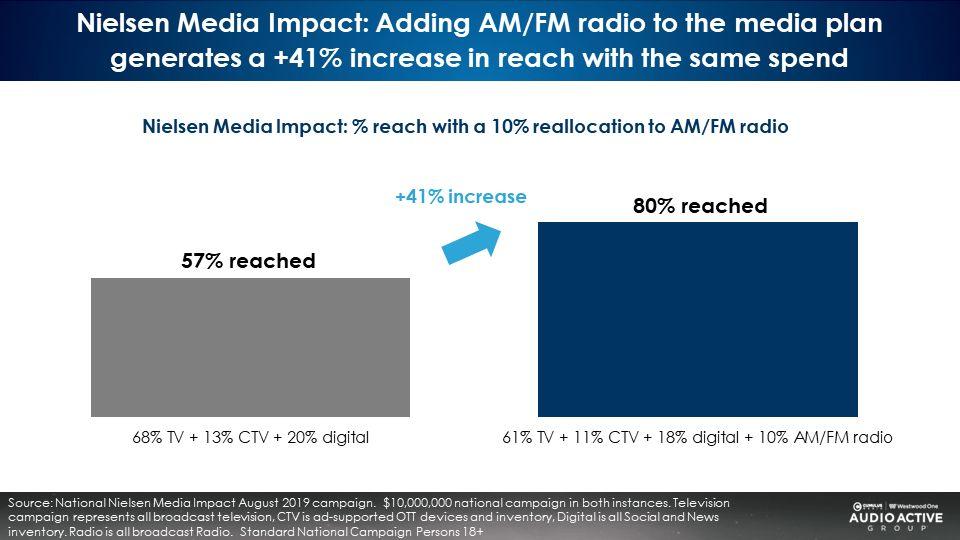 4. The best-performing campaigns place an emphasis on creative consistency
The chart below shows the top creative attributes based on the difference in average ad recall. The uplift percentage compares ad recall from campaigns with the creative attribute versus those that did not feature the creative attribute.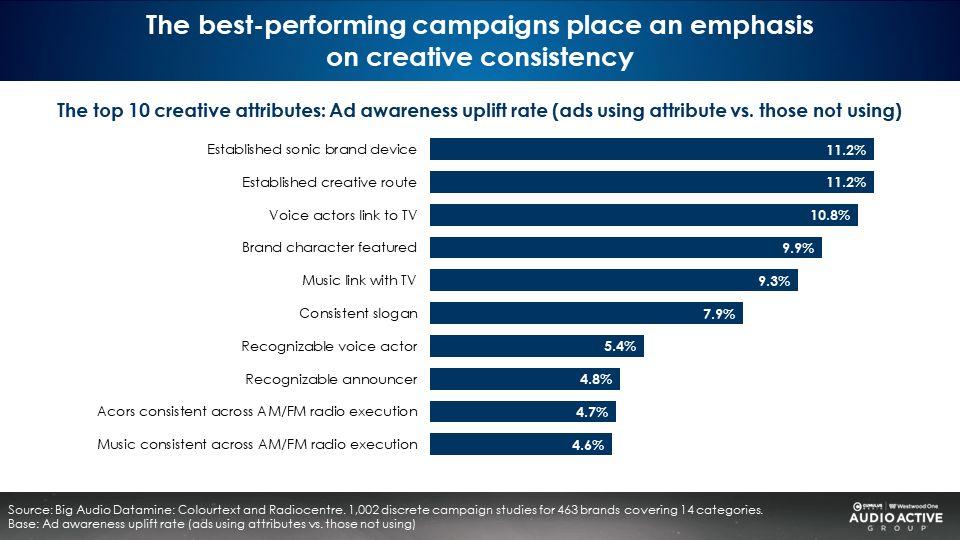 Eight of the top ten creative attributes relate to consistent audio elements such as music, slogan, brand characters, or sonic brand.
5. Campaigns that focus on building reach deliver stronger effects
Average uplift rates in advertising awareness were compared for campaigns with heavy and light GRP weight and heavy and light reach. The conclusion is clear. The more people reached, the bigger the impact of an AM/FM radio campaign.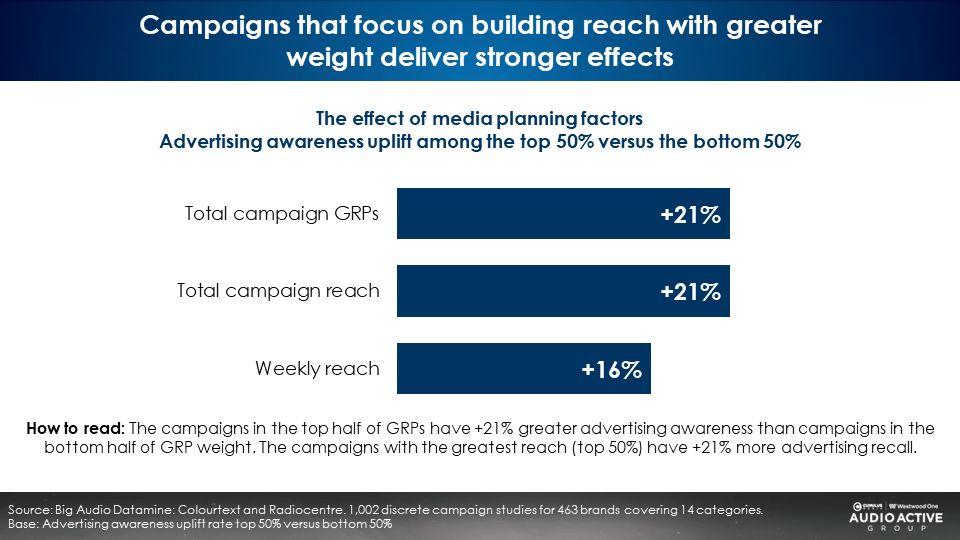 Three action steps to utilize these learnings from the Big Audio Datamine report:
"Use radio to improve overall media campaign efficiency to both create future demand and convert existing demand for brands. Our analysis demonstrates how radio delivers significant uplifts in a wide-range of long- and short-term effectiveness measures far more efficiently than other media combined. This suggests that re-allocating budget from other media into radio will help improve overall effectiveness for media campaigns with creating future demand (brand-building) and/or converting existing demand (activation) objectives.
Maximise radio weekly reach when planning radio (audio) campaigns. Reach was found to be the most influential variable from a media planning perspective, far outweighing any influence of weekly frequency. This suggests that advertisers should focus radio campaign planning around maximising weekly reach over optimising weekly frequency. Routes to achieving this could include advertising across a wider range of days/dayparts and extending the campaign to include more stations across a longer timeframe. In many instances, advertisers could also consider adding digital audio on top of a maxed-out radio schedule to capture incremental listening occasions and extend overall campaign reach/effectiveness even further.
Use distinctive audio brand assets consistently and across media. In this study, the brands that performed strongest all benefited from creative campaigns featuring consistent and distinctive audio brand assets. In a Marketing Week article, Mark Ritson advised brands to think about "logo +3" (colour, character, and audio) when considering distinctive brand assets. Developing/using distinctive and consistent audio brand assets can help advertisers create a clear advantage over competitors. In their research study The Power of You IPSOS revealed that audio branding is 3x as effective as visual branding on average, but it is currently used by only 8% of advertisers."
Click here to view a 12-minute video of the key takeaways.
Click here to view or download the Big Audio Datamine report.
Pierre Bouvard is Chief Insights Officer of the Cumulus Media | Westwood One Audio Active Group®.
Contact the Insights team at CorpMarketing@westwoodone.com.