2022 Forecast And Trends To Watch
Click here to view a 13-minute video of the key findings.
As the end of 2021 nears, the CUMULUS MEDIA | Westwood One Audio Active Group assessed leading revenue forecasts and key trends to watch for in the coming year.
Here are the key takeaways:
2022 revenue forecast roundup: AM/FM radio growth consensus +6% to +8%; Podcasts to the moon
Speaking at last week's Radio Ink Forecast 2022 conference, Mark Gray, CEO of Katz Media Group, said national spot radio revenues are expected to grow +5% to +6%, not counting digital and political. Gray notes that since the pandemic, every quarter has seen improvement. 2022 national AM/FM radio revenues are expected to come in at 88% to 89% of 2019 levels. Gray says political could top $300M for AM/FM radio in 2022.
Speaking at the same conference, Doug Ray, Chief Product Officer at dentsu international, the major media agency, estimates +10% increases for audio in 2022 with most of the growth coming from streaming and podcasts.
PQ Media says, "Total audio ad spend, of which over the air accounts for 70%, is not expected to reach the pre-pandemic 2019 level until 2023."
Ad spend is projected to increase +6% in 2022 as "demand is returning to radio" coming off +25% growth in 2021, according to MAGNA. "The economy is very strong right now and we see every vertical increasing spending." Most workers resuming commuting, a full year of high vaccination rates, and growth of new verticals such a sports betting are other drivers.
BIA/Kelsey Vice President and Chief Economist Mark Fratrik says AM/FM radio advertising revenue in 2022 will grow +8% and hit $13.4 billion. $11.5 billion will be from over the air and $1.9 billion will be from digital.
Daniel Day, Equity Research Analyst, Media & Communications at B. Riley Securities, predicts sequential improvement in spot radio revenue along with "robust digital growth, and an improved outlook for political ad spending." Day says 2022 will be buoyed by "especially strong" political ad spending and increases in broadcast political estimates to 90% of 2020 levels. Growing political ad revenue in even years is "a structural trend rather than a one-time boost."
eMarketer calls for +11% growth in digital audio in 2022 and +6% growth for AM/FM radio.
IAB/PwC forecasts podcast advertising to grow +31% from $1.3 billion in 2021 to $1.7 billion in 2022.
The "big ten" advertising categories that represent 60% of local AM/FM radio revenue
Of the 44 local advertising categories tracked by Miller Kaplan, ten generate 60% of station revenues:
Auto dealers/manufacturers/rentals
Professional services
Healthcare
Charitable/religious/non-profit/government agencies
Financial services
Casinos/lotteries
Insurance companies
Communications/cellular/public utilities
Television/networks/cable providers
Home improvement
Compared to 2019 spend levels, five of the ten categories have already recovered or are close to recovering (professional services, financial services, casino/lottery, insurance, and charitable/government). Sports betting (part of casinos/lottery) has shown considerable growth for AM/FM radio. The five categories to watch for 2022 improvement are auto, TV/cable, healthcare, home improvement, and communications/cellular.
Local AM/FM radio: Travel, entertainment, and retail should surge
Outside of the top ten, there are categories significantly impacted by the pandemic that are expected to grow in 2022 as vaccine levels expand, the economy continues to recover, and venues reopen. These include travel, entertainment, theme parks, concerts, sporting events, transportation, shopping centers, department/discount stores, restaurants, specialty retail, gas retailers, and consumer products. Combined, these categories represent about 16% of local AM/FM radio revenues.
Network radio: Categories to watch in 2022
Here are categories that saw strength in 2021 that should continue into 2022:
Insurance: During the pandemic, insurance spend surged +26% (2020 versus 2019) based on Allstate making a huge return to AM/FM radio and increases by Progressive.
Financial: Bank of America launched a new cashback card with network radio.
Pharmaceutical: Brands discovered AM/FM radio with significant growth from Pfizer, AbbVie, and Johnson & Johnson.
Business-to-business companies: Increases were powered by Staples, ExpressVPN, and Dell.
Recruitment: Indeed came roaring back as hiring resumed.
Restaurants: Growth was driven by a large variety of brands including Wendy's, Dairy Queen, McDonald's, Panera Bread, and Chick-fil-A.
Government: Most of the growth came from the U.S. Department of Health and Human Services and the National Highway Traffic Safety Administration.
Automotive: Asian auto brands like Nissan, Hyundai, and Toyota grew spending.
General Motors CMO Deborah Wahl: "Next couple of years in auto will be wild and crazy"
Speaking at Radio Ink's Forecast 2022 conference, Deborah Wahl indicated the next few years will see a massive shift as auto manufacturers launch an unprecedented number of new models, many of which will be electric. Over the next three years, analysts expect auto brands to launch about 60 new models a year, +50% more than the usual 40 new models launched per year in the last decade.
Wahl says by 2025, GM will have launched 30 new electric vehicles. Wahl notes that TV can no longer be counted on to do the heavy lifting of brand launches. She notes that audiences for TV tentpole events have collapsed in effectiveness as viewers now have many new ad-free video streaming options like Netflix.
2022 mega trend: More brands will discover how AM/FM radio makes their TV better; Putting AM/FM radio into the media plan causes outsized lift in incremental reach
One solution for brands like GM who require mass reach platforms to launch new products is to add AM/FM radio to the media plan. In an example from Nielsen Media Impact, the media planning and optimization platform, GM spent $38 million dollars in one month of TV for the GMC brand. That campaign reached 60% of all persons 25-54 in America.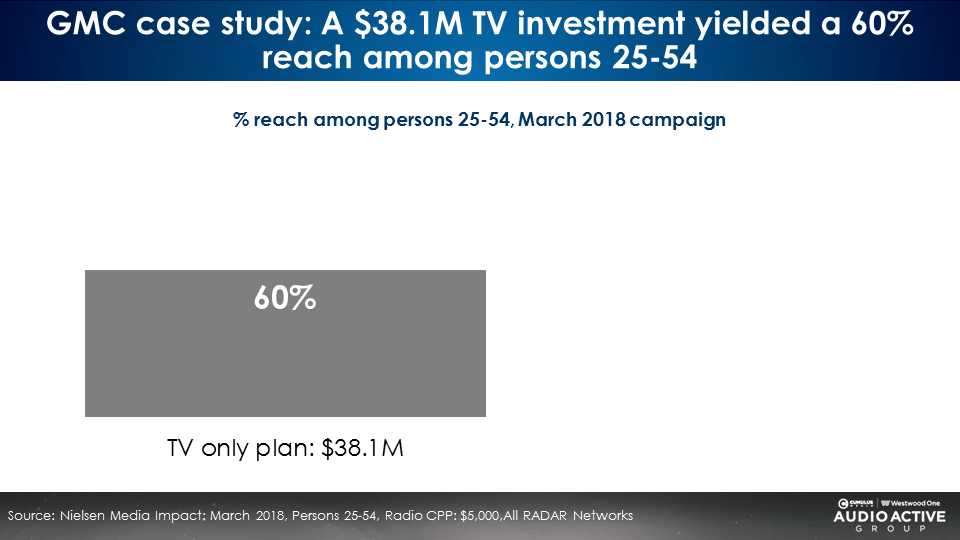 How could GM increase campaign reach with the same budget? By shifting 20% of the TV investment to AM/FM radio. Nielsen Media Impact reveals a 20% reallocation to AM/FM radio grows reach from 60% to 90%, a +50% increase at the same budget.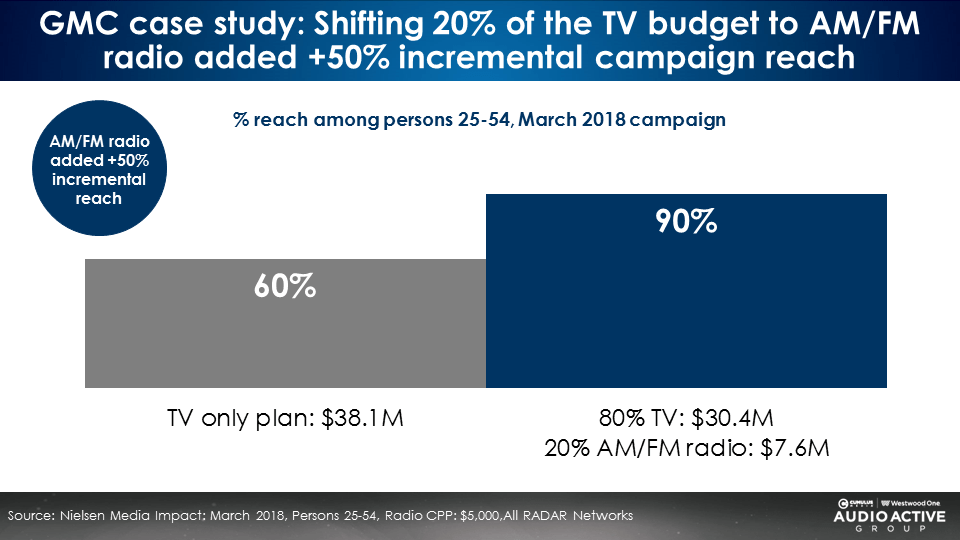 Media predictions: More AM/FM radio recovery, podcasts to reach 50% of America, Pandora freefall to continue, Spotify audiences will stagnate, and AM/FM streaming will continue growth
AM/FM radio listening recovery: As of the most recent October 2021 Portable People Meter data, AM/FM radio listening has recovered 96% of March 2020 AQH and 99% of March 2020 cume levels. Is there additional audience recovery that will occur in 2022? There are two factors to consider:
Work-from-home employees returning to the office: The latest Federal Reserve worker commuting study has 16% of U.S. employees working from home every day. Pre-COVID "work from home every day" was 8%.
8% of U.S. workers are still at home every day due to COVID. What will happen to the remaining 8% of at-home workers? Most likely, a mixed bag. Some will return full time. Some will return in a hybrid manner and some will continue to work from home every day.
Of the 8 points of the work-from-home segment, perhaps another 2-4 points will return to the workforce, resulting in potential AM/FM radio listening growth of +2% to +4%.
Labor force participation rate: This a monthly labor department metric that indicates what percentage of Americans are in the workforce. The vast majority of U.S. AM/FM radio listening is conducted by people who work.
No wonder we say "AM/FM radio is the soundtrack of the American worker." In October 2021, 84% of AM/FM radio listening among persons 25-54 was generated by those with a job. What is the labor force participation trend according to the Labor Department?
Prior to the pandemic, about 63% of Americans were in the labor force. In January 2020, labor force participation was 63.4%. During the lockdown of April 2020, labor force participation dropped to 60.2%. As of October 2021, labor force participation recovered to 61.6%, still below pre-pandemic levels.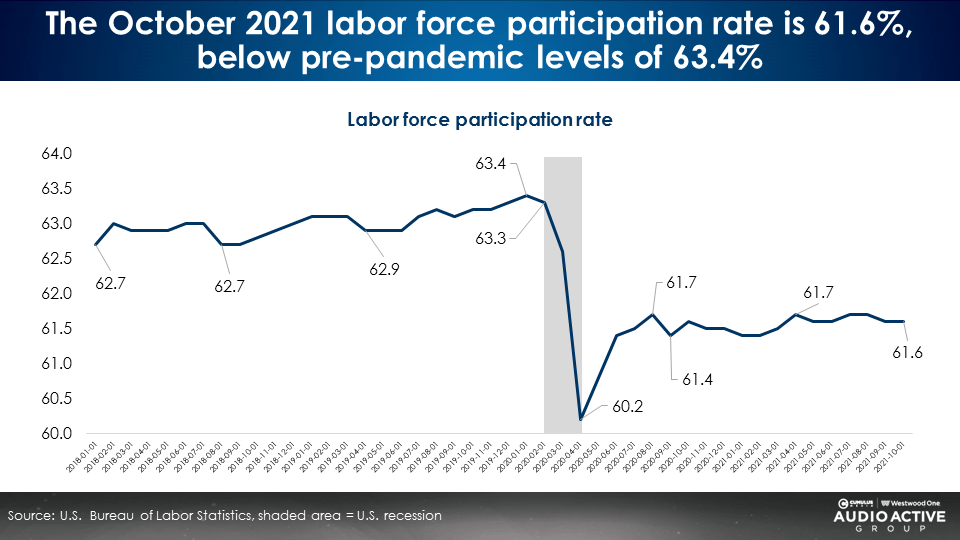 Much has been written about "the great resignation" and how post-pandemic, workers seek improved job situations with better working conditions, hours, pay, and benefits. Analysts report that some Americans have opted for early retirement.
The degree to which Americans return to the workforce due to an improving economy, along with the number who return to commuting, will be key drivers to future AM/FM radio listening growth.
Still, since the low of April 2020, American AM/FM radio audiences have recovered the vast majority of COVID-impacted losses, an impressive feat.
"Share of Ear" from Edison: Future listening trends
History is the best predictor of the future. To understand future shifts in audio listening, examine the trends of the past. From Edison's just-released Q3 2021 "Share of Ear" study, here is a comparison of ad-supported audio shares from 2017 to 2021: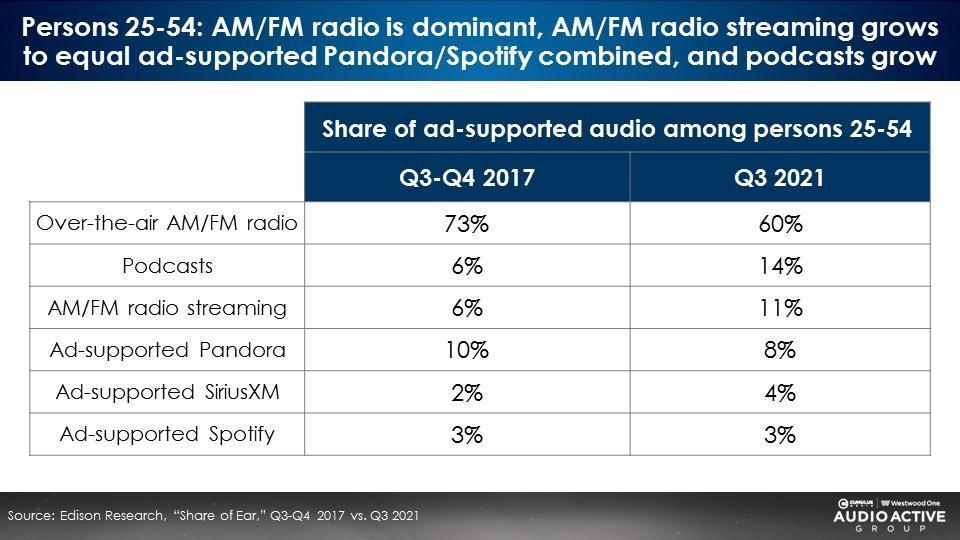 What direction will ad-supported audio shares go in the next year?
AM/FM radio (over the air and streaming) will remain the dominant ad-supported platform at a 70%+ share.
AM/FM radio streaming will surpass Pandora and Spotify in audience share: Over the last four years, AM/FM radio streaming has nearly doubled and is now as big as Pandora and Spotify combined.
Podcast audience explosion continues: Podcast shares have more than doubled in the last four years. Expect this growth to continue. Edison's Infinite Dial study from early 2021 revealed 41% of Americans had listened to a podcast in the last month. In 2022, monthly podcast reach could approach 50%.
Pandora collapse continues: Pandora's erosion will continue in 2022.
Spotify's ad-supported audiences stagnate: In the last four years, Spotify's ad-supported share has been stuck at a microscopic 3% share. At the same time, Spotify's ad-free subscription audiences have soared. In 2022, Spotify's ad-supported audience share will remain small and unchanged.
SiriusXM will continue to be a tiny factor for ad-supported audiences: Despite significant growth in subscriptions, audiences to SiriusXM's ad-supported spoken word service will stay very small.
Key takeaways:
2022 AM/FM radio revenue growth projected to +6% to +8%. Podcasts will grow +31%.
Of the big ten categories that represent 60% of local revenues, there are five to watch: Auto, TV/cable, healthcare, home improvement, and communications/cellular. Travel and entertainment should also surge.
Network: Look for continued growth in pharmaceutical, financial, business-to-business brands, recruitment, consumer packaged goods, restaurants, insurance, and auto.
A return to work and labor force participation will determine future AM/FM radio audience growth.
Ad-supported audio: AM/FM radio remains dominant, AM/FM radio streaming passes Pandora and Spotify, podcasts continue to explode, and Pandora collapses.
Click here to view a 13-minute video of the key findings.
Pierre Bouvard is Chief Insights Officer at CUMULUS MEDIA | Westwood One and President of the CUMULUS MEDIA | Westwood One Audio Active Group.
Contact the Insights team at CorpMarketing@westwoodone.com.