WARC: Marketers Should Triple Audio Ad Spend To Enhance Their Business Outcomes
Click here to view a 13-minute video of the key findings.
"The Investment Gap: Understanding the Value of Audio" is a new study from WARC, the global leader in marketing effectiveness measurement, and iHeartMedia. The study reveals a major audio investment gap for marketers.
Consumers spend 31% of their media time with audio, yet audio is only allocated 8.8% of media budgets. Other media represent 91.2% of ad spend and 69% of consumer media use.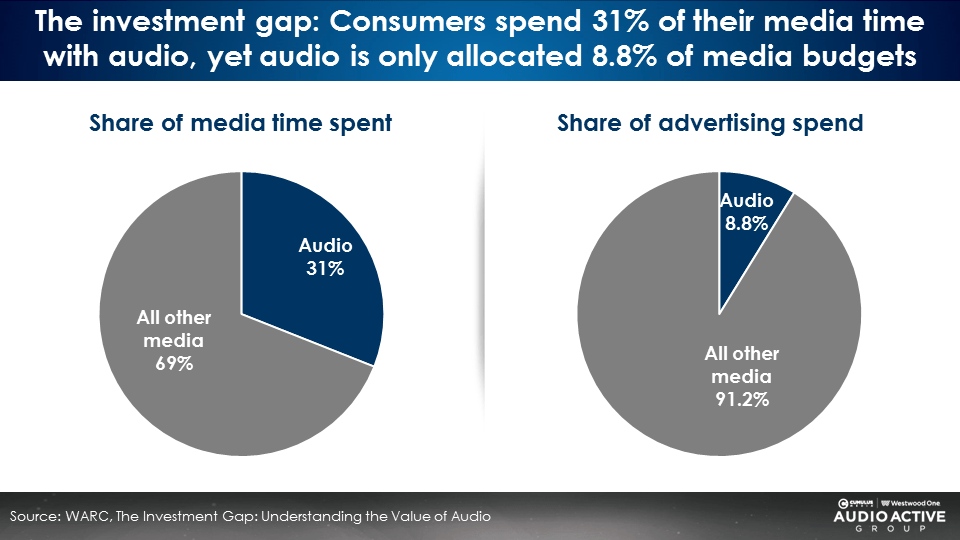 WARC: Saving the world from ineffective marketing
With 75,000 marketer clients in over 100 countries, WARC's purpose is "to put evidence at the heart of every marketing decision." Their belief is that effective marketing is based on facts, not opinions. For over thirty years, WARC has brought confidence to marketing decisions through the most trusted research, case studies, best practices and data.
Audio is under-researched as a platform for reach growth and expanded share of consumer attention
Paul Coxhill, Managing Director at WARC, says, "The changing role of Audio has been a relatively under-researched area of the Marketing Media Mix. This study, with iHeartMedia, starts to address that. The study investigates whether there's a disjoint between consumer consumption and media allocation of audio as a channel. The findings are fascinating and demonstrate a real opportunity for brands to expand their brand reach and, if done well, their share of consumer attention by expanding the role of Audio in their media mix."
Here are some of the key findings of the WARC study:
Linear TV consumption has dropped -25%
Currently, linear TV's share of media time spent is down to 24% from 32% in 2012, a -25% decrease. Nielsen's recent Total Audience Report reveals AM/FM radio outreaches TV in all major buying demographics.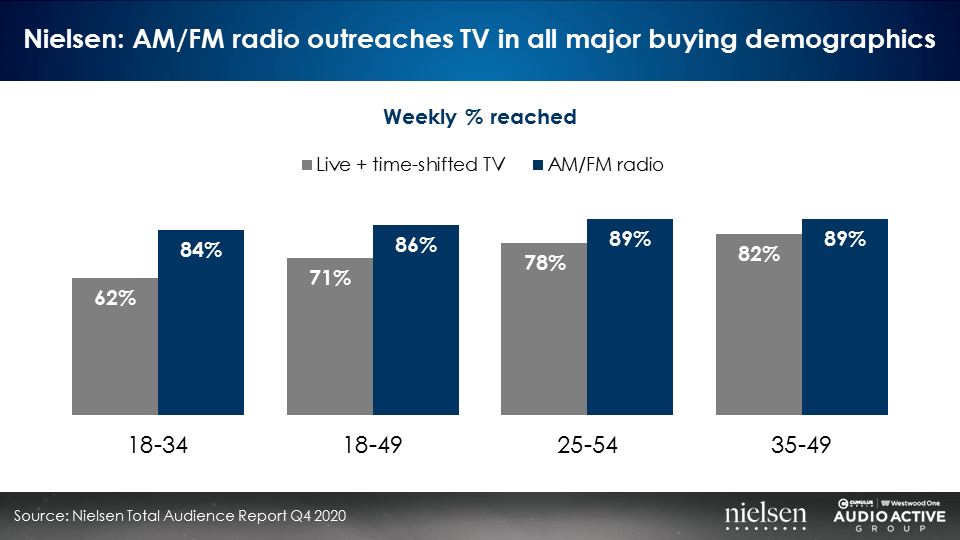 Marketers overspend on digital and TV and underspend on audio
WARC's analysis reveals brands are overspending on TV and digital by 32% and underspending on audio by a factor of 3X. The chart below depicts an index of the relationship between share of consumer media use and advertising spend.
An index of 100 means ad spend perfectly aligns with consumer time spent. An index over 100 means advertising is overspent, exceeding consumer media use. An index under 100 means brands are underspending relative to consumer media use.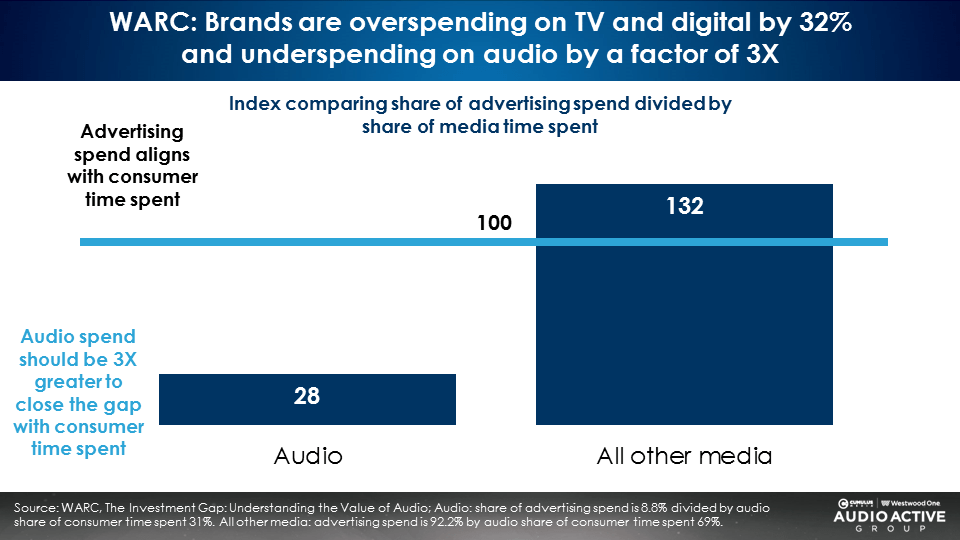 WARC: "Advertisers need to spend their money where the audience spends their time"
There are a number of benefits to increasing audio spend:
Secure unfair share of attention: Advertising in TV and digital means brands have to "fight much harder for consumer attention" because most ad categories are overspent and attaining share of voice is difficult. The audio medium affords less competition for brands and a greater opportunity to obtain an unfair share of voice.
Leverage audio's strong levels of engagement: Listeners have strong and close relationships with preferred stations, hosts, and platforms, which provide powerful context and relevance for brands.
Ads work better since audio enjoys strong levels of trust: Listeners are predisposed to commercial messaging in the audio context.
Solves for video overload: Visual media have attention challenges as it's harder than ever to achieve "eyes on." New measurement services reveal visual ads are increasingly challenged to achieve consumer attention and recall.
Nielsen: AM/FM radio makes your TV and digital better with significant lifts in reach
Nielsen's Commspoint media planning platform reveals adding AM/FM radio to a TV/digital plan generates extraordinary lifts in reach. Shifting 10% to 30% of a TV/digital budget to AM/FM radio can generate as high as a +74% increase in reach. The same spend with the addition of AM/FM radio achieves significant reach growth.
A $2 million TV and digital investment reaches 27% of Americans. Shifting 30% of the media plan to AM/FM radio lifts reach from 27% to 47%, a +74% increase. Adding AM/FM radio to a TV/digital plan causes reach to explode at the same spend.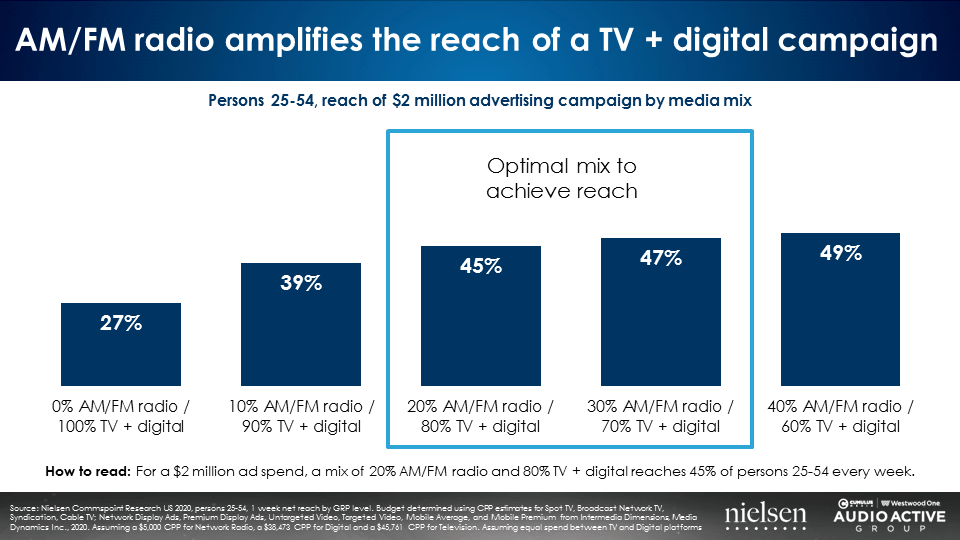 P&G: AM/FM radio generates a +36% increase in monthly reach for the average brand
An incremental reach analysis of 15 P&G brands conducted via Nielsen Media Impact, the media optimization platform, reveals in May 2021, AM/FM radio generated significant incremental reach. The average P&G brand experiences a +36% increase in reach to their TV plan through the use of AM/FM radio.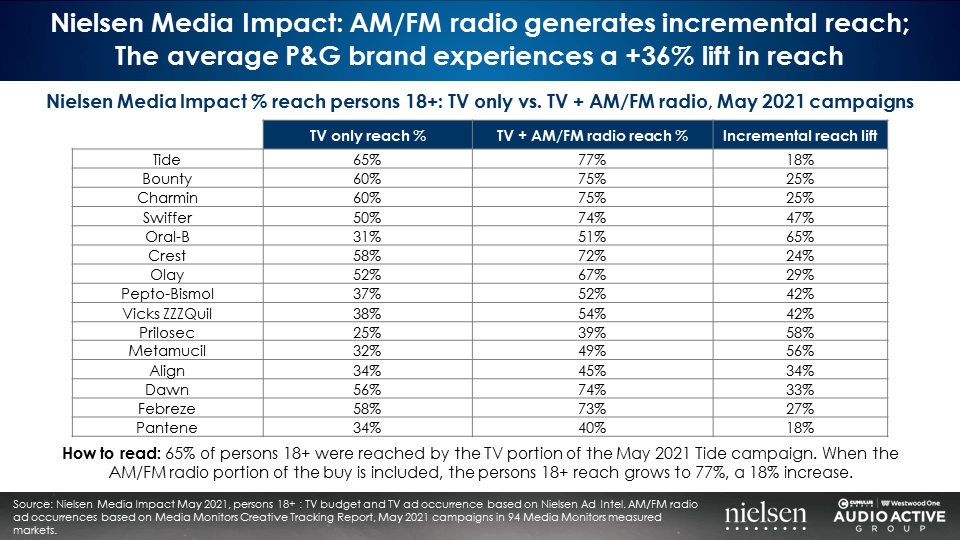 AM/FM radio's superpower: The younger the demographic, the greater the lift in reach
Across P&G's 15 brands, the lift in reach generated by AM/FM radio keeps growing in younger demographics. Among persons 35-44, the average P&G brand realizes a +63% increase in reach due to AM/FM radio. Among persons 25-34, AM/FM radio doubles the TV reach.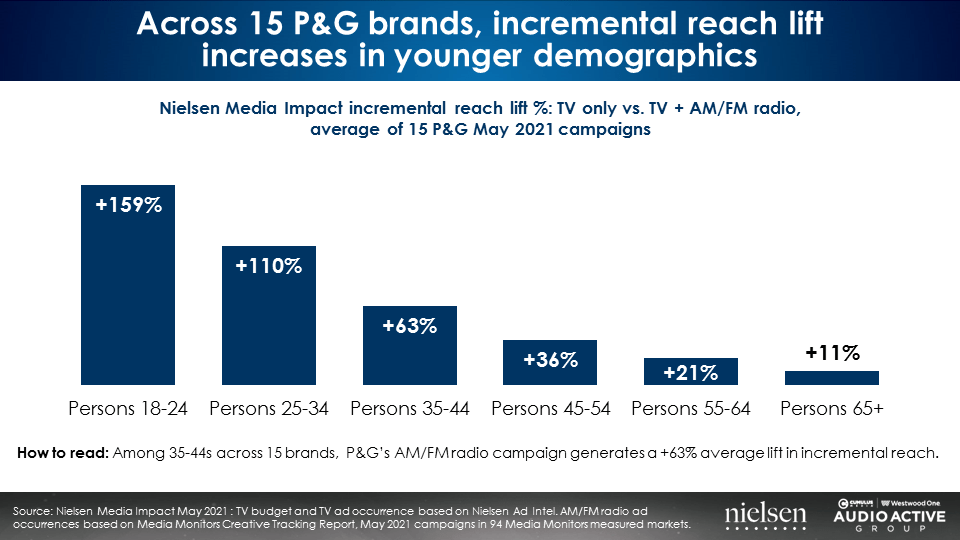 Nielsen sales effect studies: Audio generates positive business outcomes
Dozens of Nielsen sales lift studies across 14 categories reveal AM/FM radio achieves a $5.06 return on advertising spend for CPG brands and a $14.74 ROAS for retail advertisers.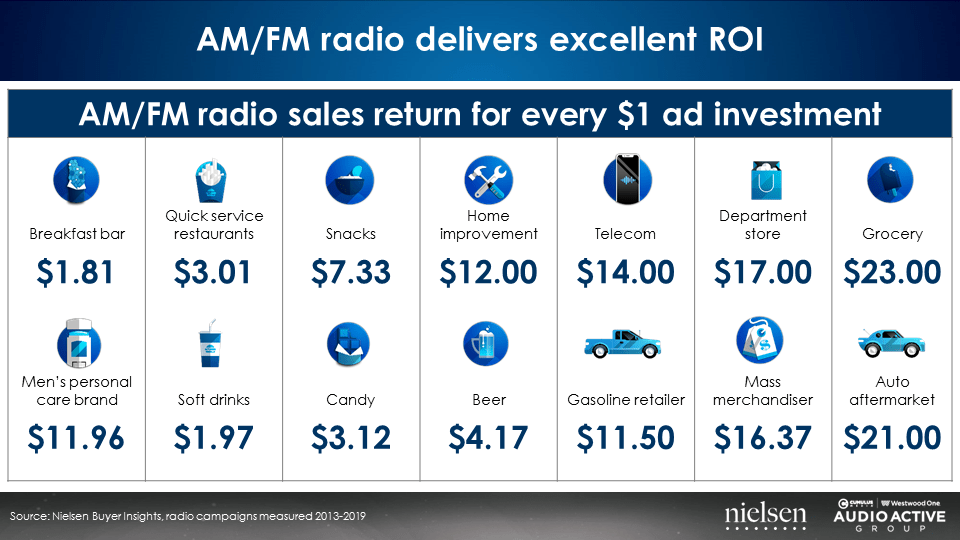 Ad-supported audio evolution: AM/FM radio is dominant, podcasts and AM/FM radio streaming grow, and Pandora and Spotify stagnate
This four-year trend of ad-supported audio shares from Edison Research's "Share of Ear" reveals:
AM/FM radio remains the dominant player with a 70% share.
AM/FM radio streaming audiences have nearly doubled 6% to 11%. It is interesting to note that AM/FM radio streaming audiences are as big as Pandora and Spotify combined.
Podcast shares have tripled from 5% to 16%.
Pandora has plunged and Spotify is stagnant.
SiriusXM has a very small share (4%).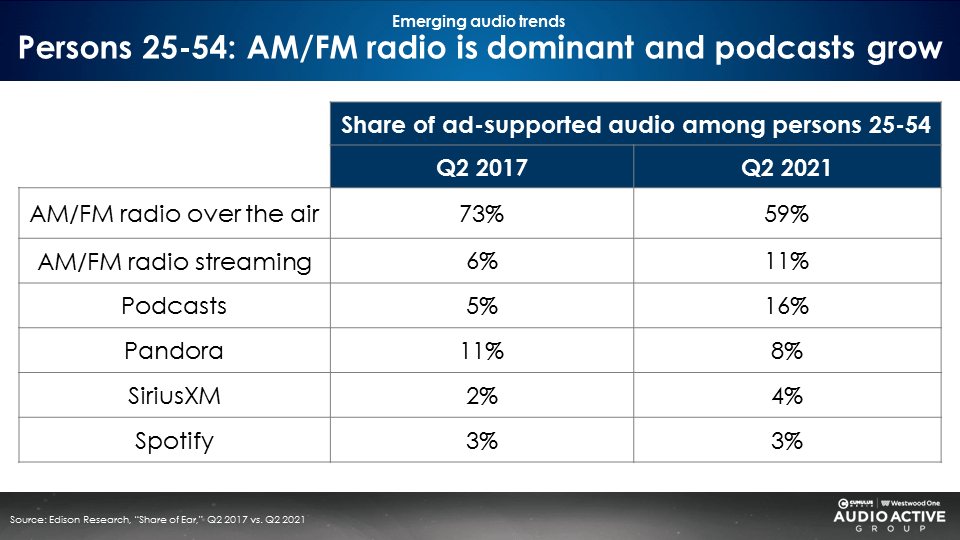 Contrary to popular belief, AM/FM radio audiences have not been impacted by Pandora and Spotify. Over the last four years, Pandora and Spotify have seen their combined shares drop from 14% to 11%. All the growth in ad-supported audio is coming from podcasts and AM/FM radio streaming.
Podcasts offer marketers an educated and upscale audience with a median age of 34
41% of Americans listen to podcasts monthly, according to Edison Research and Triton Digital's Infinite Dial 2021 report. Per Nielsen Scarborough, the podcast audience profile is highly attractive.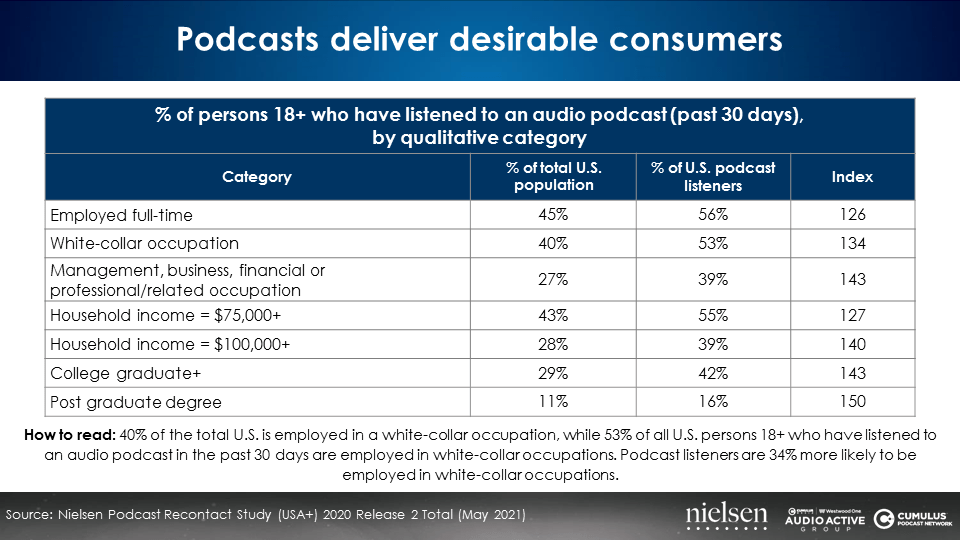 Device innovation: Smart speakers bring AM/FM radios back into the home
Smart speaker ownership has reached 40% of Americans.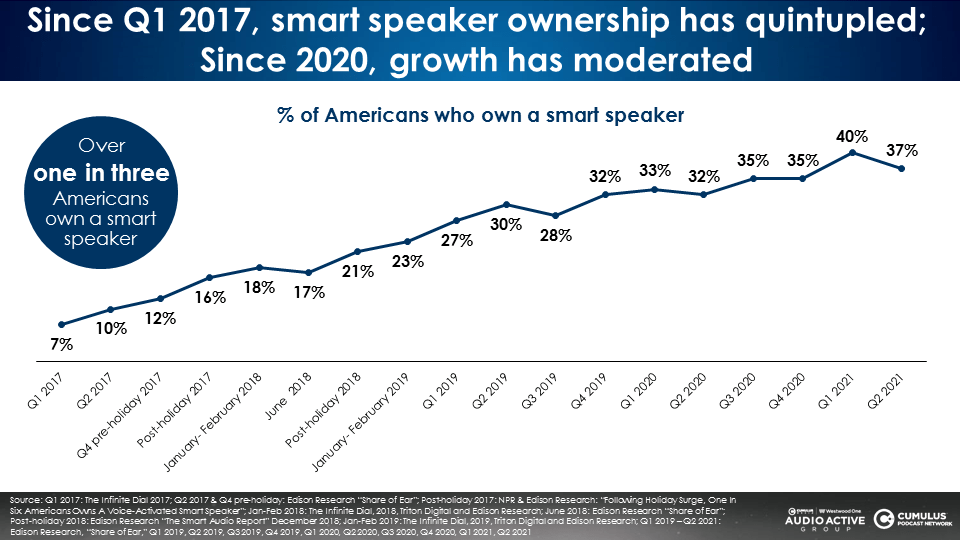 According to Edison Research's "Share of Ear," AM/FM radio dominates ad-supported audio shares on the smart speaker.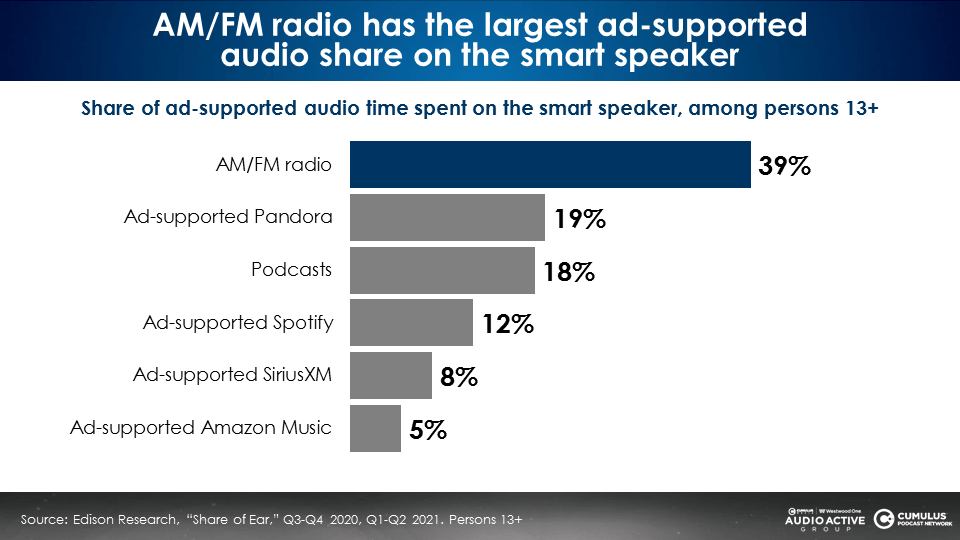 WARC: Of the four types of marketers, three can optimize their use of audio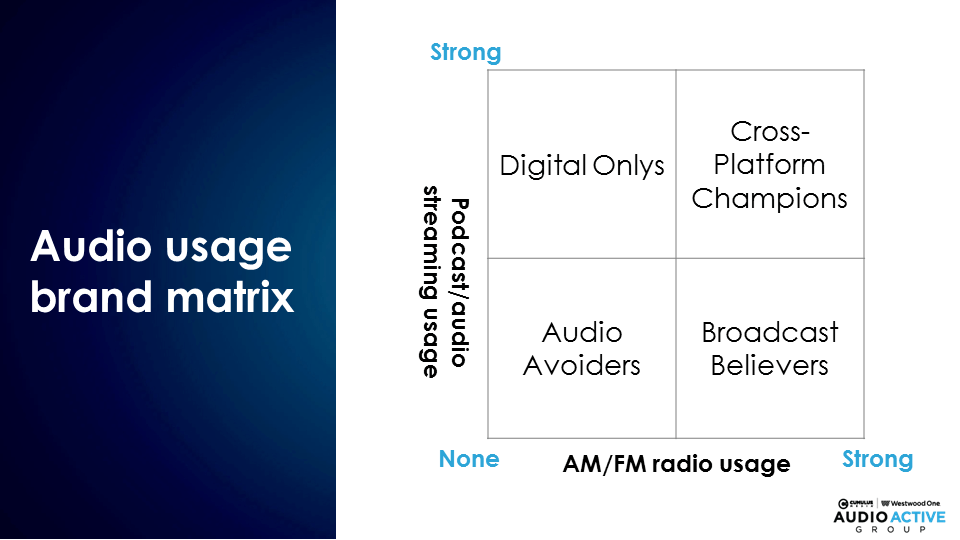 WARC's analysis of brands reveals four types of marketers:
Digital Onlys: These brands have started to invest using podcasts and audio streaming and achieve modest reach and scale. They miss out on the full suite of audio options. Their opportunity is to scale impact with the addition of AM/FM radio, which represents 70% of the ad-supported audio market.
Audio Avoiders: They are the 25% of marketers who have no audio in the media plan.

Cross-Platform Champions: They explore audio's full potential and continue to test, learn from, and optimize their investments across platforms.
Broadcast Believers: This group has seen the benefits of AM/FM radio and are beginning to delve into more forms of audio.
Conclusions: What the audio investment gap means for marketers, according to WARC
"Solve for video overload: Audiences are nearing saturation point under the weight of visual stimuli. It is more and more difficult for commercial messaging to cut through.
More competitive share of voice: Not only does audio offer an escape from visual overload, the fact that share of adspend is markedly lower than share of consumption means there is much less competition for consumers' attention.
Better engagement: Audio offers strong levels of engagement in environments that people trust. Receptivity has always been high; new formats are pushing it even higher.
Growing medium: All the trends point to audio's growth accelerating over the remainder of this decade. Commercially valuable touchpoints and advertising formats will continue to emerge.
Time to learn audio is now. Audio Avoiders, Digital Onlys, Broadcast Believers and Cross-Platform Champions alike should invest and test to understand the channel's full potential. Those who act now will be best positioned to profit in an 'audio everywhere' world."
Mary Berner, CUMULUS MEDIA CEO: Wallet share will follow the listening
At a recent analyst conference, CUMULUS MEDIA CEO Mary Berner said, "Audio listening is at an all-time high. … [Broadcast radio and podcasts drive] a deep level of listener engagement and connection."
"Advertisers are rediscovering the value of audio more broadly, and radio more specifically," she continued. "We're seeing it all across our business." As agencies and advertisers continue to absorb the WARC study findings, Berner said she expects "that gap will narrow."
Click here to view a 13-minute video of the key findings.
Pierre Bouvard is Chief Insights Officer at CUMULUS MEDIA | Westwood One and President of the CUMULUS MEDIA | Westwood One Audio Active Group.
Contact the Insights team at CorpMarketing@westwoodone.com.