Advertiser Perceptions: Podcast Advertising Consideration And Intention Grow Among Agencies And Brands
In September 2015, the Interactive Advertising Bureau (IAB) held its first ever "Podcast Upfront Showcase."
The objective was to provide "advertisers and media buyers with a preview of the latest in innovative podcast programming from some of the biggest names in the digital audio arena. The event aims to educate and raise awareness around the power of podcasts as a valuable platform to reach consumers."
In advance of the first IAB Podcast Upfront, CUMULUS MEDIA | Westwood One commissioned Advertiser Perceptions to study agency and brand sentiment on podcast advertising. Each year since, the study has been reprised to track buy-side podcast advertising consideration and intention. The findings, included in the Westwood One 2021 Audioscape, show that advertiser interest in podcasting is higher than ever.
Agency/advertiser interest is significant at every stage of the podcast ad purchase funnel
In 2015, only 10% of brands and media agencies indicated they intended to advertise in podcasts in the next six months. Flash forward to June 2021: 42% of brands and agencies say they would definitely advertise in podcasts within six months.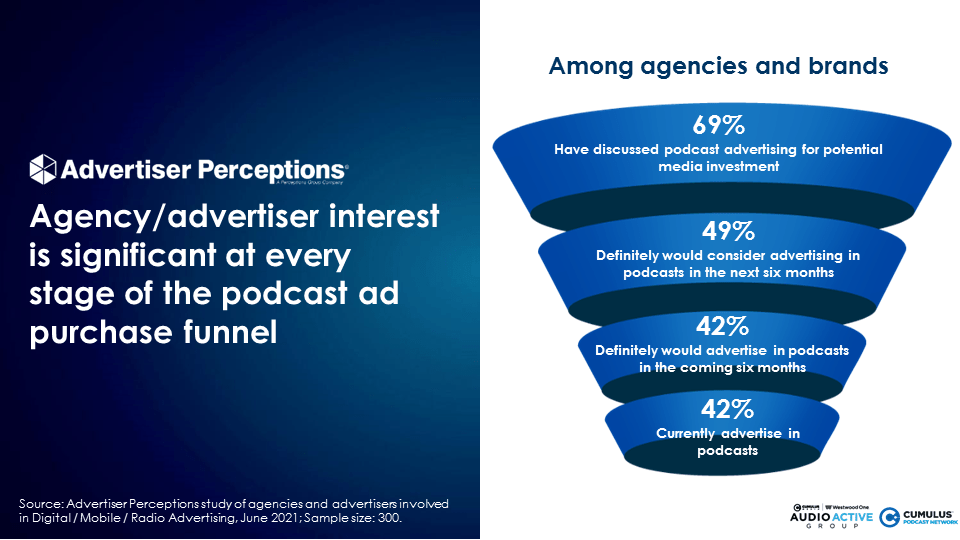 Currently, 69% of media agencies and brands have discussed podcast advertising for a potential media investment. 49% are considering advertising and 42% say they are currently advertising in podcasts.
Since 2015, podcast advertising consideration has grown 2.7X and spend intention has grown over 4X
Podcast advertising consideration has soared from 18% in 2015 to 49% this year. Podcast advertising intention has quadrupled from 10% in 2015 to 42% in 2021.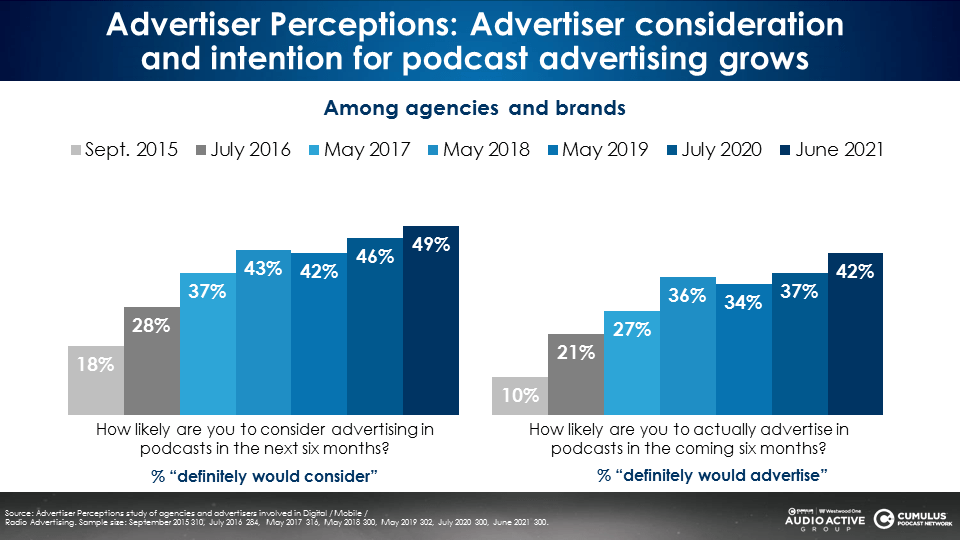 Pierre Bouvard is Chief Insights Officer at CUMULUS MEDIA | Westwood One.
Contact the Insights team at CorpMarketing@westwoodone.com.