Sonic Brands: How Strongly Do Consumers Associate Audio Logos With Brands?
How are you using sound to create distinctive brand assets and build your brand's mental structures? Dr. Byron Sharp's book How Brands Grow: What Marketers Don't Know, the marketer's bible, provides the following recommendations for growing sales:
"Brand competition and growth is largely about building two market-based assets: physical and mental availability.
Marketers need to improve the branding of their products and to continuously reach large audiences of light buyers cost effectively.
Light and nonbuyers have far weaker mental structures for your brand. They don't notice your advertising or your brand on the shelf and it doesn't come to mind in buying situations.*
Marketers need to research what their distinctive brand assets are (colors, logos, tone, fonts, etc.); they need to use and protect these.
Advertising works largely by refreshing, and occasionally building, memory structures (and less by convincing rational minds or winning emotional hearts).
Marketers need to research these memory structures and ensure that their advertising refreshes these structures by consistently using the brand's distinctive assets."
*Sharp and Newstead (Admap, September 2010)
Veritonic's best practices for powerful sonic brands: Say the name, have melody
Veritonic, the audio intelligence company, has built a platform to quantify the value of sound. Veritonic measures, scores, and benchmarks all manner of audio content: voices, music, ads and audio logos.
To understand the degree to which consumers can connect sonic brand with the company, we turn to Veritonic's fifth annual Audio Logo Index study. In Q1 2021, the Veritonic platform captured the responses of about 3,700 consumers in the U.S. and U.K. to evaluate over a hundred of the top consumer brands audio logos.
After assessing responses, the Veritonic platform once again reinforced the two immutable laws for strong sonic brands: the audio logo has to say the name of the brand and have melody.
Veritonic research reveals:
Audio logos that mention the brand scored a Veritonic Audio Score of 69 on average. Audio logos that did not mention the brand scored significantly lower with an average 55 Veritonic Audio Score.
Audio logos that included a melody saw a 77 average Veritonic Audio Score compared to those without a melody at an average of 60.
Combined, melody and mentioning the brand name led to higher scores. Those with both a melody and a brand name mention scored an average 78 Veritonic Audio Score. Those without scored a 54 average.
Brand association: How strongly can consumers link an audio logo to the right company?
Respondents were asked to name the company that came to mind when exposed to the audio logo. Per Veritonic's Audio Logo Index, here are the sonic brands that have the strongest degree of correct association: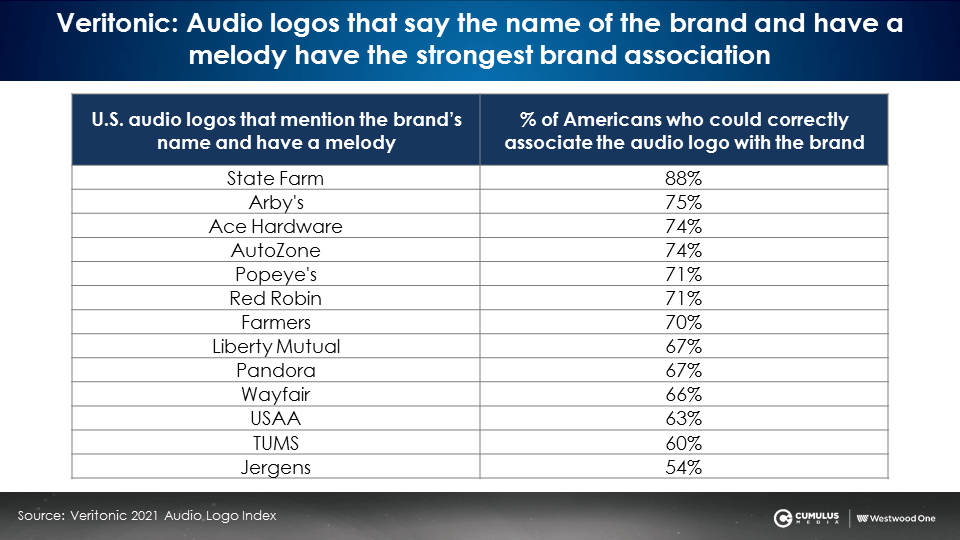 Insurance firms understand the power putting the brand name into the sonic brand. Three of the top ten audio logos in brand association are State Farm, Farmers, and Liberty Mutual.
A couple of years ago, State Farm, who had been using a melody, reintroduced their name and saw growth in performance. State Farm continued its strong performance from last year, scoring the second-highest Veritonic Audio Score (87) and the highest brand association (88%).
Farmers was the highest scoring ad overall with a Veritonic Audio Score of 88. The brand's use of melody and mentioning of the brand achieved a strong brand association as well at 77%.
Liberty Mutual's sonic brand is three years old and was created by Elias Art Music House. It happily repeats the brand name four times.
Here are the audio logos with lower brand association due to lack of melody or neglecting to say the name of the brand: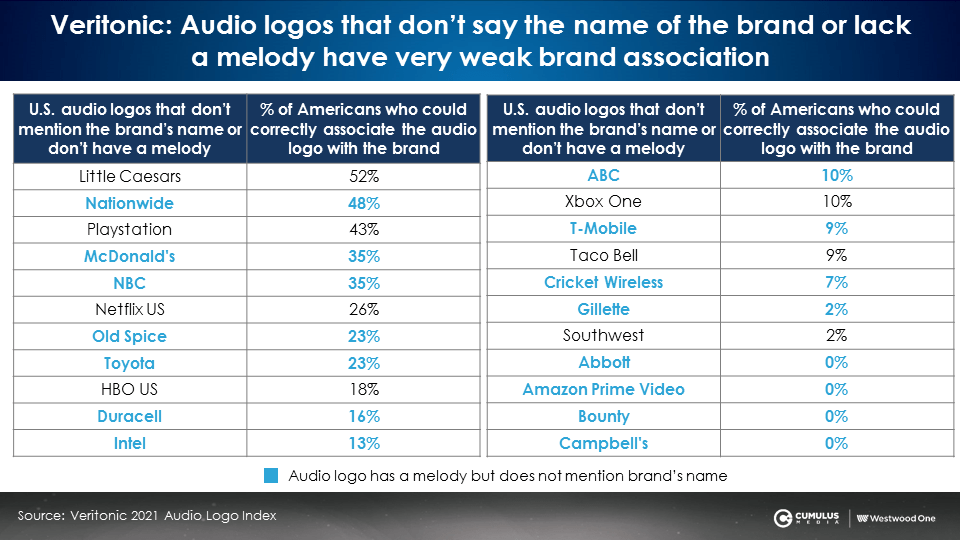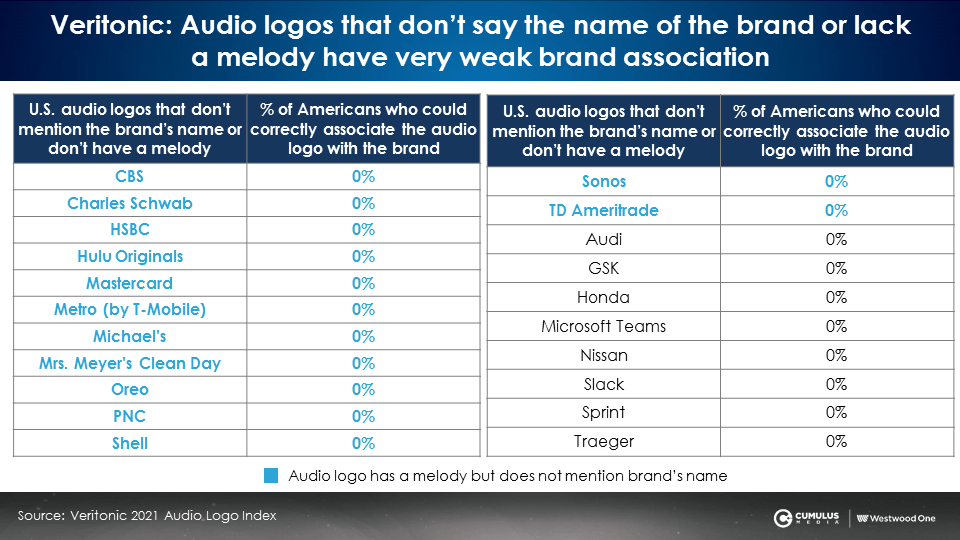 Intel: Despite much investment towards Intel's long-standing sonic brand, only 13% of Americans can correctly associate the audio logo to Intel. No amount of money can elevate a sonic brand that doesn't say the name.
Mastercard: In February 2019, Mastercard rocked the marketing world with the debut of a new sonic brand. At the time, Mastercard's Chief Marketing and Communications Officer Raja Rajamannar said, "Just as people all over the world recognize our red and yellow circles, they will now come to associate our unique sound as Mastercard every time they hear it."
Upon hearing the Mastercard audio logo, the data shows no one can associate it with the brand. Mastercard is not alone. Many major leading marketers have sonic brands that no one can associate to the company: Honda, TD Ameritrade, Sprint, Audi, Nissan, and HSBC. No name, no gain.
How can these companies grow association of their audio logo with their brands? They should take a page from State Farm's resurgence of brand association and introduce the brand name into the audio logo.
Click here to view an 8-minute video of the key findings.
Pierre Bouvard is Chief Insights Officer at CUMULUS MEDIA | Westwood One.
Contact the Insights team at CorpMarketing@westwoodone.com.