AM/FM Radio Is The Reach Accelerator For Video And Digital: Amplify Your Media Plan With Network Radio
Last week the IRTS Newsmaker Breakfast assembled a panel of network TV sales executives and media agency TV buying leaders. One agency TV buying leader sighed, "I wish I had more GRPs to buy." Another network sales executive quickly anguished, "I wish I had more GRPs to sell."
Welcome to the state of network television in 2021.
As major media companies shift their focus to building their direct-to-consumer video offerings, linear TV audiences are in a free fall. According to a MoffettNathanson analysis of Nielsen TV ratings, television audiences are down dramatically.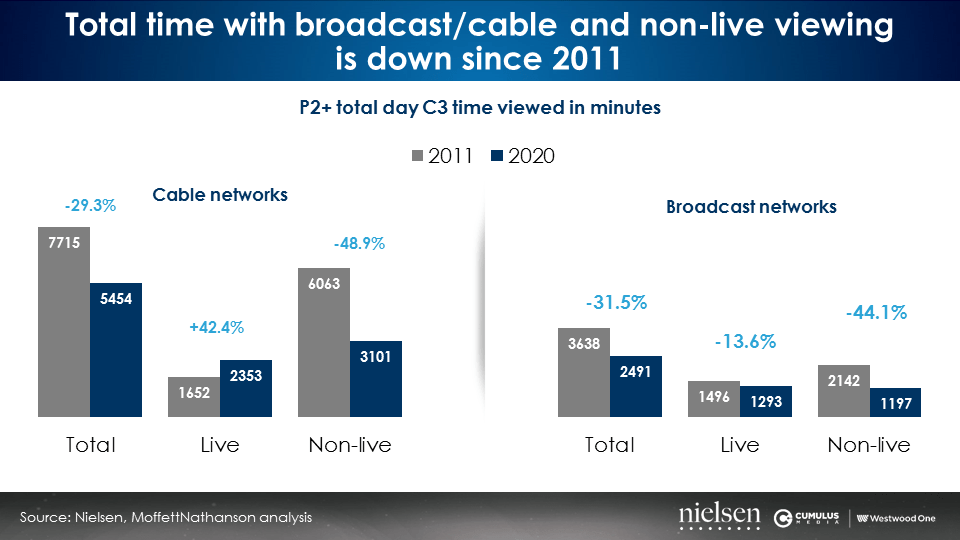 Since 2011, non-live cable audiences are down -49%. Broadcast network non-live audiences are down -44%. According to MediaPost, "In the second quarter of this year, MoffettNathanson projects a 20% decline in total day, Nielsen C3 metric for persons age 2-plus viewers; a 25% drop in 18-49; and a 16% decline in those 50 years and older."
"Even older demos of people 50+ years old, historically relatively stable consumers of television, are watching less cable TV," says MoffettNathanson. "Likewise, broadcast networks are seeing sinking results, now projected to be down 16% in total viewers in the second quarter. That's an 18% drop in 18-49, and 15% lost in those 50 and older."
Cord cutting is a key contributor to the erosion of TV audiences
MoffettNathanson reports pay TV penetration has dropped from 89% of U.S. homes in 2009 to 60% today. Two out of five Americans are now outside the pay TV ecosystem.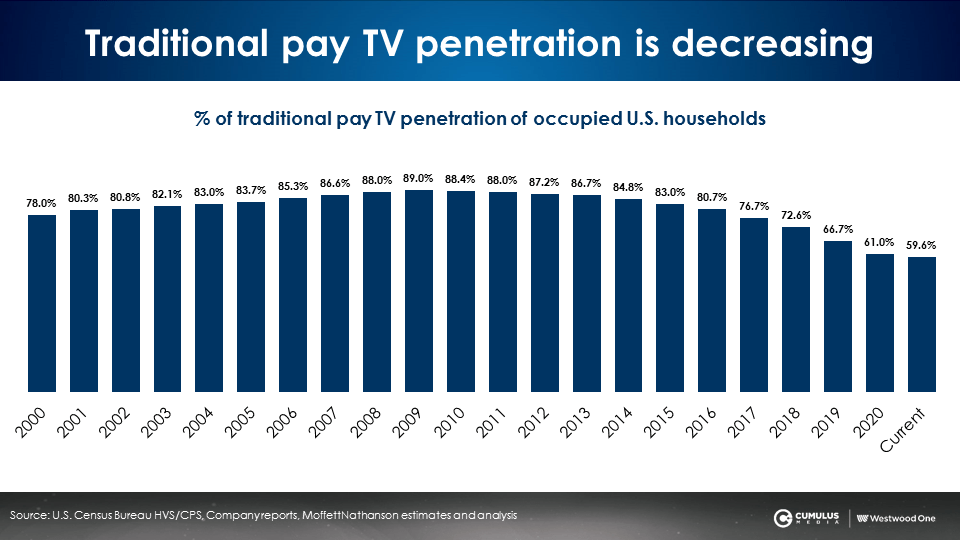 Cable networks like USA and CNN charge cable companies like Comcast and Spectrum an affiliate fee for every subscribing home. These fees escalate and cable companies pass these increases onto consumers.
MoffettNathanson reveals that the collapse of pay TV is being driven by two simultaneous trends.
Sports fee inflation: The erosion of the pay TV subscriber base forces sports programmers to raise affiliate fees to the cable companies. In turn, the cable companies are forced to pass on the higher fees to consumers. This makes the cable TV bundle more expensive for non-sports viewers. Viewers cancel cable.
The move to direct-to-consumer: Media companies are shifting original programming from their cable networks to their direct-to-consumer video streaming platforms (Peacock, Paramount+, Disney+, HBO Max, etc.). This means the cable bundle is less valuable, which causes more pay TV subscribers to churn out.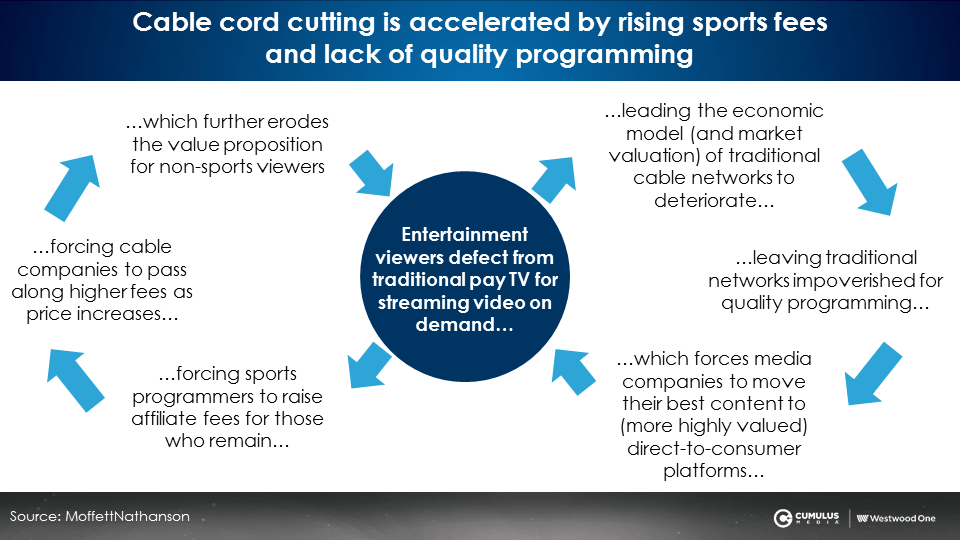 No wonder cable operators are openly discussing getting out of the TV distribution business or dropping certain cable networks and just focusing on broadband and telephone service.
Charter Cable CFO Chris Winfrey said last week there are "very serious discussions around directing our customers to alternative ways to view that [TV] content." This means cable companies would stop offering TV channels and point consumers to the streaming services.
One panelist on last week's IRTS TV panel predicted 10% fewer cable networks in the next year. For advertisers, continued TV audience erosion is a fact of life.
Where can advertisers replace lost TV audiences?
One approach is to shift more media budgets to digital and social. As an analysis from media optimization platform Nielsen Media Impact reveals, such a shift often results in no increase in incremental reach.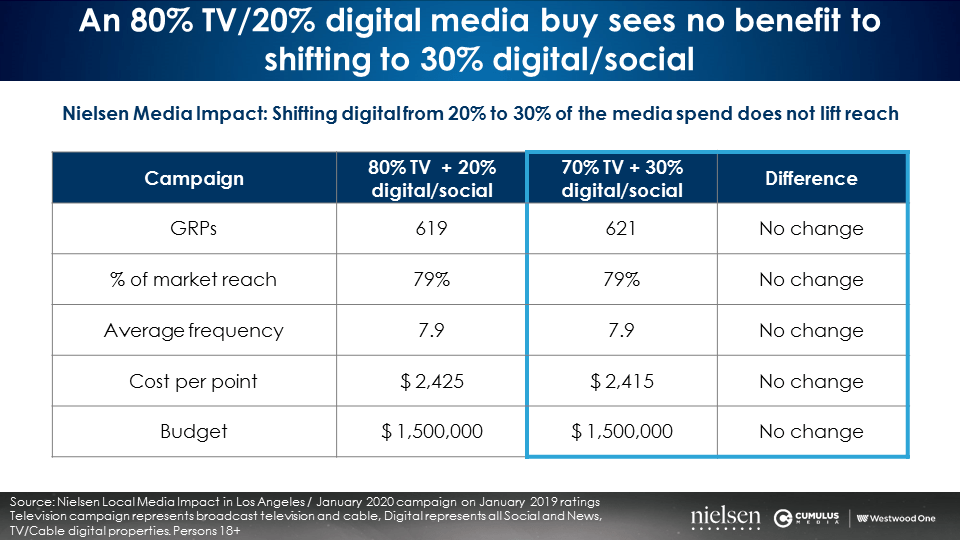 Despite shifting 10% of the media plan from TV to digital and social, the media plan saw no increase in reach.
Another approach is to shift money out of linear TV to connected TV (CTV) or the over-the-top video streaming services.
CTV cannot replace all linear TV losses: A 20% addition of CTV weight only results in an +8% reach lift
A Nielsen Media Impact analysis reveals a 20% addition of CTV media weight to a linear TV buy results only in an +8% increase in reach. On the IRTS panel last week, TV agency executives groused at the excessive CPM expense of CTV, noting that 15-second CTV ads are priced at the same cost as 30-second CTV ads.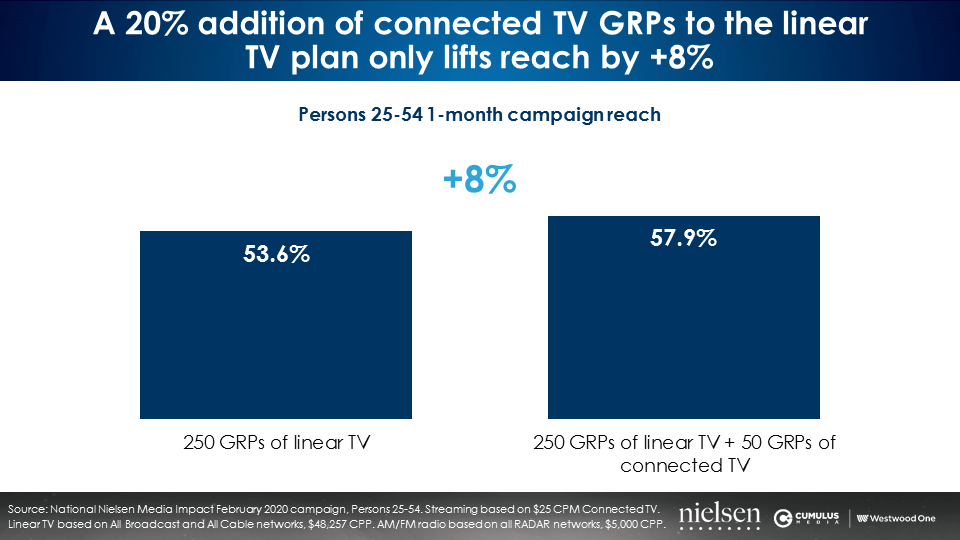 "CTV ad rates for premium publishers are typically priced from two to six times national linear TV ad rates, and the biggest reason is scarcity," notes Dave Morgan, CEO of Simulmedia, in MediaPost. "Nielsen data and data from smart TVs tell us only 4% of the ad viewing time on TV today is on streamed content."
Surprise: Network radio is the media plan reach accelerator
Network radio is an affordable option that generates significant levels of monthly reach. Consider four monthly network radio investment levels: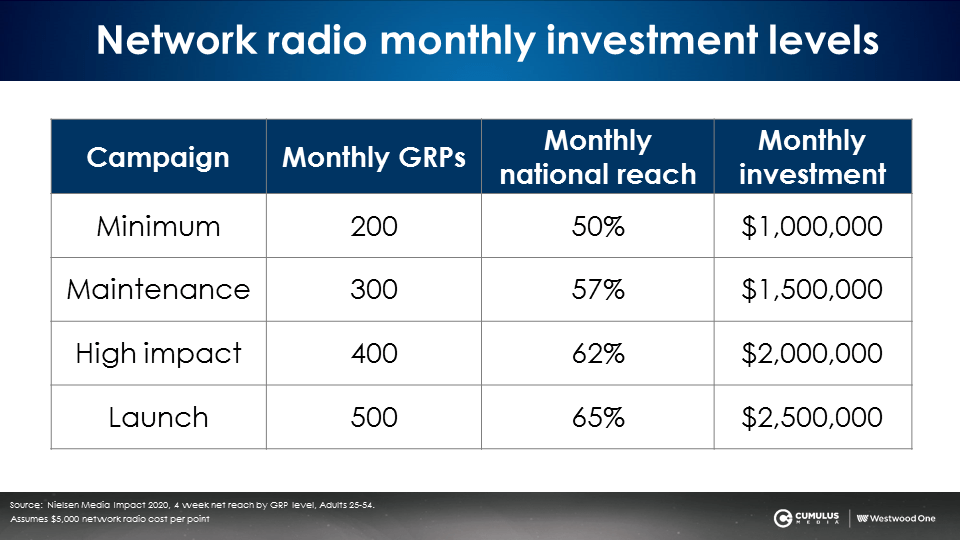 The chart above reflects monthly reach. Now let's examine investments needed to generate weekly reach.
According to the Nielsen Commspoint media planning tool, network radio generates greater reach versus the same investment in TV and digital.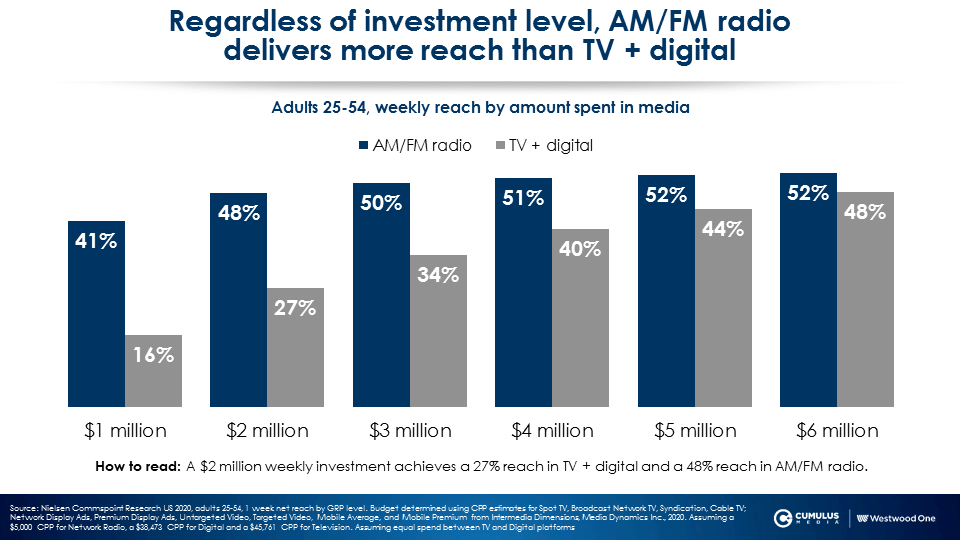 A three-million-dollar investment in network radio generates a weekly national reach of 50%, +47% greater than the same investment in digital and TV (34%). Adding network radio into any media generates an outsized lift in incremental reach.
Consider the media plan on the left below. The buy consists of 68% linear TV, 13% CTV, and 20% digital. Per Nielsen Media Impact, this buy achieves a national reach of 57%.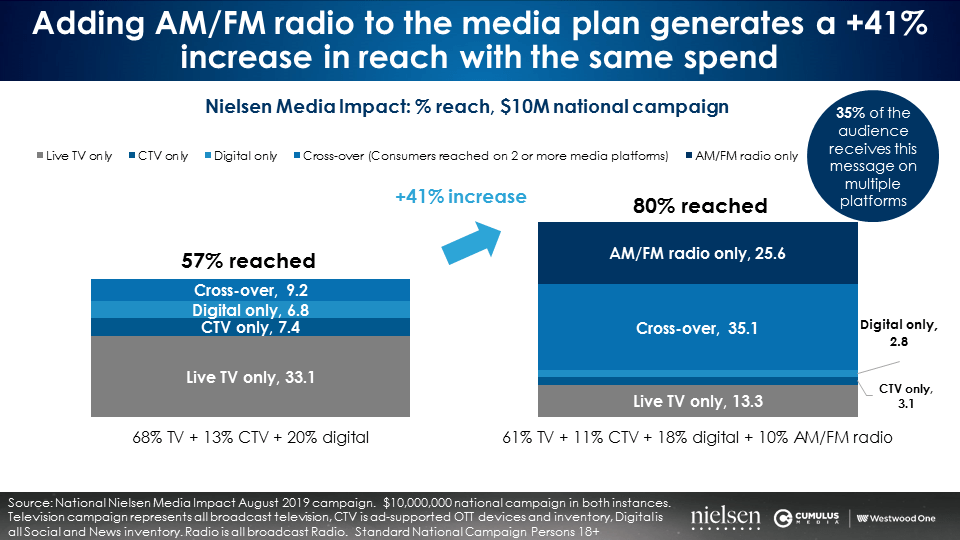 Look at the right side of the chart above. When the same spend now includes a 10% allocation for network radio, reach soars from 57% to 80%, an astonishing +41% reach increase at the same budget!
Can network radio make your TV better? Just ask P&G
America's most admired marketer has discovered AM/FM radio's ability to generate incremental reach. On average, network radio is generating a +38% lift in P&G's TV reach across their brands.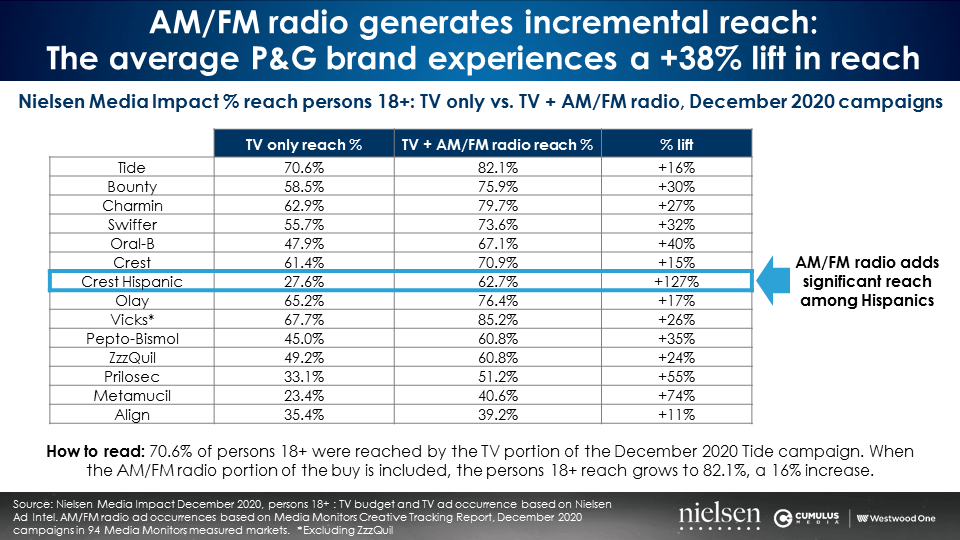 AM/FM radio's superpower is driving significant incremental reach in younger demographics
Dozens of Nielsen incremental reach studies reveal the younger the demographic, the greater the reach generated by network radio. In the case of P&G, network radio generates massive reach lifts to their TV plans:
+57% growth in reach among persons 35-44
+101% increase in persons 25-34 reach
+138% lift in persons 18-24 reach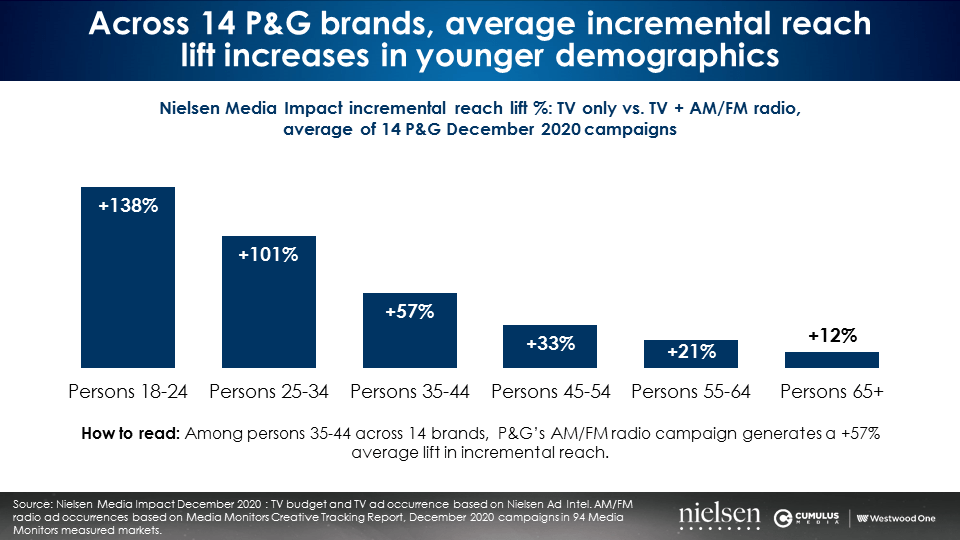 Incremental reach planner: How AM/FM radio makes your TV better
The scenario planner below depicts TV GRPs across the top and network radio GRPs down the left. The percentages in the middle represent weekly reach.
The tool allows you to select differing ranges of TV weight and see how the addition of network radio can lift reach. Consider this example: 100 GRPs of TV generates a reach of 34.9%. Adding another 50 GRPs of TV achieves a 40.8% reach, representing a +17% increase in reach.
Then examine the scenario of running 100 points of TV with 50 points of network radio. Reach surges from 34.9% to 48.4%, representing a +39% increase in reach. Adding 50 points of network radio generates 2.3X the reach lift of 50 more points of TV.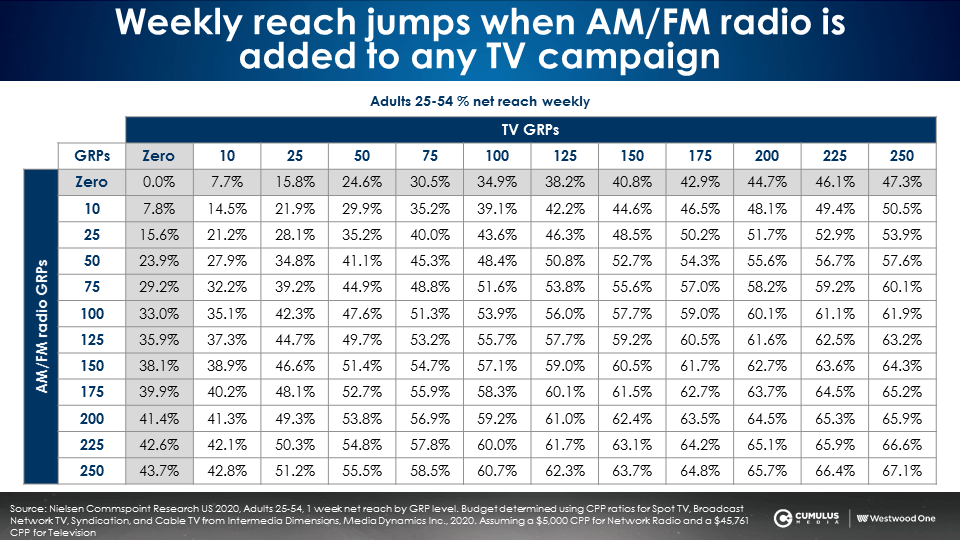 How can network radio generate a lift in your media plan?
Ask your Westwood One sales representative. Via the Nielsen Media Impact optimization platform, we can quickly pull up your TV buy and see the reach achieved. Then NMI's share shift function reveals how the addition of network radio to the plan with no increase in budget can generate a significant lift in incremental reach.
Give it a try! It will surprise you. Tell us your brand and we'll run the Nielsen Media Impact share shift report for you. Email us at RadioIncrementalReach@westwoodone.com.
Key takeaways:
Cord cutting is a key contributor to the erosion of TV audiences
Connected TV cannot replace all linear TV losses: A 20% addition of CTV weight to a TV buy only results in an +8% reach lift
Network radio is the media plan reach accelerator
Network radio is generating an incremental reach lift of +38% for the average P&G brand
AM/FM radio's superpower is driving significant incremental reach in younger demographics
Click here to view a video of the key findings.
Pierre Bouvard is Chief Insights Officer at CUMULUS MEDIA | Westwood One.
Contact the Insights team at CorpMarketing@westwoodone.com.