Let's Roll: Why America's Auto Dealers Need To Increase Their AM/FM Radio Advertising To Reach Consumers Who Are Ready To Buy
Economic indicators are trending positive. "Consumer Confidence increased to its highest level since the onset of the pandemic in March 2020," said Lynn Franco, Senior Director of Economic Indicators at The Conference Board. "Consumers' assessment of current conditions and their short-term outlook improved significantly, an indication that economic growth is likely to strengthen further in the coming months. Consumers' renewed optimism boosted their purchasing intentions for homes, autos and several big-ticket items."
Apple mobility data says auto travel is up +27% versus pre-pandemic levels as Americans flock to their cars and continue to avoid public transit. Nielsen reports that two-thirds of American workers are now commuting to their jobs, a +70% increase from a year ago. The surge in commutes is good news for both the AM/FM radio industry and auto dealers.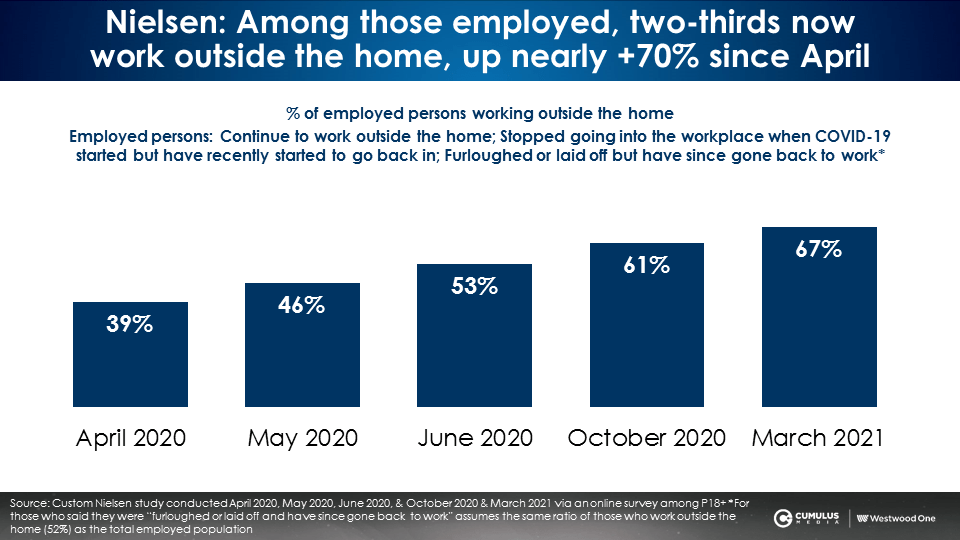 Ipsos: Consumer confidence shatters records
According to a just-released consumer confidence tracking poll from Ipsos conducted April 6-7, 2021, "Americans' consumer sentiment surpasses levels last seen just before the March 2020 lockdowns as the Overall Confidence Index in this week's Ipsos-Forbes Advisor U.S. Consumer Confidence Tracker hits 61.2. This week's score is less than 3 points shy of its historical record of 63.8 high of May 2018. … At 70.6, the Expectations Index is at its highest point in the 19-year history of the tracker, besting the previous record of 69.1 in February 2018."
For the first time since the pandemic, Ipsos reveals a greater proportion of Americans say they are comfortable making a major purchase like a home or a car than those who are not comfortable.
Retail sales sharply up, strong job gains
The New York Times reports, "After months of false starts, evidence is mounting that the economy has definitively turned a corner, with more growth on the horizon. Job gains last month were the strongest since August. … Thursday, the government reported more good news: Retail sales in March blew past expectations, rising nearly 10 percent, and jobless claims fell to their lowest level of the pandemic."
Auto sales surge, supplies are tight, and pricing is strong
Q1 2021 auto sales soared +12% versus the prior year which included the onset of the pandemic.
Forbes reports, "Cox Auto raised its prediction for total 2021 new vehicle sales to 16.1 million from 15.7 million. However much of that growth is likely to come from the sale of high-priced luxury vehicles and pickup trucks leading Cox's Jonathan Smoke to predict, 'This spring is going to be one for the record books, I believe. If we had more supply we'd shatter sales records too. But at least we know it's going to be one for the record books from a pricing perspective.'" CarGurus' Kevin Roberts continues, "I would expect the economy to be quite hot as we head into the second half of the year."
Nielsen: Heavy AM/FM radio listeners are +18% more likely than heavy TV viewers to make a major auto purchase
A recently released Nielsen consumer tracking study proclaimed AM/FM radio is the soundtrack of America's recovery and spending resurgence. Nielsen reports one-third of heavy AM/FM radio listeners intend to make an auto purchase in the next year, +18% greater than heavy TV viewers.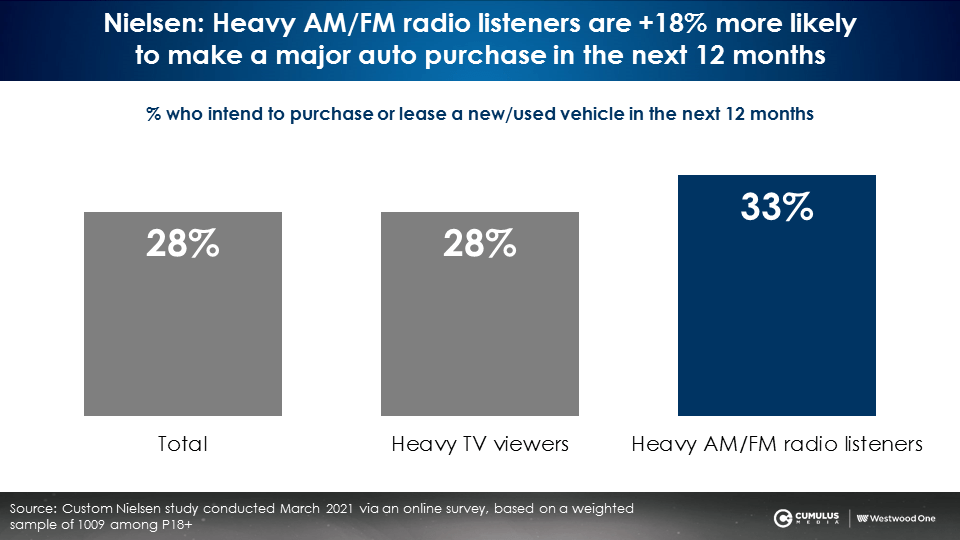 Nielsen Scarborough: 40% of U.S. new car buyers cannot be reached with TV
Nielsen Scarborough finds that it is crucial for AM/FM radio to be added to the TV plan to reach auto intenders. Based on media usage, 40% of U.S. new car buyers are impossible to reach on TV. While 60% of auto intenders are heavy TV viewers and can be reached by linear TV, two out of five auto purchasers cannot be sufficiently reached by TV.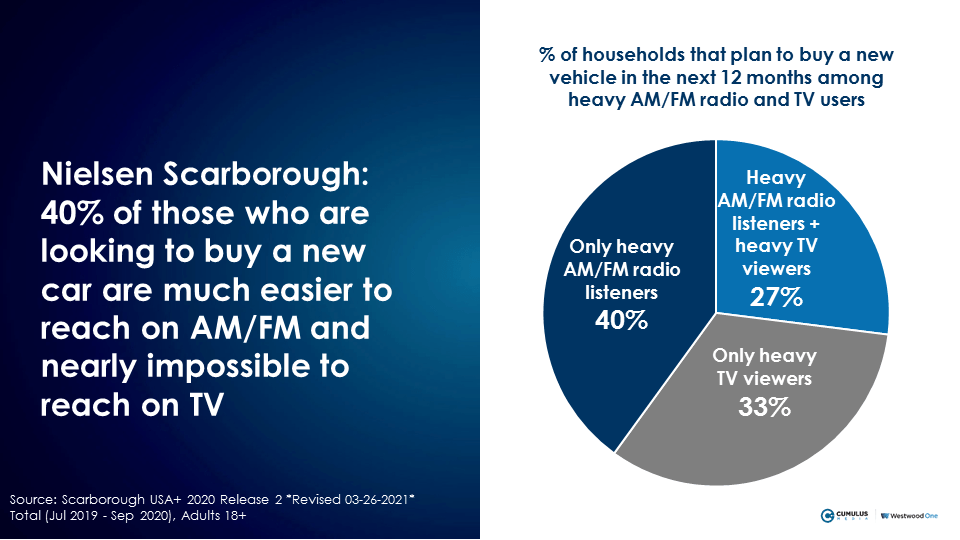 One out of four persons 25-54 cannot be reached on linear TV
While TV has been a historical mainstay for the auto dealer's media plan, plunging cable penetration and the rise of commercial-free streaming TV platforms makes it much more challenging to reach auto intenders on TV. There has been a sharp drop in linear TV viewing in the last few years.
Nielsen's just-released Total Audience Report reveals linear television's weekly reach among persons 25-54 has dropped from 85% in Q3 2018 to only 77% in Q3 2020. Just about one out of four persons 25-54 Americans cannot be reached with linear television. AM/FM radio's 89% weekly reach among persons 25-54 is much stronger than television's 77%.
"Why should I advertise? My dealer inventory and supply are tight"
We hear this from auto dealers. This begs the question: What is the job of advertising? Is it to impact sales this month or influence sales over the long term? Leading advertising and marketing experts weigh in:
According to Spike Santee, "The goal of successful advertising is to be known before you are needed. The biggest mistake in advertising is waiting to be found."
Jenni Romaniuk from the prestigious Ehrenberg Bass Institute for Marketing Science states, "Advertising is … aimed at shaping buyer memories in the brand's future favour. … Advertising can freshen memories for a specific brand, to make the brand easier to retrieve."
Les Binet and Sarah Carter, in their book How Not to Plan: 66 Ways to Screw It Up, write, "The single most important factor driving brand preference is 'mental availability': how well known a brand is, and how easily it comes to mind."
The risk of cutting advertising is loss of mental availability for a store or brand. Kantar, one of the leaders in marketing effectiveness measurement, studied what happens six months after cutting ads. Awareness starts to fade and fewer consumers cite your brand as the place they would buy. Top of mind awareness erodes as does purchase intention.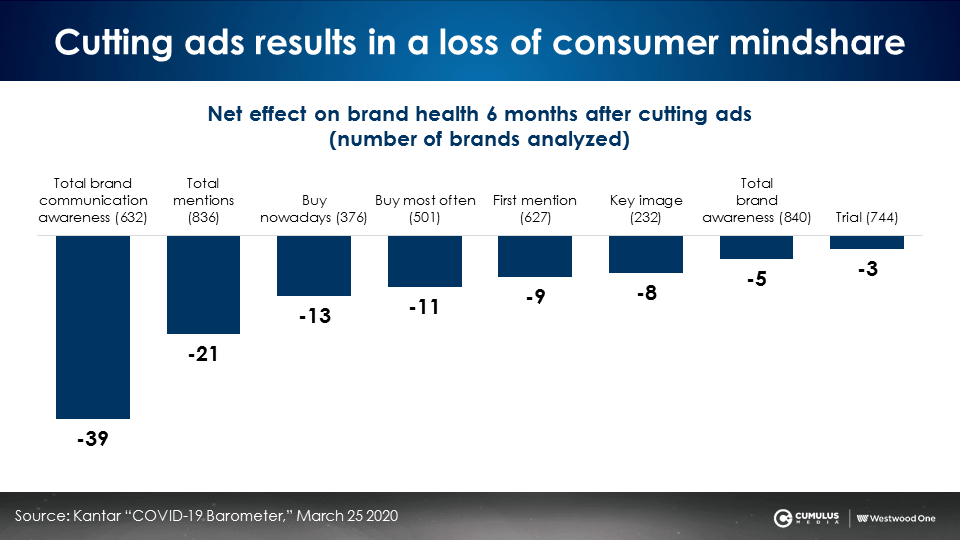 Les Binet, one of the heralded "godfathers of marketing effectiveness," created this visual based on years of studying the impact of advertising on sales. The vertical axis indicates sales and time is on the horizontal axis. The grey line is sales growth without advertising. The blue line is sales growth with advertising.
A business that does not advertise will see sales growth as the economy recovers and supply is restored. However, for brands that advertise, sales growth is accelerated by advertising each step of the way.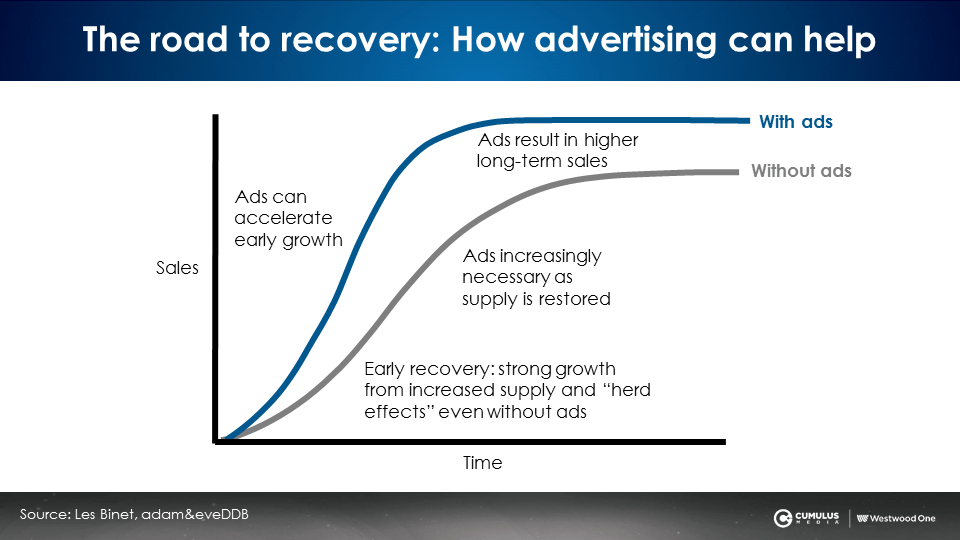 Cutting advertising because auto inventories are tight implies that all the effect of advertising is in the immediate short term. In fact, it is the reverse. The greatest effect of advertising occurs over the long term. Consider this visual from Gain Theory, one of the leading marketing mix modelers, a firm that connect the dots between advertising, marketing, and sales impact.
Only 18% of the impact of current advertising occurs this month. 24% of the impact of current advertising occurs between one and five months from now. The majority of the impact (58%) occurs in the longer term, six months and beyond.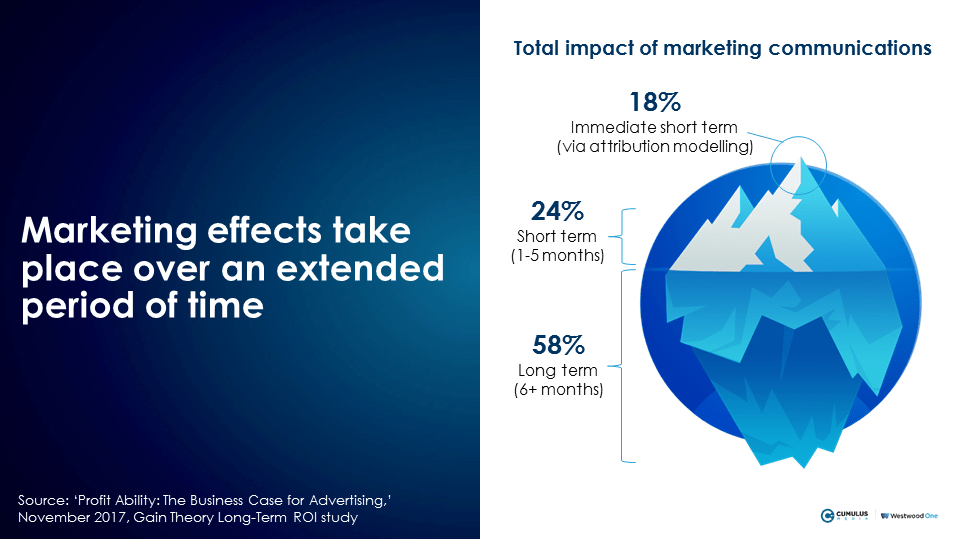 Cutting ads because of short-term inventory issues causes damage to the dealer brand in the medium and long term where 82% of the effect of advertising occurs.
Proving impact: AM/FM radio campaigns generate significant auto dealer website traffic
What hard evidence exists to prove AM/FM radio advertising can deliver traffic to auto dealer websites? Enter LeadsRx, a leading multi-touch attribution measurement firm that works for hundreds of advertisers and agencies to quantify advertising impact on search and site advertising.
On behalf of iHeartMedia, LeadsRx conducted the world's largest study of media impact on auto website traffic. Website traffic was measured from 310 auto dealers covering 19 vehicle brands in 100 markets for a 17-month period. A total of 1.8 million AM/FM radio commercials were studied to develop auto dealer best practices for AM/FM radio advertising.
LeadsRx found that on average, AM/FM radio is responsible for a +17% lift in automotive dealer web traffic. Most of this traffic comes from new consumers. 59% of web visits attributable to AM/FM radio advertising originate from new shoppers. The red bars below represent auto dealer web sessions attributed to AM/FM radio.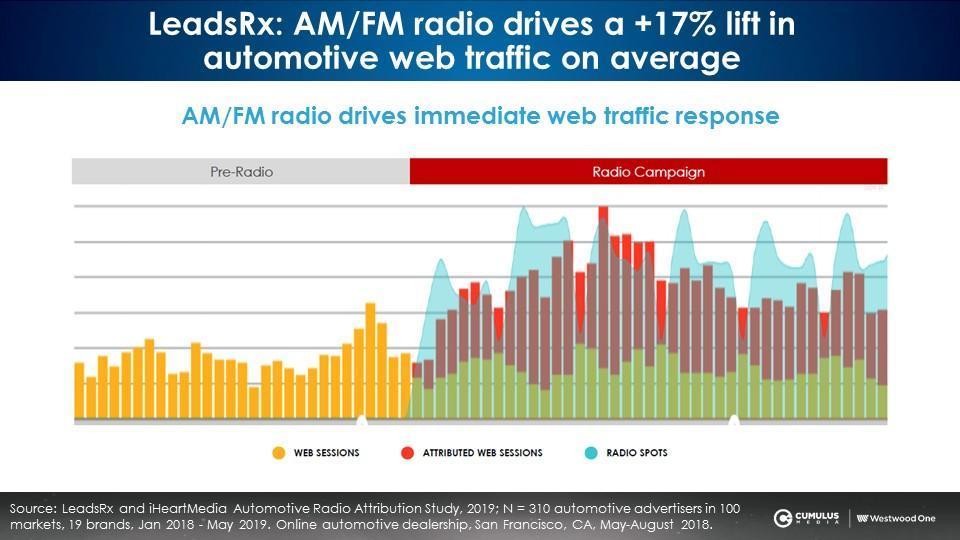 LeadsRx attribution data finds that media weight is important. As the number of daily AM/FM radio ads increases in the overall market, auto dealer website traffic surges.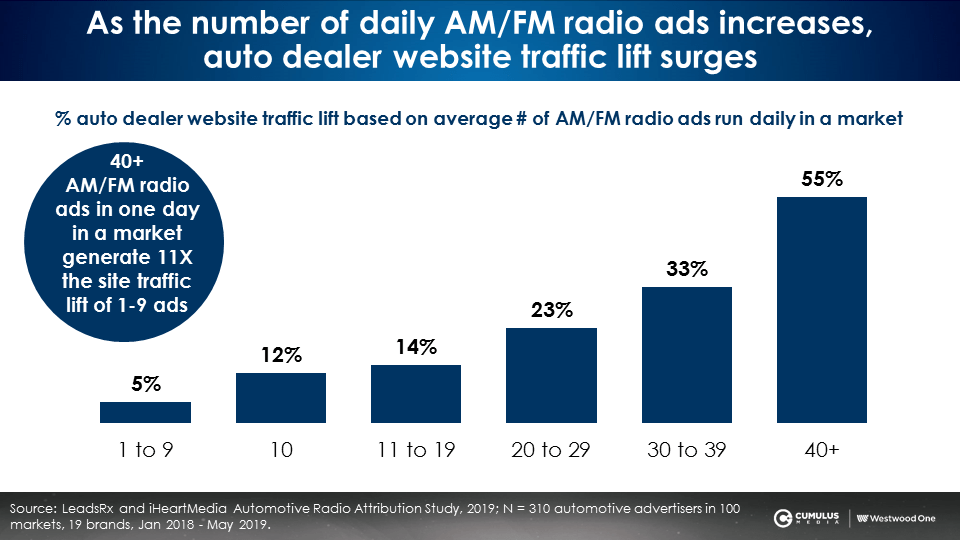 1 to 9 ads a day aired in the market generated a +5% lift in auto dealer website traffic.
20 to 29 daily ads resulted in a +23% increase in auto dealer website traffic.
40+ daily AM/FM radio ads in the market caused a massive +55% increase in auto dealer website traffic.
Expanding a buy from three days to seven days a week causes auto dealer web traffic to nearly double.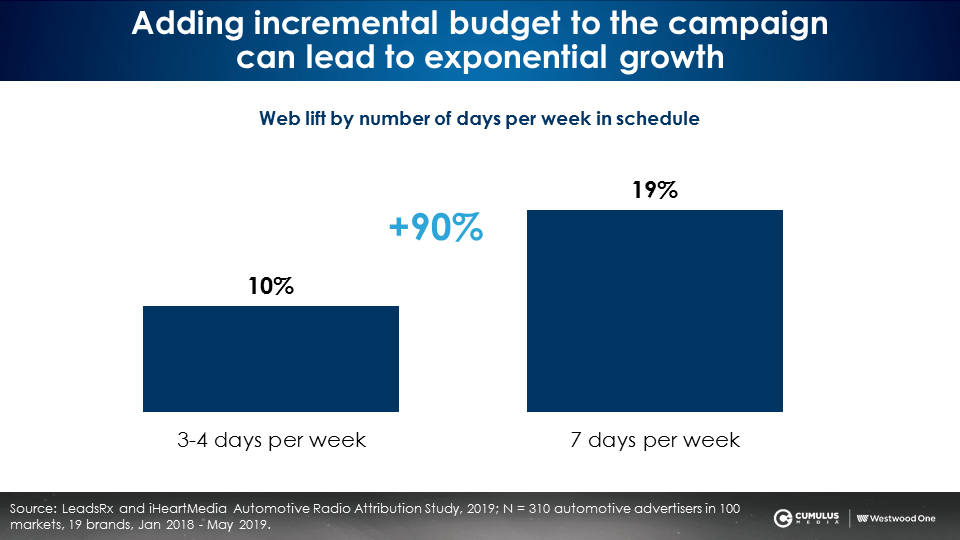 The myth that auto dealer ads should be run mostly towards the end of the week was shattered. LeadsRx found very strong web lift throughout the week, especially Monday through Wednesday.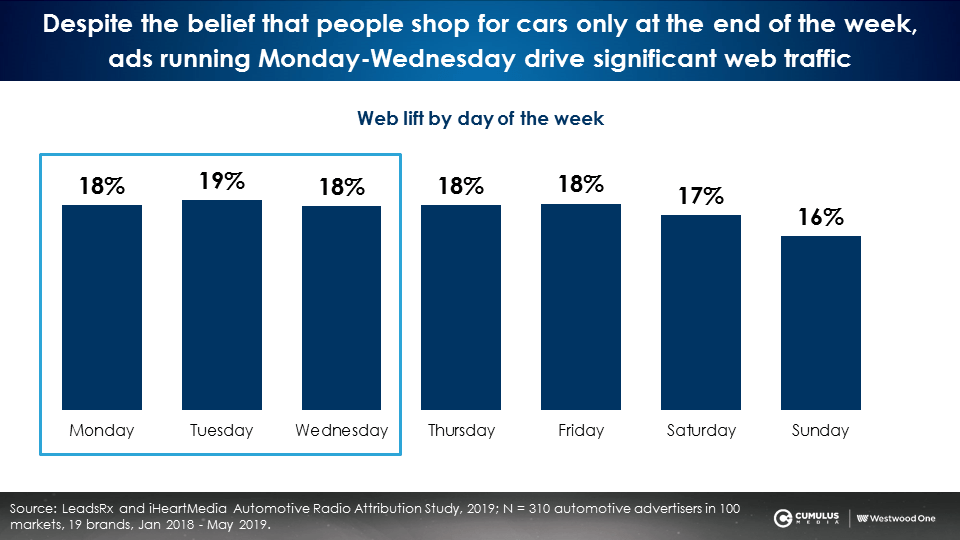 The LeadsRx study issued the following recommendations:
Run many ads: As the number of daily AM/FM radio ads increases, auto dealer website traffic lift surges.
Advertise all days of the week: Despite the belief that people shop for cars only at the end of the week, ads running Monday through Wednesday drive significant web traffic.
Advertise on all dayparts: Car shopping aligns with 6AM-7PM, AM/FM radio prime time.
Use on-air personality endorsements: Campaigns that include AM/FM radio

personalities generate an average of 2X greater response than campaigns that include produced/pre-recorded ads.

Leverage multiple ad lengths: Campaigns with multiple ad lengths outperform single ad length campaigns by over 2X.
Key takeaways:
According to reports from The Conference Board, Apple, Ipsos, and The New York Times, the economy is returning to normal with increased consumer confidence, commuting, and optimism.
Forbes finds that auto sales are surging, supplies are tight, and pricing is strong.
Nielsen: Heavy AM/FM radio listeners are +18% more likely than heavy TV viewers to make a major auto purchase.
Nielsen Scarborough: 40% of U.S. new car buyers cannot be reached with TV.
Proving impact: AM/FM radio campaigns generate significant auto dealer website traffic according to LeadsRx AM/FM radio attribution report.
Pierre Bouvard is Chief Insights Officer at CUMULUS MEDIA | Westwood One.
Contact the Insights team at CorpMarketing@westwoodone.com.