IAB: Podcast Ad Revenues Surge Through 2020, Paving The Way For $1.1 Billion In 2021
Last week, the Interactive Advertising Bureau (IAB) and the accounting firm PricewaterhouseCoopers (PwC) released their annual podcast advertising revenue report.
2020 revenues will come in at 94% of last year's prediction
The current 2020 podcast revenue forecast of $814M is only 6% less than what IAB/PwC predicted for 2020 last year at this time ($863M). That is amazing.
Actual 2019 podcast revenues ($708M) ended up much stronger than the 2019 forecast ($679M). Even with the impact of COVID-19, 2020 podcast revenues are forecast to come in at 94% of last year's 2020 prediction. This speaks to the strength of audio as a powerful platform for both brands and direct response marketers.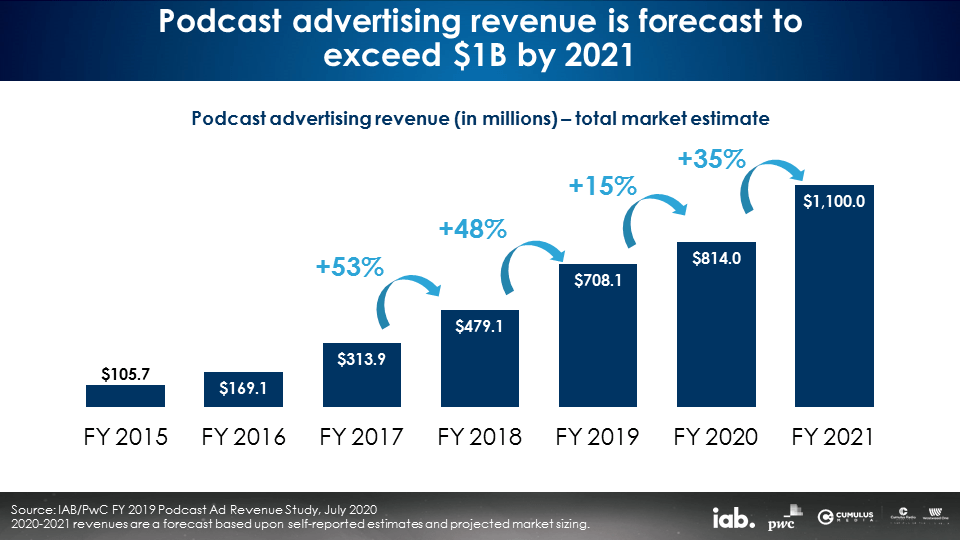 Podcast ad revenues soared +48% from 2018 to 2019
The +48% rate of growth from 2018 to 2019 was nothing short of stunning. While the COVID-19 crisis has tempered 2020 growth rates, IAB/PwC still predicts a +15% lift in 2020 revenues. This is impressive in a year when few media platforms will be able to claim double-digit revenue growth.
IAB/PwC expects podcasting to crash through the billion-dollar barrier with $1.1 billion of ad revenues in 2021, a +35% increase over 2020.
2019 versus 2018: Many measures remain consistent – brand marketers vs. direct response
From 2016 to 2018 the share of podcast ad revenues from brand marketers doubled from 27% to 48%. The share of brand spend in podcasting was stable 2018 versus 2019 (48% versus 45%).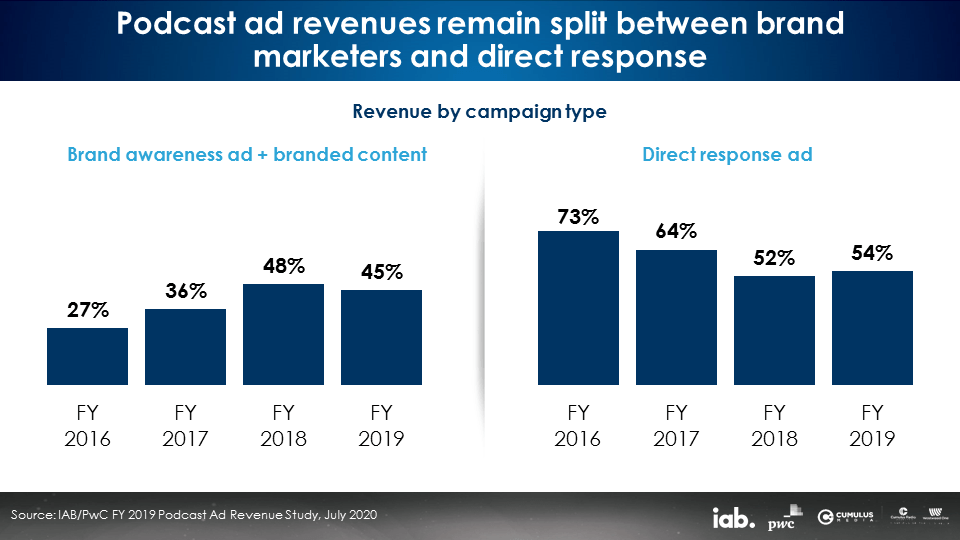 The proportion of revenues from dynamically inserted ads versus edited-in/baked-in ads remains stable
Over the last three years, there has been little change in the share of revenues from these two methods of ad insertion. In 2019, half of ad revenues were dynamically inserted and half were edited-in/baked-in.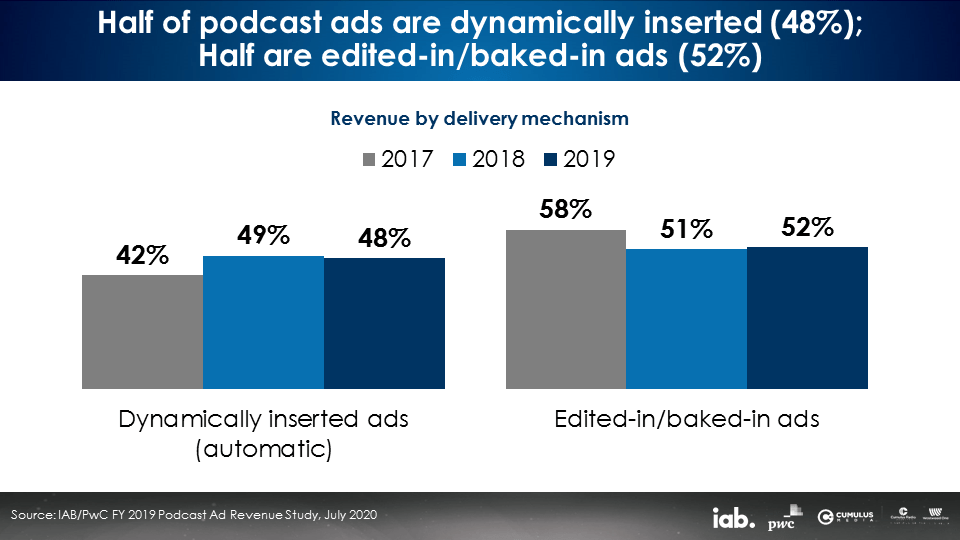 Host-read ads continue to be the dominant podcast creative execution
In 2019, 66% of podcast ad revenues were from host-read ads, 27% were announcer-read/pre-produced ads, and 6% were supplied ads.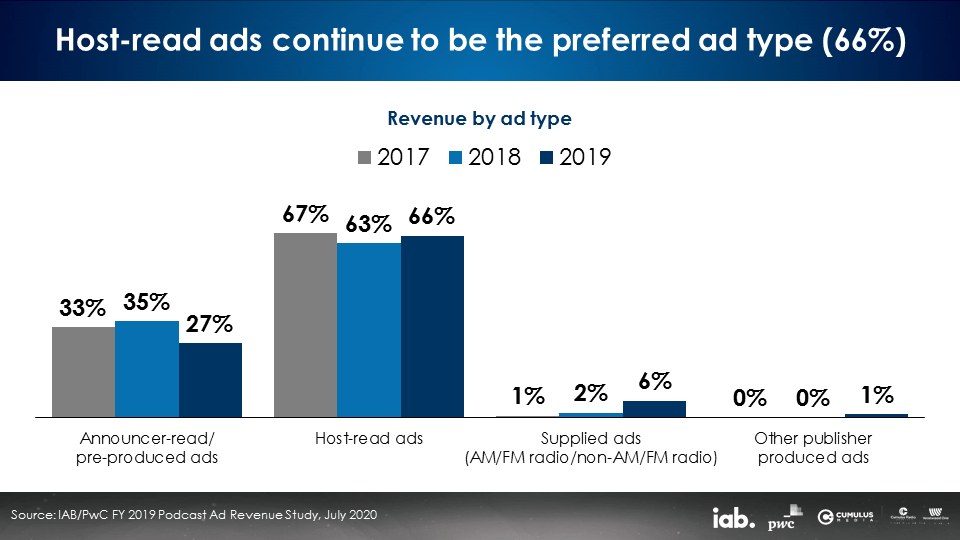 Half of podcast ad buys are now placed via annual/upfront commitments; One-third are purchased quarterly
The proportion of annual/upfront deals as a proportion of podcast ad revenues doubled from 2018 to 2019 (24% to 47%). 31% of podcast ad spend is placed quarterly and 21% occurs via scatter.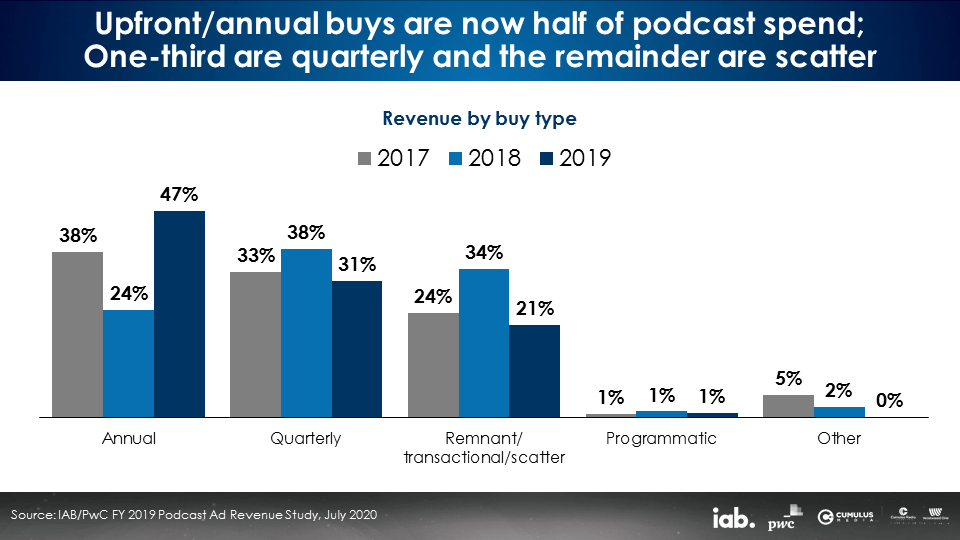 CPM remains the dominant pricing method
84% of podcast spend in 2019 was based on CPM, very consistent with 2018 (86%) and 2017 (85%).
Five podcast content genres represent 72% of ad spend: News, comedy, society/culture, business, and true crime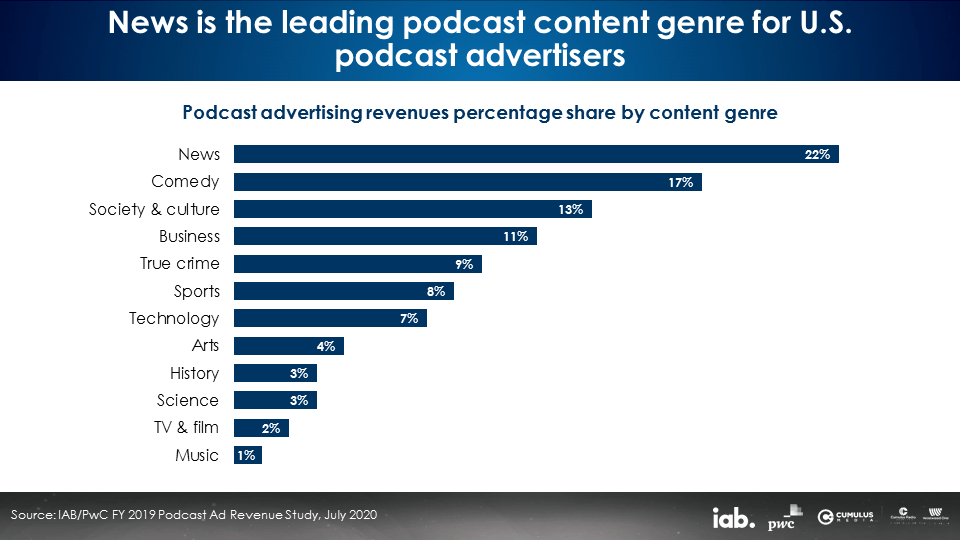 Direct-to-consumer retailers and financial services are the two leading podcast spenders over the past three years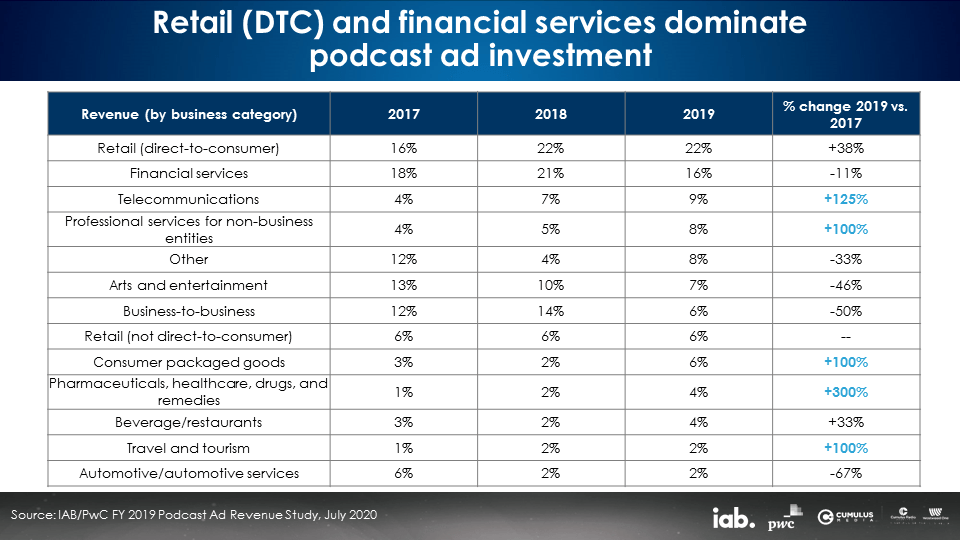 Podcasting is the only ad-supported audio format to show meaningful audience growth over the last four years
Edison Research's "Share of Ear" study is the gold standard audio time use tracking study. Audience shares are determined for ad-supported audio platforms. Comparing Q2 2016 with the just-released Q2 2020 study reveals podcasting audience shares have tripled (3% to 9%).
Across the four-year period, Pandora's audience shares are down (9% to 8%), Spotify is up slightly (3% to 4%), and SiriusXM is up 2% to 4%. At a 76% share, AM/FM remains the dominant ad-supported audio platform. Podcasting has now surpassed Pandora and Spotify in audience share.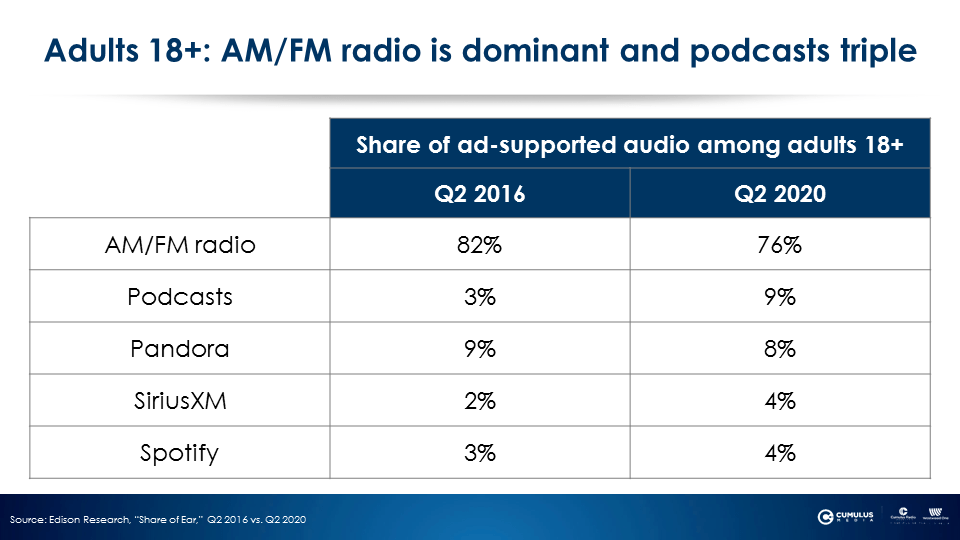 Podcasting has double-digit shares of ad-supported audio listening at home and at work
With a 13% share of ad-supported audio at work and a 12% share at home, podcasts have audience shares that are over 2X ad-supported Spotify and beat or match ad-supported Pandora. It is no wonder that Spotify has made such significant investments in podcasting.
Ad-supported streaming audio has peaked over the last four years with little audience growth. Podcasting has all the audience growth and advertiser interest.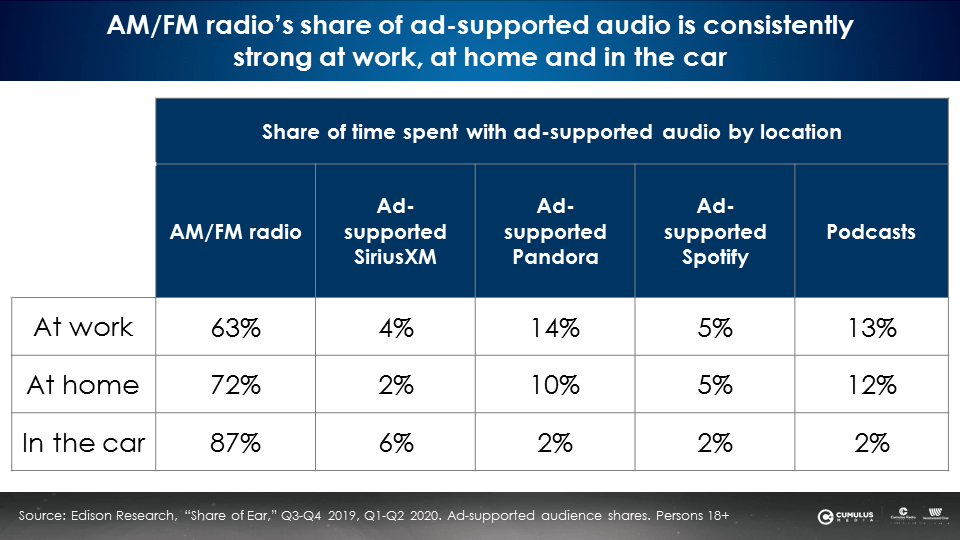 Key takeaways:
In 2019, U.S. podcast revenues grew +48% to $708M.

2020 revenues are forecast at $814M, just 6% shy of IAB/PwC's prediction last year. 2020 podcast revenues are expected to grow +15%, making podcasting one of the few media types to generate double-digit growth.

2021 podcast revenue is forecast to grow +35% to $1.1B.

Share of direct response spend (54%) and brand (45%) for 2019 are stable from 2018.

Half of podcast ads are baked in (52%) and half are dynamically inserted (48%).

Host-read ads represent 66% of 2019 revenues.

The largest podcast ad categories were retail (DTC) (22%) and financial services (16%), representing 38% of podcast advertising in 2019.

Podcasting is the only ad-supported audio platform to exhibit meaningful growth over the past four years surpassing streaming audio.
Pierre Bouvard is Chief Insights Officer at CUMULUS MEDIA | Westwood One.
Contact the Insights team at CorpMarketing@westwoodone.com.