We have NEVER seen times like these – from the coronavirus pandemic and the overwhelming public health and economic implications, to the soul-crushing civil unrest that roils our nation, to the hotly contested presidential election.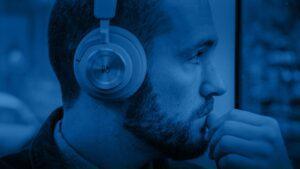 Currently in this climate, live events are on pause and Hollywood has gone dark, without the ability to produce new feature films or blockbuster series – and facing questions surrounding their return.
With the uncertainty around TV and commercial production, it's no wonder the Association of National Advertisers is rethinking the annual TV upfront. This turmoil is causing brands to consider other media that can effectively drive reach and produce creative.
So it's not surprising that literally every day our advertisers ask for insights and data. To help our partners make informed marketing decisions, we will focus on up-to-the-minute audio & media trends, consumer behavior, and more throughout a five-part series — Is Audio Pandemic Proof?
We've engaged our data and insights team to understand not only the question of audio's resiliency but also, more broadly, the pandemic's effect on the current media landscape and how that relates to consumer sentiment and media buying.
Here are their key findings:
AM/FM radio listening rebounds while streaming and podcasting never faltered:
Miles traveled data from Geopath and trip requests into Apple Maps reveal a sharp recovery in American mobility. Increased vehicle traffic leads to radio listening growth. Nielsen's Portable People Meter May data reveals AM/FM has recovered 80% of March AQH.
According to the Geopath data, miles traveled in medium and smaller markets never saw the erosion of the larger markets. As such, it's no surprise that Nielsen's recently released April diary listening from markets ranked 50-100 showed virtually no loss in radio listening.
Throughout the last three months, AM/FM radio streaming audiences measured by Triton have been very consistent. Podcast listening also maintained its continued audience momentum.
Linear TV is now below pre-COVID; Video streaming remains elevated:
Shelter-at-home edicts in March lifted linear TV audiences, but the growth was short-lived. In an investor note this morning media analyst Moffett Nathanson reported "Looking at weekly year-over-year P18-49 trends, cable network viewership growth spiked from early March through the end of April before returning to pre-COVID trends and continuing to decline in the low- to mid-teens range." Time spent with video streamers like Netflix, Amazon Prime, and Hulu remains elevated 20% higher than pre-COVID levels.
If new TV shows are delayed, pay-TV subscribers will cut back service, streaming video consumers will add service:
Magid, the gurus of TV audience research, reports the lack of new programming will cause pay-TV subscribers to cut service. Among video streaming subscribers, less new programming on TV will cause them to add additional streaming services.
Among those without pay-TV, Magid also reports fewer consumers saying they'll subscribe to pay-TV. It is getting harder to reach Americans via linear, ad-supported television.
"Ready–to–go" consumers will be the engine of the economic recovery, spending across a wide array of categories:
During May, Nielsen conducted two consumer sentiment studies, one in early May and another in late May. Those most optimistic about reopening, the 'ready-to-go' consumer segment, soared from 31% to 54%. "Ready-to-go" consumers indicate they will be spending soon in a large variety of categories.
"Ready–to–go" consumers are heavy users of AM/FM radio:
The more optimistic the consumer, the greater the time spent with radio. Nielsen declares "AM/FM will be the soundtrack of America's resurgence and recovery".
Agencies and advertisers feel it's time to return to traditional messaging and abandon COVID–based creative:
Advertise Perceptions reports 58% of brands and agencies agree that "It's time to move away from empathetic, COVID-19-related messaging and get back to more product-specific messages". According to a Nuvoodoo consumer study fielded this past week, 37% say they are sick of creative with "we're-all-in-this-together" themes.
Based on our experiences over the past three months, we've concluded the audio platform is extraordinarily resilient given the ability to continually create our product and broadcast from anywhere. At CUMULUS MEDIA:
Each week we broadcast more than 1,000 shows from our producers' and hosts' homes across the country.
During the height of the pandemic, we launched new shows including Weekends with Roula (Houston), and Morning Koffy (Nashville & Dallas).
We've successfully launched several new podcasts including In The Bubble with Andy Slavitt (Minneapolis), The Prof G Show with Scott Galloway (Florida), In Recovery (North Carolina), and The Bongino Brief (Los Angeles).
We create fresh new commercial content for our brand partners daily from a variety of locations.
Link to Full Video
Link to Slide Presentation