What Podcast Sellers Say Is Needed To Achieve $2 Billion In Podcast Ad Revenue
As podcast sellers, advertisers, and agencies assemble in New York City this week for the RAIN Podcast Business Summit, Westwood One is releasing a brand new study of podcast sellers.
112 executives from all parts of the podcast ecosystem completed an online survey in February on measurement, attribution, ad tech, and what's needed for podcasting to become a $2 billion advertising medium. Several weeks ago we reviewed the advertisers/agency sentiments. Now we turn our attention to podcast sellers.
Here are the key findings:
Both sellers and agencies/advertisers give "poor" marks on the current state of podcast measurement, though there is a sense that things are looking up
Overall, while the buy side and sell side are in general agreement on the miserable state of podcast measurement, sellers are a bit more positive. Only 5% of brands and agencies rate podcast measurement and attribution as "excellent." 10% of sellers indicated the current state to be "excellent."
48% of sellers say measurement is only "fair" and 24% indicate it's "poor." A whopping 64% of the buy side say it's "fair" and 19% deem it "poor."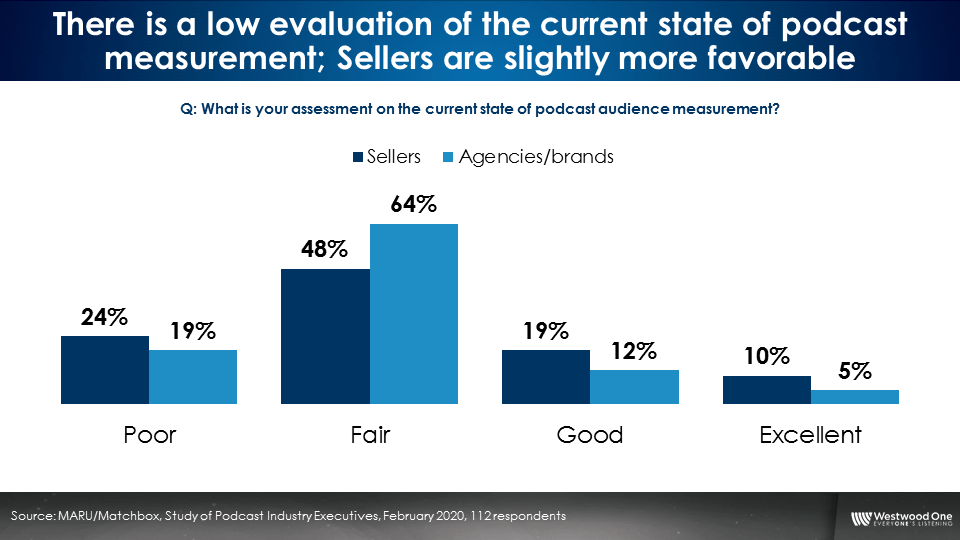 There are signs of improvements ahead. Compared to prior years, 48% of sellers and 43% of agencies/brands indicate the current state of attribution and measurement is getting better. The rest say things are about the same. No one feels it is getting worse, somewhat akin to saying you cannot fall off the floor.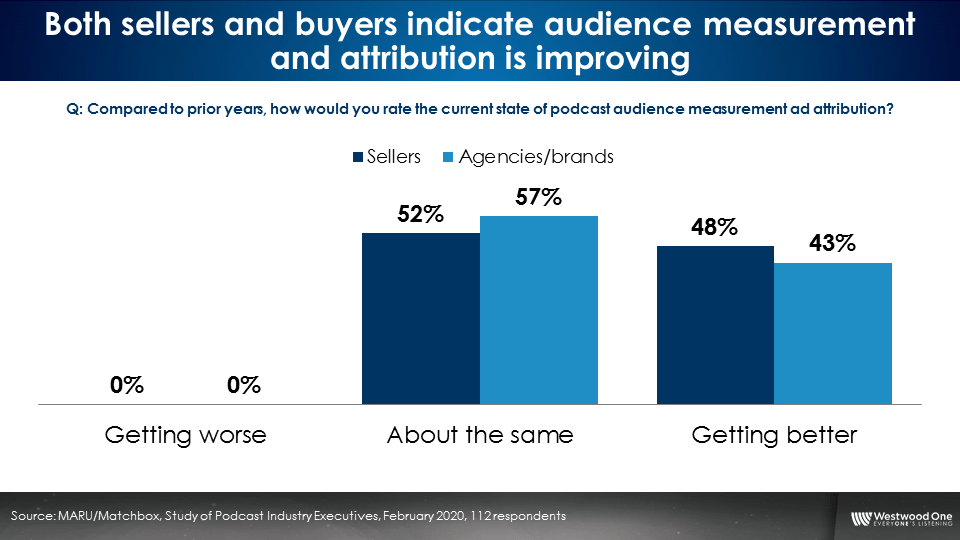 Podcasting needs a monthly reach of 44% to hit the tipping point of meaningful advertiser investment
Sellers and buyers both indicate podcast monthly reach will have to grow +12 points for spending to hit an inflection point. Edison's 2019 Infinite Dial study pegged podcasting monthly reach at 32%. In a matter of weeks, we'll know the new 2020 podcast monthly reach number when Triton's John Rosso and Edison's Tom Webster reveal the new Infinite Dial findings on March 19th, 2020. If podcasting notches another 6-point jump, monthly reach for 2020 will be 38%. Most likely, 2021 will be the year that podcasting achieves the 44% monthly reach threshold.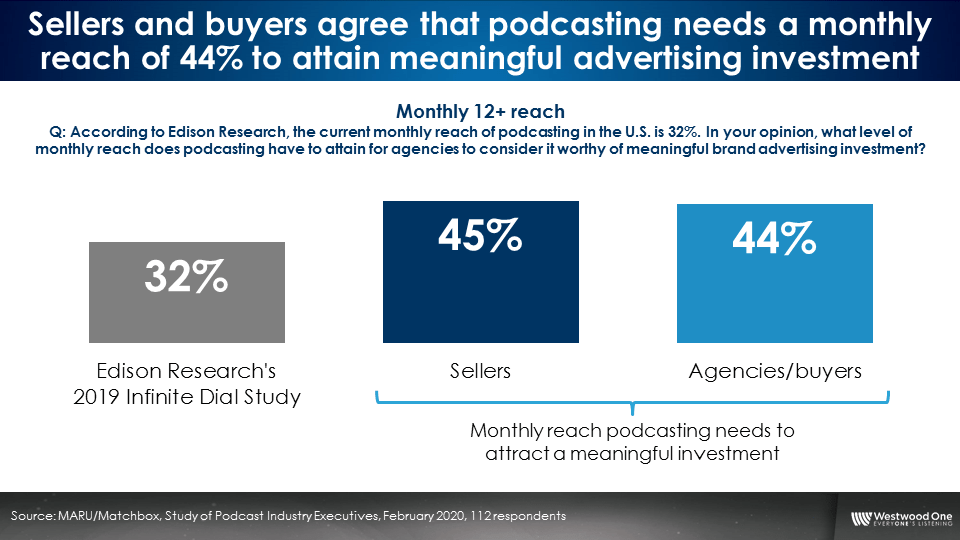 $2B podcast ad revenues? Better measurement, attribution, bigger shows, and bigger brands
When asked what it will take for podcasting to become a $2 billion ad medium, most of the responses centered on improved measurement and attribution. Some indicate content will need to step up: "Larger scale content…a big breakthrough in the content space." Others note podcast discovery and search needs improvement. A number feel big marketers coming into the podcast space will be a major accelerator. Several point to the major opportunity to monetize "the longer tail shows which are being relatively ignored."
Dynamic ad insertion (DAI) now represents 61% of seller orders and 55% of agency buys
76% of sellers say they are using dynamic ad insertion. Slightly fewer buyers (two-thirds) say they are using dynamic ad insertion.
Sellers say DAI represents 61% of their orders. This is slightly more than podcast agencies and advertisers who peg DAI as 55% of orders.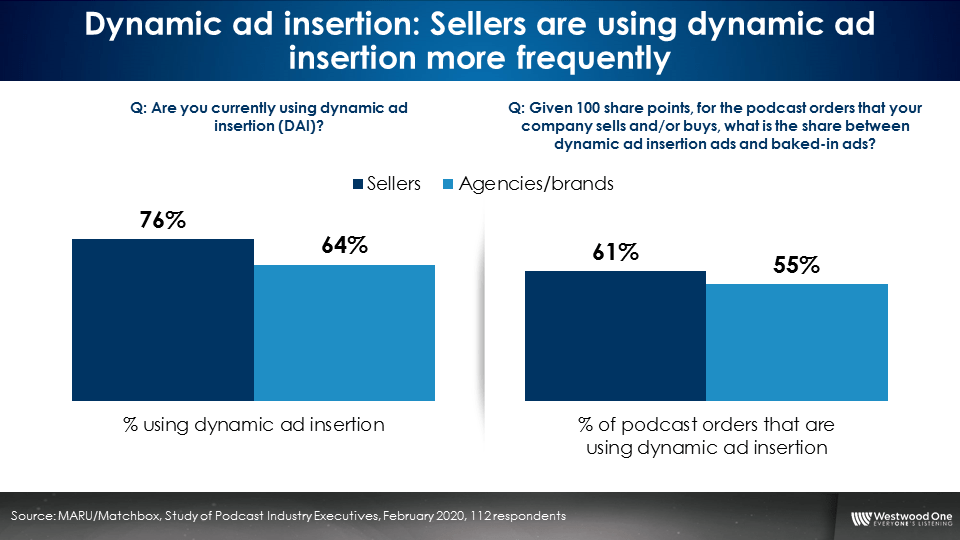 What is the most used podcast test buy parameters?
While advertisers new to podcasting exhibit confusion over how to run a proper test, our seasoned respondents reveal strong consensus on the specs for a proper test of podcasting:
Sellers say:
5 podcasts

2 ads per week per podcast

5-week campaign

Only a third are running a test campaign every week
Agencies indicate a larger number of ads, campaign length and more consistent flighting versus the sellers:
5 podcasts

3 ads in each podcast per week

7-week campaign

Test campaign running each week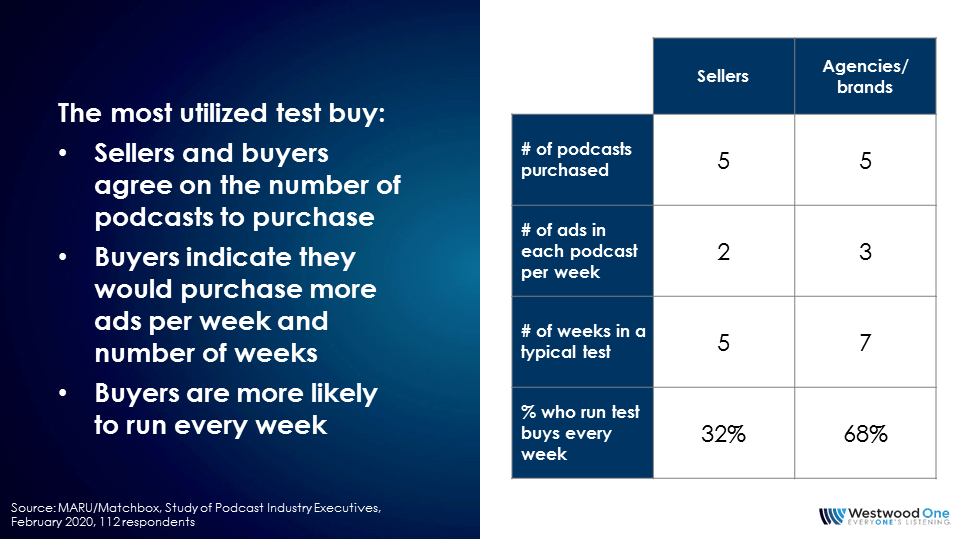 Marketing malpractice: Running a podcast test with one ad per month
Some podcasts report being approached for a "test" with one ad per month. Based on our study of veteran podcast sellers, brands, planners, and buyers, such a practice is ill conceived and should be outlawed. One ad per month is like testing the merits of watering a lawn with a squirt gun.
Conor Doyle, SVP Strategy & Investment at Veritone One, recommends podcast tests consist of a larger number of podcasts (15 to 25). He notes the need for aggregated data on category, ad-unit type, read performance, etc. "The more data you can collect on a test, the faster you can scale," he indicates. Veritone One along with Oxford Road and Ad Results are podcasting's "holy trinity" who have fueled much of the ad spend growth over the past five years.
Attribution services receive positive evaluation and strong purchase intention: Buyers love attribution, the sell side – not so much
Respondents assessed six different measurement services for awareness, evaluation, and intention to use. Attribution services from firms like Chartable, Barometric, LeadsRx, AnalyticOwl, and Podsights score best. A number of the audience measurement services (Edison and Triton) are brand new to the market. It's likely many decision makers have yet to receive a presentation and see sample data.
The sell side is more aware of the new measurement services compared to the buyers. While both groups generally give each service similar evaluation, opinions diverge when it comes to attribution services. Brands and agencies rate attribution firms with a strong 28% "excellent" evaluation while not one seller could muster an "excellent" rating.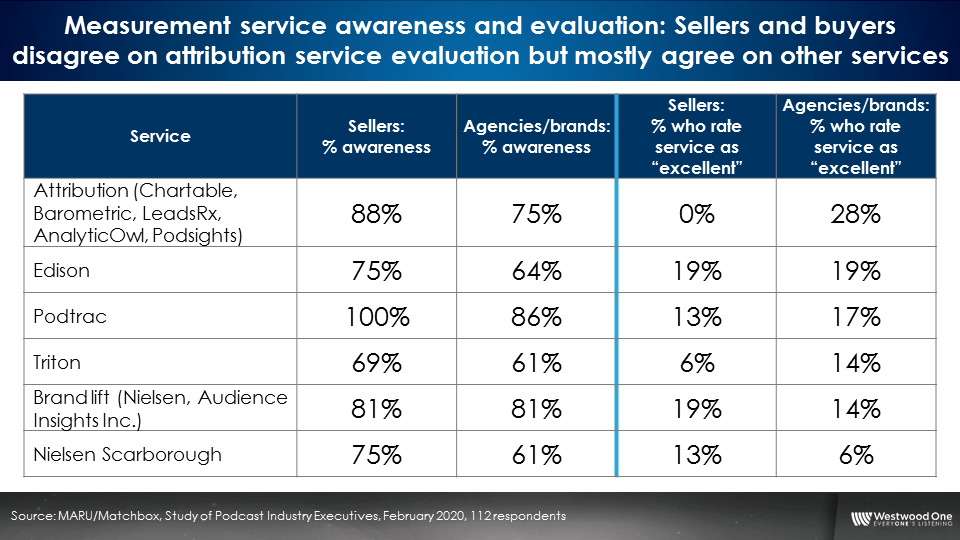 When it comes to executives saying they are very likely to accept or utilize a service, buyers and sellers are in general agreement. Opinions diverge again on the issue of attribution. 42% of podcast buyers say they are very likely to use a podcast attribution service. Only 25% of the sell side say they are very likely to use podcast attribution.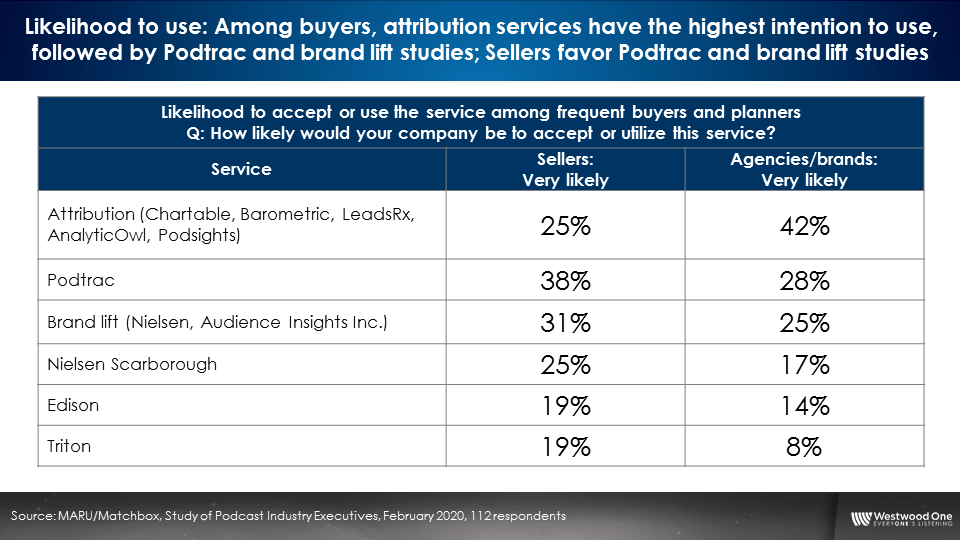 In summary:
Podcast measurement and attribution rate poorly according to agencies/brands and sellers. Still, there is hope on the horizon. Two out of five agencies/brands and almost half of sellers say there has been improvement.

Better measurement, attribution, bigger shows, and bigger brands are what's needed for podcasting to crack $2 billion in ad spend.

According to agencies/buyers, a monthly reach of 44%, up from 32% in 2019, is seen as a tipping point to a major step up in spend. Sellers say 45% reach is needed.

Agencies/buyers believe a good podcast test buy includes 5 podcasts, 3 ads in each podcast, for 7 weeks. Sellers say a good podcast test includes 5 podcasts, 2 ads in each podcast, for 5 weeks. A test buy of one ad per month is marketing malpractice.

Attribution services rate well and should expect greater usage. Newly launched measurement solutions need time to be understood and tested.
Click here to download the full report
Pierre Bouvard is Chief Insights Officer at CUMULUS MEDIA | Westwood One.
Contact the Insights team at CorpMarketing@westwoodone.com.