Why Advertisers Are Starting to Open Their Wallets For Podcasts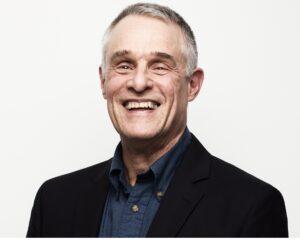 Jeff Vidler, President, Audience Insights Inc.
Jeff Vidler applies 25 years of senior-level media research and consulting to lead project teams as President of Audience Insights Inc. The firm provides research insights for podcast publishers and their clients. They co-publish The Canadian Podcast Listener Study with Ulster Media, an in-depth study of monthly podcast listeners now in its third year. This study served as the foundation for Westwood One and Audience Insights Inc.'s Podcast Download — Spring 2019 Report.

It's a heady time to be in podcasting. The latest IAB/PwC Podcast Ad Revenue Study of the U.S. podcast industry estimates the 2018 ad revenue for podcasts was $479 million, a more than 400% increase from $107 million in 2015.

That's pretty spectacular growth for a medium that's been around for more than 15 years. And there are plenty of good reasons for that. Yes, more people are listening to podcasts. Even more important, advertisers and agencies are waking up to some of the one-of-a-kind benefits offered by podcast ads.
At Audience Insights Inc., we've worked on dozens of research studies on podcast listening in both the U.S. and Canada over the past few years, most recently Westwood One and Audience Insights Inc.'s Podcast Download — Spring 2019 Report.
From our research, we see three clear advantages of podcast advertising:
1. Deeply engaged listeners
If you've ever gone scuba diving or snorkeling, this may ring a bell for you. I went snorkeling a long time ago. What struck me was the immersive nature of the experience. Surrounded by an undersea world teeming with life, the "above sea" world slipped away. So did time. And I had the sunburn to prove it, because what seemed like 15 minutes was actually an hour and a half. I'd forgotten what snorkeling felt like until I started listening to podcasts. A compelling podcast can be equally engaging, bringing you into another world and making otherwise dead time fly by. Without the sunburn.
We've seen this engagement in action in the brand lift studies we have conducted for Pacific Content. Pacific Content takes the idea of a branded podcast and raises the bar by working hand-in-hand with their marketing team on the conception and development of the podcast, then adding in a layer of world-class storytelling. They call them "original podcasts for brands," and they've built them for some of America's biggest brands — including Facebook, Charles Schwab, Dell Technologies and Prudential Insurance. Remarkably, with no more than a couple of "brought to you by" mentions and absolutely zero product sell per episode, we typically see unaided sponsor recall scores that meet or exceed benchmarks for full length ads embedded in online video content.
2. The personal connection to the program and host
Listeners develop a close relationship with their favorite podcast hosts and shows. It's a natural extension of that deep engagement. In fact, popular podcasts often sell out large theaters for their live shows.
We also see this when we ask podcast listeners why they say podcast ads command more of their attention than ads in other media. In our study with Westwood One on U.S. podcast listeners, the top three reasons revolve around the host and their personal connection to the podcast.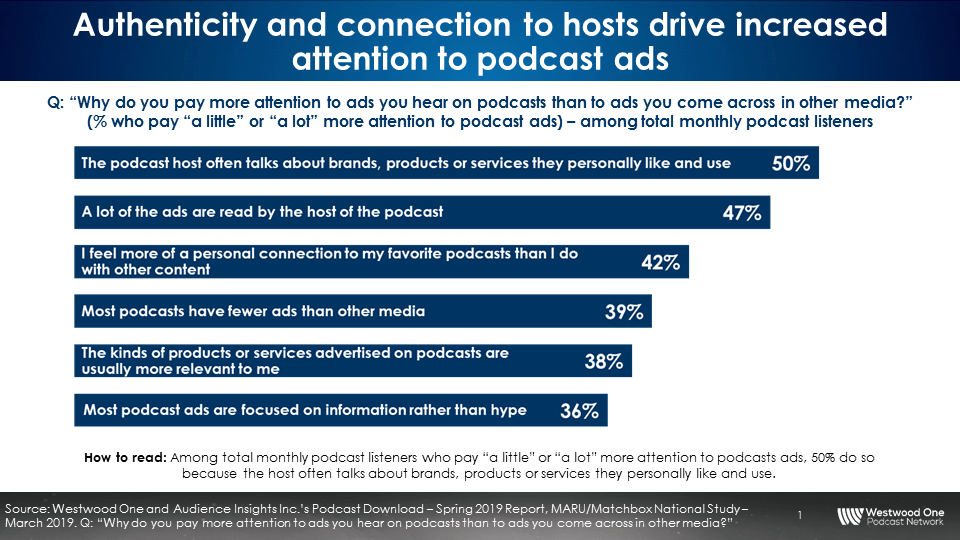 The very personal appeal of podcasts — and the ads they typically carry — are also reflected in the ad avoidance results. Fewer U.S. podcast listeners say they skip or otherwise avoid ads in podcasts than ads in any other media, especially ads in other digital media.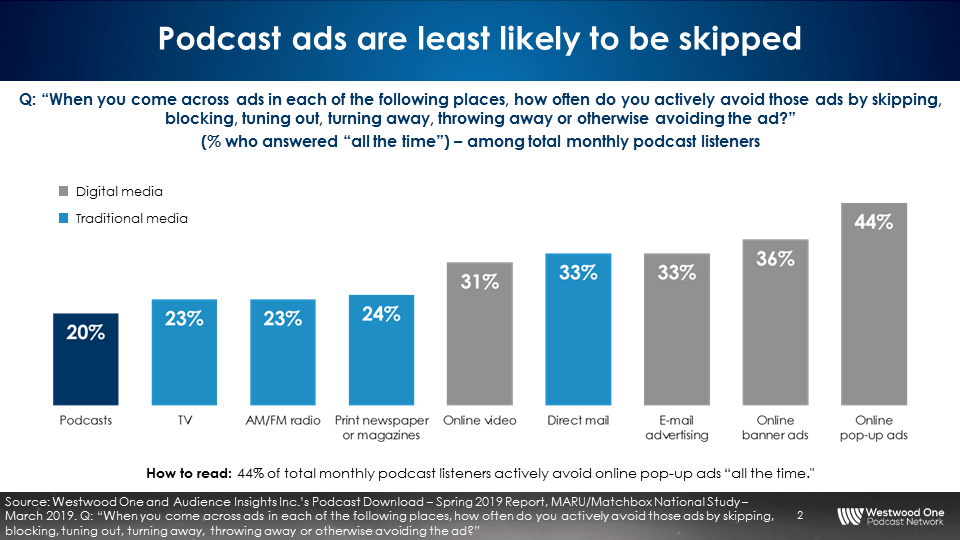 3. A unique opportunity for advertisers to reach an on-demand audience
Podcasts occupy the same on-demand media space as Netflix and paid music streaming services like Spotify and Apple Music. This puts them squarely on trend, reaching the same affluent Millennial audience that wants their content on their terms and their schedule.
Just one difference. Brands can advertise on podcasts while they can't advertise on Netflix or paid Spotify or Apple Music subscriptions.
The on-demand pull of podcasts also happens to play into one of podcasting's strengths as an ad medium. With literally hundreds of thousands of podcasts available, niche interests are a big driver of podcast listening. That in turn provides vertical advertising and marketing opportunities you can't get through mass media.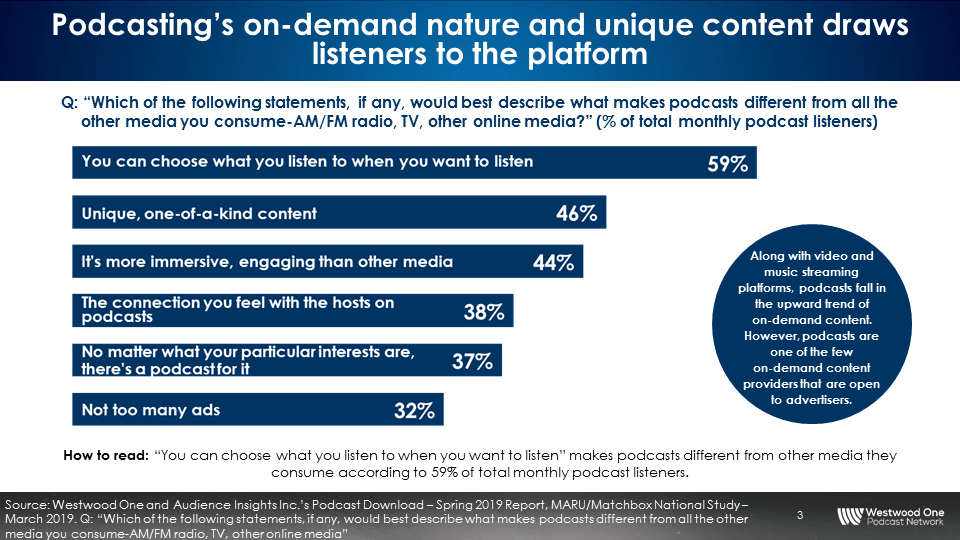 What could keep advertisers from opening their wallets wider
PwC projects ad revenue for podcasting to more than double by 2021, breaking through the $1 billion milestone. Podcasting is poised to hit that mark or beat it. But future growth will depend on how well the podcast industry meets the following challenges:
While it is getting better, measurement can still be a buying barrier. Downloads do not equal listens. Meanwhile, demographic and attribution data are still lacking. On the bright side, more podcast publishers are now participating in the U.S. IAB guidelines and increasing ad revenues are helping to fuel measurement innovations.
Fragmentation can complicate the buying process. With so many podcasts available, media buys can be challenging. Again, this is improving as sales networks (such as Westwood One or Midroll in the U.S. and TPX in Canada) help brands navigate this by aggregating inventory across multiple podcasts.
Will the need for scalability create a push to programmatic advertising? Podcasters need to fend off the temptation to plug inventory holes with ads that don't deliver on the one-of-a-kind opportunity to tap into the deeply personal nature of podcasts.
Full results from Westwood One and Audience Insights Inc.'s Podcast Download – Spring 2019 Report of more than 1,400 monthly podcast listeners are available here. The study replicated questions from the survey from The Canadian Podcast Listener 2018 in partnership with North American podcast consulting firm Ulster Media with support from The Podcast Exchange (TPX). New data from The Canadian Podcast Listener 2019 will be available this Fall.
Jeff Vidler is President of Audience Insights Inc.
Contact the Insights team at CorpMarketing@westwoodone.com.