2019 Will Be The "Year of the Brands" in Podcast Advertising: New Research and Key Highlights From IAB's PwC 2018 Podcast Revenue Report
If you look at the marketplace, you can see an exciting trend that suggests 2019 will be the "year of the brands" in podcast advertising.
Our insights team at Westwood One dove in to analyze the recent IAB and PwC 2018 Podcast Revenue Report, and combined that information with brand new insights from a MARU/Matchbox study, and our fifth annual Advertiser Perceptions study of advertiser/agency consideration and usage of podcast advertising. We found brands are much more active in podcast advertising than meets the eye.
Podcast brand advertising is growing five times faster than direct response spend
IAB and PwC released their third annual examination of podcast revenue trends based on financials from 22 of the largest publishers who represent the majority of podcast ad spend. The report found total spend in podcasting increased by 53% from 2017 to 2018. IAB/PwC forecasts podcast spending to hit $1 billion by 2021.
The combination of podcast brand awareness ads and branded content spend doubled from 2017 to 2018. Direct response podcast spending was only up 22%. Brand advertising represented nearly three-quarters of the entire spend increase in U.S. podcasting and is growing five times faster than direct response.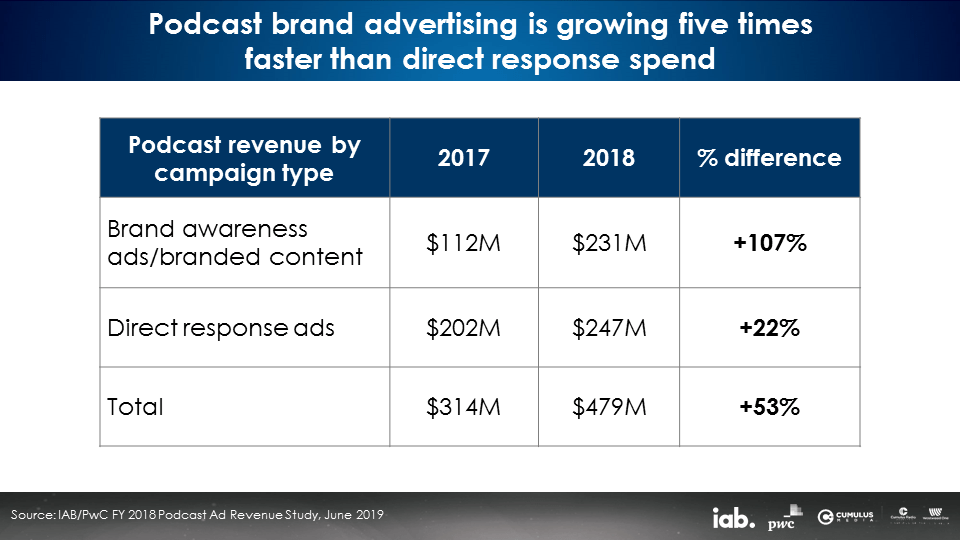 Once dominated by direct response, podcast revenues are nearly split between brand and direct response
In 2016, direct response represented 73% of podcast spend. Brand campaigns made up only 25%.
Comparing 2016 to 2018, brand spend grew from 25% to 38%. Branded content rose from 2% to 10%. Direct response's share of podcast revenues dropped from 73% to 52% from 2016 to 2018.
Combined, brand spend represents 48% of 2018 podcast revenues versus direct response at 52%.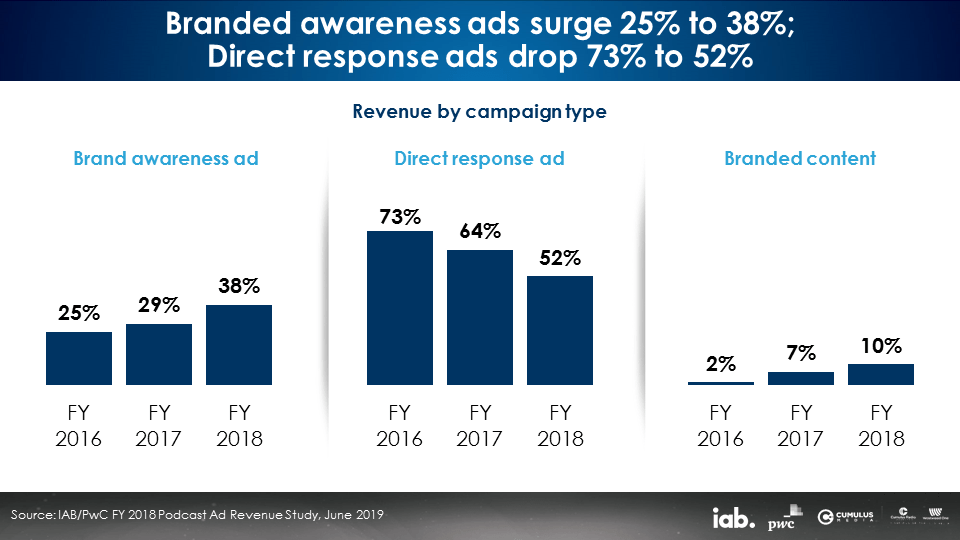 Advertiser Perceptions: Sharp increase in agency/marketer podcast advertisers
For the last five years, Westwood One has commissioned Advertiser Perceptions to conduct an annual study of advertiser/agency consideration and usage of podcast advertising.
Over one out of three advertisers and agencies surveyed by Advertiser Perceptions indicate they are currently advertising in podcasts. The May 2019 study reveals a sharp increase in the proportion of clients in podcast advertising: 32% in 2018 to 39% in 2019.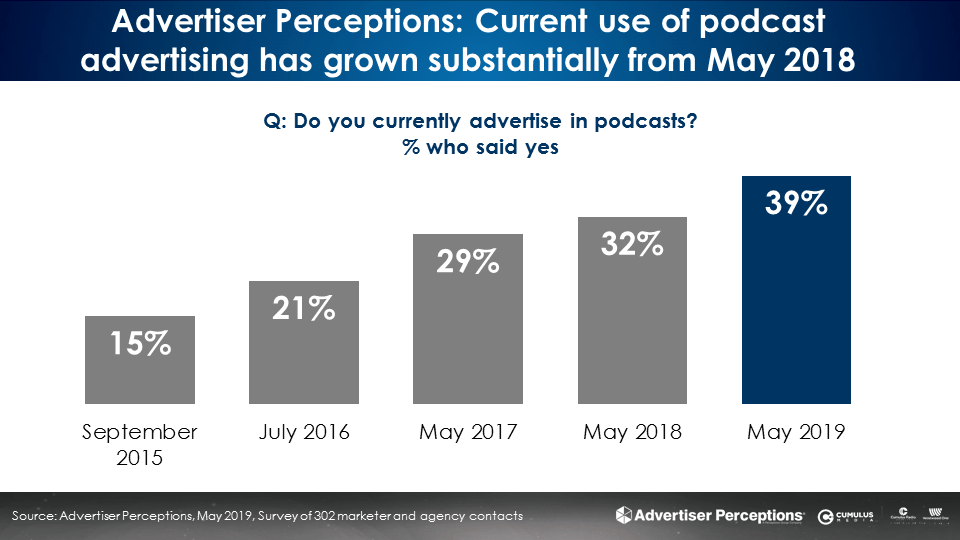 Other takeaways from the IAB/PwC report include:
Podcast transactions happen faster. There are more scatter/quarterly buys and less annuals. 72% of podcast budgets are now placed quarterly or via scatter. Annual buys have dropped from 38% of 2017 spend to 24% in 2018.
Host-read ads continue to be the most utilized ad format. 63% of spend is committed to host read ads. 35% goes to announcer reads or pre-produced ads.
CPM is the dominant pricing method.
57% of spend is on ad lengths of 60 seconds or 90 seconds.
Direct-to-consumer retail, financial services, business-to-business, arts/entertainment, and telecommunications represent nearly 75% of podcast spend, up from 63% in the prior year.
2019 will be the "year of the brands" in podcast advertising
Major brands have made their presence known in podcast advertising. Magellan Audio, the firm tracking advertising occurrences in podcast programming, tallied "brand awareness" advertisers, those who do not use a vanity URL or show-specific promo code in their ad.
The top 15 "brand awareness" advertisers for Q1 2019 include some of the biggest names in advertising.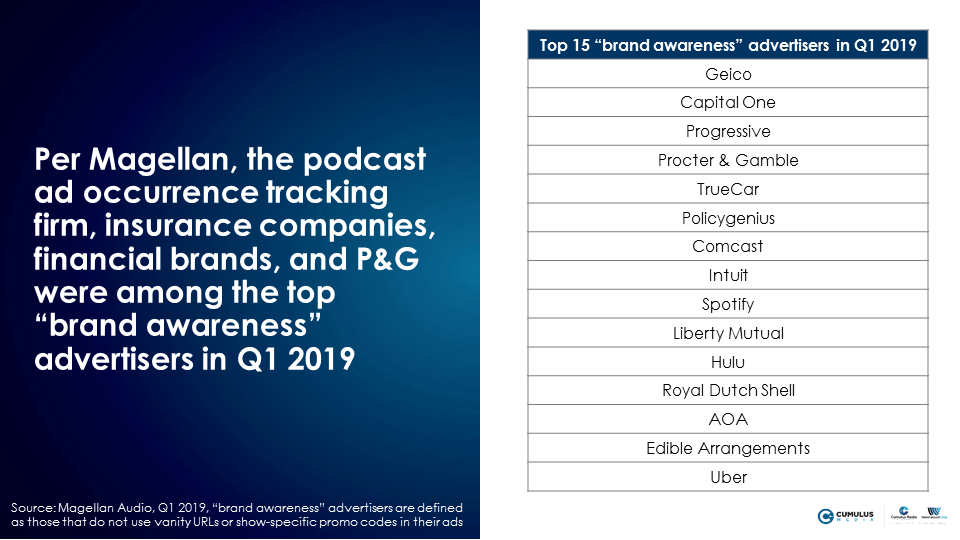 While audience measurement challenges remain, it's clear from those brand awareness advertisers already spending in podcasts that the medium is attracting major players, and for good reason. A MARU/Matchbox study conducted March 2019 finds:
Authenticity and connection to hosts drive increased attention to podcast ads
Podcast ads are least likely to be skipped versus all other digital/traditional media
85% of "Power" podcast listeners, those who listen 5+ hours a week, say they have taken an action after hearing a podcast ad
Given that brand awareness/branded content spend in podcasts is growing at five times the rate of direct response campaigns, 2019 will be the breakout year for podcast brand awareness campaigns.
Suzanne Grimes is EVP, Marketing for CUMULUS MEDIA and President, Westwood One.
Contact the Insights team at CorpMarketing@westwoodone.com.