7 Things Brands Have Completely Wrong About AM/FM Radio
The perception of media audiences is skewed by prevalent myths in the ad community. Duncan Stewart, Director of Research, Technology, Media & Telecommunications at Deloitte, puts it best: "Why do people think that nobody listens to radio anymore? Because there is a narrative that new media kills old media, so nobody bothers to look at evidence that doesn't fit the narrative."
We want to change that narrative. Using data from research leaders Nielsen, Edison Research, and The Advertising Research Foundation, we disprove 7 of the biggest things brands have completely wrong about AM/FM radio.
Here are the facts that disprove the myths:
Myth #1: "AM/FM radio has very low reach." A study by Advertiser Perceptions, the gold standard of agency and advertiser sentiment, found AM/FM radio's weekly reach is perceived to be 57%. A massive miss. In reality, 92% of all Americans are reached by AM/FM radio on a weekly basis, according to Nielsen.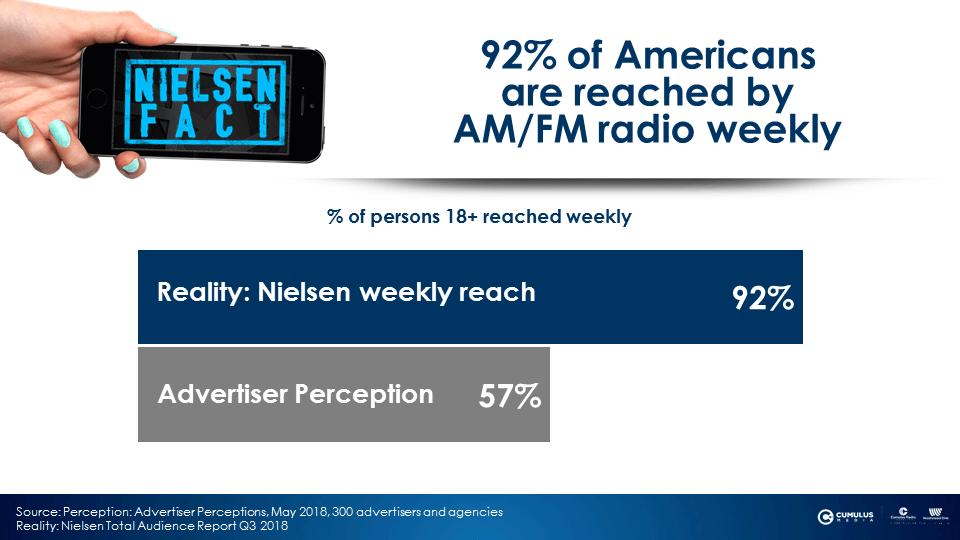 Myth #2: "If you want mass reach with Millennials, go with television." Even among younger Americans, AM/FM radio is the number one mass reach medium. Per Nielsen, 91% of Millennials are reached weekly, putting it well above television's 73%.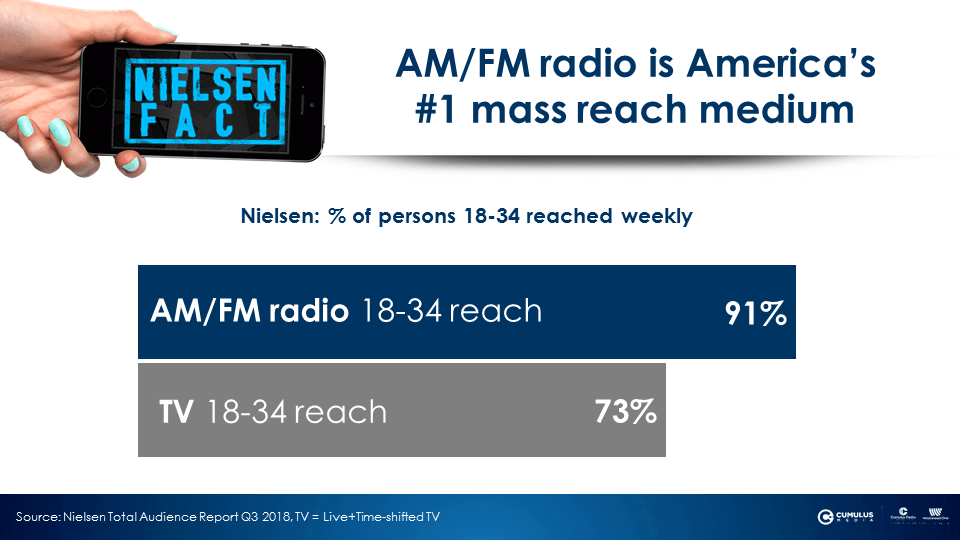 Myth #3: "Audience shares to Pandora/Spotify are nearly equal to AM/FM radio." Marketers and agencies told Advertiser Perceptions they feel audience shares of AM/FM radio are pretty similar to Pandora and Spotify. The buzz is wrong. The share of time spent listening to AM/FM radio dominates the two streaming audio services. Edison Research reports AM/FM radio is 11 times larger than ad-supported Pandora and twenty-three times that of ad-supported Spotify.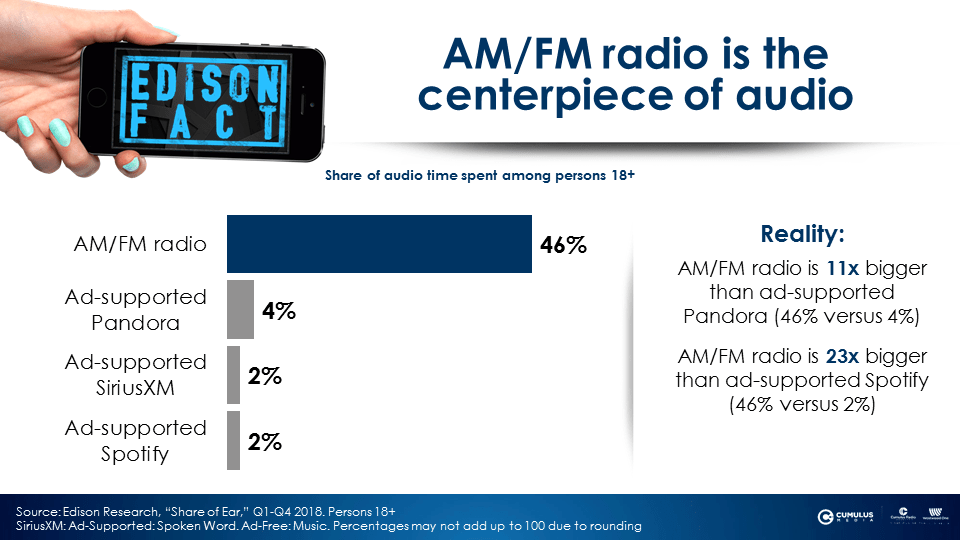 Myth #4: "In the world of the connected car, the number one thing people do is stream online radio on their smartphones." AM/FM radio still rules the road. A massive 66% of all time spent with audio in the car goes to AM/FM radio. Among ad-supported audio, AM/FM radio has an 89% share of time spent.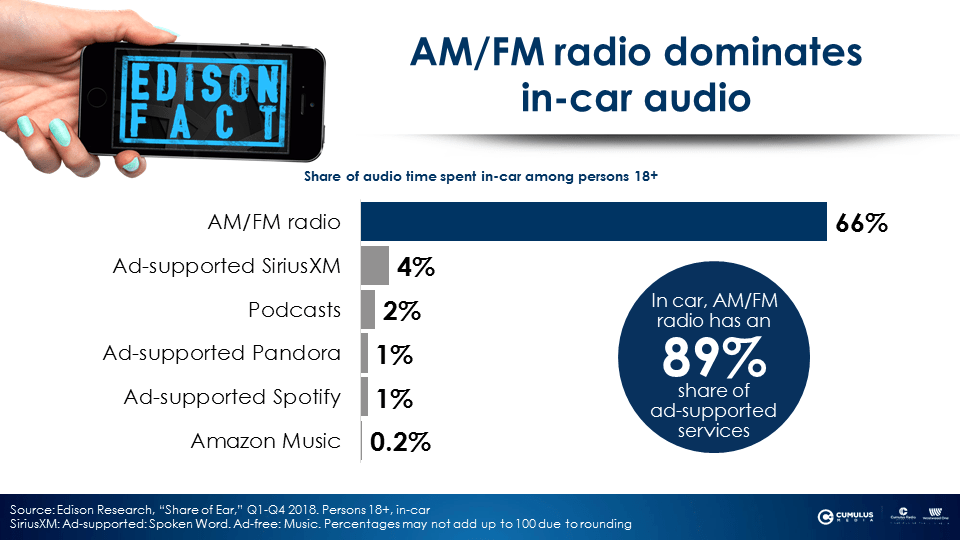 Myth #5: "No one under 35 listens to AM/FM radio anymore." 66.6 million Millennials say otherwise. Nielsen reports more persons 18-34 listen to AM/FM radio than any other generation.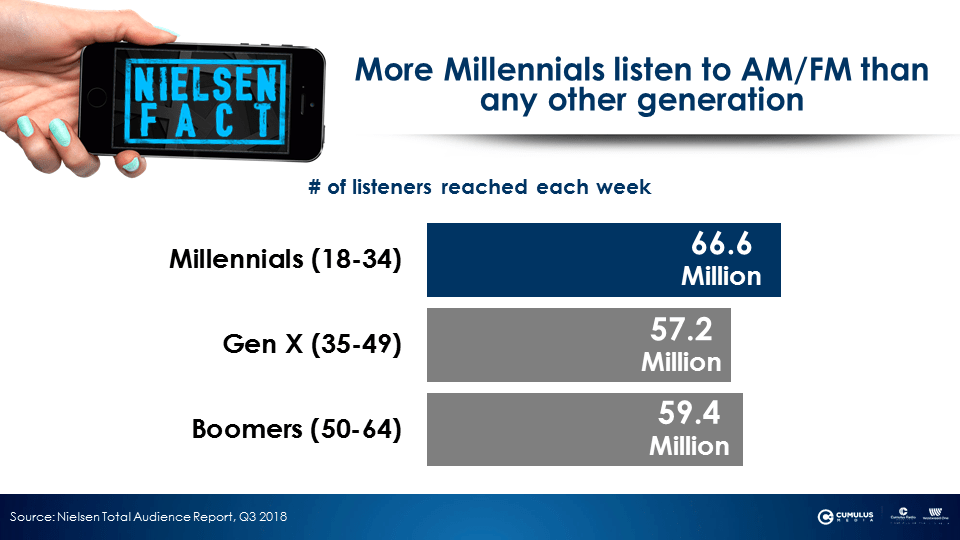 Myth #6: "6 out of 10 agencies/marketers believe radio listening is dropping." Actually, according to Nielsen Audio, from as far back as 2008, AM/FM radio listeners have grown from 239 million in 2008 to 250 million in 2018.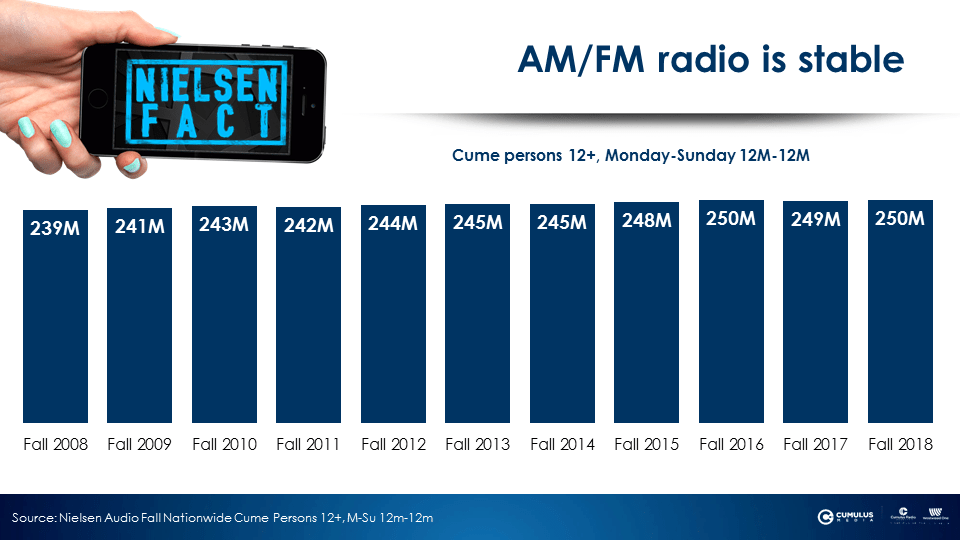 Myth #7: "Today's optimal media plan: put all your money into mobile and social." Traditional media still has a vital role in the media mix. The Advertising Research Foundation advises only 22% to 29% of the plan be allocated to digital. Even among Millennials, the Advertising Research Foundation advises 71% for traditional media like AM/FM radio.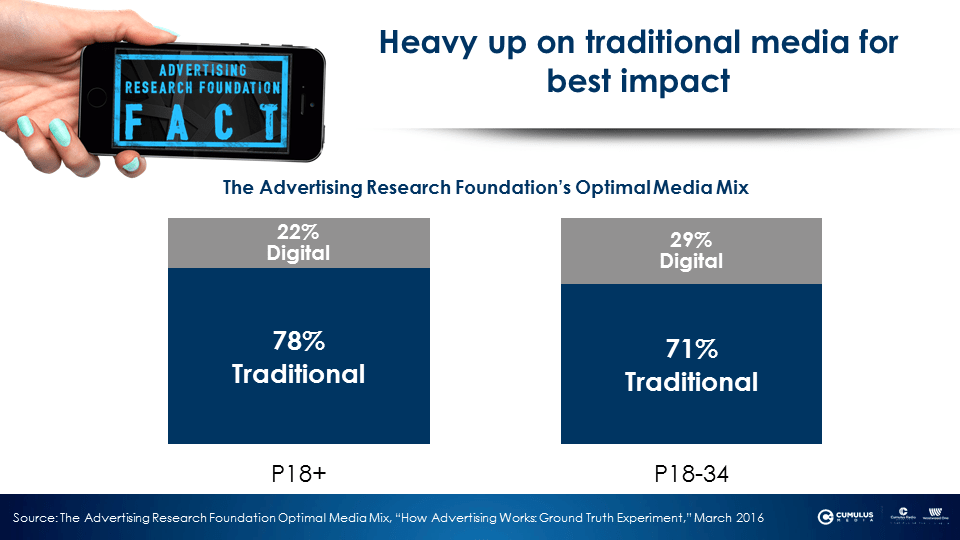 The prevailing narrative is wrong. Know the realities:
AM/FM radio reaches 92% of Americans weekly
Even among Millennials, AM/FM radio dominates reaching 91% of persons 18-34 weekly versus television's 73%
AM/FM audience shares are 11X larger than ad-supported Pandora and 23X bigger than ad-supported Spotify
AM/FM radio dominates in-car listening with a 66% share of time spent and an 89% share of time spent with ad-supported audio

More Millennials listen to AM/FM radio weekly than any other generation
From 2008 to 2018, AM/FM radio listening has remained steady
The optimal media mix is 78% for traditional media and only 22% for digital for persons 18+
Lauren Vetrano is Director of Content Marketing at CUMULUS MEDIA | Westwood One.
Contact the Insights team at CorpMarketing@westwoodone.com.