NCAA Basketball On Westwood One: Delivering Massive Reach, Upscale Fans, And Making TV Investments Better
March Madness is nearing its end with the culmination of the Final Four tournament fast approaching. As one of America's most popular sporting events, nothing evokes passion like NCAA Basketball and this weekend's tournament is sure to captivate rabid college hoops fans and casual followers alike.
For March Madness fans looking to follow every minute of the games, Westwood One is the destination. As the exclusive audio home of NCAA Basketball and March Madness, Westwood One answers the call by delivering live coverage of the action.
Here's why NCAA Basketball on Westwood One is such an important cultural event for advertisers to wrap their brands around: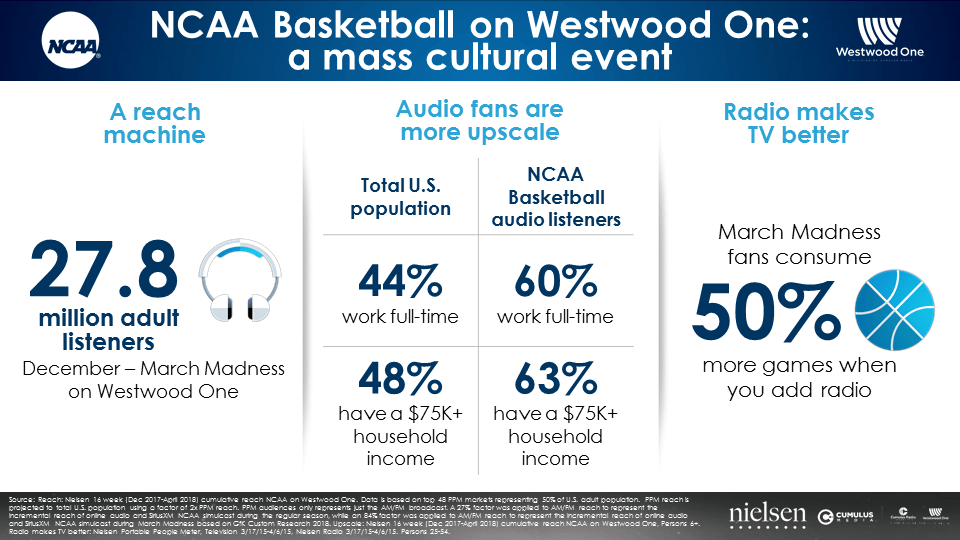 Westwood One's NCAA Basketball coverage is a 28 million person reach machine: From the first tip-off to the excitement of the Final Four, NCAA Basketball on Westwood One builds reach by bringing in new listeners each week. Throughout the regular season, the reach of Westwood One's NCAA Basketball broadcasts grows by five times. During March Madness, reach grows by +36% between the first and second rounds and the championship game. Advertising throughout the season gives brands the opportunity to achieve a massive reach of 28 million consumers.
NCAA Basketball audio fans are more upscale: Compared to the total U.S. population, the NCAA Basketball audience skews much more upscale and employed. This mirrors the findings of Nielsen's analysis of our NFL audiences as well. AM/FM radio play-by-play appeals to the busy, employed, upscale consumer.
NCAA Basketball on the radio makes NCAA TV investments better: Not only does Westwood One's NCAA Basketball coverage add incremental reach, but the addition of the audio platform amplifies frequency. Frequency is double among the light NCAA Basketball TV viewer, +53% increase among medium NCAA Basketball viewers and a +32% increase among heavy NCAA Basketball TV viewers. Since the NCAA Basketball audio audience is more engaged and paying more attention away-from-home, it's not surprising that Nielsen finds audio makes the entire media plan work harder.
Whether at home, at work, or in the car, Westwood One's NCAA Basketball audio coverage is a powerful tool for brands to reach this desirable group of engaged fans.
Be sure to visit WestwoodOneSports.com to follow our extensive coverage of the tournament.
Pierre Bouvard is Chief Insights Officer at CUMULUS MEDIA | Westwood One.
Contact the Insights team at CorpMarketing@westwoodone.com.