AM/FM Radio Makes Your TV Better: Westwood One Adds Nielsen Media Impact Media Planning Tool To Its ROI Guarantee Audio Insights Platform
Westwood One has selected the Nielsen Media Impact cross-platform media planning and optimization platform to transform how we position AM/FM radio to national advertisers.
Nielsen Media Impact is a new product offering in our groundbreaking Westwood One ROI Guarantee audio insights platform that can show a national brand the current performance of their television campaign and then demonstrate the impact of adding AM/FM radio.
In 2018, Nielsen enhanced Nielsen Media Impact, the industry-leading cross-platform media planning solution, to include national AM/FM radio and Portable People Meter radio markets. Nielsen's national AM/FM radio data within Nielsen Media Impact allows buyers and sellers to understand the value of AM/FM radio as a medium at the national level, as well as the incremental reach achieved by including national AM/FM radio in the media mix. With the national version of Nielsen Media Impact, clients can plan and optimize media allocation and compare total AM/FM radio, formats, and AM/FM radio owner groups with other national media (including TV, digital, print, cinema and digital place-based media) in advanced audience segments.
"With Nielsen Media Impact, we can show our advertising partners the effect on overall campaign reach and frequency when money is moved between media," said Suzanne Grimes, EVP, Marketing, CUMULUS MEDIA and President, Westwood One. "Advertisers will be able to access this tool through the groundbreaking Westwood One ROI Guarantee audio insights platform. It's a new dimension in making media investments work smarter for marketers using radio, podcasting, and streaming to drive ROI. We welcome the opportunity to demonstrate the power of adding audio to a media plan, giving agencies and brands the information they need to understand the true value of our medium in driving sales."
"We are pleased to welcome Westwood One as a subscriber for Nielsen National Media Impact," said Brad Kelly, Managing Director, Nielsen Audio. "With NMI we now have a much clearer understanding of how radio and TV complement, supplement, and amplify one another. Westwood One is well positioned to make the most of this extraordinary new tool and shine a bright spotlight on how AM/FM radio can deliver more consumers that advertisers seek."
Here's a first look at Nielsen Media Impact in action:
Movie launch: Shifting 20% of the TV budget to AM/FM radio adds +70% incremental campaign reach
Here's an actual movie launch campaign from last summer. In June 2018, a movie studio spent $5.6 million dollars on network television and achieved a 43% reach of adults18-49.
Shifting just 20% of the TV budget to AM/FM radio results in a lift of 18-49 campaign reach from 43% to 73%. Adding AM//FM radio to the movie launch media plan generates an astonishing +70% increase in campaign reach.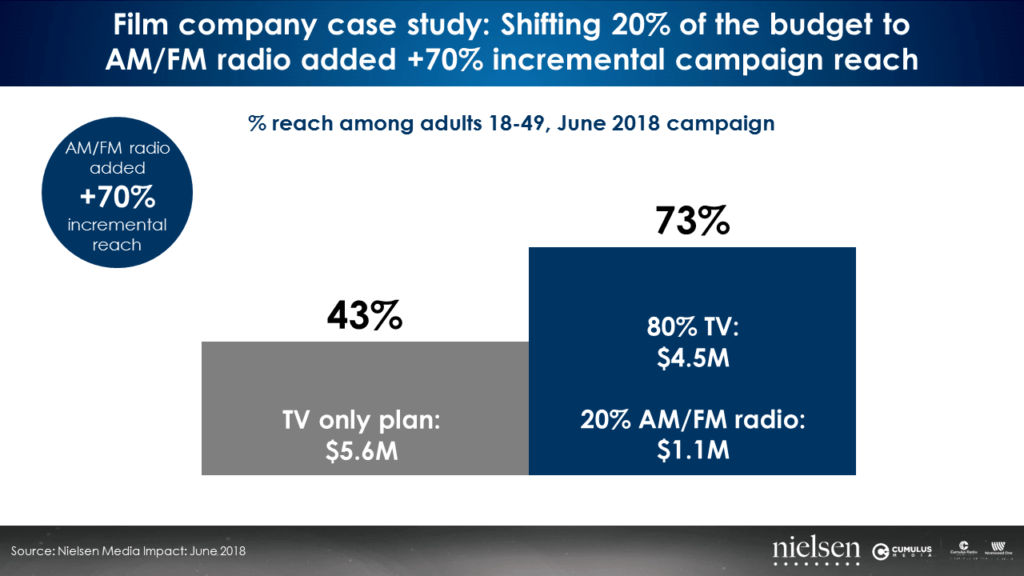 Pharmaceutical brand: Moving 20% of a massive TV budget to AM/FM radio causes a +22% lift in campaign reach
Pharma brands are heavy users of TV. No wonder, as television does a fantastic job of delivering lots of older Americans. A blockbuster pharma brand spent $24 million dollars in one month (August 2018) on network television.
That investment yielded a strong 77% reach of the adult 35+ demographic. With such a big TV budget and such impressive reach is it even possible that the addition of AM/FM radio could generate any incremental reach?
The answer is yes.
A reallocation of 20% of the TV budget into AM/FM radio causes reach to jump from 77% of adults 35+ to 94%! That's a +22% increase in reach for the same budget!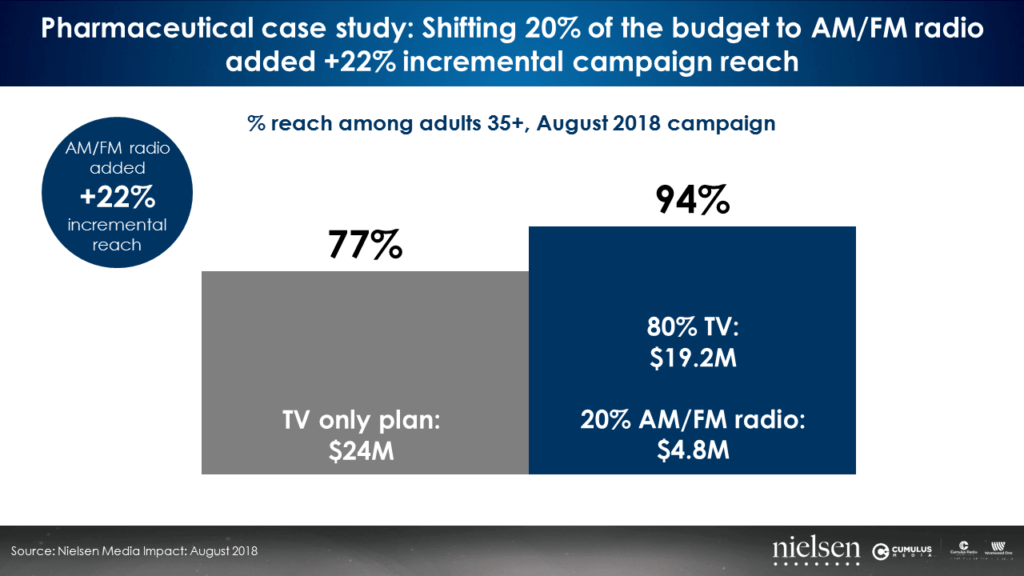 Home furnishings online retailer: Adding AM/FM radio to the media plan lifts campaign reach by a stunning +59%
Direct-to-consumer brands are a hot new advertiser category. Shunning brick and mortar stores, direct-to-consumer advertisers only sell via their websites.
As direct-to-consumer brands seek growth, they have found only using digital does not build a brand nor cause significant sales growth. According to Kantar and a MARU/Matchbox analysis of direct-to-consumer brand awareness, the most well-known direct-to-consumer brands are advertising on television. To really jump-start sales, these smart direct-to-consumer brands are using television to establish themselves. The only way to build a brand is using mass reach media like television.
This direct-to-consumer home furnishing online retailer spent $7.4 million dollars on television in September 2018. Their TV investment achieved a 51% reach of their target demographic of women 25-54.
Can AM/FM radio make the TV better? Of course!
A 20% reallocation of the TV budget to AM/FM radio generates a +59% lift in incremental reach. The addition of AM/FM radio causes reach among women 25-54 to increase from 51% to 81%.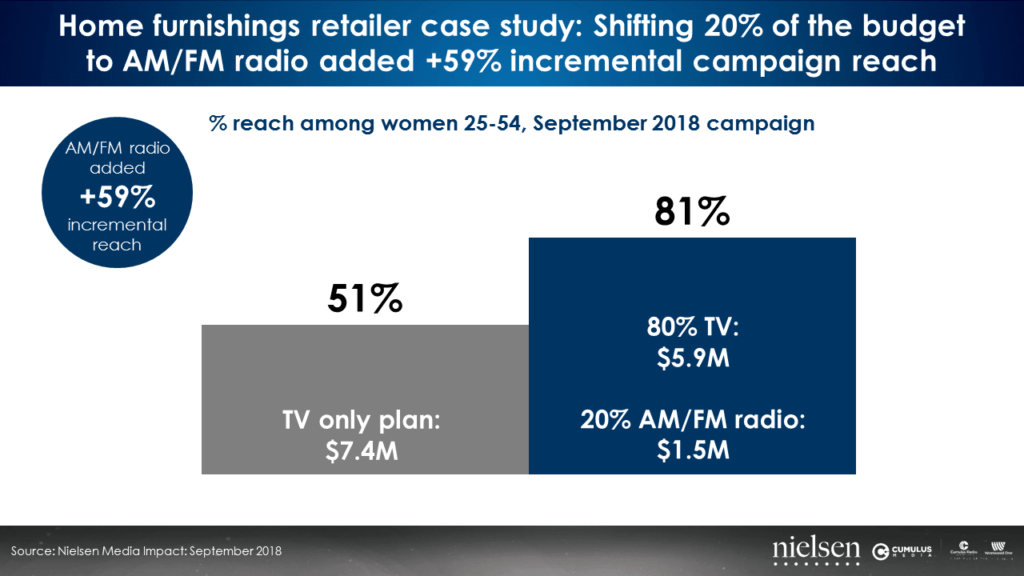 These are just three examples. We've seen similar findings for an online hotel search site, a luxury car maker, a men's razor brand, and a quick service restaurant. In each case, a modest addition of AM/FM radio to the TV media plan causes a significant increase in campaign reach.
Remind the many, don't lecture the few
According to a study by Nielsen evaluating hundreds of advertising return on investment studies, the number one media factor that lifts sales is campaign reach. Not targeting. Not frequency.
The new marketing account strategy book How Not To Plan: 66 Ways to Screw It Up from Les Binet and Sarah Carter offers these recommendations:
"Always aim to get more customers from all segments of the market. It's the main way brands grow.
Talk to everyone who buys your category. Talk to them regularly. Advertising memories fade.
Go for reach, rather than frequency. Reach as many category buyers as possible.
Don't target too narrowly. It may be efficient, but it's rarely effective. Tight targeting means low sales and profits."
Erwin Ephron is the father of modern media planning. When speaking of AM/FM radio reach, Ephron said, "In today's planning, reach trumps frequency. It is media's gift to advertising and … Radio … can deliver it by the carload."
The addition of Nielsen's AM/FM radio currency audience data to the Nielsen Media Impact planning platform is a watershed moment for the AM/FM radio industry. AM/FM radio can now definitively prove its ability to supplement and complement television investments.
Brands are looking for strategies to fortify and enhance their TV plans. As America's number one mass reach media, we can now demonstrate the incremental impact of adding AM/FM radio to a media plan. AM/FM radio makes your TV better – and we now have proof via the gold standard of Nielsen total audience measurement.
Pierre Bouvard is Chief Insights Officer at CUMULUS MEDIA | Westwood One.
Contact the Insights team at CorpMarketing@westwoodone.com.