The Super Bowl On Westwood One Delivers A Massive Audience Of Affluent On-The-Go Listeners
Super Bowl Sunday is a day of big spending, big parties, and big listening. As this Sunday's kickoff approaches, Americans are getting ready for one of the most exciting sporting events of the year.
A hugely popular way to follow the action is listening to AM/FM radio. Millions of Americans will be tuning in to Westwood One to hear every play of the biggest football game of the year. These fans are a desirable demographic for advertisers. Here's why: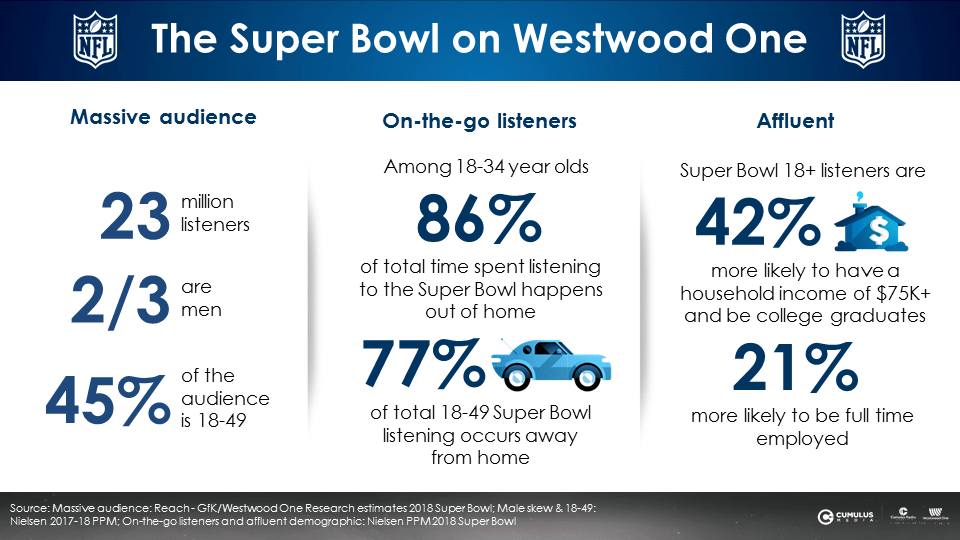 Massive audience: According to GfK estimates from the 2018 Super Bowl, Westwood One's broadcast has huge reach, attracting 23 million listeners. Two-thirds of them are male. They're also young, as 45% of the entire Super Bowl audience on Westwood One is 18-49.
On-the-go-listeners: Super Bowl fans, especially Millennials, are on the move. Among adults 18-34 year olds, 86% of total time spent listening occurs out of home, according to Nielsen. Among adults 18-49, 77% of listening occurs on-the-go. That means advertisers have a huge opportunity to reach this audience when they are in the car where, according to Edison Research, 86% ad-supported time spent is with AM/FM radio.
Affluent: This is an upscale audience. Super Bowl 18+ listeners are 42% more likely to have a household income of $75K+ annually and be college graduates. They're also 21% more likely to be full time employed. With a high income and high rate of employment, Super Bowl listeners represent a group of fans who are ready and able to spend.
As the exclusive national radio partner of the NFL, Westwood One is the listening destination for the massive audience of desirable consumers looking for the best Super Bowl coverage.
Be sure to visit WestwoodOneSports.com to follow our extensive coverage of Super Bowl LIII.
Pierre Bouvard is Chief Insights Officer at CUMULUS MEDIA | Westwood One.
Contact the Insights team at CorpMarketing@westwoodone.com.