Westwood One Signs On To The Nielsen Auto Cloud As The Next Major Product Launch Within the Industry-Leading Westwood One ROI Guarantee
Westwood One has selected the Nielsen Auto Cloud fueled by J.D. Power to transform our auto marketing and measurement capabilities. The Nielsen Auto Cloud is a new product offering in our groundbreaking Westwood One ROI Guarantee audio insights platform. Through this partnership, auto marketers can now target car buyers across radio, streaming audio, and podcast media using the most recent, detailed and accurate car purchase data available. The Nielsen Auto Cloud — launched earlier this year — is helping auto brands and their agency and media partners improve marketing performance at every stage in the auto path to purchase.
With the Nielsen Auto Cloud, Westwood One will offer auto clients actionable insights including car shopping behavior, make, model and feature preferences, lease expiration, brand affinities, as well as media engagement and geo-location. This fundamental enhancement helps auto marketers improve auto marketing outcomes across their brand building, purchase intent and sales metrics.
"We're the first mass reach media company to sign on to the Nielsen Auto Cloud as the next major product launch within our industry-leading Westwood One ROI Guarantee audio insights platform," said Suzanne Grimes, EVP, Corporate Marketing, CUMULUS MEDIA and President, Westwood One. "Westwood One can now match AM/FM radio, streaming, and podcast audience insights from our 245 million weekly listeners with J.D. Power's car shopping and auto ownership data."
"We are thrilled that Westwood One and Panoply chose the Nielsen Auto Cloud to make data-driven, outcomes-based auto marketing in audio a reality," said Damian Garbaccio, EVP, Nielsen. "Their auto clients can now take full advantage of each audio channel in a way that better serves the car buying journey. From mass-brand building with over-the-air radio to more targeted customer acquisition in podcasts and streaming, the Nielsen Auto Cloud helps marketers quickly adapt to changes in car shopping behavior and improve sales results."
Here's a first look at Nielsen Auto Cloud insights.
What radio programming format indexes highest for pickup truck ownership? Which format is number two? Country radio stations have the number one index for pickup trucks. Number two? Sports radio. Surprised?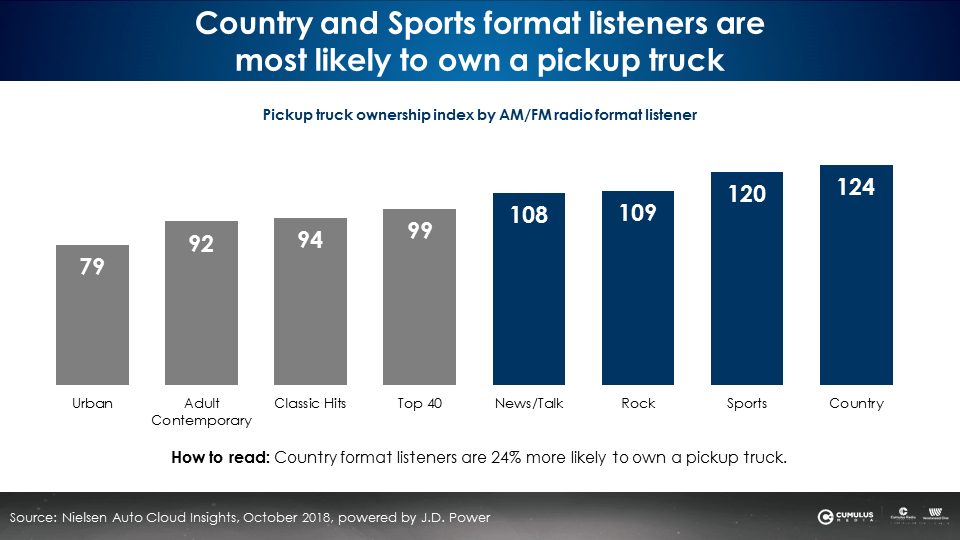 Sports radio listeners show strong ownership of luxury auto brands. J.D. Power finds brands with strong auto ownership propensity among sports radio listeners include Infiniti, Land Rover, Acura, Lexus, Audi, Mercedes-Benz, and BMW.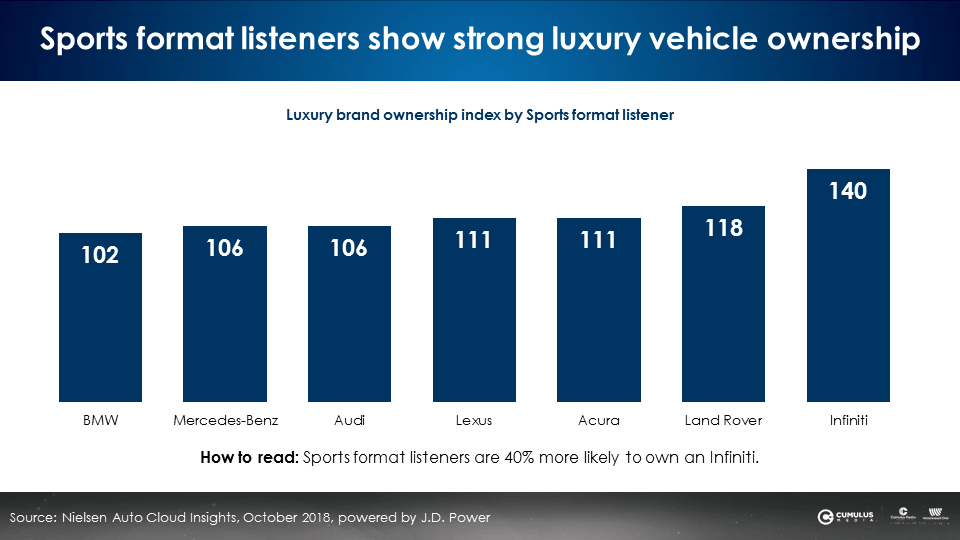 Big auto sticker price consumers are more likely to be found listening to spoken word stations. Nielsen Auto Cloud powered by J.D. Power finds autos priced from $35,000 to over $85,000 have strong indices among News/Talk and Sports formatted radio stations.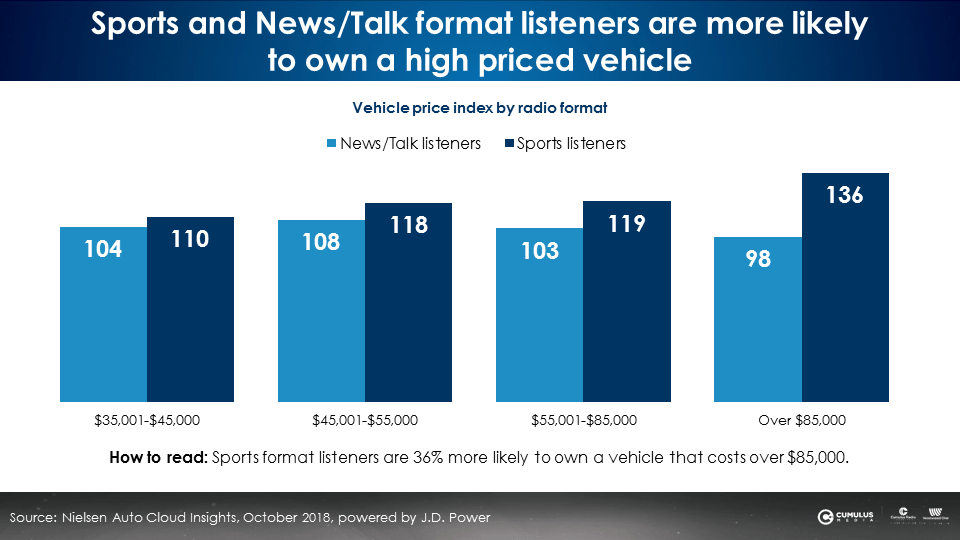 Urban format listeners are more likely to own a sedan. While J.D. Power reports Americans are buying fewer cars in favor of SUVs and trucks, Urban format listeners are 27% more likely to own a sedan.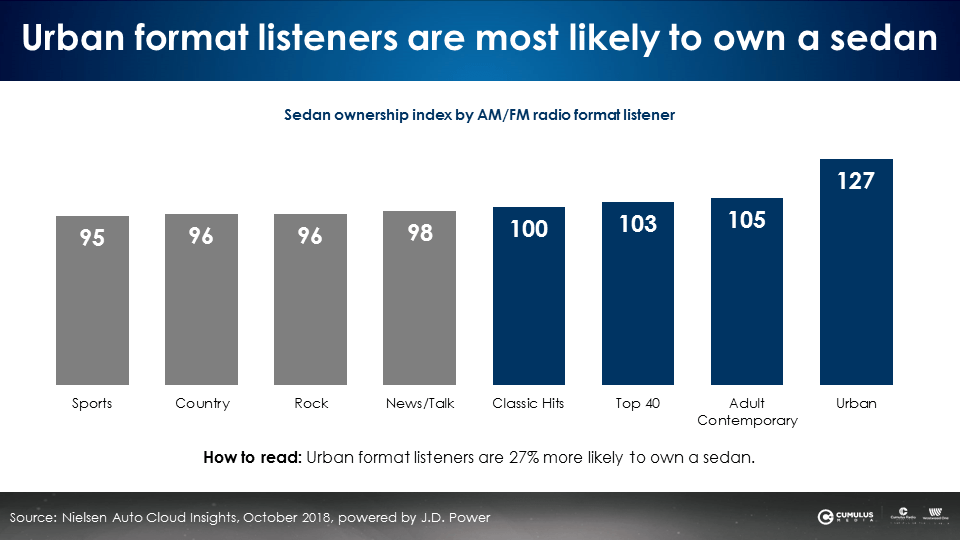 Welcome to the new age of "Mass Targeting"
The sky is the limit on being able to connect radio listening to America's auto shopping and path to purchase.
We saw this slide recently at a conference. It is a perfect representation of the marriage of purchase targeting and radio.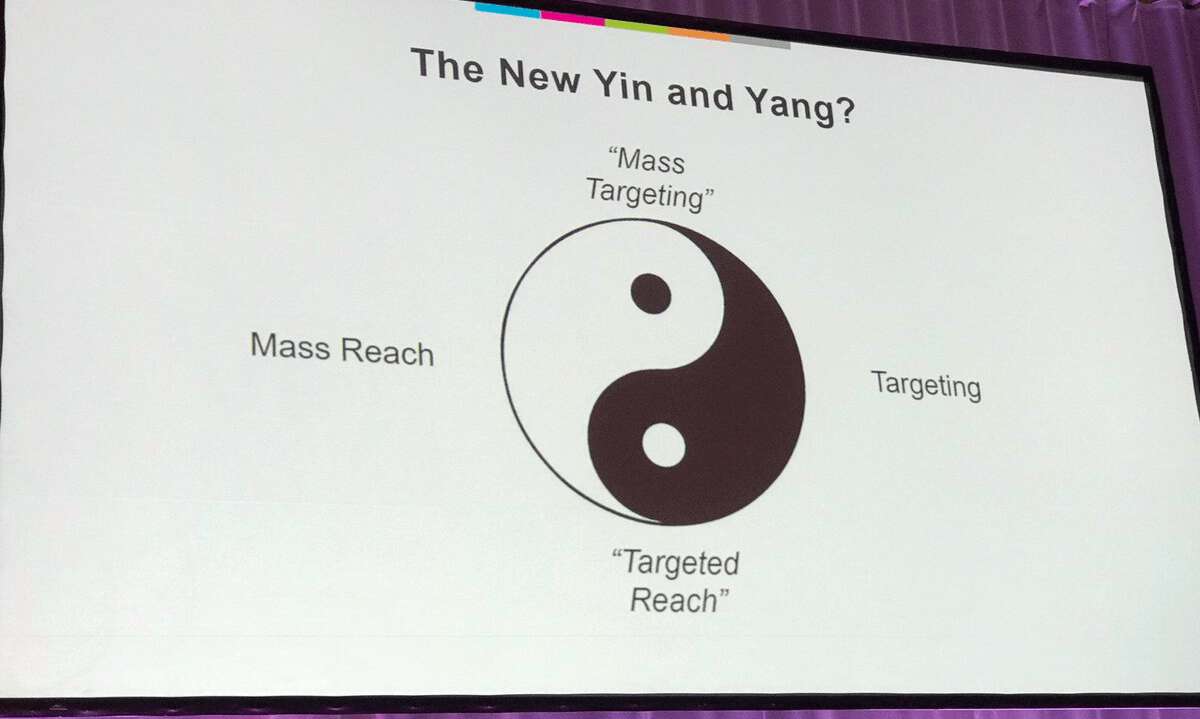 Westwood One can now bring advertisers the power of targeting via auto purchase data with the stunning #1 mass reach of American AM/FM radio, along with audio streaming and podcasting.
Suzanne Grimes, EVP, Corporate Marketing, CUMULUS MEDIA and President, Westwood One concludes, "With Nielsen Auto Cloud we can create a powerful roadmap for Tier One auto to reach the right consumer at the top of the purchase funnel. This targeting at scale makes AM/FM radio a powerful advertising environment to build auto brands and drive unaided awareness."
Click here to read coverage of this story on Adweek.com
Pierre Bouvard is Chief Insights Officer at CUMULUS MEDIA | Westwood One.
Contact the Insights team at CorpMarketing@westwoodone.com.