A Simple Math Equation Can Predict If Sales Grow, Fall, Or Remain Stable
"I'm advertising but revenues are flat. Why aren't sales growing?" This is a question that haunts every advertiser.
Fortunately there is a tool that sheds some light on this problem. It's a simple formula that predicts sales growth found in a new book from the world's leading authorities on marketing effectiveness.
Les Binet and Peter Field: how marketing drives sales and profits
Les Binet, Head of Effectiveness at adam&eveDDB, and Peter Field, Marketing Consultant, studied the world's largest database of marketing case studies for their new book Media in Focus: Marketing Effectiveness in the Digital Era.
The book is published by London-based IPA, the Institute of Practitioners in Advertising. The IPA maintains a databank of over 1,200 case studies submitted to their Effectiveness Awards Competition. Covering a broad spectrum of marketing categories and budgets, they "represent the most rigorous proofs of the effectiveness of marketing communications in the world."
Binet and Field books on marketing effectiveness are highly respected. Adam Morgan, founder of marketing consultancy eatbigfish, says, "Simply put, it is one of the most important books ever written about marketing. It should be the foundation of knowledge and practice for everyone working in marketing and communications. Without exception."
Keith Weed, Chief Marketing and Communications Officer at Unilever, states, "Les and Peter have made a huge contribution to our understanding of how marketing drives growth and profit for brands."
Share of voice: ad budgets as a percentage of category ad spend
To understand brand or business growth trajectory, first determine "share of voice."
Share of voice is the ad spend divided by category ad spend. Say a furniture store spends $500,000 dollars a year on advertising in a town where there is $5 million dollars of furniture advertising.
Divide the store ad spend over category spend to determine share of voice. $500,000 divided by $5,000,000 equals a 10% share of voice. In essence, the furniture store represents 10% of furniture store advertising impressions in the market.
Share of market: revenues as a percentage of category revenues
Market share is a brand or retail's revenue divided by category sales.
For example, a furniture store generates $10 million dollars in sales in a town where there is $100 million dollars of total furniture sales. Divide the sales over total category sales to determine the market share.
$10 million divided by $100 million equals a 10% share of category spend. The store gets a ten share of furniture sales in the market.
Compare share of voice to share of sales
This simple chart from Binet and Field gives a sense of the future growth of a business or brand.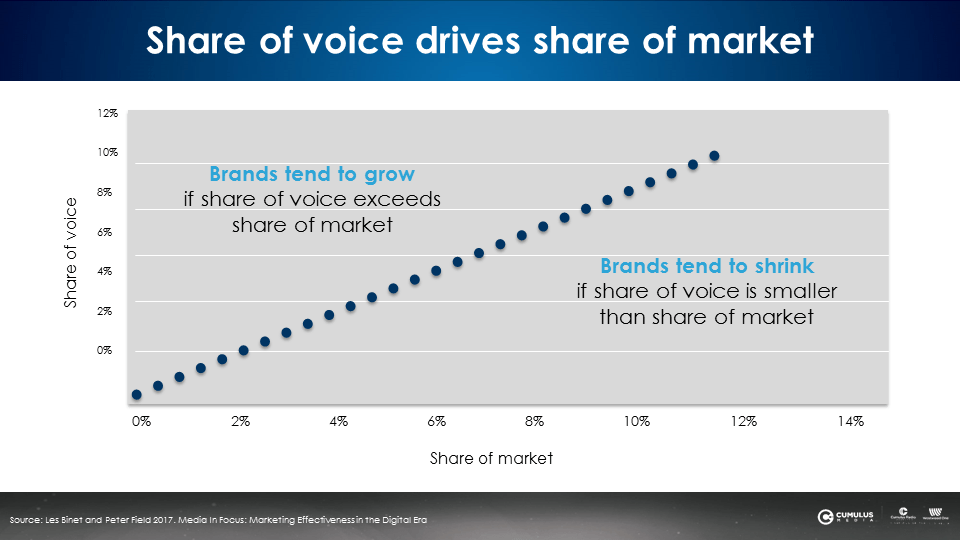 If share of voice exceeds share of market, sales tend to grow.
If share of voice is similar to share of market, sales tend to be stable.
If share of voice is smaller than share of market, sales tend to shrink.
Sales are flat because share of voice matches market share
It's frustrating when sales are flat despite advertising. But growth depends on the relationship of an ad budget to what's happening with ad spending in the category.
If share of spending equals market share, business will generally be stable but not achieve the growth. Businesses that grow have an advertising share of voice that's bigger than their market share.
Take GEICO. Warren Buffett bought the then-obscure insurance company in 1996 and encouraged them to advertise. The beloved gecko made its first appearance in 1999.
Did GEICO's share of voice exceed their market share? You bet. That's how they went from the 32nd insurance company to one of America's largest.
Growth requires a long-term view that avoids "short-termism"
As business owners and brand leaders, we make seemingly prudent marketing decisions: "Sales are soft, so let's cut ad spend." "Sales are amazing, so let's cut spend since we're doing fine." "We don't have the creative set yet so let's hold off on media spending."
Each of these short-term decisions appears logical, but they chip away at share of voice. Long term, this causes sales to shrink.
Advertise to build a brand and impact future purchases
It's enticing to look for cause and effect relationships in the short term. We try to connect today's ads to next week's sales.
Sure, a good ad about a sale this week can generate short-term revenue, but most buyers are not in the market. Many buyers don't have brand or store awareness. Brands have to become known to be bought.
Tom Goodwin, EVP Innovation at Zenith Media USA, says the role of advertising is twofold: "First, making sure the product is top of mind and that awareness is high; second, that the brand is liked and understood."
Erwin Ephron, the father of modern media planning, concludes, "Most advertising usually works by reminding people about brands they know, when they happen to need that product. Ads work best when the consumer is ready to buy. Reminding a lot of consumers is better than lecturing a few."
Les Binet and Peter Field's research backs up these claims. To achieve future sales growth, brands should have the courage to advertise at a level that exceeds their current market share.
Pierre Bouvard is Chief Insights Officer at CUMULUS MEDIA | Westwood One.
Contact the Insights team at CorpMarketing@westwoodone.com.