The K-pop Invasion: A Look At America's New, Young, Audio-Centric Audience
One of the pivotal moments in popular music history was known as the "British Invasion," when groups like the Beatles, the Rolling Stones, and Herman's Hermits captivated young people during the mid-1960s. Today, the musical invasion is coming from Asia, as teens and young adults alike are discovering the sounds of Korean Pop, or "K-pop", for short.
Recognizing this trend, Westwood One Podcast Network recently launched "Stokes & Friends – KPOP with T.H.I.S (The Hottest International Stars)." The weekly podcast features award-winning recording artist Stokes Nielson and his famous friends getting up close and personal with the biggest K-pop stars.
The first seven shows each feature one member of the wildly-popular South Korean boy band BTS, also known as the Bangtan Boys. During last week's Billboard Music Awards, BTS took home the award for Top Social Artist, beating established pop music icons like Justin Bieber, Ariana Grande, Demi Lovato, and Shawn Mendes. BTS also performed their new single "Fake Love" during the Billboard Music Awards broadcast, marking the first ever performance on the show from a Korean act. In another major milestone for the group, the New York Times reports that in a first for the K-pop genre, the new BTS album "Love Yourself: Tear" has "opened at No. 1 on the Billboard album chart."

BTS is supported by a strong legion of fans called the BTS Army, who are very active on social media. For example, check out this tweet about BTS from Westwood One Backstage at the American Music Awards, which generated over 11 million impressions.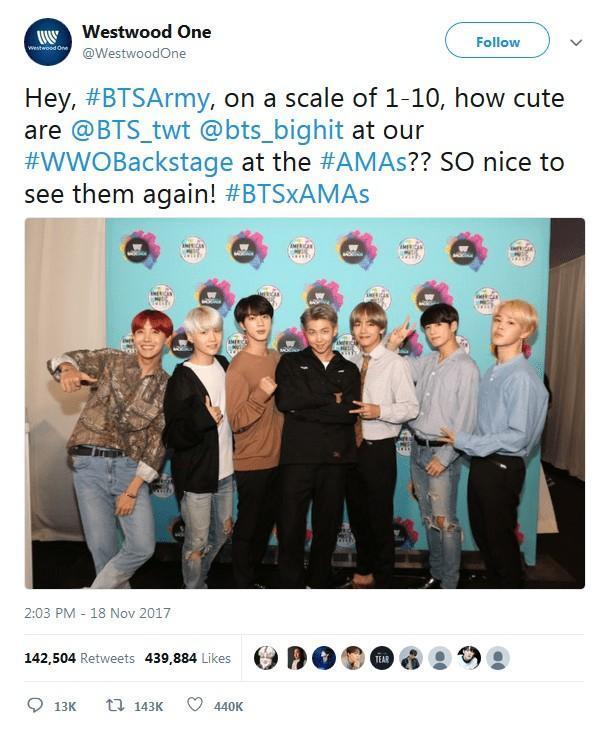 Backstage at that show, the group also recorded a video interview with Westwood One's Zach Sang Show that went viral.
Similarly, a recent BTS Westwood One tweet during the 2018 Billboard Music Awards has generated over 1.4 million social impressions to date thanks to the BTS Army.
This pattern of social engagement left us wondering — just how big is the K-pop trend? Westwood One commissioned a study to look at the power of K-pop as well as the consumption of podcasts among its fans. Here's what we found:
Awareness of K-pop spans generations
Nationwide, nearly 2 out of 3 (63%) people between 13 and 49 have heard of the terms "K-pop" or "Korean Pop." While awareness was highest among Gen Z (teens 13-17) and Millennials (Adults 18-34), nearly half of all Gen Xers (adults 35-49) are aware of K-pop, showing that this body of music is making an impact across all ages.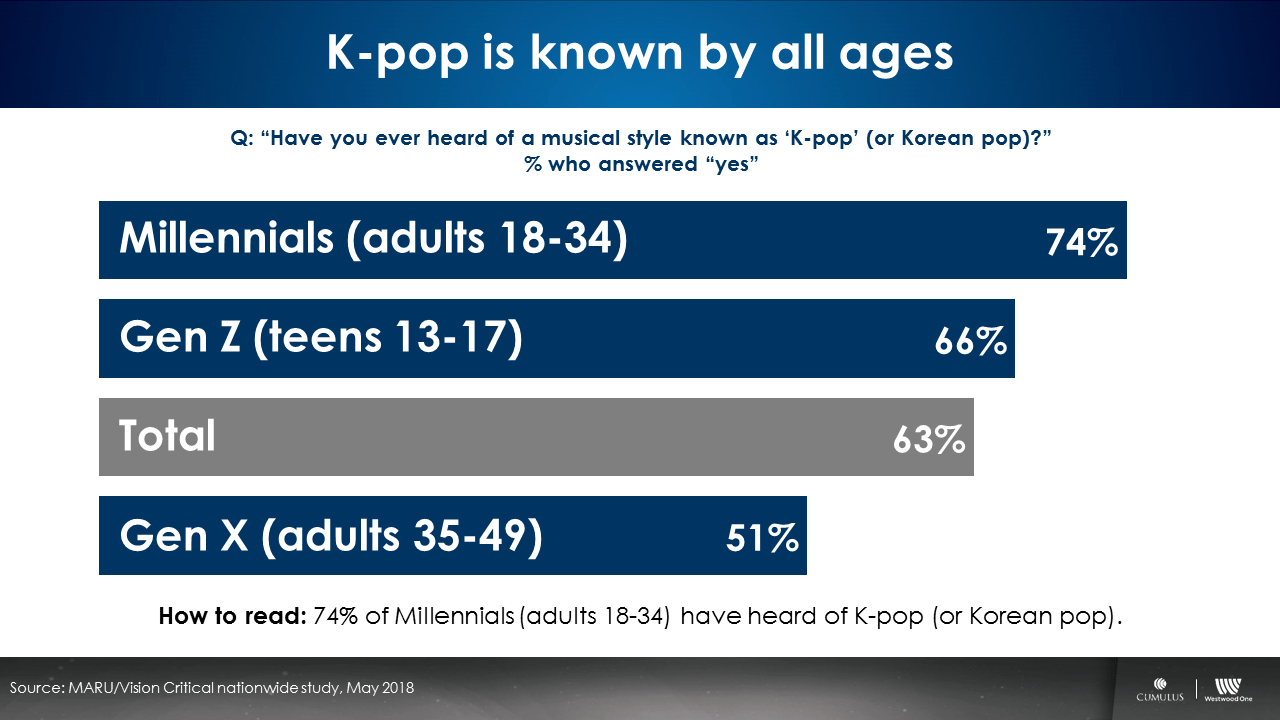 K-pop listeners are young and diverse
While 9% of people between the ages of 13 and 49 listen to K-pop frequently, Gen Z listeners are nearly twice as likely to be frequent listeners. K-pop is also attracting a broad coalition of listeners – while three-quarters of K-pop frequent listeners identify as white (non-Hispanic), the rest of the K-pop audience is split evenly between African Americans, Hispanics, and Asians.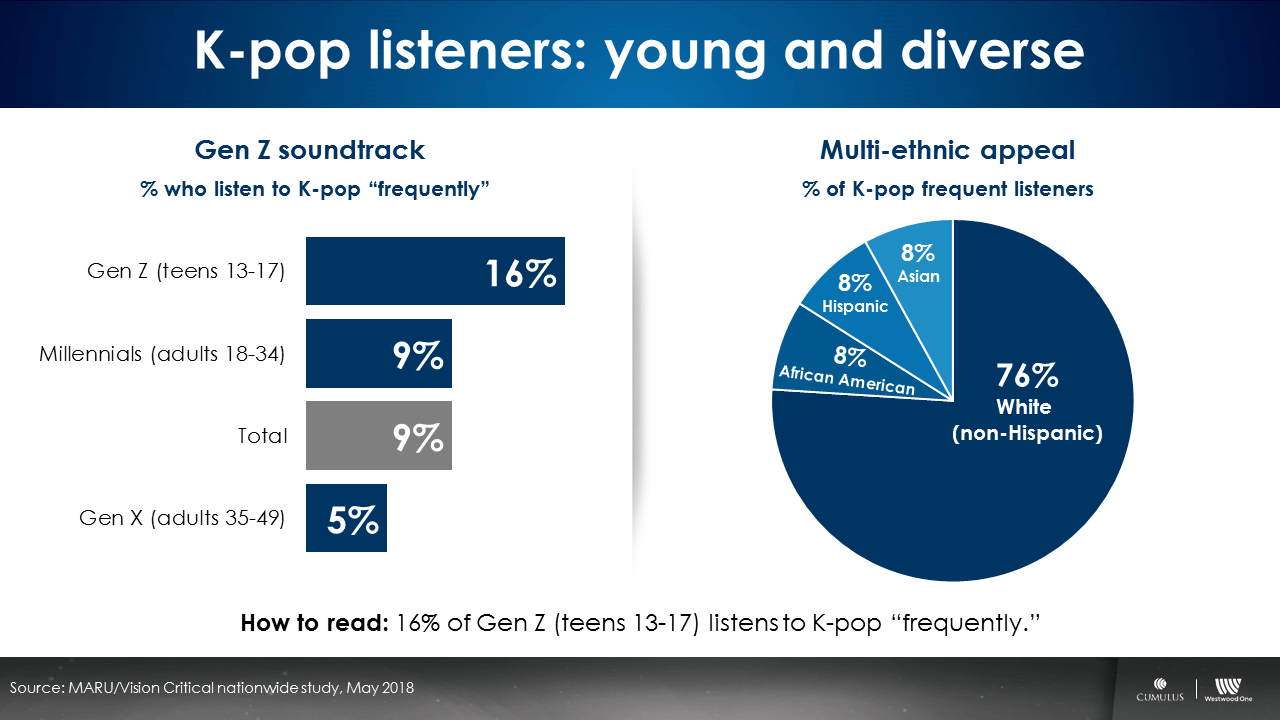 K-pop listeners crave audio content, including podcasts
K-pop listeners look towards audio content for connection and companionship. Nearly all (97%) of K-pop frequent listeners listen to AM/FM radio in the past month.
97% of K-pop frequent listeners also consume podcasts on a monthly basis, with more than 3 out of 5 frequent K-pop listeners also listening frequently to podcasts. The end result is an active and engaged audience for the Stokes & Friends podcast, as 94% of K-pop frequent listeners would be "very interested" in listening to a K-pop-related podcast. We saw even more proof when the show launched in the Music Top 10 on the Apple Podcast chart.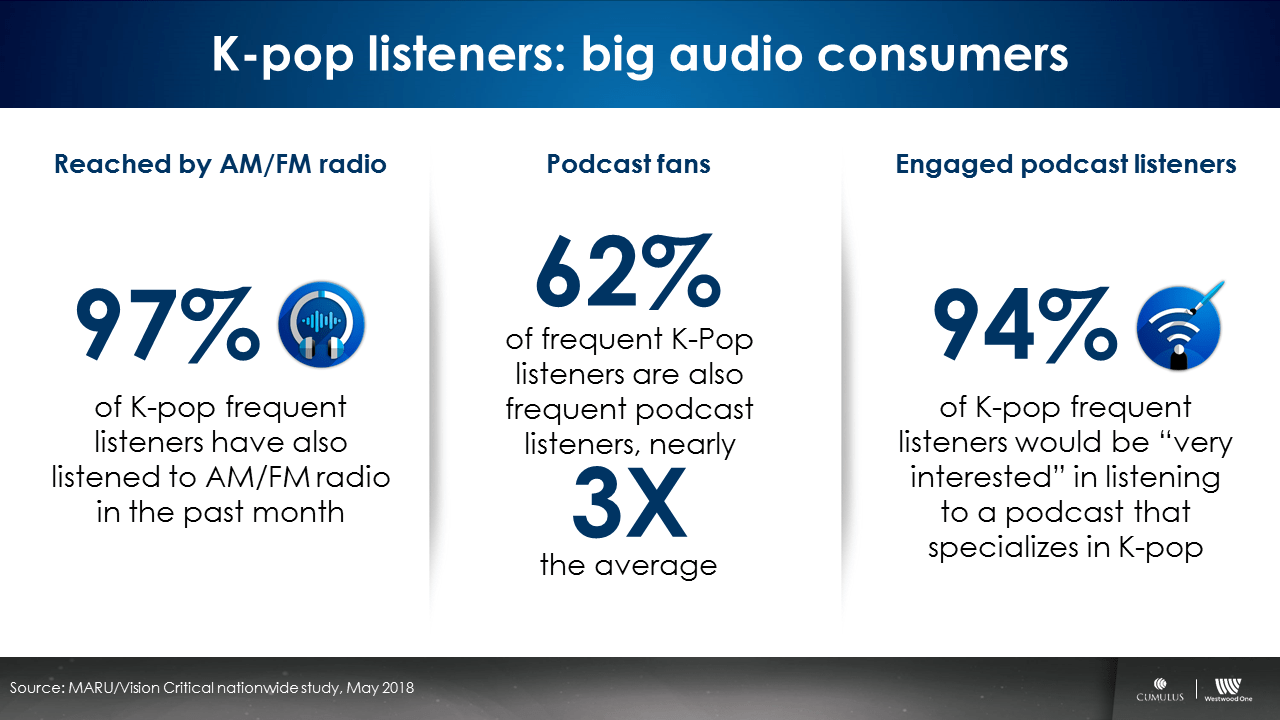 Key takeaways:
Awareness of K-pop spans generations
K-pop listeners are young and diverse
K-pop listeners crave audio content, including podcasts
Want to learn more about K-pop? Listen and subscribe to Stokes & Friends: KPOP with T.H.I.S. New episodes are released every Monday on Apple Podcasts, Google Play, WestwoodOnePodcasts.com and the Westwood One Podcasts App.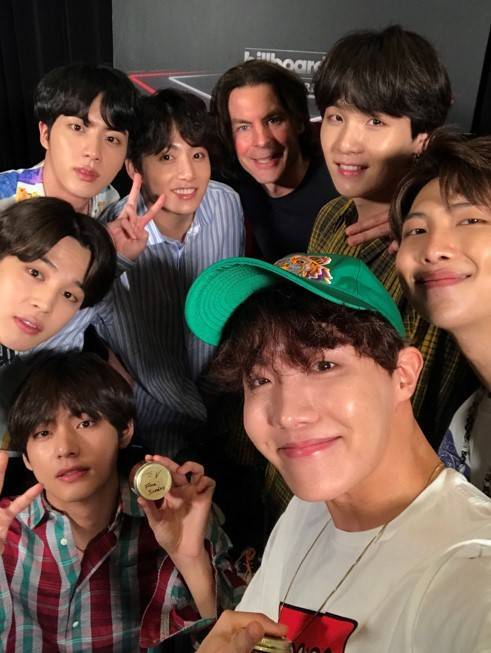 Stokes Nielson and BTS at Westwood One Backstage at the BBMAs
Doug Hyde is Senior Director, National & Local Insights at Cumulus | Westwood One.
Contact the Insights team at CorpMarketing@westwoodone.com.