Westwood One Sports Sound Awards: Basketball Finals Edition Celebrates Happy And Exciting Ad Creative
At Westwood One we believe sound is powerful and creative counts. To celebrate creative excellence and highlight the power of sonic branding, we are honoring the best ads running in our college basketball broadcasts with the Westwood One Sports Sound Awards: Basketball Finals edition.
VERITONIC, an audio effectiveness platform, tested 109 radio ads airing during our broadcast of the tournament to see which commercials are trusted, what emotions they generate, and how well they drive purchase intent. Data was collected from over 3,000 panelists.
How VERITONIC creative testing works
VERITONIC uses their patent-pending technology to track second-by-second responses for key emotional measures. For example, Wendy's uses a voiceover call-to-action and sound effects to drive home the key message in their "Quarter Pound Double Stack" spot. Every time they remind listeners of the limited-time offer and use a cash register sound effect, excitement in the spot jumps.

Today we're highlighting the outstanding performance of advertisers based on two key emotional attributes: happiness and excitement. Which ads made listeners feel the most positive? Does appealing to emotion through audio creative move the sales needle?
Let's look at the results:
Lowe's makes listeners feel happy and excited with their spring-centric commercial
Lowe's was a top performer for happiness and excitement with a commercial advertising garden supplies. The ad gives listeners a reason to "dig in" to spring, a season associated with sunshine and warmer weather. The creative includes their likeable music bed with whistling and clapping.

The Lowe's commercial is an example of using creative smartly to inform how a listener will experience a brand. According to VERITONIC's 2017 Audio Logo Index, brands can convey certain emotions by the way their audio signatures sound. Hearing happy and exciting sounds makes consumers associate happiness and excitement with the brand.
The use of melody is important. VERITONIC finds that in general, melodic ads score better than non-melodic ads. Like Lowe's, brands can use the power of music to feed into familiar positive moods and emotions.
The ad is also an illustration of aligning copy to a consumer mindset. Creative is effective when listeners are exposed to it at relevant moments. As winter ends, we're all feeling excitement in anticipation of spring. Consumers are gearing up to be outdoors so it's an ideal purchase window to be advertising these types of sales to shoppers.
Using key words to convey familiar springtime images and critical brand messaging paired with the melodic music delivered at just the right time seasonally make the Lowe's spot a happy and exciting standout.

Home improvement and quick service restaurant ads rank high in happiness
The Lowe's springtime spot wasn't the only home improvement ad to score well in our happiness ranking. Three other home improvement ads performed strongly. The ads highlighted products used to better one's home: new flooring, paint, carpeting, and cleaning supplies. Hearing about items that would create an improved feeling in the home feels good. These commercials made listeners happy.
For quick service restaurants, KFC's Reba McEntire-voiced ad performed well as did Wendy's commercial promoting the Quarter Pound Double Stack.

It is notable that both ads include music. In KFC's spot, a country tune plays in the background before Reba sings the classic "finger lickin' good" jingle. Wendy's, achieving a high rank in happiness, includes music throughout the commercial. These brands are using music to resonate emotionally.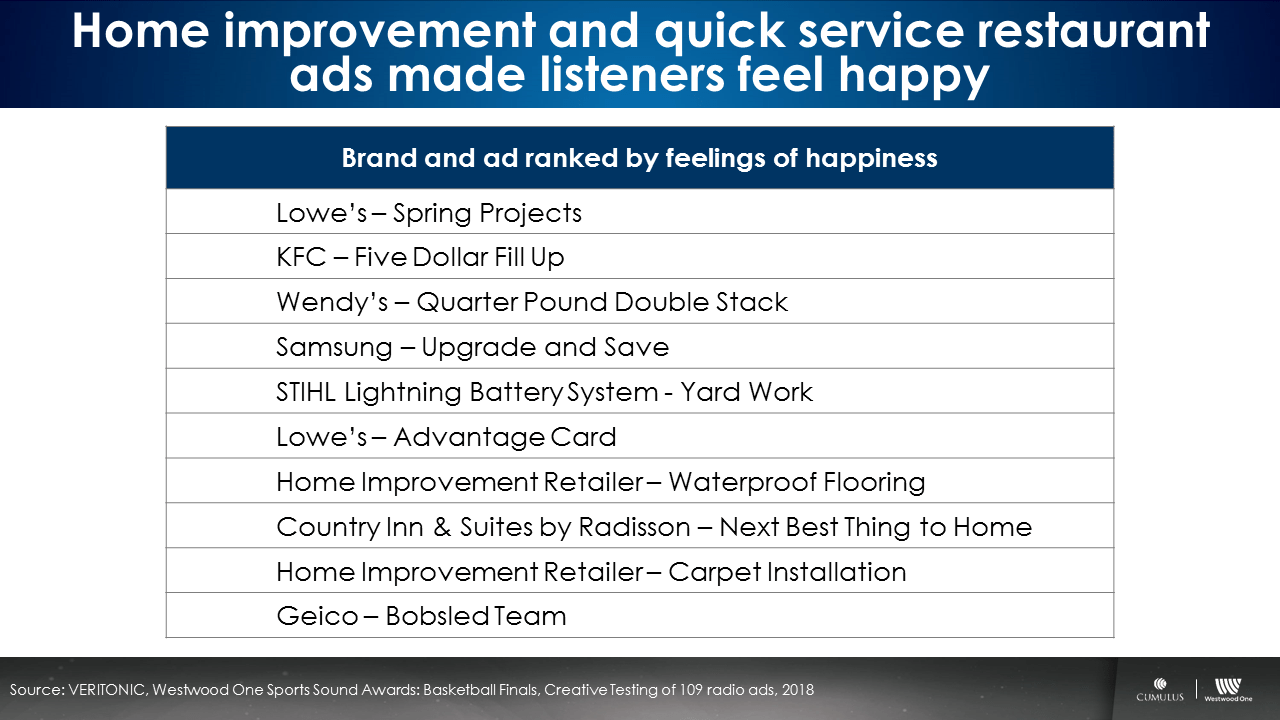 Home improvement, quick service restaurant, and auto aftermarket ads are exciting
Home improvement and quick service restaurant ads also scored high results in excitement. Little Caesars joined KFC and Wendy's with their spot that boasts the "most spokespeople."
Speaking in unison, a crowd describes the Little Caesars pizza with the most cheese and most pepperoni. "Most" is repeated multiple times throughout the commercial along with other exciting words like "extra" and "bestest."

The auto aftermarket category also performed well with excitement. Two auto aftermarket spots performed strongly when tested for excitement. Both included a familiar music cue and jingle.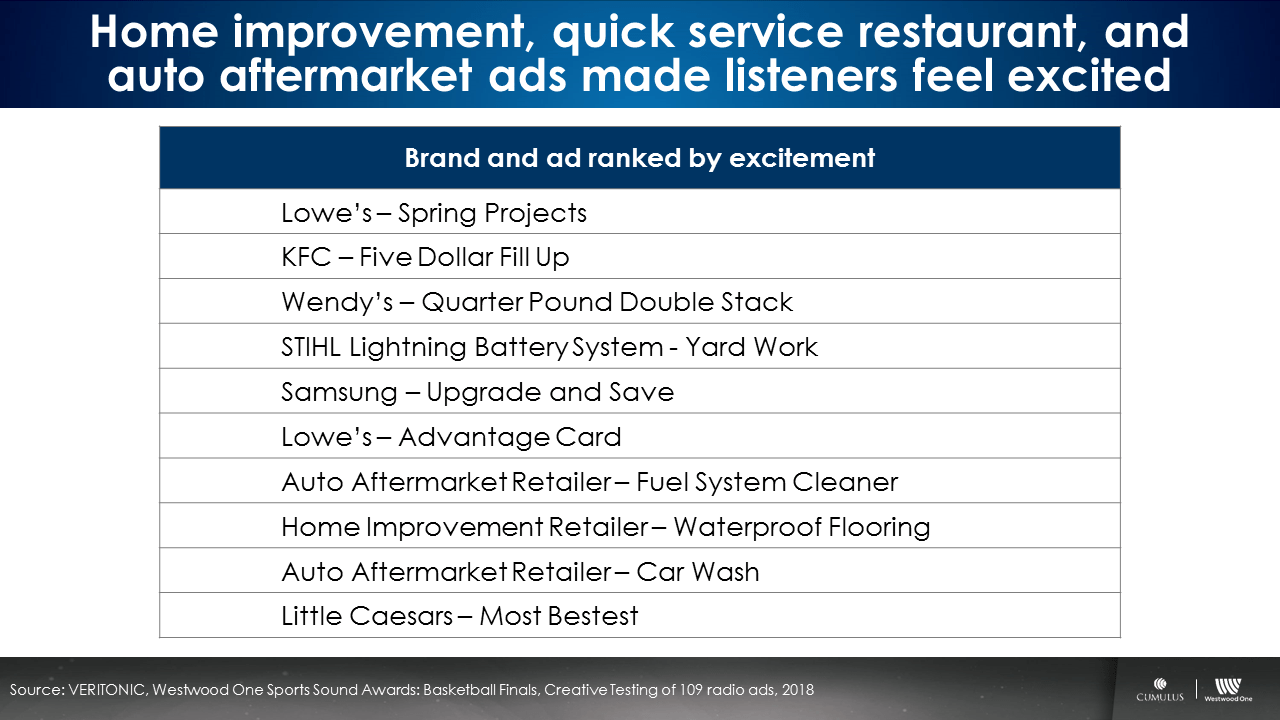 Creative drives 50% sales lift
Does it matter if a radio ad makes a listener feel happy or excited? The answer is yes. Great brands understand that creative not only connects hearts and minds but also drives sales. It's a critical piece of the puzzle.
Nielsen conducted an ROI study of 500 advertising campaigns to look at which elements contribute to sales on all major media platforms. By a huge margin, creative was the strongest sales driver, responsible for 50% of sales growth.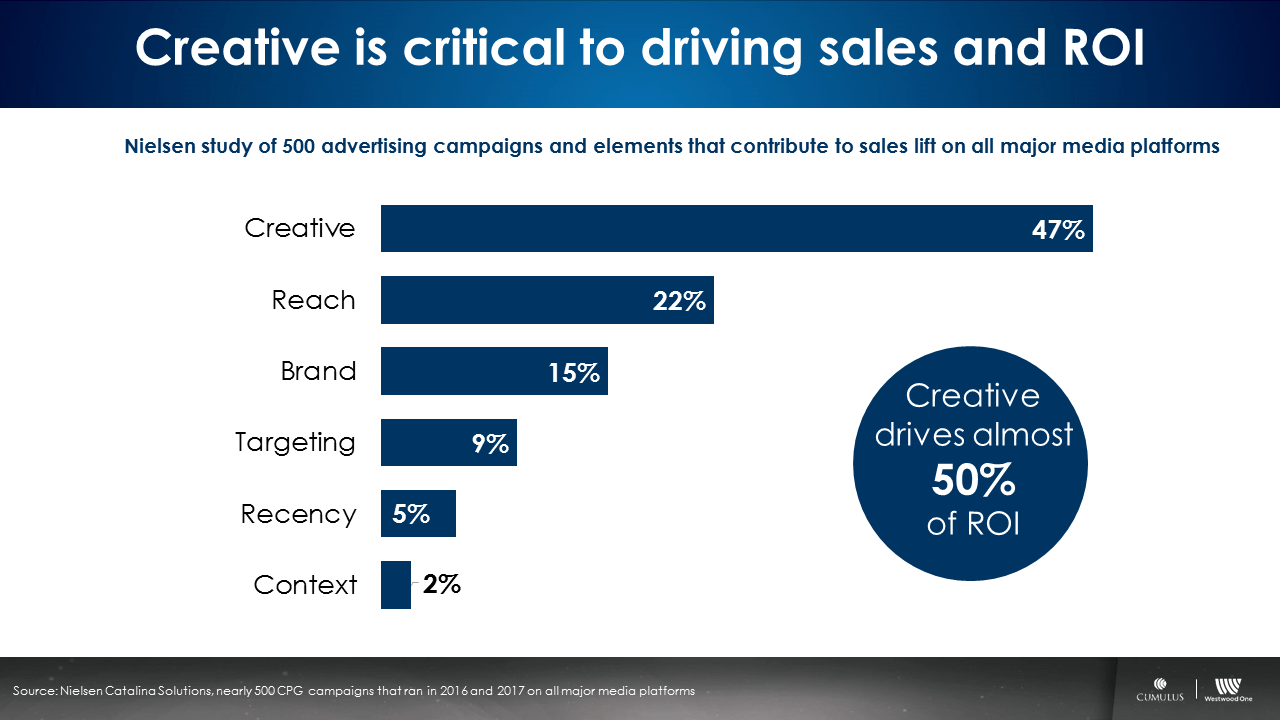 A key facet in effective creative is resonating emotionally. As Les Binet and Peter Field have repeatedly shown in their research, connecting with a listener based on emotions like happiness and excitement is a way for advertisers to build their brand image and drive sales.
Westwood One is the authority on effective creative
Through extensive audio creative testing, we know what works and how to get everyone listening. Happiness and excitement, along with likeability, trustworthiness, and purchase intent, are all important metrics when it comes to great audio creative.
Great audio creative goes hand in hand with reach. Westwood One not only champions excellence in audio creative, it guarantees performance with the audio industry's first ROI guarantee. Click here to find out more about the Westwood One ROI Guarantee.
Key takeaways:
Lowe's makes listeners feel happy and excited with their spring-centric commercial
Home improvement and quick service restaurant ads rank high in happiness
Home improvement, quick service restaurant, and auto aftermarket ads are exciting
Creative drives 50% sales lift
Westwood One is the authority on effective creative
Don't Miss the Madness
Westwood One's complete NCAA Men's tournament coverage can be heard on more than 500 radio stations nationwide and via SiriusXM. All 67 Division I men's games will also be streamed online for free at NCAA.com/MarchMadness and on westwoodonesports.com. Additionally, the broadcasts will be available for free via the NCAA March Madness Live app, TuneIn.com, and the TuneIn app. New for 2018 is the ability to access live audio, game highlights, and more via the Westwood One Sports Skill on Amazon Alexa.
Lauren Vetrano is Director of Content Marketing at Cumulus | Westwood One.
Andrew Eisner is COO and Co-Founder of VERITONIC.
Contact the Insights team at CorpMarketing@westwoodone.com.