Share Of Ear Highlights: Q4 2017
Edison Research's "Share of Ear" is the gold standard for understanding how Americans consume audio. The report quantifies the reach and time spent with of all forms of audio.
Here are key takeaways from the recently released Q4 2017 data:
AM/FM radio remains the centerpiece of audio
AM/FM radio once again takes the top spot as America's leading audio provider, accounting for 48% of all audio time spent among persons 18+. That's important for brands because AM/FM radio is an ad-supported platform. The three runner up platforms are not. Advertisers cannot run audio ads on owned music, music videos on YouTube, or the advertising-free music channels on SiriusXM. The SiriusXM channels that do accept ads only have a 1% share.
Don't believe the digital audio hype: ad-supported Spotify and ad-supported Pandora trail AM/FM radio by a huge margin with insignificant shares.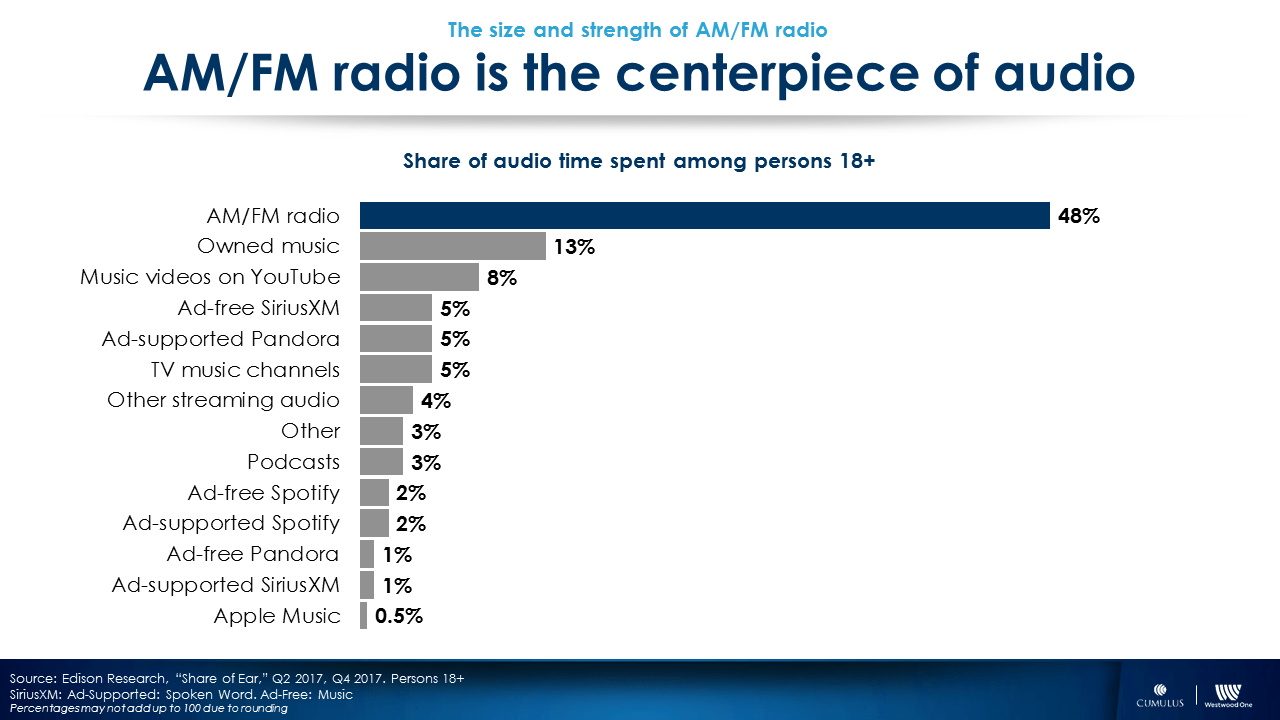 Pandora continues to see year over year losses
Americans' time spent with Pandora is declining. Year over year, Pandora's share of ear dropped -7%. While Pandora drops, Spotify sees growth. Spotify's Q4 year over year share of audio time spent has increased +28%.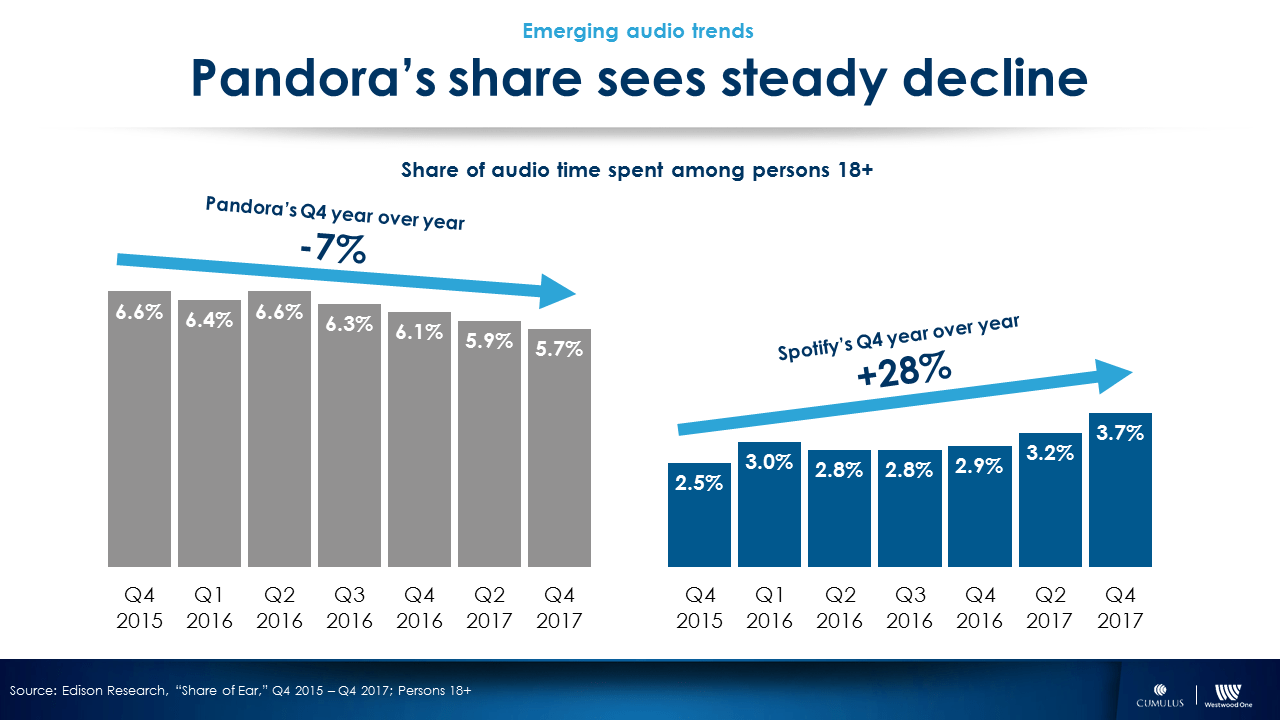 AM/FM radio remains steady as a rock
AM/FM radio's share has been consistently strong throughout the last few years. What about reach? Edison reports AM/FM radio's daily reach also remains stable. Its Q4 2017 persons 18+ daily reach was the same as it was in Q2 2017, a solid 71%.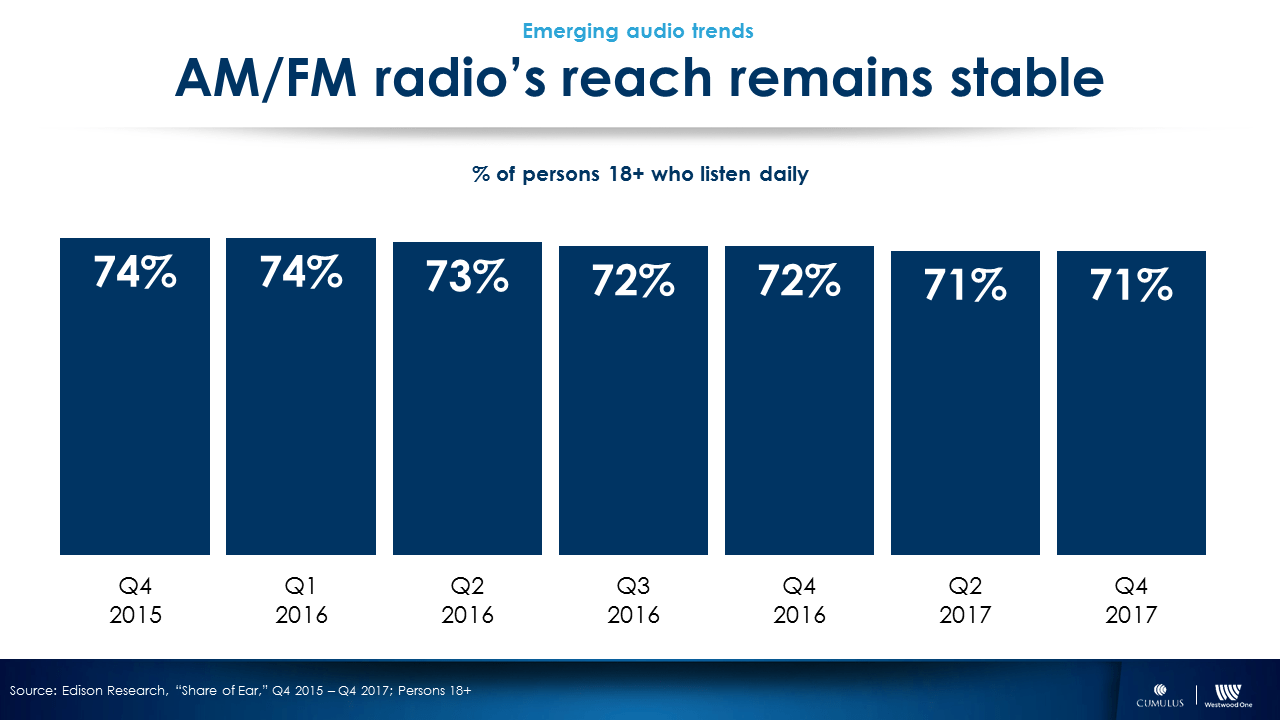 Podcast daily reach soars
In emerging media trends, podcasting sees huge reach growth across key demographics. From 2016 to 2017, Millennials 18-34 saw the highest jump of 46%. Reach among persons 18-49 increased 44% and persons 25-54 grew 36%. With more people listening than ever, podcasting has become a burgeoning audio option for consumers.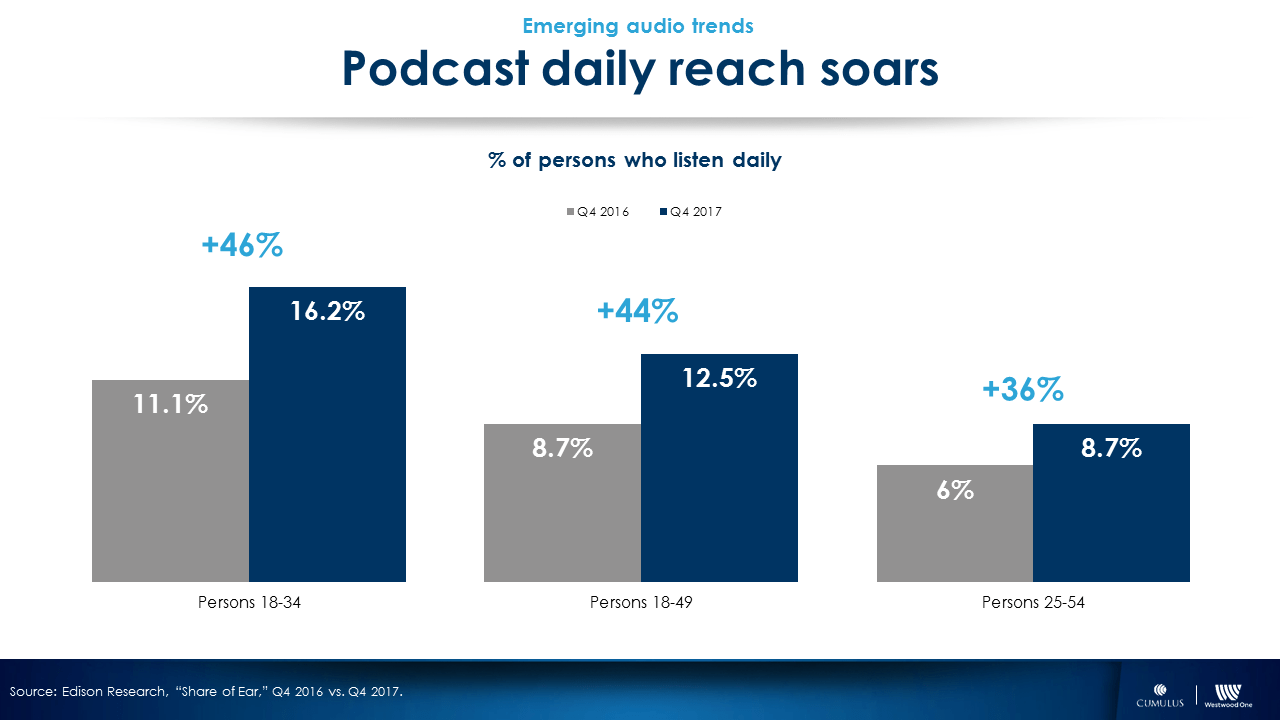 AM/FM radio continues to be the reliable media outlet for advertisers while podcast represents an exciting audio frontier piquing interest across generations.
Key takeaways:
AM/FM radio remains the centerpiece of audio
Pandora continues to see year over year losses
AM/FM radio remains steady as a rock
Podcast daily reach soars
Lauren Vetrano is Director of Content Marketing at Cumulus | Westwood One.
Contact the Insights team at CorpMarketing@westwoodone.com.