Sonic Branding: Bring Your Brand Front Of Mind When Consumers Are Shopping
What is the sound of your brand? This is a question on the minds of marketers as nearly one of six Americans now own a Google Home or Amazon Alexa smart speaker.
One powerful way to create recognition and emotion is through sonic branding, the strategy of using sound to differentiate brands. Audio signatures, familiar voices, iconic taglines, brand anthems, jingles – all are examples of sonic branding that use sound creatively and effectively.

Sonic branding connects our hearts and minds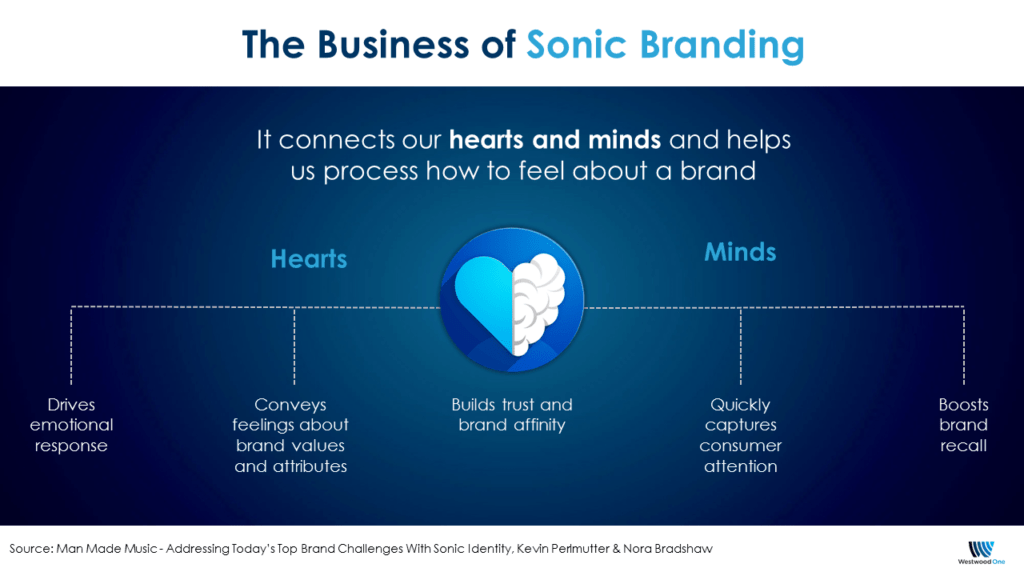 Sound informs how we feel about a brand by combining our emotional and analytical sides. Sonic branding conveys brand values and attributes through these feelings.
We develop trust and affinity based on the emotional response sound drives. Sonic branding captures our attention quickly and makes brands memorable with strong recall.
Feel what you hear and convey your brand emotion
Because sound is experienced instinctively, brands can tap into emotions through sonic branding. VERITONIC, the audio creative testing specialist, recently released their 2017 Audio Logo Index where they measured and benchmarked audio logos in order to help marketers make better sonic decisions. One of their major findings is that brands can convey certain emotions by the way their audio signatures sound.
For example, the Farmers Insurance audio signature scored high with consumers in trustworthiness and made them feel inspired. A company that cares for consumers' homes, businesses, and automobiles should engender trust. Sound makes this happen through the emotional response consumers have towards the ad.

The speed of sound is faster than a visual
One of the benefits of using sound to reach consumers is that it is understood quickly and instinctively. According to Man Made Music and Kit Yarrow's "Decoding the New Consumer Mind," due to brain adaptation, we now think faster than ever before. Because our brains can process faster, sound makes for an effective way to communicate messages.
Auditory Neuroscientist Dr. Seth Horowitz states that sonic input can make its way to the auditory cortex of the brain where memories and emotions are controlled in the time it takes to blink. We get sound. It's immediate and instinctual.
Give it try. Listen to the sonic tag below and see how quickly you're able to place it.

Familiar music cues generate memories
Advertisers can use music to create a memory framework. In its testing of audio logos, VERITONIC also found that melodic ads scored better than non-melodic ads. Brands can use the power of music to feed into the familiar.
An example of this? The tune for "The Alphabet Song" is the same used for "Twinkle, Twinkle, Little Star" and "Baa, Baa, Black Sheep." By creating a song with the same tune as one children already know, "The Alphabet Song" becomes part of a musical memory framework.

Creative drives 50% of sales lift
Great brands understand that great creative not only connects hearts and minds but also drives sales. It's a critical piece. Nielsen conducted an ROI study of 500 advertising campaigns to look at which elements contribute to sales on all major media platforms. By a huge margin, creative was the strongest sales driver, responsible for 50% of sales growth.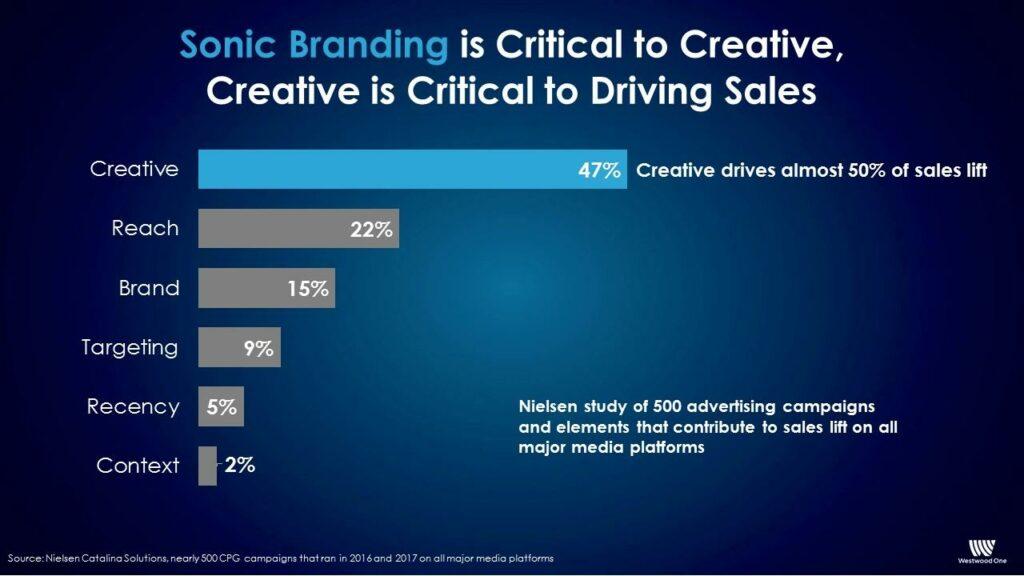 Sonic branding is about resonating emotionally, being quickly understood, and generating sales. Through feelings, instincts, and memories, sound can build your brand.
Westwood One celebrates sonic branding
We believe in the power of sound. Westwood One wants to reward advertisers who understand the importance of using sonic branding to create a meaningful connection with consumers. That's why we're launching our 5th annual Westwood One Sports Sound Awards.
Click here to listen to major brands using sonic branding to connect the hearts and minds of consumers in ads airing on Westwood One's play-by-play broadcast of Super Bowl LII. Vote for your favorite and then check back on Tuesday, February 6th to see who will be crowned the Westwood One Sports Sound Awards winner.
Key takeaways:
Sonic branding connects our hearts and minds
Feel what you hear and convey your brand emotion
The speed of sound is faster than a visual
Familiar music cues generate memories
Creative drives 50% of sales lift
Lauren Vetrano is Director of Content Marketing at Cumulus | Westwood One.
Contact the Insights team at CorpMarketing@westwoodone.com.