Turbocharge Search Impact With AM/FM Radio
According to the Google Economic Impact Report and AdGooRoo, 1.2 million American businesses use Google search and report $2 of revenue for every dollar of search. eMarketer estimates $40.49 billion will be spent on search this year in the U.S.
Can mass reach media like TV and AM/FM radio enhance search impact? A study by Accenture says yes, without the halo of TV, paid search ROI declines by 21%. Clearly TV has a big impact on search.
Does AM/FM radio also drive search lift?
That's what a study commissioned by the Radio Advertising Bureau sought to quantify. The RAB retained highly respected researchers Jim Spaeth and Alice Sylvester from Sequent Partners. They worked with Media Monitors and in4mation insights to study the search impact of 2,157 AM/FM radio ads across 8 different brands.
The key finding: On average, AM/FM radio boosts Google brand searches by +29%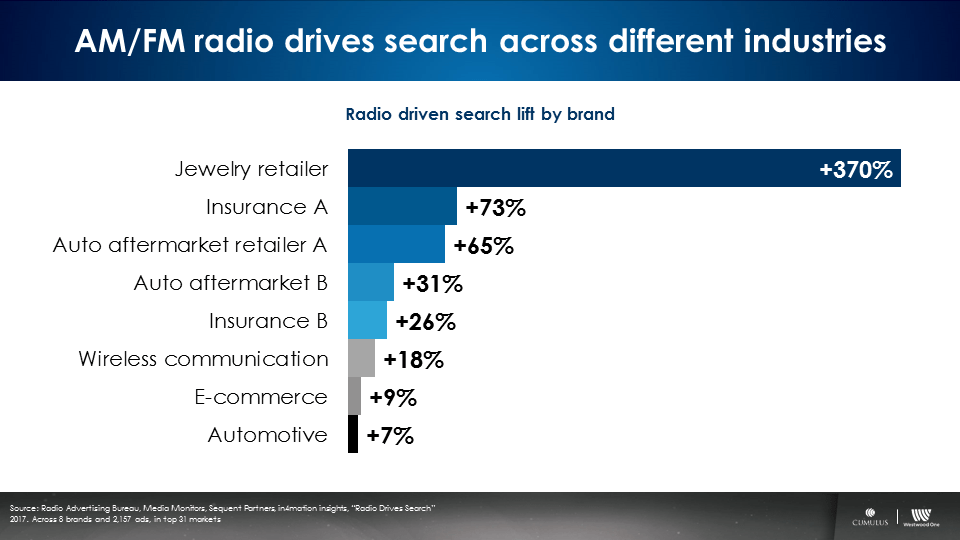 From a jewelry retailer seeing a massive +370% search lift to insurance, wireless communication, auto aftermarket and e-commerce – AM/FM radio played a significant role in increasing online search.
AM/FM radio drives auto dealer search and dealer site traffic
A digital marketing agency for hundreds of U.S. car dealers correlated search results and site traffic of an auto dealer with their AM/FM radio ad campaign. Their conclusion? AM/FM radio ads boosted search and dealer site traffic.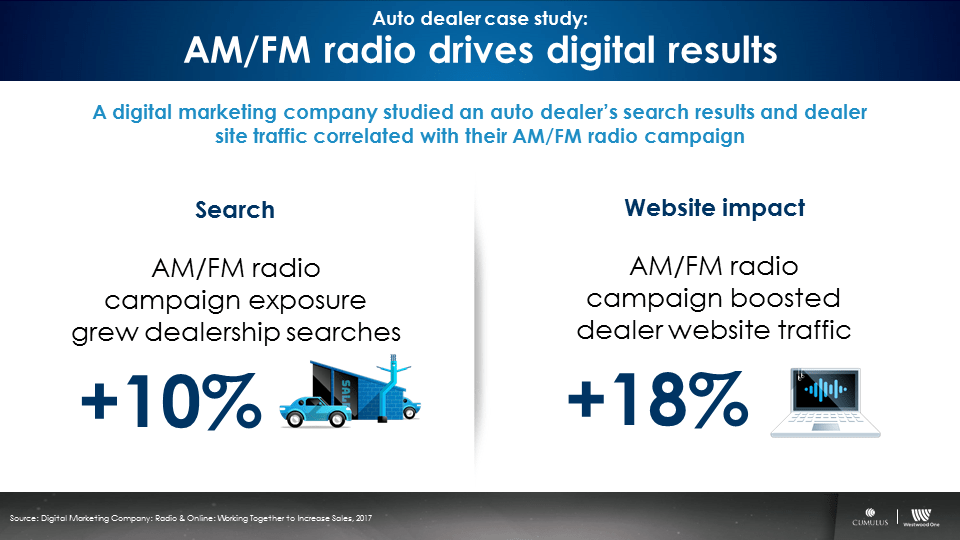 AM/FM radio's strongest listening periods are prime time for search impact
We know that AM/FM radio rules the day. Listening peaks during mornings, middays, and afternoons as people are commuting and at work. AM/FM radio's impact on search is also strong during these hours. The RAB study found search lift by time period and AM/FM radio's strongest day parts align closely, illustrating the relationship between AM/FM radio usage and online search growth.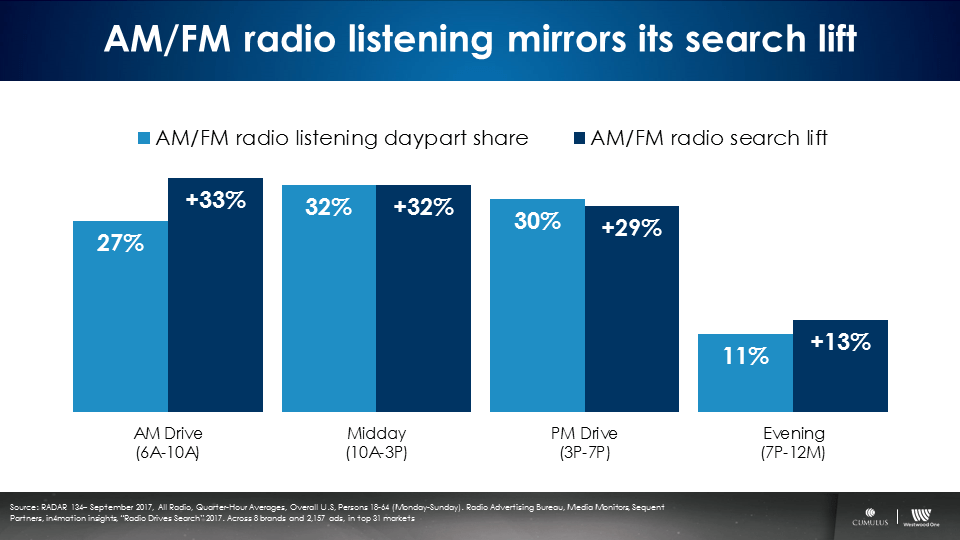 Consumers who are aware of a brand and search for it are well on their way through the "purchase funnel," learning the basic things consumers have to know about a store or brand to make a purchase.
Key takeaways:
AM/FM radio boosts Google search +29% based on a study of 8 brands
AM/FM radio's search impact occurred across categories such as jewelry retailers, insurance, auto aftermarket, wireless, e-commerce, and automotive
For an automotive dealer, AM/FM radio created a 10% increase in online search and an 18% growth in dealer website traffic
AM/FM radio time period listening mirrors its search lift throughout the day
Pierre Bouvard is Chief Insights Officer at Cumulus | Westwood One.
Contact the Insights team at CorpMarketing@westwoodone.com.