What Happens When Insurance Brands Hit TV's Demographic "Bermuda Triangle"
The insurance market is triggered by major life occurrences such as marriage, home purchase, and the arrival of children.
Insurance buyers skew young
Westwood One worked with researcher MARU/Vision Critical to ask Americans if they were going to purchase insurance in the next six months. Those that responded "extremely likely" were considered "in the market." According to the study, 41% of in the market insurance prospects are 25 to 34 years old and 68% are 25-49. Only 32% are over the age of 50.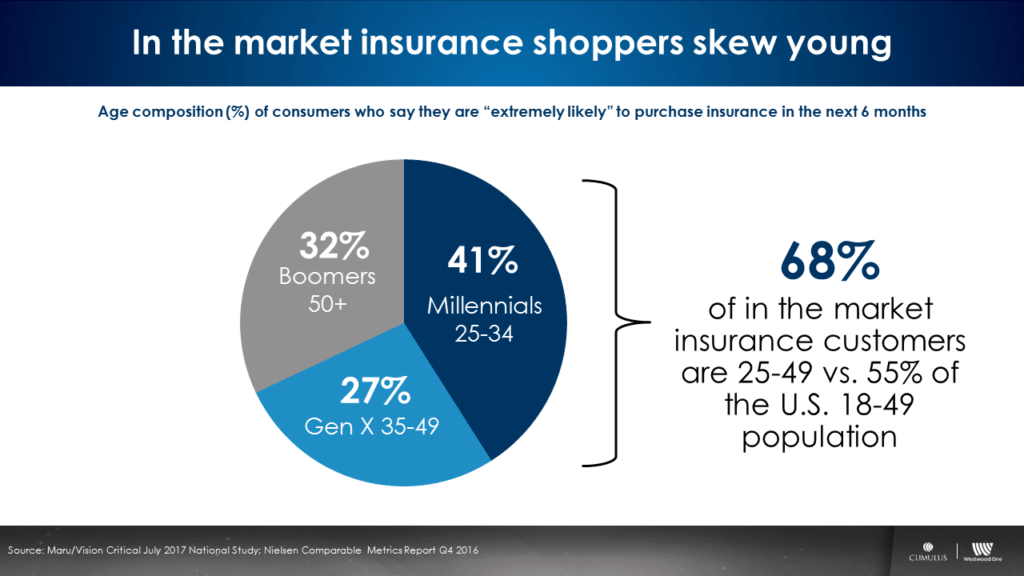 Major insurance brand awareness skews older
What's the brand awareness by demographic for Allstate and State Farm, the two big legacy insurance brands?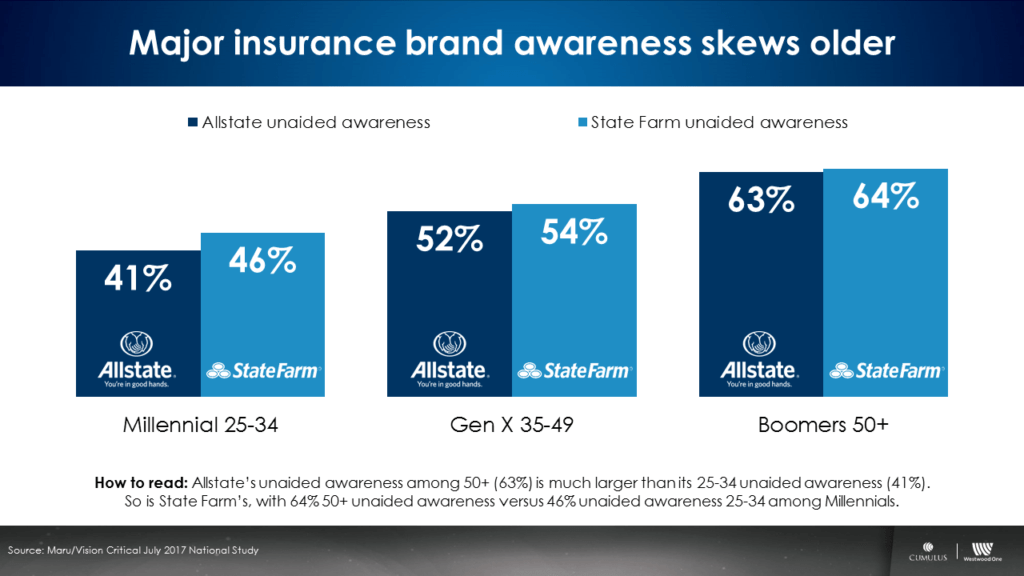 The older the consumer, the greater the awareness for State Farm and Allstate. Two thirds of 50+ consumers are aware of each brand. However, among the prospect-rich 25-34 demographic, awareness for State Farm (46%) and Allstate (41%) is much lower.
Why is unaided awareness for State Farm and Allstate so much lower among 25-34s? Younger consumers are undoubtedly not as aware of insurance brands. But there is another factor.
Overreliance on TV means younger demographics are under delivered
State Farm and Allstate have low awareness among 25-34s because much of their media is spent on television. According to Nielsen, the share of time spent to television skews old.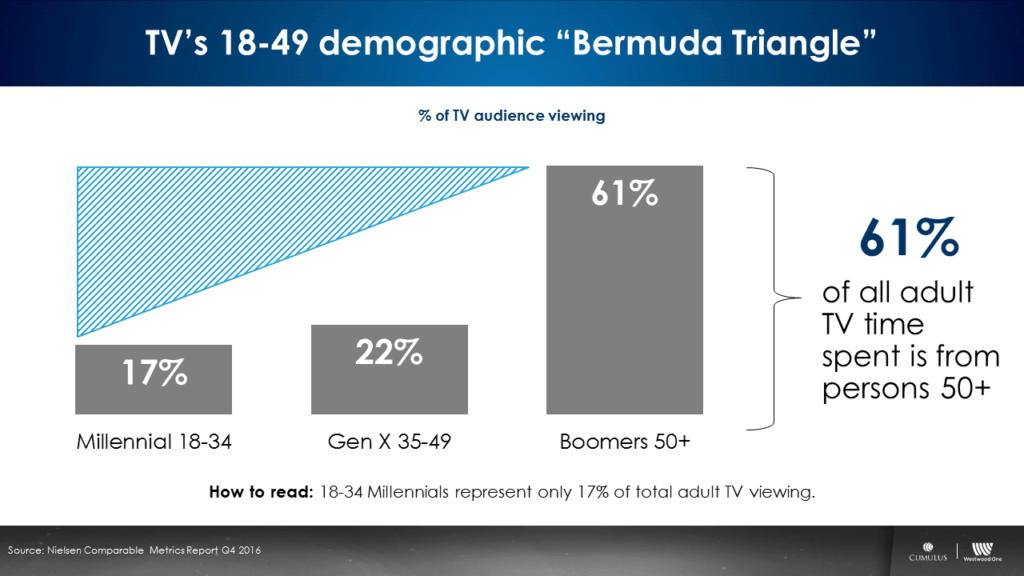 25-49 has become a "demographic Bermuda Triangle" for TV advertisers
61% of all adult TV time spent comes from persons 50+. Only 17% of adult TV time spent is from 18-34 Millennials and only 22% from 35-49 year olds, according to Nielsen.
Advertising Age reports, "Almost half of adults 22 to 45 years old are watching absolutely no content on traditional TV platforms," according to a study by Omnicom Media Group agency Hearts & Science.
"It's pretty scary," says Hearts & Science CEO Scott Hagedorn, referring to the group as "unreachable" by marketers. "We are not reaching young audiences effectively, just over-indexing on older viewers on TV."
Insurance prospects skew young; TV audiences skew old
When you align the "insurance in the market" consumer profile with TV's audience composition, the result is a mismatch: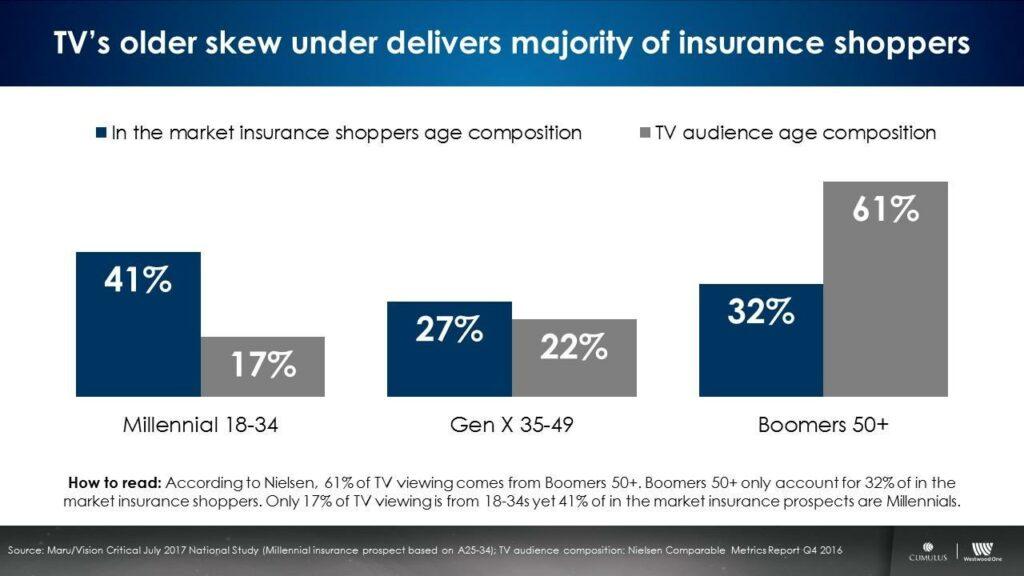 Only 39 cents of a dollar spent on TV generates 18-49 delivery. Yet, 68% of in the market insurance prospects are 18-49.
Adding AM/FM radio to a media plan fixes TV's 25-49 "Bermuda Triangle"
Geico is the only insurance brand to sufficiently use radio. According to Kantar Media, Geico represents 44% of 2017 year to date radio spend in the insurance category. Geico's radio spend dwarfs State Farm (18%) and Allstate (5%).
Here's how Geico's radio investments have impacted insurance brand radio advertising recall: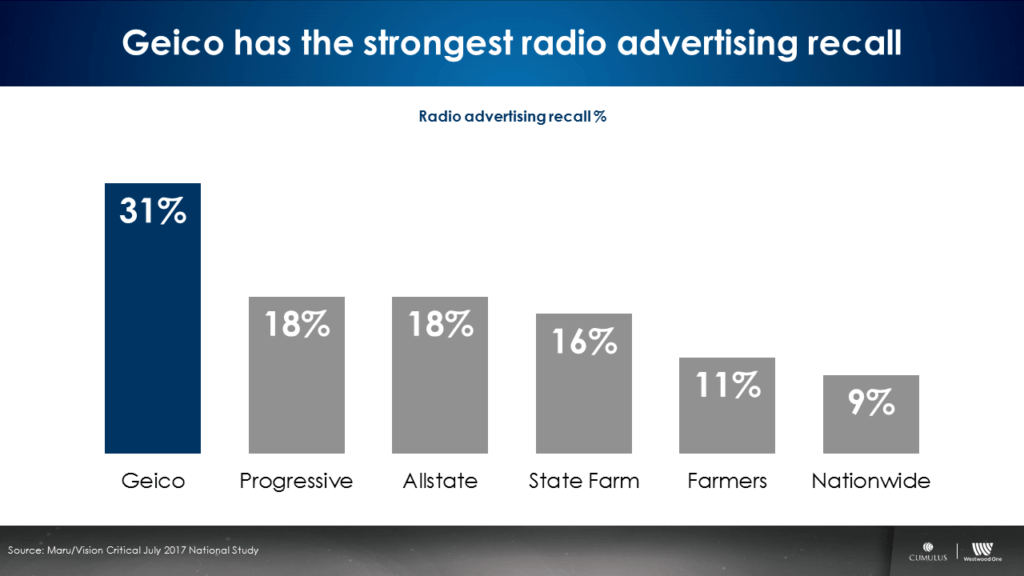 Geico dominates radio ad recall for insurance brands. How has Geico's consistent and aggressive use of AM/FM radio generated unaided brand awareness among prospect-rich 25-34s?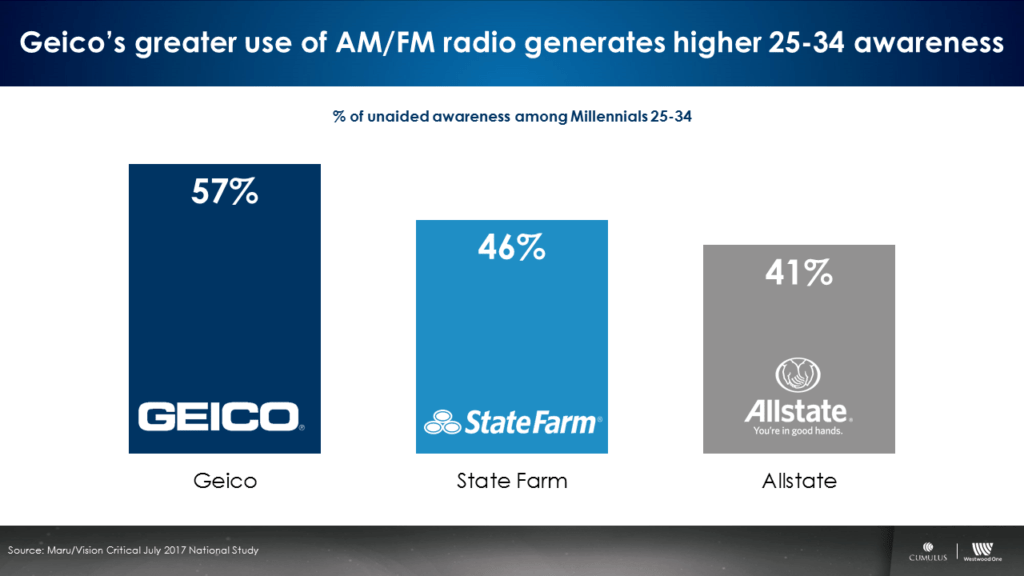 Geico's use of AM/FM radio helps them beat both State Farm and Allstate in 25-34 unaided awareness.
To recap:
In the market insurance customers skew young: 41% are 25-34 and 68% are 25-49
America's TV audience skews older: 61% are 50+ and only 17% are 18-34, resulting in a 25-49 "Bermuda Triangle"
State Farm and Allstate awareness skews old due to an overreliance on television
Geico's aggressive use of AM/FM radio overcomes TV's 25-49 "Bermuda Triangle"
Thanks to AM/FM radio, Geico wins insurance brand radio ad recall and beats State Farm and Allstate in 25-34 unaided awareness
Pierre Bouvard is Chief Insights Officer at Cumulus | Westwood One.
Contact the Insights team at CorpMarketing@westwoodone.com.