Pandora And Spotify: Shouldn't Ads Be Heard?
How many Pandora, Spotify, and AM/FM radio listeners hear ads? This was the simple question researcher Vision Critical/MARU posed to 2,617 consumers.
The results: Only 54% of Pandora and Spotify listeners actually pay attention to the ads. Disappointing for Spotify and Pandora advertisers hoping to reach engaged customers!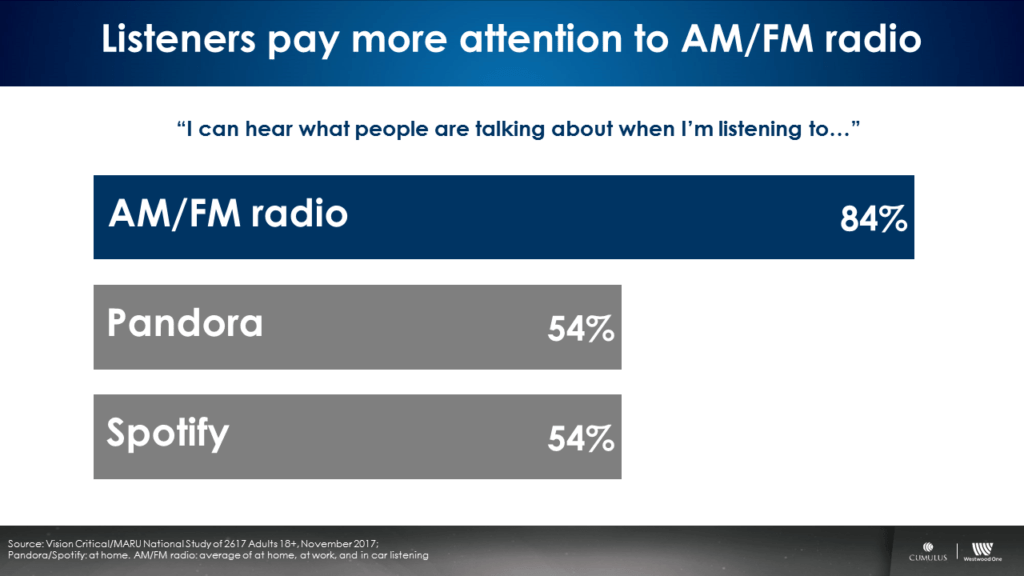 The good news? AM/FM radio listeners hear the ads. On average, 84% of the AM/FM radio audience hears the ads when they listen to AM/FM radio at home, at work, or traveling in the car.
Pandora and Spotify listeners utilize the services as background music. According to Edison Research's "Share of Ear" study, the majority of Pandora and Spotify listening occurs at home.
Softly playing background music is great for "chilling out" but it's not so great for advertisers. Half the time Spotify and Pandora listeners admit they cannot hear the ads. Pandora and Spotify suffer from "empty room syndrome." The music is on but no one is there. They have no idea if anyone is actually listening. That's why they send the message, "Are you still listening?" Pandora admits to cutting off listening from demographics they cannot sell but they don't mind "fake listening" from demographics advertisers will pay for.

In order for advertising to be effective, consumers need to be exposed to ads. When purchase decisions are made, shoppers think of brands or retailers they know. Ads boost top of mind awareness. To see cash register impact, advertisers need to be in the heads of their shoppers. But first, listeners have to hear the ads.
In summary:
Pandora and Spotify audiences: distracted and disengaged
AM/FM radio listeners: connected to content and attentive
Which audience would you want to reach?
Pierre Bouvard is Chief Insights Officer at Cumulus | Westwood One.
Contact the Insights team at CorpMarketing@westwoodone.com.