November 2017 TV Ratings Sweeps: "Worse Than We Thought"
The latest report on the Nielsen November TV ratings sweep by Wall Street Media Analysts MoffettNathanson is titled "Worse Than We Thought."
"When this year started…we were deeply concerned about C3 ratings. The fact is, ratings declines in 2017 were even worse than we imagined with seven of the past eleven months declining double digits."
For local advertisers relying on local broadcast TV stations to get the word out, this is a shocker. Broadcast networks are down 16% in prime time and 17% total day. As State of the Screens puts it, "Less than 9% of TV households watch one of the 4 major networks on average."

November 2017 versus November 2016 prime time ratings erosion:
NBC: -11%
ABC: -13%
CBS: -15%
FOX: -31%
Total -16%
Source: MoffettNathanson Nielsen Prime Time Persons 18-49 C3 (commercial audiences up to three days after program airing), November 2017 versus November 2016.
Cable audiences in the November 2017 TV ratings sweep were down 11% in prime time and 11% total day over the prior year. This comes on the heels Q3 2017's sharp drop in cable homes as consumers "cord cut" their pay TV options.

When broadcast television and cable are combined, the November 2017 sweep saw a 13% drop in prime time TV tuning and a 13% drop in total day TV viewing.
Online video is not a complete solution to replace TV declines
A common response to offset TV declines is to increase spend in online video. At face value, this seems like a good idea. But according to Nielsen, most online video is consumed by only a small percentage of consumers.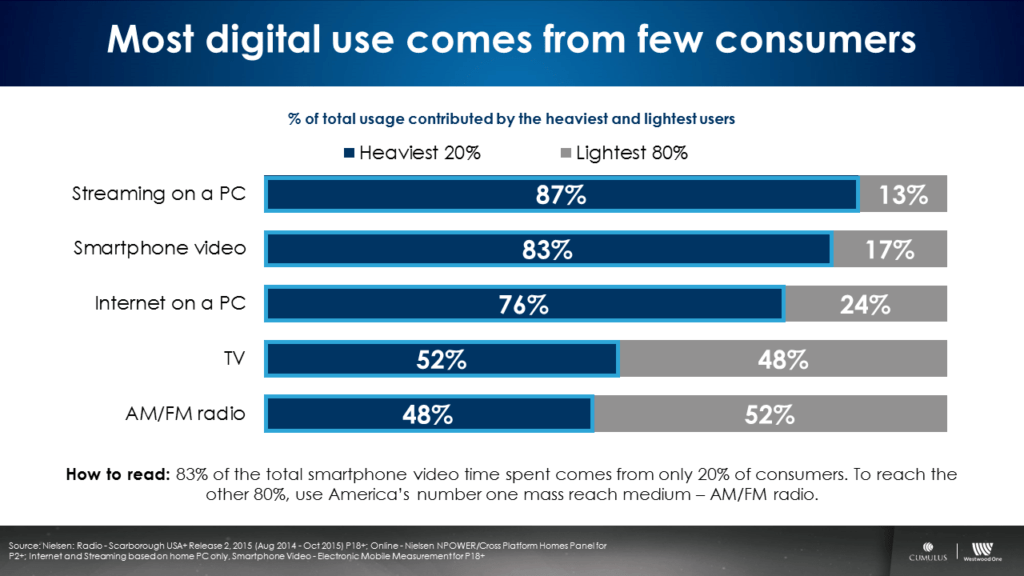 Nielsen reports that 20% of America consumes 83% of smartphone video. The other 80% represents only 17% of time spent with smartphone video. Online video ads reach the same 20% of viewers over and over.
AM/FM radio makes your TV better
Advertisers need a smart way to replace TV ratings losses. As 2018 media plans get put together, AM/FM radio should be added as the solution for incremental reach.
Allocating 20% of a TV budget to AM/FM radio increases campaign reach by 40%. The addition of AM/FM radio into the media plan also boosts advertiser awareness, consideration, purchase, and brand advocacy.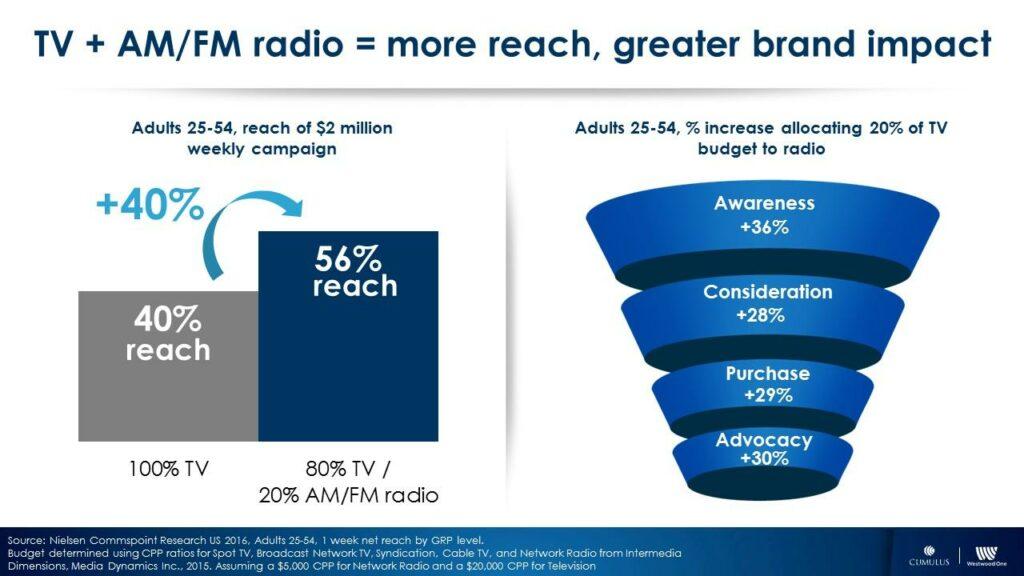 MoffettNathanson concludes, "Given the challenged ratings trends we have seen and expect to continue, we remain cautious on the TV advertising market's ability to grow dollars by offsetting these declines with higher CPM inflation."
TV ratings may be "worse than we thought" but AM/FM radio still offers advertisers a way to generate mass reach.
Pierre Bouvard is Chief Insights Officer at Cumulus | Westwood One.
Contact the Insights team at CorpMarketing@westwoodone.com.