Amazon As Major AM/FM Radio Advertiser Just Makes Sense
As reported by Media Monitors, Amazon scored its highest advertiser placement for volume of spots running December 4th through December 10th, securing them the second largest advertiser spot for the week. From the 11th through the 17th, they took the top spot running 38,478 commercials.

Media Monitors tracks national radio advertising, notes Amazon didn't debut in the top 100 national advertisers until just ahead of Black Friday when it began campaigning heavily in time for the holiday season.
Amazon made the right move
We know that AM/FM radio has worked for Amazon in the past. Our case study with Ipsos from 2015 revealed AM/FM radio was the most effective at converting Amazon Prime Day awareness into purchases compared to TV and online.
Now, a new study conducted November of this year by Westwood One and partners MARU/Vision Critical shows that heavy radio listeners are avid users of Amazon services.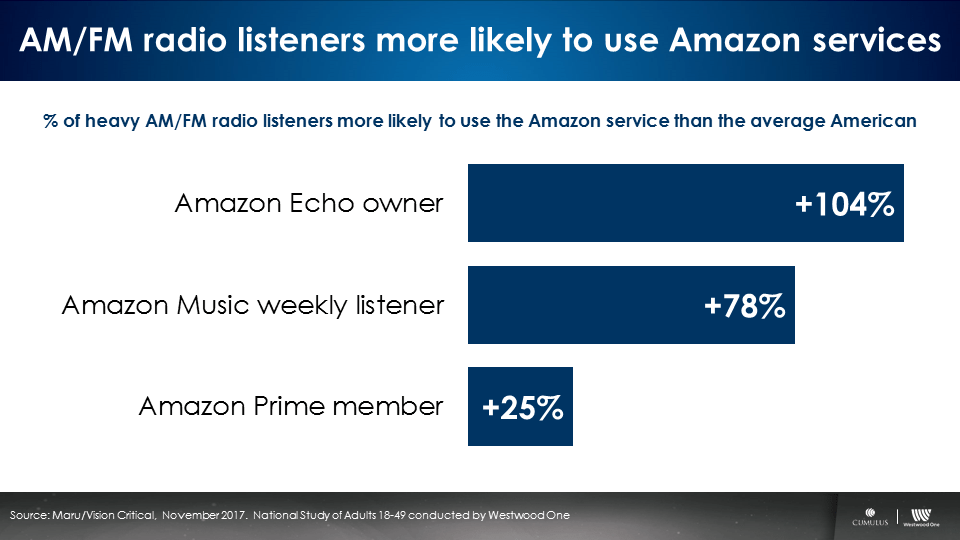 Compared to the average American, heavy AM/FM radio listeners are significantly more likely to own an Amazon Echo and listen to Amazon Music on a weekly basis. Heavy AM/FM radio listeners are also 25% more likely to be an Amazon Prime member.
As one of the biggest names in retail, Amazon's use of AM/FM radio shows a strong belief in its effectiveness driving sales. Seems they know that during the holiday retail season, AM/FM radio just makes sense.
Pierre Bouvard is Chief Insights Officer at Cumulus | Westwood One.
Contact the Insights team at CorpMarketing@westwoodone.com.