The Podcast Download: Speed Listening, Ad Loads, And Subscription Models
According to Advertiser Perceptions, agency and brand demand for podcasting has nearly tripled within the past two years.
Westwood One recently commissioned The Podcast Download Fall 2017 Report in order to understand the advertising environment around podcast content. The results were presented by Westwood One at the Interactive Advertising Bureau's Podcast Upfront event in New York City. Here's what we found: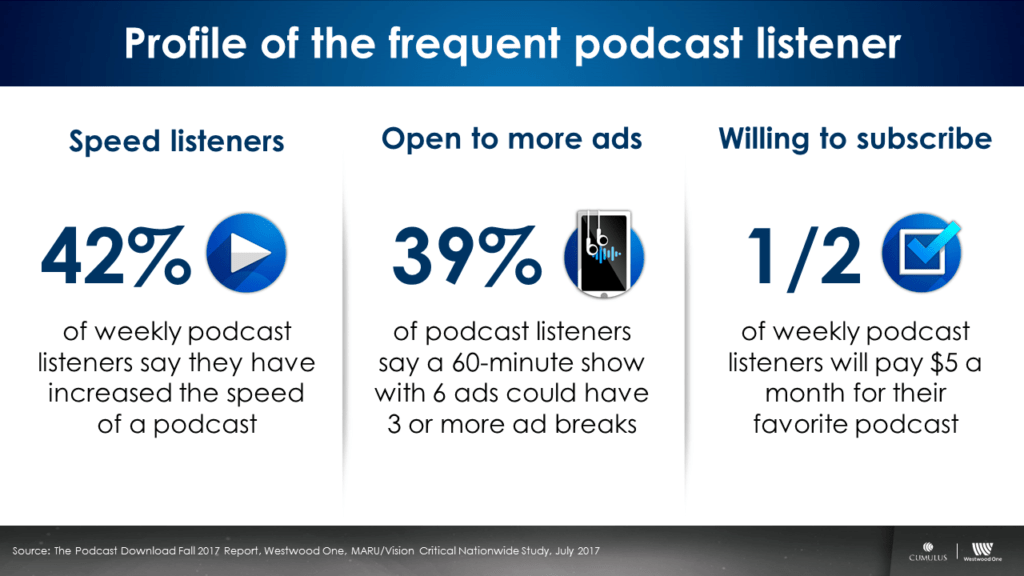 Speed listening is a thing: With so many podcasts to choose from, podcast fans are looking to consume as much content as possible. More than 40% of listeners have sped up their podcasts on Apple Podcasts or on specialized apps such as Podcast Addict. As 17% of weekly podcast listeners say that they frequently speed listen, speed listening is a thing, but a small thing. The implication for advertisers: creative for podcasts needs to be engaging and easily understood at any speed.
More ads? No problem: Think a couple of more ads are too much of an irritant to devoted podcast listeners? Think again. Nearly 40% of podcast listeners would be willing to tolerate up to six ads (in three or more breaks) during a 60-minute podcast episode. This is an indicator of how powerful the engagement with the content is. Listeners find podcasts relevant, entertaining, and thought-provoking. Love for podcasts translates into love of the advertising. Podcasting is under commercialized, and a nominal increase in the number of commercials per episode represents a revenue growth opportunity.
Five to subscribe: Half of all weekly podcast listeners would be willing to subscribe to an ad-free version of their favorite podcasts for five dollars a month. Subscription models are another source of revenue. These fans love media.
Key takeaways:
Speed listening is a thing
Podcast ad loads can grow
Podcast consumers are open to subscription models
Click here to view The Podcast Download Fall 2017 Report: Infographic
Doug Hyde is Senior Director, National & Local Insights at Cumulus | Westwood One.
Contact the Insights team at CorpMarketing@westwoodone.com.