Capture Vast Boomer Spending Power With AM/FM Radio
Advertisers sometimes overlook Boomers and favor Millennials as their target. But that might not be the best idea. As Robert Passikoff, President of Brand Keys Inc. states, "While Millennials are sharing stuff, Boomers are buying stuff."
Boomers are actually a tech-savvy and connected group with deep pockets and their spending will grow over the course of the next few years. With a 92% weekly reach among this group, AM/FM radio captures this vast Boomer spending power for advertisers. Here's why brands shouldn't forget them: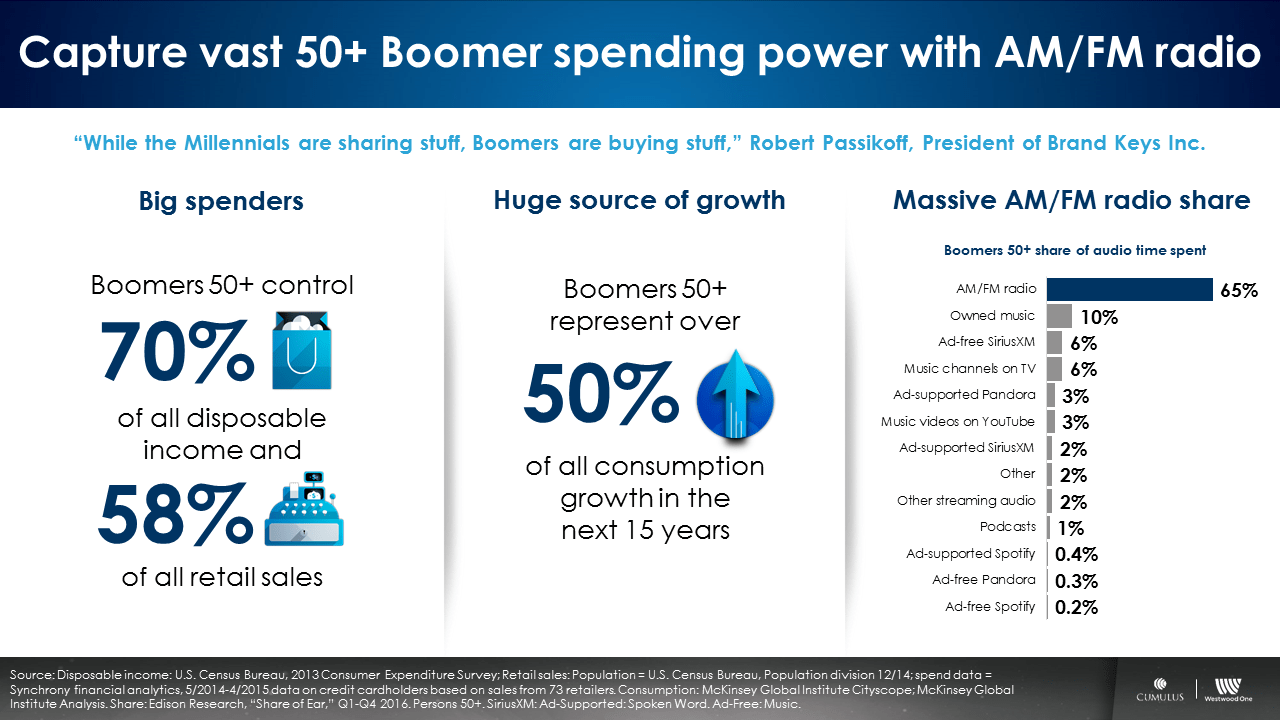 Boomers 50+ control 70% of all disposable income in America, according to the U.S. Census Bureau: Plus 58% of all retail sales come from Boomers.
Ignore Boomers and miss half of all U.S. consumption growth: It's only going to get better for Boomer advertisers. McKinsey Global Institute reports that Boomers 50+ will represent over half of all consumption growth in the next 15 years.
65% of Boomer audio time is spent with AM/FM radio: Not only does AM/FM radio reach nearly all Boomers weekly, Edison Research's "Share of Ear" shows AM/FM radio dominates the audio space beating SiriusXM, Pandora, and Spotify by a wide margin.
With significant consumption growth and immense purchase power, Boomers 50+ are an audience segment advertisers need to take seriously. Target Boomers effectively with AM/FM radio's massive reach and high time spent.
Key takeaways:
Boomers 50+ are big spenders with 58% of retail sales and 70% of disposable income
Boomers will represent half of all consumption growth over the next 15 years
65% of daily audio time is spent with AM/FM radio
Lauren Vetrano is Director of Content Marketing at Cumulus | Westwood One.
Contact the Insights team at CorpMarketing@westwoodone.com.