A Profile Of The On-Demand Audience
Today many successful AM/FM radio personalities and shows make their content available on-demand for replay at a later time or date. Very little is known about the demographics of the on-demand audience.
Cumulus Media and Westwood One commissioned a Nielsen Total Audience custom study to measure the audiences of local on-demand content from the Cumulus radio stations and national on-demand content from Westwood One shows. For the first time ever, Nielsen provided demographic estimates Westwood One's on-demand audio content consumed on their properties, leveraging SDK technology and Nielsen's Total Audience measurement framework. Nielsen measured 75 Cumulus Media and Westwood One shows covering three content genres – news/talk, sports, and entertainment.
Here are the key takeaways:
Information-based on-demand shows (news/talk, sports) skew younger than the AM/FM radio audience. Half (49%) of all on-demand listening to news/talk programs comes from either Millennials (adults 18-34) or Gen X (adults 35-54). The median age of the online on-demand sports audience is 44, 7 years younger than the on-air listener. On-demand platforms are introducing a new generation of listeners to AM/FM radio information-based spoken word programming.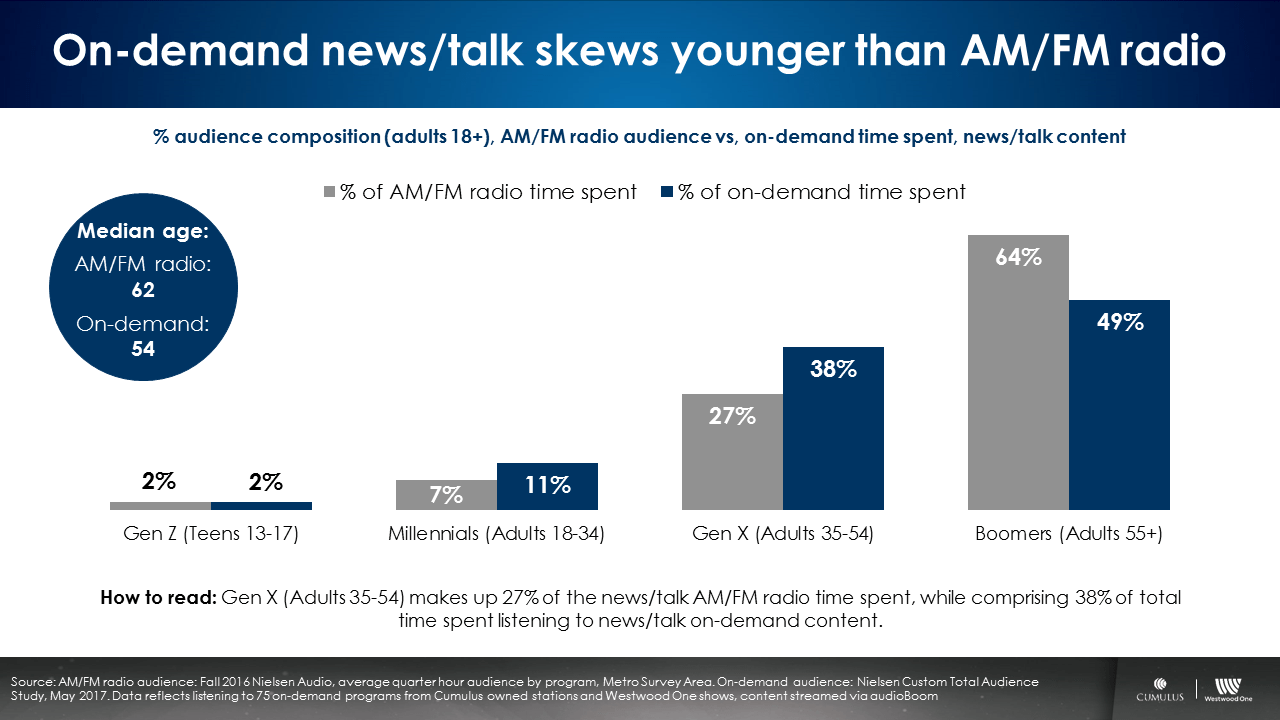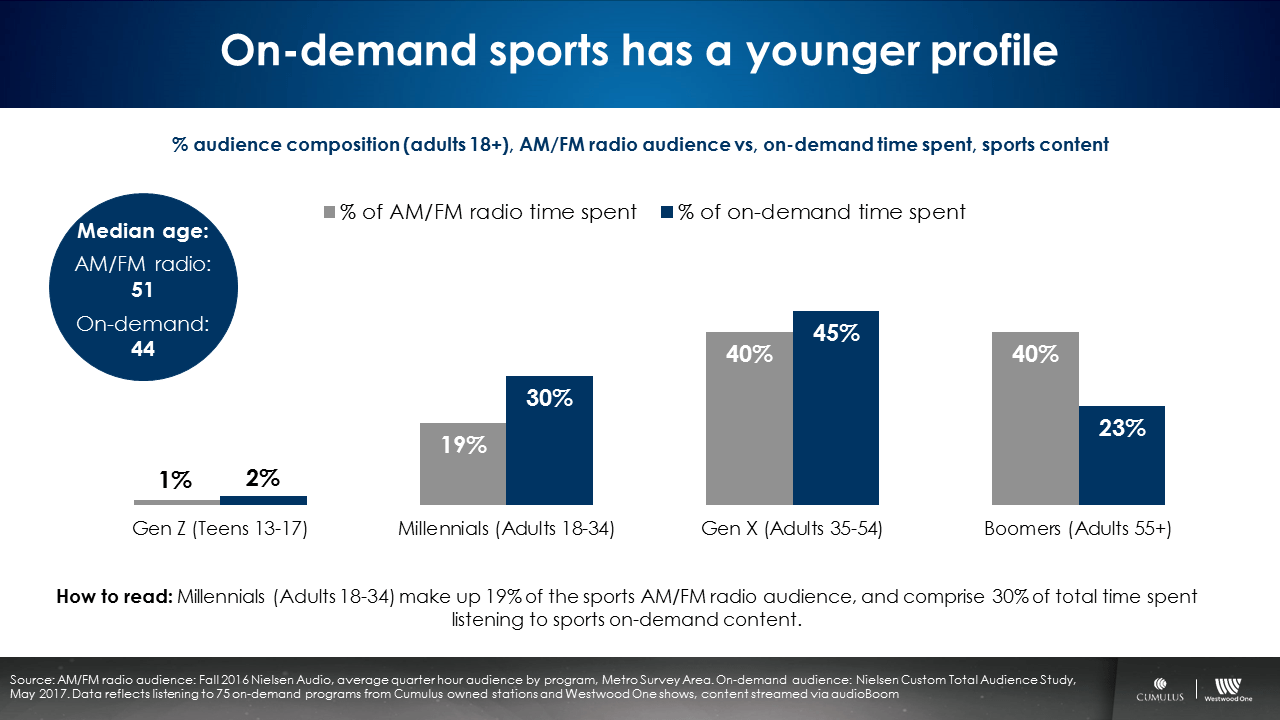 Entertainment-based on-demand shows attract similar demographics to AM/FM radio broadcasts. Entertainment-based shows, such as Todd & Jayde from WPLJ-FM in New York or Tom Barnard from KQRS-FM in Minneapolis, engage their listeners with conversations about real people and real life. AM/FM radio listeners follow their favorite entertainment personalities to on-demand platforms in order catch up on "can't miss" moments. For entertainment oriented shows, the on-demand platform is a natural extension of the on-air brand, as the on-demand audience matches that of the AM/FM radio listenership.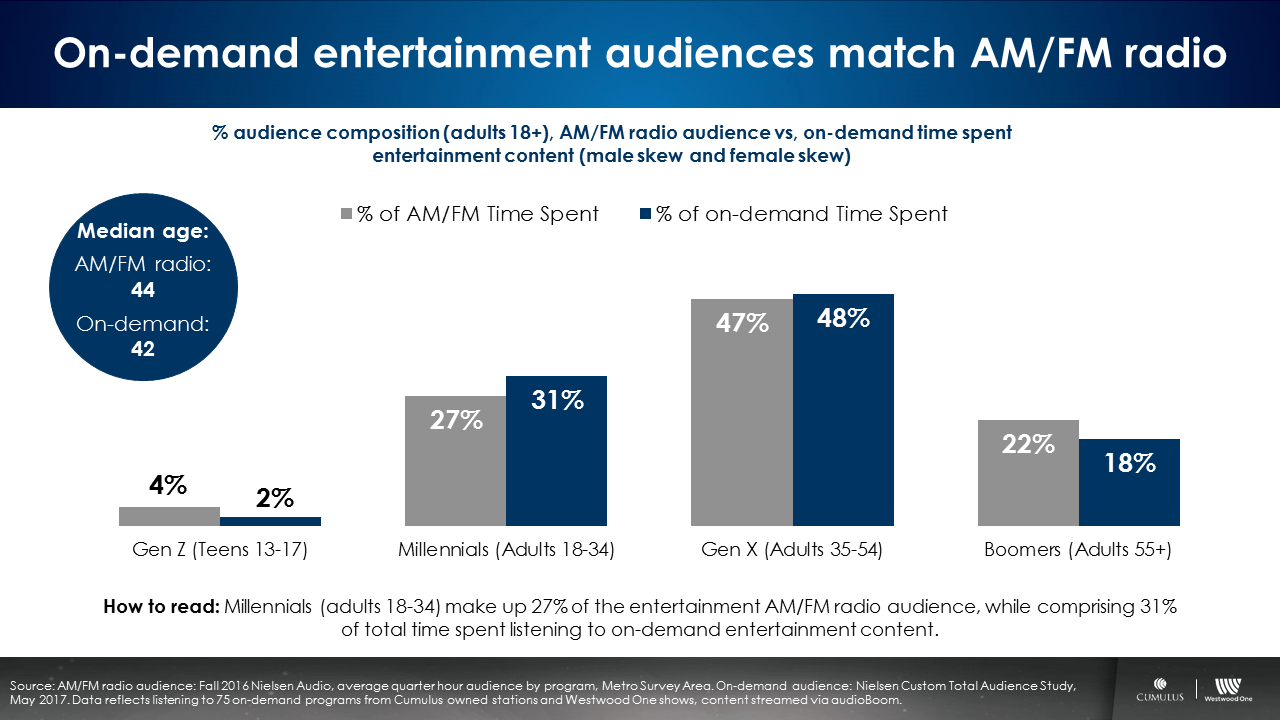 On-demand content skews more female than AM/FM radio content across all genres. Women are turning to on-demand platforms to be informed and entertained. Among adults 25-54, over 40% of the news/talk on-demand audience is female compared to 30% for the on-air broadcast. Even in the typically male-centric world of sports, nearly one-quarter of the on-demand audience is female. For content creators, the demographics of the on-demand audience open up new opportunities to connect with women.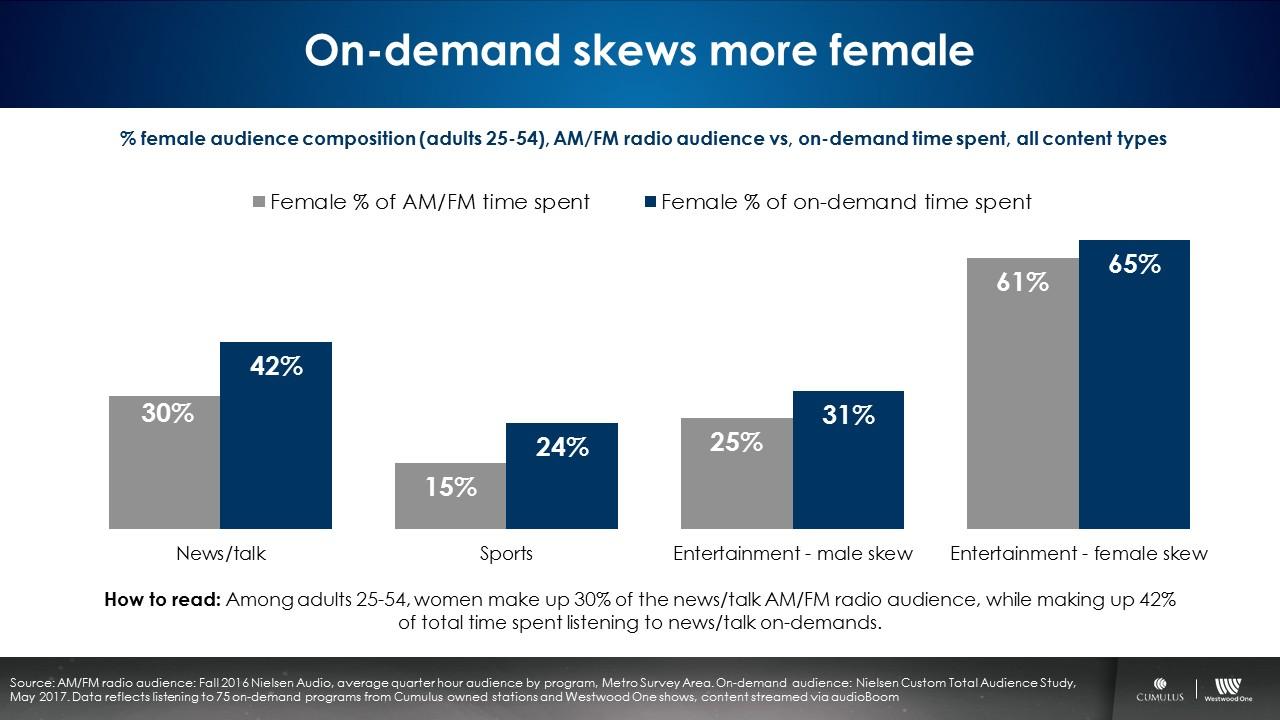 On-demand content delivers engaged listeners whose listening occasions are twice that of AM/FM radio. On desktop and mobile devices, on-demand listeners are actively seeking out the content and personalities that they crave. Desktop on-demand listening occasions are almost double the occasions for AM/FM radio. Mobile on-demand listening? Nearly 50% longer than those for AM/FM radio. On-demand platforms deliver active and attentive listeners, an ideal audience for marketing impact.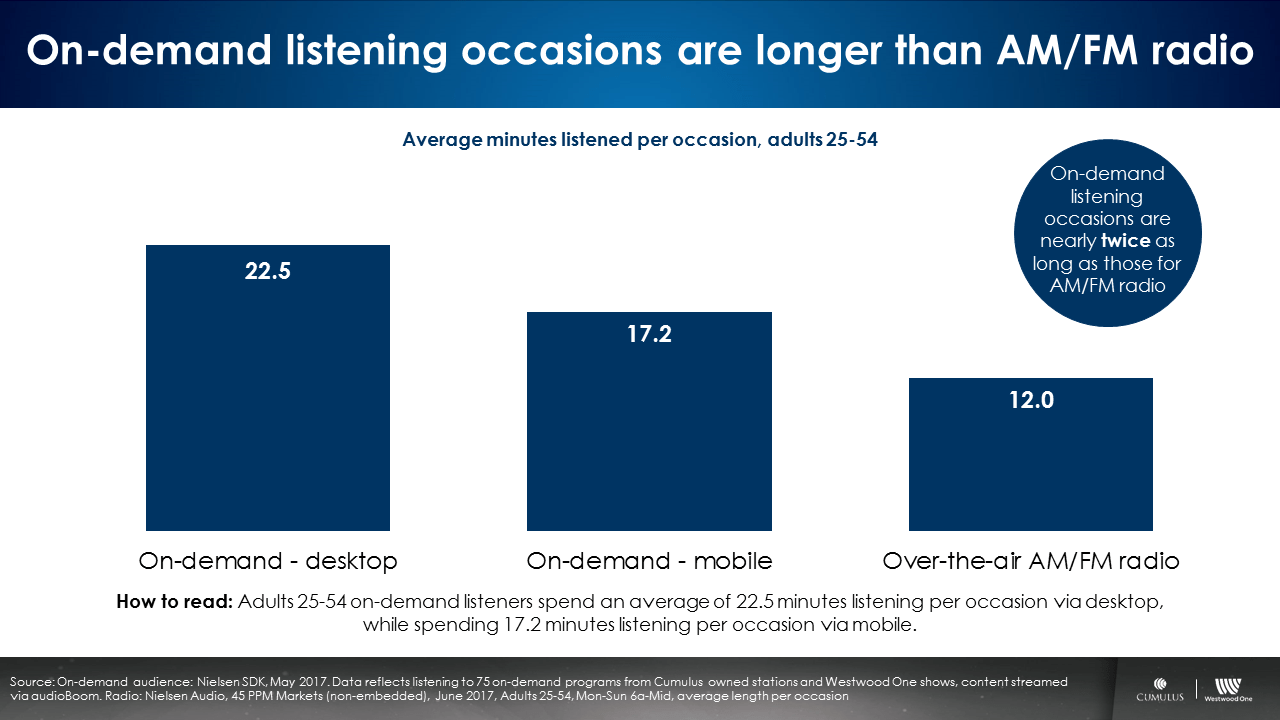 What do on-demand platforms bring to the audio landscape?
Higher female composition: a powerful marketing opportunity across all content genres
Younger information-oriented audience: a new generation of listeners to news/talk and sports content
Brand extension for entertainment shows: audiences for entertainment-based on-demand platforms are similar to AM/FM radio
Longer time spent listening: engaged, attentive consumers
Doug Hyde is Senior Director, National & Local Insights at Cumulus | Westwood One.
Contact the Insights team at CorpMarketing@westwoodone.com.